News

2018
2018/02
3
2018/01
7
Total:
10
Avg.:
5
2017
2017/12
6
2017/11
5
2017/10
6
2017/09
4
2017/08
4
2017/07
9
2017/06
8
2017/05
4
2017/04
5
2017/03
7
2017/02
6
2017/01
15
Total:
79
Avg.:
6.5
2016
2016/12
10
2016/11
7
2016/10
4
2016/09
5
2016/08
1
2016/07
7
2016/06
4
2016/05
6
2016/04
2
2016/03
4
2016/02
3
2016/01
6
Total:
59
Avg.:
4.9
2015
2015/12
10
2015/11
8
2015/10
7
2015/09
5
2015/08
2
2015/07
1
2015/06
4
2015/05
7
2015/04
6
2015/03
4
2015/02
6
2015/01
1
Total:
61
Avg.:
5
2014
2014/12
7
2014/11
5
2014/10
4
2014/09
7
2014/08
12
2014/07
7
2014/06
4
2014/05
3
2014/04
6
2014/03
2
2014/02
4
2014/01
5
Total:
66
Avg.:
5.5
2013
2013/12
6
2013/11
7
2013/10
4
2013/09
5
2013/08
5
2013/07
5
2013/06
3
2013/05
4
2013/04
5
2013/03
8
2013/02
4
2013/01
2
Total:
58
Avg.:
4.8
2012
2012/12
6
2012/11
4
2012/10
5
2012/09
3
2012/08
6
2012/07
4
2012/06
4
2012/05
10
2012/04
2
2012/03
3
2012/02
3
2012/01
4
Total:
54
Avg.:
4.5
2011
2011/12
4
2011/11
1
2011/10
1
2011/09
3
2011/08
3
2011/07
8
2011/06
7
2011/05
5
2011/04
2
2011/03
2
2011/02
6
2011/01
2
Total:
44
Avg.:
3.6
2010
2010/12
1
2010/11
3
2010/10
3
2010/09
2
2010/08
3
2010/07
4
2010/06
5
2010/05
2
2010/04
8
2010/03
1
2010/02
3
2010/01
2
Total:
37
Avg.:
3
2009
2009/12
8
2009/11
7
2009/10
7
2009/09
4
2009/08
4
2009/07
1
2009/06
3
2009/05
1
2009/04
9
2009/03
2
2009/02
6
2009/01
3
Total:
55
Avg.:
4.5
2008
2008/12
3
2008/11
6
2008/10
5
2008/09
4
2008/08
3
2008/06
6
2008/05
6
2008/04
2
2008/03
3
2008/02
9
2008/01
5
Total:
52
Avg.:
4.7
2007
2007/12
1
2007/11
3
2007/10
5
2007/09
2
2007/08
7
2007/07
6
2007/06
7
2007/05
4
2007/04
10
2007/03
9
2007/02
14
2007/01
8
Total:
76
Avg.:
6.3
2006
2006/12
4
2006/11
6
2006/10
6
2006/09
7
2006/08
13
2006/07
5
2006/06
7
2006/05
1
2006/04
11
2006/03
5
2006/02
4
2006/01
11
Total:
80
Avg.:
6.6
2005
2005/12
9
2005/11
12
2005/10
11
2005/09
17
2005/08
9
2005/07
3
2005/06
1
2005/05
3
2005/04
9
2005/03
6
2005/02
6
2005/01
7
Total:
93
Avg.:
7.7
2004
2004/12
9
2004/11
14
2004/10
10
2004/09
19
2004/08
9
2004/07
10
2004/06
13
2004/05
8
2004/04
23
2004/03
9
2004/02
17
2004/01
16
Total:
157
Avg.:
13
2003
2003/12
20
2003/11
14
2003/10
20
2003/09
23
2003/08
21
2003/07
22
2003/06
15
2003/05
18
2003/04
8
2003/03
11
2003/02
13
2003/01
19
Total:
204
Avg.:
17
2002
2002/12
12
2002/11
11
2002/10
12
2002/09
16
2002/08
9
2002/07
13
2002/06
8
2002/05
12
2002/04
9
2002/03
6
2002/02
3
2002/01
5
Total:
116
Avg.:
9.6
2001
2001/12
1
2001/11
1
2001/10
4
2001/09
4
Total:
10
Avg.:
2.5
2000
2000/08
1
2000/04
1
Total:
2
Avg.:
1
/
1




Feast your eyes on these beauties!!

Posted by MIK on 2003-08-31
We will use every word in the book if we have to just to exspess how awesome the cover collection is becoming! Yes indeed the covers universe is never ending and once again we take a look at the stars of old! We have new and replaced covers with instructions to match all waiting to be found! Steer your telescopes towards: Mission Mars, Moon Buggy, Space Freeks, Timeslip and Xargon Wars, but don't be fooled by all these intergalatic games as we have a host of covers which are more down to earth with titles such as: Wimbledon, Sports 4, Knock Out, Quick Draw, The Boss and a rare cover of Who Dare Wins 2 released by Alternative Software Limited!

Last of all we have finally got hold of the Triple Decker 6 cover thanks to none other Julian Jones the author of Panzer Duel where we have also shared this very cover with his game, (see why on the Panzer Duel page). Enjoy!

Lando's Time Machine? :-)

Posted by MIK on 2003-08-30

This should take you back too 1986 when all things on C16/Plus4 where rocking! Lando has added to his page a neat picture of himself and his son (Daniel) in what can only be called a Time Machine!! Lando and his son are in fact sitting in one of the most loved arcade machines of that time named Out Run. Although these machines are becoming very rare he took this golden opportunity to show his son the real thing. Maybe some day they both will look back at this snap shot (taken in Margate/England) and say "I was there", but some how Lando looks twice the age as when he first jumped on it back in 1986. ;-)

5 New Maps!

Posted by Csabo on 2003-08-25
Game Maps don't come around that often, since it usually takes a lot of time to create them. Still here they are: five brand new maps. Ulysses777 created two beauties for Rockman and Bmx Racers. The latter one is one of the tallest ones, all five courses are in one image. If you have previously overlooked Rockman, this is the time to check it out: it's more complex than it first looks. Next we have the Battery levels maps created by TCFS. Only the first two levels for now. Finally Csabo made two news maps for Exorcist and Bölcsek Köve. Enjoy!

7 Unique Covers and 1 Replacement!

Posted by Csabo on 2003-08-23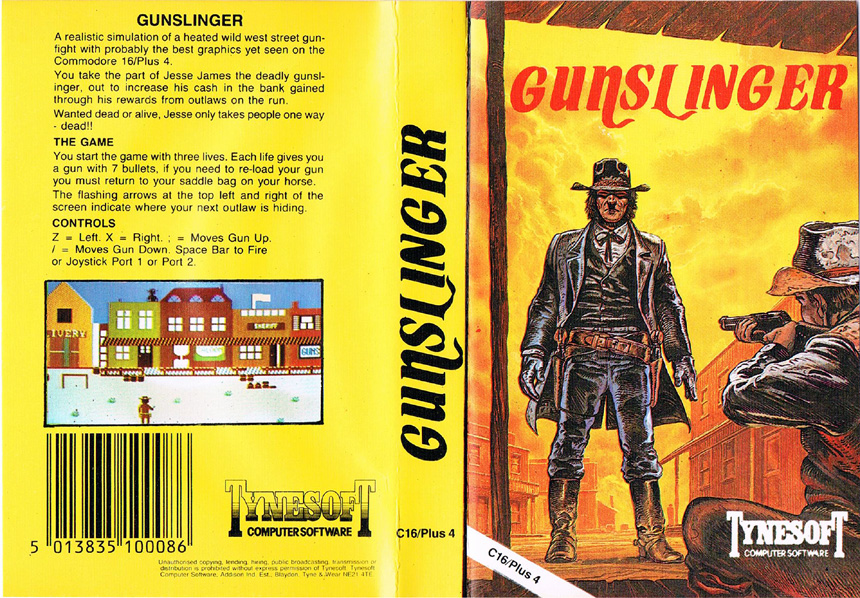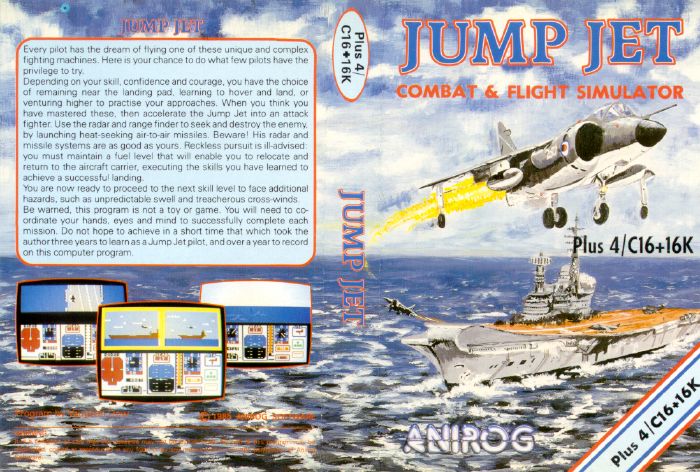 Indeed we are taking the cover updates to the extreme, but just to prove that we are still far from having all who can remember some of these forgotten classics? First up is Auf Wiedersehen Monty, not the best offering but a welcome sight by all means! Does anyone have the official Auf Wiedersehen Monty map? Check the reverse for more info! Adding to that we bring you Future Shock, Gunslinger, Jail Break, Jump Jet, the rare Room 10 and Torpedo Run.

Last of all to round up todays installment we have totally replaced Panik! for much better images! Many thanks to a guy named Stuart for scaning these much wanted covers! Enjoy.

Even More Covers!

Posted by Csabo on 2003-08-22
If you listen very carefully, you just might be able to hear the Unix servers complaining: "Oh, tell me they are not uploading yet another cover scan!" Well, we sure are, and hopefully you all will be happy to see them! This time start off with 4 more Commodore cartridge box scans. Atomic Mission, Pirate Adventure and Strange Odyssey are from Ulysses777, and Jack Attack is from Attila. These were taken from the international release. Sidius sent in two more rare ones from his own collection, that cannot be found anywhere else on the internet! So feast your eyes on Gullwing Falcon and Heebie Jeebies from Livewire. As an added bonus, you will notice that all these scans are of the highest quality.

With the addition of these, it finally happened: we've reached 300 games that have covers. Check out this little statistics page to follow the climb to 100%...

Many thanks for everyone for these scans, and don't mind the servers, they will get used to it. Just keep 'em coming.




6 Move Covers!

Posted by Csabo on 2003-08-21
Sidius strikes again! Okay, maybe he didn't strike anything, but he did send us these 6 cool covers which are much appreciated. We have the three famous cartridges: Atomic Mission, Pirate Adventure and Strange Odyssey. (It's good that we now have them separately and also as the Cartridge Triple Pack. Also we have Autobahn and Canoe Slalom (from Tynesoft) and Corman. Many thanks for these nice covers! Enjoy!

Please note that the three cartridge box scans were taken by James C, and they originate from cbm264.com.




Commodore Cover Scans

Posted by Csabo on 2003-08-21
Flashy they may not be, but here they are anyway. Due to popular request, we're adding these original Commodore cassette cover scans. May people have already offered to scan and send them, we will use Ulysses777's scans. There's 9 games in total from the 10 that came with the computer, the 10th being Fire Ant (which we already had). Enjoy!









New Exomizer Release!

Posted by Csabo on 2003-08-21
Magnus, the author of Exomizer has sent us word that there is a new version available. Let's see what's new: there's a -p flag that limits the number of optimization passes and theres a new autodetect sys-address feature for the -s flag.

The flag combination -p1 -m1024 gives a healthy speedup in crunch time at the expense of the ratio. This is particularly useful for people that use exomizer in make files or build scripts and compiles
a lot of test versions where the speed of the edit/compile/test cycle is more important than the size of the file.

Please also note that his email address and website was changed. Go to the tools section to download your copy!

More More Covers!

Posted by Csabo on 2003-08-20
This time it was Sidius from Berlin, Germany who sent us a missing cover: Atlantis from Anirog. A very cool classic C16 game indeed, and now we have the cover artwork to go along with it. Many thanks Sidius!

Crown has found a few more covers, which are not the best quality, but definitely welcome additions: Xargon Wars, Winter Olympics and Mt Vesuvius. The last helps out the Tynesoft collection, but it's far from complete. More is need, we say! :-)





More Covers!

Posted by Csabo on 2003-08-19



Ulysses777 continues to send us amazing stuff from his seemingly endless collection of original C16 game tapes. This time we have some very nice additions as follows: Galaxions and Meteorite from Solar Software, Space Escort from Atlantis Software, Circus and Mansion (Adventure 1). Each of these now have the TAP files plus the covers. Also new is the UXB cover and the Imagine release cover of Yie Ar Kung Fu.

With these additions, the Solar collection is almost complete (only 4 more missing!). The Atlantis Software collection is complete (at least the releases we know of).

The Circus cover is something very interesting, check it out. It claims that it's Mysterious Adventure #7, but everywhere else this is actually known as #6.

Crown managed to get a much better version of Triple Decker 7. Finally Attila sent in the cover for Space 2. That's a whole lot of new stuff for you to enjoy! Many thanks for these cool submissions, guys!



Quiz Results

Posted by Csabo on 2003-08-18

Our first C16/Plus4 Game Quiz is now over. Many thanks to everyone who played, we hope you enjoyed it! To find out what the right answers were, and who got the most right, visit the Features Page once again.

5 New Covers!

Posted by Csabo on 2003-08-18
Continuing our quest to collect all covers! Crown found some covers on various ebay auctions. These are now proudly displayed, until someone comes along with a better or bigger scan. First we have Triple Decker 7. So that series is not quite complete, is it? We just assumed it only went up to 5. We also have Alien Attack from Solar Software, this company's scans are slowly growing too. We have Major Blink and Berks 3, and Panik! from Atlantis. (For Atlantis, only Space Escort's cover is missing.) Thanks for these covers, and if you have more, don't hesitate to send them in!

Two TCFS Maps!

Posted by Csabo on 2003-08-14

TCFS has created two sets of maps for two of his own games: Battery 2 and Hexenkuche. The maps, just like their game counterparts are immensely detailed and beautiful. For Battery 2 there are three maps, one for each level. For Hexenkuche, there's a map for the forest, and two maps for each underground tomb.

If you haven't played these up until now, then now is the time, and these maps should help you along the way. Many thanks to TCFS for creating these maps and the games!

The Other Side Of Covers

Posted by Csabo on 2003-08-13
Lucky for us, Spector has fired up his scanner once again. This time he scanned the back covers of the three games he recently scanned the covers for. This means now you can read the original instructions (and plot) of these games: Cuthbert in Space, Gridtrap and Shoot it. Our cover collection now has not less than 375 cover images covering 272 games. Thanks to Spector for the scans. Enjoy!

Updated Utilities!

Posted by Csabo on 2003-08-12
MC has sent us word that both his utilities have been updated. AP4, his Integrated Development Environment is now up to version 1.1.5. It includes many changes and new features, check out the text file included in the package for all the details. He has also released an improved version of FarD64 plugin (for the Far Manager). This should be able to handle every D64 image, even hacked ones. Thanks for MC for the utils and the news!

Our First C16/Plus4 Game Quiz!

Posted by Csabo on 2003-08-12

How well do you know your C16/Plus4 games? Are you a true gamer? It's time to put your knowledge to the test! Plus/4 World proudly presents our first Game Quiz!

There are 20 pictures for your to identify. There are no prizes, it's just for fun. Visit the Features page to play.

Tutti Frutti SID!

Posted by Csabo on 2003-08-07
Waz/Padua (Wazzaw on our forums) has sent us his version of the Tutti Frutti game music for SID! If you have SIDPlug installed, you can listen to the tune when visiting our Tutti Frutti page. (You can grab SIDPlug from here.) If your browser doesn't support SIDPlug, you can also download the SID file and play it on your computer. Thanks Wazzaw!

12 TAP Files And A Funeral (I Mean Soundtrack)

Posted by Csabo on 2003-08-07
We've received another gift from our friend Ulysses777. This time he has sent us a total of 12 TAP files. They are Hercules, Ian Botham's Test Match, Netrun 2000, Ninja Master, On Cue (Containing both On Cue Pool and On Cue Snooker) and Punchy + Rolf Harris Picture Builder + Starter Chess from that Commodore demo tape. He also sent us the Berks Trilogy taps, which are also available as separate games: Berks, Major Blink and Berks 3.

About On Cue: as this was really one release, we have combined the previously separate records of On Cue Pool and On Cue Snooker into one. However, this made the downloads links a bit confusing. Therefore we introduced a new feature to the site, which lets us categorize the downloads that belong to one release, so it is clear which file you are downloading. Check out the On Cue page's downloads section to see what we mean. This also means that we have all the Mastertronic covers!

Hercules was another tape which had a free audio soundtrack on it, from H.E.X. (or House Electronic Xperience.) You can listen to it in whole (2.5 MB), or we have a much shorter but still enjoyable version for modem users here (450 KB). This track is a medium tempo, reagge-ish song with female vocals. "Wake up in the mooorning'..."

Many thanks to Ulysses777 for all this cool stuff!!

Tutti Frutti - Music Hearing!

Posted by MIK on 2003-08-07
If you've already seen todays news about Warren Pilkington's (Waz/Padua) Tutti Frutti SID then it's time to hear it all over again on your Plus4 or YAPE using the great music tool called Music Hearing V1.0. By the way this was put together for fun and gives you a chance to try something new if you haven't played with anything other than games like me ;-)

For newcomers here's how (using YAPE):

1. Set YAPE so the Sound settings is "Enable SID card emulation".
2. Load up Music Hearing from the .D64. Press Space to pass the title screen.
3. Once loaded press F3 so you select "SID CARD".
4. Press F1 to get the .D64 directory, press Arrow Up to select Tutti Frutti 64 followed by Return.
5. Now Press Space to Play!


3 New Covers!

Posted by Csabo on 2003-08-06

Yay! We can all enjoy three more original coverscans of some Commodore 16 games, thanks to Spector! The covers are for Cuthbert in Space from Microdeal, Gridtrap from Livewire Software and Shoot it from Tynesoft. Check them out, and many thanks to Spector!

YAPE V0.50 is out!

Posted by Csabo on 2003-08-06
Good news: Attila Grósz has released the new version of YAPE! Even though there isn't anything groundbreaking in this release, the list of bugfixes and improvements is quite impressive. For example, the bug in saving wholewave TAP files is now fixed! This, and all those improved things make this a must have for all C16/Plus4 enthusiasts. The release also comes with a nice README file, which should be helpful for new users. Cheers to Attila, and visit the YAPE Homepage.
Copyright © Plus/4 World Team, 2001-2018