News

2018
2018/02
3
2018/01
7
Total:
10
Avg.:
5
2017
2017/12
6
2017/11
5
2017/10
6
2017/09
4
2017/08
4
2017/07
9
2017/06
8
2017/05
4
2017/04
5
2017/03
7
2017/02
6
2017/01
15
Total:
79
Avg.:
6.5
2016
2016/12
10
2016/11
7
2016/10
4
2016/09
5
2016/08
1
2016/07
7
2016/06
4
2016/05
6
2016/04
2
2016/03
4
2016/02
3
2016/01
6
Total:
59
Avg.:
4.9
2015
2015/12
10
2015/11
8
2015/10
7
2015/09
5
2015/08
2
2015/07
1
2015/06
4
2015/05
7
2015/04
6
2015/03
4
2015/02
6
2015/01
1
Total:
61
Avg.:
5
2014
2014/12
7
2014/11
5
2014/10
4
2014/09
7
2014/08
12
2014/07
7
2014/06
4
2014/05
3
2014/04
6
2014/03
2
2014/02
4
2014/01
5
Total:
66
Avg.:
5.5
2013
2013/12
6
2013/11
7
2013/10
4
2013/09
5
2013/08
5
2013/07
5
2013/06
3
2013/05
4
2013/04
5
2013/03
8
2013/02
4
2013/01
2
Total:
58
Avg.:
4.8
2012
2012/12
6
2012/11
4
2012/10
5
2012/09
3
2012/08
6
2012/07
4
2012/06
4
2012/05
10
2012/04
2
2012/03
3
2012/02
3
2012/01
4
Total:
54
Avg.:
4.5
2011
2011/12
4
2011/11
1
2011/10
1
2011/09
3
2011/08
3
2011/07
8
2011/06
7
2011/05
5
2011/04
2
2011/03
2
2011/02
6
2011/01
2
Total:
44
Avg.:
3.6
2010
2010/12
1
2010/11
3
2010/10
3
2010/09
2
2010/08
3
2010/07
4
2010/06
5
2010/05
2
2010/04
8
2010/03
1
2010/02
3
2010/01
2
Total:
37
Avg.:
3
2009
2009/12
8
2009/11
7
2009/10
7
2009/09
4
2009/08
4
2009/07
1
2009/06
3
2009/05
1
2009/04
9
2009/03
2
2009/02
6
2009/01
3
Total:
55
Avg.:
4.5
2008
2008/12
3
2008/11
6
2008/10
5
2008/09
4
2008/08
3
2008/06
6
2008/05
6
2008/04
2
2008/03
3
2008/02
9
2008/01
5
Total:
52
Avg.:
4.7
2007
2007/12
1
2007/11
3
2007/10
5
2007/09
2
2007/08
7
2007/07
6
2007/06
7
2007/05
4
2007/04
10
2007/03
9
2007/02
14
2007/01
8
Total:
76
Avg.:
6.3
2006
2006/12
4
2006/11
6
2006/10
6
2006/09
7
2006/08
13
2006/07
5
2006/06
7
2006/05
1
2006/04
11
2006/03
5
2006/02
4
2006/01
11
Total:
80
Avg.:
6.6
2005
2005/12
9
2005/11
12
2005/10
11
2005/09
17
2005/08
9
2005/07
3
2005/06
1
2005/05
3
2005/04
9
2005/03
6
2005/02
6
2005/01
7
Total:
93
Avg.:
7.7
2004
2004/12
9
2004/11
14
2004/10
10
2004/09
19
2004/08
9
2004/07
10
2004/06
13
2004/05
8
2004/04
23
2004/03
9
2004/02
17
2004/01
16
Total:
157
Avg.:
13
2003
2003/12
20
2003/11
14
2003/10
20
2003/09
23
2003/08
21
2003/07
22
2003/06
15
2003/05
18
2003/04
8
2003/03
11
2003/02
13
2003/01
19
Total:
204
Avg.:
17
2002
2002/12
12
2002/11
11
2002/10
12
2002/09
16
2002/08
9
2002/07
13
2002/06
8
2002/05
12
2002/04
9
2002/03
6
2002/02
3
2002/01
5
Total:
116
Avg.:
9.6
2001
2001/12
1
2001/11
1
2001/10
4
2001/09
4
Total:
10
Avg.:
2.5
2000
2000/08
1
2000/04
1
Total:
2
Avg.:
1
/
1




New VICE Version Released

Posted by Csabo on 2009-12-29
We're a few days behind announcing the new version of VICE, the multi-platform, multi-computer emulator. This version finally brings some improvements to the Plus/4 emulation:

Added Digibooster SID Cart add-on emulation.
Added SID Cart joystick port emulation.
Fixed bug in tape recording.
Improved graphics handling.

That last line is the most promising. After running some quick tests, indeed there are some noticeable improvements. Demoparts that contain FLI effects seem more stable, and Sinx+Siny is partially working. Unfortunately even though those particular pieces of software look better, they are still not properly emulated. For our scene, this leaves VICE behind Plus4Emu and YAPE. Still, we send our thanks to the VICE team and hope for better Plus/4 emulation in the future!

Read comments

Merry Christmas To All From MMS!

Posted by Csabo on 2009-12-22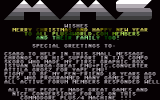 MMS released a new demo in time for the holidays: a little greeting to everyone on the scene. I'd like to join in and say Happy Holidays to all! Check out MMS Xmas 2009 and enjoy!
Read comments

A Few Hungarian Programs

Posted by Csabo on 2009-12-21
We have updates for you about 3 Hungarian programs for the Commodore 16. Lacus recently got his hands on two tapes (via Vatera.hu, a Hungarian auction site) and he's sharing his new treasures with us. First we now have Betüpóker, a previously missing game. Second, we now have an alternate cassette cover for Karakter-szerkesztő. Finally, RoePipi found a game called Kisvasút, which was a type-in, but the source is currently not known. Check them out!
Be the first to comment!

New Picture Show From MMS

Posted by Csabo on 2009-12-16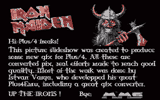 MMS recently released a new Iron Maiden themed picture show: Iron Maiden. (Sorry for the delay in announcing this release!) Check out two disk-sides worth of FLI, HFLI and IHFLI pictures. The author sends special thanks to István Varga for his fantastic converter program. He also recommends using the fastest emulation mode (if you're viewing it on an emulator), since each picture is 170 blocks. Enjoy!
Read comments

'Tis the season to be gaming... Fingers Malone Remake

Posted by Chicken on 2009-12-15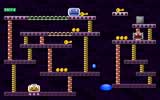 HomeGnome announced in the forum yesterday that his Fingers Malone remake (which was in the news before while still in development) has reached v1.0 status.
For those who have followed the work in progress this might not come as much of a surprise but the finished game is a nice one indeed. Invite Blinky, Sparky, Thingy and Wotsit for a round of nostalgia with a fresh new look. Download is available here.

Update:
HomeGnome already released a new version which is a bit easier and also features an additional music. Download for that version is available here.

Read comments

Club Info 114

Posted by Csabo on 2009-12-10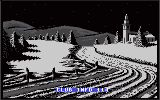 The latest issue of Club Info is here! Erich/Unlimited packed two disks sides full of German articles and new or recent releases. On side B you will find: Weihnacht, Merge (Einf), Disketten Pruefer by Lukian, Triple Play - a game from Australia, Toss and Indiana Jones Demo - converted by Erich. Download it and check it out!
Read comments

Service Communication

Posted by Luca on 2009-12-02
At the moment, the forum (including news comments feature) seems to be out of action, and Csabo is on vacation.
We will wait for him, then everything will get well, of course. Be patient, in the meantime use PMs intensively ;)

Update: The forum is working again, sorry for the downtime.
Be the first to comment!

New Slideshow From Assassins

Posted by Luca on 2009-12-01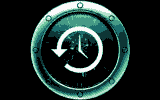 One of the best graphicians around in the Plus/4 scene, is back with a little cute slideshow demo.
Kichy of Assassins is back on the keys, to unveil and let us ponder on a hard concept: the notion of Time, a theoretical construct which has been closely studied by philosophers of all ages.
Time Travel Slideshow pictures collection represents his own 8bit view about the argument, in order to take a look at it carefully in any aspect. Let's look carefully, then.
Read comments
Copyright © Plus/4 World Team, 2001-2018