Tutti Frutti

| | |
| --- | --- |
| Title: | Tutti Frutti |
| Category: | Game/Action |
| Release Date: | 1985 |
| Language: | English |
| Size: | 16K |
| Machine: | PAL Only |
| Code Type: | Machine code |
| Distribution: | Commercial/PD |
| Product Code: | 2C 0092 |
| Retail Price: | £1.99 |
| Game ending type: | Has an end, restarts (no reward) |
| | |
| Produced by: | Mr. Chip Software |
| Released by: | Mastertronic |
| Coded by: | Southern, Shaun (Sout) |
| Notes: | Nicely written old-school classic. Very catchy in-game tune. Collect cherries, push apples, avoid enemies. |

Download:
NTSC only version:
No turbo:
External links:
Enterprise 128 release
C64 release

User Rating: 8.5/10 (22 votes)



Hall Of Fame
Rüdiger
37,477
Baz
34,665
Csabo
27,753
4
Luca
26,226
5
Al82
25,612
6
Kincsi
21,982
7
MIK
15,768
8
David360
15,614
9
haze129
14,900
10
gazzhally
13,720
11
CoCoForest
13,255
Sounds/Music

Link
Filesize
Description

[ Download ]

2 KB
SID version of the game tune by Waz/Padua.

Covers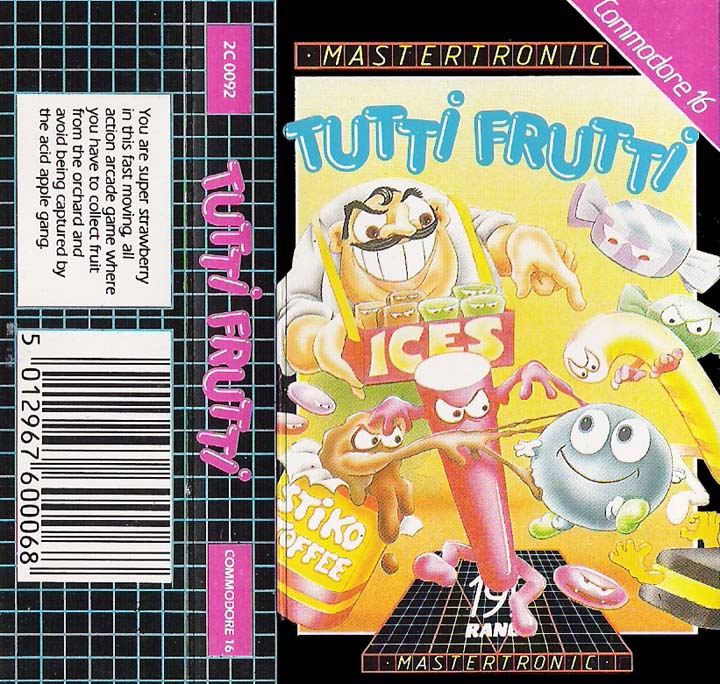 Cassette Front Cover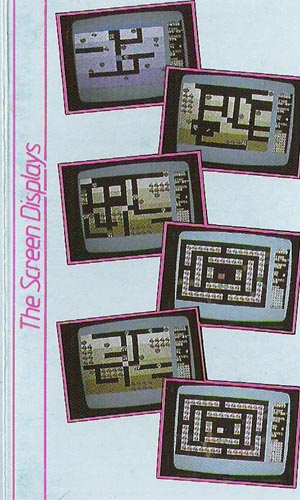 Cassette Side Cover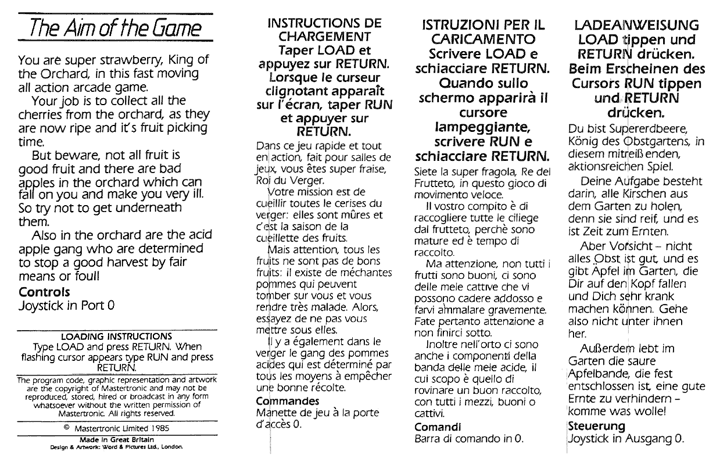 Cassette Back Cover

Tutti Frutti SID

If you have SIDPlug installed, you should hear Waz/Padua's version of the Tutti Frutti tune for the SID.
Download SIDPlug from here.



Undocumented Control

Press SHIFT LOCK down to turn the in-game music off.
Cheats - How do I use cheats?
Run Stop + Reset
Stop game
>1F50 AD
Unlimited lives
>1A0C BD
Unlimited bonus
>1A44 AD
Unlimited time
>20D2 24
Invulnerability
G 2000
Restart game
Copyright © Plus/4 World Team, 2001-2018