News

2018
2018/02
3
2018/01
7
Total:
10
Avg.:
5
2017
2017/12
6
2017/11
5
2017/10
6
2017/09
4
2017/08
4
2017/07
9
2017/06
8
2017/05
4
2017/04
5
2017/03
7
2017/02
6
2017/01
15
Total:
79
Avg.:
6.5
2016
2016/12
10
2016/11
7
2016/10
4
2016/09
5
2016/08
1
2016/07
7
2016/06
4
2016/05
6
2016/04
2
2016/03
4
2016/02
3
2016/01
6
Total:
59
Avg.:
4.9
2015
2015/12
10
2015/11
8
2015/10
7
2015/09
5
2015/08
2
2015/07
1
2015/06
4
2015/05
7
2015/04
6
2015/03
4
2015/02
6
2015/01
1
Total:
61
Avg.:
5
2014
2014/12
7
2014/11
5
2014/10
4
2014/09
7
2014/08
12
2014/07
7
2014/06
4
2014/05
3
2014/04
6
2014/03
2
2014/02
4
2014/01
5
Total:
66
Avg.:
5.5
2013
2013/12
6
2013/11
7
2013/10
4
2013/09
5
2013/08
5
2013/07
5
2013/06
3
2013/05
4
2013/04
5
2013/03
8
2013/02
4
2013/01
2
Total:
58
Avg.:
4.8
2012
2012/12
6
2012/11
4
2012/10
5
2012/09
3
2012/08
6
2012/07
4
2012/06
4
2012/05
10
2012/04
2
2012/03
3
2012/02
3
2012/01
4
Total:
54
Avg.:
4.5
2011
2011/12
4
2011/11
1
2011/10
1
2011/09
3
2011/08
3
2011/07
8
2011/06
7
2011/05
5
2011/04
2
2011/03
2
2011/02
6
2011/01
2
Total:
44
Avg.:
3.6
2010
2010/12
1
2010/11
3
2010/10
3
2010/09
2
2010/08
3
2010/07
4
2010/06
5
2010/05
2
2010/04
8
2010/03
1
2010/02
3
2010/01
2
Total:
37
Avg.:
3
2009
2009/12
8
2009/11
7
2009/10
7
2009/09
4
2009/08
4
2009/07
1
2009/06
3
2009/05
1
2009/04
9
2009/03
2
2009/02
6
2009/01
3
Total:
55
Avg.:
4.5
2008
2008/12
3
2008/11
6
2008/10
5
2008/09
4
2008/08
3
2008/06
6
2008/05
6
2008/04
2
2008/03
3
2008/02
9
2008/01
5
Total:
52
Avg.:
4.7
2007
2007/12
1
2007/11
3
2007/10
5
2007/09
2
2007/08
7
2007/07
6
2007/06
7
2007/05
4
2007/04
10
2007/03
9
2007/02
14
2007/01
8
Total:
76
Avg.:
6.3
2006
2006/12
4
2006/11
6
2006/10
6
2006/09
7
2006/08
13
2006/07
5
2006/06
7
2006/05
1
2006/04
11
2006/03
5
2006/02
4
2006/01
11
Total:
80
Avg.:
6.6
2005
2005/12
9
2005/11
12
2005/10
11
2005/09
17
2005/08
9
2005/07
3
2005/06
1
2005/05
3
2005/04
9
2005/03
6
2005/02
6
2005/01
7
Total:
93
Avg.:
7.7
2004
2004/12
9
2004/11
14
2004/10
10
2004/09
19
2004/08
9
2004/07
10
2004/06
13
2004/05
8
2004/04
23
2004/03
9
2004/02
17
2004/01
16
Total:
157
Avg.:
13
2003
2003/12
20
2003/11
14
2003/10
20
2003/09
23
2003/08
21
2003/07
22
2003/06
15
2003/05
18
2003/04
8
2003/03
11
2003/02
13
2003/01
19
Total:
204
Avg.:
17
2002
2002/12
12
2002/11
11
2002/10
12
2002/09
16
2002/08
9
2002/07
13
2002/06
8
2002/05
12
2002/04
9
2002/03
6
2002/02
3
2002/01
5
Total:
116
Avg.:
9.6
2001
2001/12
1
2001/11
1
2001/10
4
2001/09
4
Total:
10
Avg.:
2.5
2000
2000/08
1
2000/04
1
Total:
2
Avg.:
1
/
1




YAPE 0.69 Out!

Posted by Csabo on 2006-10-30
Fresh off the compiler, Gaia just released the new version of the popular Commodore Plus/4 emulator, YAPE. This latest one is mostly a bugfix release, taking care of a several problems. Improved stability and usability for free - this is a must download as usual. For a full list of issues, head on over to the YAPE homepage.


New Kingsoft and Anco Scans and TAPs

Posted by Ulysses777 on 2006-10-28



Some new cover scans for some Kingsoft and Anco utilities, starting with Micro Kalk, which now has the full cover and instructions (in German), as well as a TAP image. Next is Micro Datei, which also has the cover and instructions, as well as a TAP image of version 1.1 of this utility. Next is Turbo Tape, which also has instructions and a TAP image, as we as an alternative front cover. The last is the Anco release of the Turbo Plus cartridge, for which we have the front cover and instructions. Enjoy!

New Box Scans!

Posted by Ulysses777 on 2006-10-22



Some new box scans today, all from Commodore utilities. First up is Financial Advisor, followed by Micro Illustrator (along with a download of the original disk image that also works on the C64) and finally Logo. There's also a download of the Logo Utilities Disk available (found on the main Logo page), which contains useful Logo procedures and demonstration programs. Take a look!

Beta5 for Exomixer 2.0

Posted by Luca on 2006-10-09
Time to update your prefer 6502 machines cross cruncher: Exomizer 2.0 reaches its beta5 incarnation, that brings forward crunching support as main improvement, beside several bugfixes.
We never will thank too much its father Magnus Lind for this pretty handy code.

Copy-REL v2

Posted by SVS on 2006-10-09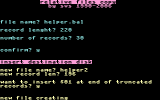 A new version of Copy-REL was released by SVS/FIRE. The lone known utility able to copy/move a RELative file, with current version is even able to modify the record lenght.

As usual the download of this routine is available from Emucamp and from Cbm264 (zipped) sites.

Info and features can be found here.


Club-Info 95 released!

Posted by Luca on 2006-10-09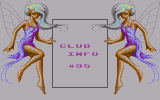 O-oh, look at my mailbox,there's a postal envelope in it. Hey a disk inside! And in the disk...the latest issue of Club Info!
Erich/Unlimited sent me issue 95, with its load of helpful text and all the newer software from the German side. Take a look in the New Stuff area to spot all the fresh programs.

Keep going, Erich, the 100 issues goal is very close now!
Copyright © Plus/4 World Team, 2001-2018