News

2018
2018/02
3
2018/01
7
Total:
10
Avg.:
5
2017
2017/12
6
2017/11
5
2017/10
6
2017/09
4
2017/08
4
2017/07
9
2017/06
8
2017/05
4
2017/04
5
2017/03
7
2017/02
6
2017/01
15
Total:
79
Avg.:
6.5
2016
2016/12
10
2016/11
7
2016/10
4
2016/09
5
2016/08
1
2016/07
7
2016/06
4
2016/05
6
2016/04
2
2016/03
4
2016/02
3
2016/01
6
Total:
59
Avg.:
4.9
2015
2015/12
10
2015/11
8
2015/10
7
2015/09
5
2015/08
2
2015/07
1
2015/06
4
2015/05
7
2015/04
6
2015/03
4
2015/02
6
2015/01
1
Total:
61
Avg.:
5
2014
2014/12
7
2014/11
5
2014/10
4
2014/09
7
2014/08
12
2014/07
7
2014/06
4
2014/05
3
2014/04
6
2014/03
2
2014/02
4
2014/01
5
Total:
66
Avg.:
5.5
2013
2013/12
6
2013/11
7
2013/10
4
2013/09
5
2013/08
5
2013/07
5
2013/06
3
2013/05
4
2013/04
5
2013/03
8
2013/02
4
2013/01
2
Total:
58
Avg.:
4.8
2012
2012/12
6
2012/11
4
2012/10
5
2012/09
3
2012/08
6
2012/07
4
2012/06
4
2012/05
10
2012/04
2
2012/03
3
2012/02
3
2012/01
4
Total:
54
Avg.:
4.5
2011
2011/12
4
2011/11
1
2011/10
1
2011/09
3
2011/08
3
2011/07
8
2011/06
7
2011/05
5
2011/04
2
2011/03
2
2011/02
6
2011/01
2
Total:
44
Avg.:
3.6
2010
2010/12
1
2010/11
3
2010/10
3
2010/09
2
2010/08
3
2010/07
4
2010/06
5
2010/05
2
2010/04
8
2010/03
1
2010/02
3
2010/01
2
Total:
37
Avg.:
3
2009
2009/12
8
2009/11
7
2009/10
7
2009/09
4
2009/08
4
2009/07
1
2009/06
3
2009/05
1
2009/04
9
2009/03
2
2009/02
6
2009/01
3
Total:
55
Avg.:
4.5
2008
2008/12
3
2008/11
6
2008/10
5
2008/09
4
2008/08
3
2008/06
6
2008/05
6
2008/04
2
2008/03
3
2008/02
9
2008/01
5
Total:
52
Avg.:
4.7
2007
2007/12
1
2007/11
3
2007/10
5
2007/09
2
2007/08
7
2007/07
6
2007/06
7
2007/05
4
2007/04
10
2007/03
9
2007/02
14
2007/01
8
Total:
76
Avg.:
6.3
2006
2006/12
4
2006/11
6
2006/10
6
2006/09
7
2006/08
13
2006/07
5
2006/06
7
2006/05
1
2006/04
11
2006/03
5
2006/02
4
2006/01
11
Total:
80
Avg.:
6.6
2005
2005/12
9
2005/11
12
2005/10
11
2005/09
17
2005/08
9
2005/07
3
2005/06
1
2005/05
3
2005/04
9
2005/03
6
2005/02
6
2005/01
7
Total:
93
Avg.:
7.7
2004
2004/12
9
2004/11
14
2004/10
10
2004/09
19
2004/08
9
2004/07
10
2004/06
13
2004/05
8
2004/04
23
2004/03
9
2004/02
17
2004/01
16
Total:
157
Avg.:
13
2003
2003/12
20
2003/11
14
2003/10
20
2003/09
23
2003/08
21
2003/07
22
2003/06
15
2003/05
18
2003/04
8
2003/03
11
2003/02
13
2003/01
19
Total:
204
Avg.:
17
2002
2002/12
12
2002/11
11
2002/10
12
2002/09
16
2002/08
9
2002/07
13
2002/06
8
2002/05
12
2002/04
9
2002/03
6
2002/02
3
2002/01
5
Total:
116
Avg.:
9.6
2001
2001/12
1
2001/11
1
2001/10
4
2001/09
4
Total:
10
Avg.:
2.5
2000
2000/08
1
2000/04
1
Total:
2
Avg.:
1
/
1




New Cover Scans

Posted by Csabo on 2007-04-30


Rüdiger sent in new covers: the cassette release of BASIC-Kurs, and an alternative scan for Mercenary Kompendium-Ausgabe. Lacus - our frequent supplier of Hungarian stuff - sent in a few program files (see New Uploads for the list). He also got his hands on a true treasure: feast your eyes on the cover artwork of Botticelli! The back cover has some nice info: the list of authors (György Szöllösi may be a familiar name), and it also displays the official description of the program - some might say it's a little boastful perhaps, others might think it's well deserved. Thanks for these guys!

[limiTED] Voting Phase Begins!

Posted by Luca on 2007-04-22

Jeez guys, you all made my day: 26 entries overall! 26 little gems, born from the flames of your passion, and the knowledge of your beloved blackbox! Here at Plus/4Word we're so proud because of your quick feedback, we liked every single production, every effort has been fully appreciated.
Hey but... Oh my, this is a competition after all, and a competition needs a winner; and a winner needs a ranking; and a ranking needs votes. Ah, votes, at last!

Give 10 to your favourites! Bury the worst ones with 1! Be ruthless but fair! Try to win in the Guess Who's inoculated competition, performing your most terrible spectacles. Write your personal comments for any entry, glorify the best, insult those which you dislike! You can vote until Saturday 28 April 2007 23:59. I'm just waiting for votesheets, come on!

New adventure game released!

Posted by Gaia on 2007-04-13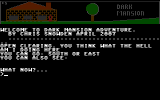 Chris, the founder of commodore16.com has just finished his first game for the Plus/4. It's a trial & error text adventure called Dark Mansion. The goal is to break into the mansion, steal the treasure and escape with your life. The game is programmed using the Adventure Building System by Rachy, which is very flexible adventure programming language. The source code would also be released soonish. Find out more about the proggie on the website of Chris.

Link: Dark Mansion announcement on commodore16.com

A new version of Plus4IDE has been released

Posted by Gaia on 2007-04-12
I have just noticed that Csabo's excellent Plus4IDE has received an update, so if you're into cross-platform development (which you should), head on over to the dedicated page and download it immediately. I have no idea yet what's been updated but we can nag him on the forum for that.

Link: The Plus4IDE

More Database Additions

Posted by Csabo on 2007-04-12


C16 Chris sent us 5 new covers scans for a previously unlisted software company. They are from Cassetta Games, who re-released commercial software in Italy. The 5 covers are for: Al Ladro!, Bombolo, Grattacieli, Missione Spaziale and Wild Western. Program files and TAP files are to follow.

Sidius also contributed new stuff: Knobelspass I from CBM Germany now has its cover scan, plus the two previously missing games from the compilation. He also sent us the long-titled How To Program Your Commodore 16, this one's from CBM Aus.

Finally some updates to the SCN News saga: we worked out the problem with issue 4 (see forum thread) and Moldi found SCN News 17. Only one is missing, the hunt is on! Thanks for all you guys for helping our archive grow.

YAPE 0.73 Released!

Posted by Csabo on 2007-04-10
Members of our little community will probably be happy to know that this month brings another update to the popular Commodore Plus/4 emulator: YAPE. Gaia has been busy fixing it up so that the few remaining problematic programs are emulated better than ever. To find out what's new in this mostly bugfix release and for the download, hit the YAPE homepage. Cheers to Gaia for his continued development!


Lots of Missing Mags Added!

Posted by Csabo on 2007-04-10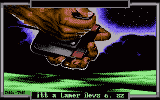 Moldi dug up a whole bunch of missing magazines for us. We now have the complete set for Infó (7 issues added), Lamer News (2 issues added) and Scanners (8 issues added). We also received several missing SCN News issues, leaving only 17 and 26 missing. Issue 4 was sent in by several scene members, but it's the same file we already had on rulez.org, which is unfortunately broken. Perhaps a working version of this issue never existed?

Info perhaps deserves a special mention: this mag was relatively unknown in the scene, and it's not the usual scene format, but true to its title it does have lots of useful and interesting information. Should provide a good read to anyone wanting to reminisce about old times. It's in Hungarian though.

Big thanks for Moldi and Chronos, who also sent in some of these mags at the same time.

Terror News: Series Complete!

Posted by Csabo on 2007-04-06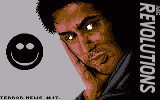 TPSH and Moldi both sent us the last missing issue of Terror News: Terror News 17! Fire it up if you're so inclined (and speak Hungarian) to read some old news. Big thanks to both guys, a remember to check your disks for more missing programs. (Most notable in the mags category are SCN News, Scanners and Infó.)

Happy Easter...tro!

Posted by Luca on 2007-04-05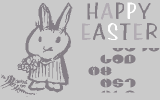 Happy Easter to all of us!

Aaaawww, don't bother! I know it's too soon to say that. But there's a good occasion to bringing forward our wishes. CSIO (code) and Chronos (gfx) of Absence come back to give us a present: Surpriseastro!

The little sweet bunny wishes a fantastic Easter for all of us, signed Absence. Download it and vote for that cute jumpe-y pet!

Club Info 98 and Other Mags

Posted by Csabo on 2007-04-03
Erich/Ultd just sent us the new issue of Club Info: Club Info 98 is here! Check it out for 2 disk sides packed full of German articles, plus recent and new releases. Our frequent calls for missing software also got answered. It's a coincidence, but we also received a few more programs, all of them happen to be mags. Ati got us a good, working copy of Lunacy 6, and Unreal found two more missing issues of Terror News: 10 and 18. (This almost completes the series: now only 17 is missing.) Thanks for the stuff guys, enjoy!
Copyright © Plus/4 World Team, 2001-2018