News

2018
2018/04
2
2018/03
3
2018/02
5
2018/01
7
Total:
17
Avg.:
4.2
2017
2017/12
6
2017/11
5
2017/10
6
2017/09
4
2017/08
4
2017/07
9
2017/06
8
2017/05
4
2017/04
5
2017/03
7
2017/02
6
2017/01
15
Total:
79
Avg.:
6.5
2016
2016/12
10
2016/11
7
2016/10
4
2016/09
5
2016/08
1
2016/07
7
2016/06
4
2016/05
6
2016/04
2
2016/03
4
2016/02
3
2016/01
6
Total:
59
Avg.:
4.9
2015
2015/12
10
2015/11
8
2015/10
7
2015/09
5
2015/08
2
2015/07
1
2015/06
4
2015/05
7
2015/04
6
2015/03
4
2015/02
6
2015/01
1
Total:
61
Avg.:
5
2014
2014/12
7
2014/11
5
2014/10
4
2014/09
7
2014/08
12
2014/07
7
2014/06
4
2014/05
3
2014/04
6
2014/03
2
2014/02
4
2014/01
5
Total:
66
Avg.:
5.5
2013
2013/12
6
2013/11
7
2013/10
4
2013/09
5
2013/08
5
2013/07
5
2013/06
3
2013/05
4
2013/04
5
2013/03
8
2013/02
4
2013/01
2
Total:
58
Avg.:
4.8
2012
2012/12
6
2012/11
4
2012/10
5
2012/09
3
2012/08
6
2012/07
4
2012/06
4
2012/05
10
2012/04
2
2012/03
3
2012/02
3
2012/01
4
Total:
54
Avg.:
4.5
2011
2011/12
4
2011/11
1
2011/10
1
2011/09
3
2011/08
3
2011/07
8
2011/06
7
2011/05
5
2011/04
2
2011/03
2
2011/02
6
2011/01
2
Total:
44
Avg.:
3.6
2010
2010/12
1
2010/11
3
2010/10
3
2010/09
2
2010/08
3
2010/07
4
2010/06
5
2010/05
2
2010/04
8
2010/03
1
2010/02
3
2010/01
2
Total:
37
Avg.:
3
2009
2009/12
8
2009/11
7
2009/10
7
2009/09
4
2009/08
4
2009/07
1
2009/06
3
2009/05
1
2009/04
9
2009/03
2
2009/02
6
2009/01
3
Total:
55
Avg.:
4.5
2008
2008/12
3
2008/11
6
2008/10
5
2008/09
4
2008/08
3
2008/06
6
2008/05
6
2008/04
2
2008/03
3
2008/02
9
2008/01
5
Total:
52
Avg.:
4.7
2007
2007/12
1
2007/11
3
2007/10
5
2007/09
2
2007/08
7
2007/07
6
2007/06
7
2007/05
4
2007/04
10
2007/03
9
2007/02
14
2007/01
8
Total:
76
Avg.:
6.3
2006
2006/12
4
2006/11
6
2006/10
6
2006/09
7
2006/08
13
2006/07
5
2006/06
7
2006/05
1
2006/04
11
2006/03
5
2006/02
4
2006/01
11
Total:
80
Avg.:
6.6
2005
2005/12
9
2005/11
12
2005/10
11
2005/09
17
2005/08
9
2005/07
3
2005/06
1
2005/05
3
2005/04
9
2005/03
6
2005/02
6
2005/01
7
Total:
93
Avg.:
7.7
2004
2004/12
9
2004/11
14
2004/10
10
2004/09
19
2004/08
9
2004/07
10
2004/06
13
2004/05
8
2004/04
23
2004/03
9
2004/02
17
2004/01
16
Total:
157
Avg.:
13
2003
2003/12
20
2003/11
14
2003/10
20
2003/09
23
2003/08
21
2003/07
22
2003/06
15
2003/05
18
2003/04
8
2003/03
11
2003/02
13
2003/01
19
Total:
204
Avg.:
17
2002
2002/12
12
2002/11
11
2002/10
12
2002/09
16
2002/08
9
2002/07
13
2002/06
8
2002/05
12
2002/04
9
2002/03
6
2002/02
3
2002/01
5
Total:
116
Avg.:
9.6
2001
2001/12
1
2001/11
1
2001/10
4
2001/09
4
Total:
10
Avg.:
2.5
2000
2000/08
1
2000/04
1
Total:
2
Avg.:
1
/
1




Soccer Boss As It Should Be!

Posted by Csabo on 2017-07-31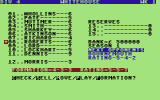 Forum member JimmyCoupe raised some issues about Soccer Boss; apparently the scene-made 64K conversion has many problems. Kichy and JamesC stepped up, and we now have Soccer Boss Plus/4 V1.2! This is a fresh conversion of the same game, but this time bug-free and loaded with improvements and bonus features. It's fantastic to see this type of scene response, be sure to check it out!
Read comments

Tetravex!

Posted by Csabo on 2017-07-27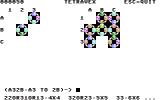 Charlemagne has just released Tetravex, an implementation of the classic edge-matching puzzle game. The objective of the game is to place the tiles in order, so that their edges line up, in the shortest time possible. Check it out and enjoy!
Be the first to comment!

Run To The Bomb...Again!

Posted by Luca on 2017-07-22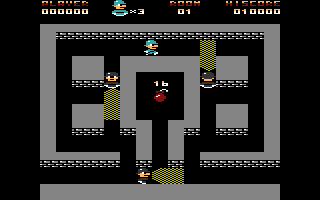 Just like cinema, summer is a season of games' sequels: following up Bombrunner, RKSoft releases Bomb Runner 2!

As an official sequel, Bomb Runner 2 improves Mark Quante's original in all its aspects. The game ensures 12 screens of increasing challenge full of enemy guards to avoid, one Zelda style's big boss to defeat, extensive options about difficulty level and controls, interlude scenes. All moves into a deep BASIC 3.5 galore supplied with the pretty cute MC graphics RKSoft signed we all well know.

Bomb Runner 2 can be downloaded here, or from the official page at RKSoft.info. Do your best!
Read comments

Winter "Hiss!" Coming

Posted by Luca on 2017-07-17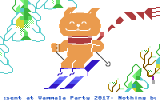 Hot sweaty summer there, Boreal half people? Melancholy remembering the snow? Need some more *purrr*?

No worries at all: Fit is coming to you with the right release for you: Nothing But PET SKI is nothing but...err...well, PETSCII of a kitty pet, indeed. Oh, and ski, ski of course! Another lovely PETSCII animation demo coded by Marq with SID music by Yzi and graphics by Dr. TerrorZ. The Plus/4 pushes colors to the max, improving the C64 twin released, which has been presented at Vammala Party 23 where it's been ranked 3rd in the Mixed Demo competition.

Thank you Finnish pals, anybody hope to see more from you.
Read comments
Copyright © Plus/4 World Team, 2001-2018