News

2018
2018/04
3
2018/03
3
2018/02
5
2018/01
7
Total:
18
Avg.:
4.5
2017
2017/12
6
2017/11
5
2017/10
6
2017/09
4
2017/08
4
2017/07
9
2017/06
8
2017/05
4
2017/04
5
2017/03
7
2017/02
6
2017/01
15
Total:
79
Avg.:
6.5
2016
2016/12
10
2016/11
7
2016/10
4
2016/09
5
2016/08
1
2016/07
7
2016/06
4
2016/05
6
2016/04
2
2016/03
4
2016/02
3
2016/01
6
Total:
59
Avg.:
4.9
2015
2015/12
10
2015/11
8
2015/10
7
2015/09
5
2015/08
2
2015/07
1
2015/06
4
2015/05
7
2015/04
6
2015/03
4
2015/02
6
2015/01
1
Total:
61
Avg.:
5
2014
2014/12
7
2014/11
5
2014/10
4
2014/09
7
2014/08
12
2014/07
7
2014/06
4
2014/05
3
2014/04
6
2014/03
2
2014/02
4
2014/01
5
Total:
66
Avg.:
5.5
2013
2013/12
6
2013/11
7
2013/10
4
2013/09
5
2013/08
5
2013/07
5
2013/06
3
2013/05
4
2013/04
5
2013/03
8
2013/02
4
2013/01
2
Total:
58
Avg.:
4.8
2012
2012/12
6
2012/11
4
2012/10
5
2012/09
3
2012/08
6
2012/07
4
2012/06
4
2012/05
10
2012/04
2
2012/03
3
2012/02
3
2012/01
4
Total:
54
Avg.:
4.5
2011
2011/12
4
2011/11
1
2011/10
1
2011/09
3
2011/08
3
2011/07
8
2011/06
7
2011/05
5
2011/04
2
2011/03
2
2011/02
6
2011/01
2
Total:
44
Avg.:
3.6
2010
2010/12
1
2010/11
3
2010/10
3
2010/09
2
2010/08
3
2010/07
4
2010/06
5
2010/05
2
2010/04
8
2010/03
1
2010/02
3
2010/01
2
Total:
37
Avg.:
3
2009
2009/12
8
2009/11
7
2009/10
7
2009/09
4
2009/08
4
2009/07
1
2009/06
3
2009/05
1
2009/04
9
2009/03
2
2009/02
6
2009/01
3
Total:
55
Avg.:
4.5
2008
2008/12
3
2008/11
6
2008/10
5
2008/09
4
2008/08
3
2008/06
6
2008/05
6
2008/04
2
2008/03
3
2008/02
9
2008/01
5
Total:
52
Avg.:
4.7
2007
2007/12
1
2007/11
3
2007/10
5
2007/09
2
2007/08
7
2007/07
6
2007/06
7
2007/05
4
2007/04
10
2007/03
9
2007/02
14
2007/01
8
Total:
76
Avg.:
6.3
2006
2006/12
4
2006/11
6
2006/10
6
2006/09
7
2006/08
13
2006/07
5
2006/06
7
2006/05
1
2006/04
11
2006/03
5
2006/02
4
2006/01
11
Total:
80
Avg.:
6.6
2005
2005/12
9
2005/11
12
2005/10
11
2005/09
17
2005/08
9
2005/07
3
2005/06
1
2005/05
3
2005/04
9
2005/03
6
2005/02
6
2005/01
7
Total:
93
Avg.:
7.7
2004
2004/12
9
2004/11
14
2004/10
10
2004/09
19
2004/08
9
2004/07
10
2004/06
13
2004/05
8
2004/04
23
2004/03
9
2004/02
17
2004/01
16
Total:
157
Avg.:
13
2003
2003/12
20
2003/11
14
2003/10
20
2003/09
23
2003/08
21
2003/07
22
2003/06
15
2003/05
18
2003/04
8
2003/03
11
2003/02
13
2003/01
19
Total:
204
Avg.:
17
2002
2002/12
12
2002/11
11
2002/10
12
2002/09
16
2002/08
9
2002/07
13
2002/06
8
2002/05
12
2002/04
9
2002/03
6
2002/02
3
2002/01
5
Total:
116
Avg.:
9.6
2001
2001/12
1
2001/11
1
2001/10
4
2001/09
4
Total:
10
Avg.:
2.5
2000
2000/08
1
2000/04
1
Total:
2
Avg.:
1
/
1




Archive Update from Lacus

Posted by Csabo on 2015-01-14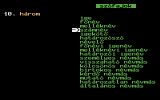 Lacus sent us a big update for our ever-growing archive of All Things Commodore 16 and Plus/4. They are all Hungarian releases. First up is Szófajok, an education title that was completely missing from the database previously. This bears the release code of "ED 100" (interestingly this is printed backwards on the cover).

Three additional releases got brand new alternative covers: Axonometria (which you might recall, as we hunted down the original last January), and Headjust. The third one is Gépi Kód Oktató, for which we now also have a 25-page scanned user manual (see here).

Also added are photos of cassettes for Forth+, Karakter-Szerkesztő and Turbo 16.

Finally, two sought-after TAPs has now been found: Kőműves Kelemen and Csavargás A Gombák Birodalmában! If you're so inclined, you may play the originals in all their glory (instead of a crack).

I hope you enjoy checking these out, big thanks to Lacus for all his work getting these and sending them to us!
Read comments
Copyright © Plus/4 World Team, 2001-2018