Welcome to Plus/4 World!
| | | |
| --- | --- | --- |
| | New stuff from Acrid and Sanya! | |
Posted by Csabo on 2016-12-07
Acrid took the time to nicely scan some missing stuff for us. Check out the covers section of Maniax, we now have the disk cover and the disk inlay, as well as an image of the diskette itself.

Sanya also sent us a small package of curios. Adatfile-Kezelo Program (tape version), Csipogos Keyboard, Double-Screen (Hungarian version), Extended Screen Intro, Hardware (alternative version) and Magyarositott BASIC. This latter one is kind of fun: it changes all the BASIC tokens to Hungarian words. Just try to program like that :-)

Further added materials are: a charset fixed Trivial Pursuit version and a working file for Disk Manager V4.0, a cracked version of The Sorcerer Of Claymorgue Castle +4, two better disks (official and alternative) for Rug Rider (in the past, we've got the cracked version, which is quite common to find anywhere as a valid copy), and a bunch of different releases regarding Fantastic Four plus a fully working patched G64 disk.

Thanks for these guys! If you have new stuff for our site, be sure to send it in!
Read comments
| | | |
| --- | --- | --- |
| | 1010! | |
Posted by Csabo on 2016-12-01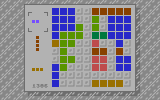 As hinted on the forum, Csabo's new game is here! 1010! (ten-ten) is a simple "coffee-break" puzzle. It uses PETSCII graphics and can be considered a spiritual sibling of 2048 and FloodIt. Check it out and don't forget to submit your high score :-)
Read comments
| | | |
| --- | --- | --- |
| | Club Info 144 Released! | |
Posted by Csabo on 2016-11-30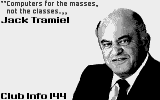 Erich/Ultd is here with the 4th and last issue of Club Info of the year. Side A of the disk is full of German-language articles, reviewing games, demos and utilities, and program tips, etc. Side B has recent and new releases, including a few BASIC match utilities. Check it out and enjoy!
Be the first to comment!
| | | |
| --- | --- | --- |
| | A rare TAP has been sent in by Perfect Darky for Quiwi! It's one of the largest TAPs, we're glad to have it in the collection. Be sure to check it out. | [ comment ] |
Copyright © Plus/4 World Team, 2001-2016