Welcome to Plus/4 World!
| | | |
| --- | --- | --- |
| | Two Three Most Wanted And More | |
Posted by Luca on 2013-05-20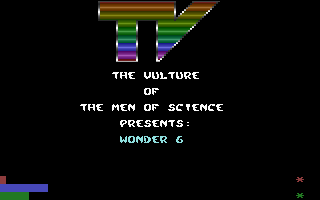 Our persisting fight against the "Missing software" tagging has won against other celebrated hidden software we were looking for.

Rising out of nowhere, in the very end here comes Wonder 6, a most wanted demo released by The Vulture under the Men Of Science label, which we just had as broken program from several collections. Finally, now we can put that as working into the whole ser...oh wait! What's that one? Wonder 3? Yes, it's Wonder 3 from the same coder, a missing one we've absolutely never seen before! And all this means one thing only: the Wonder series is now complete! Great achievement!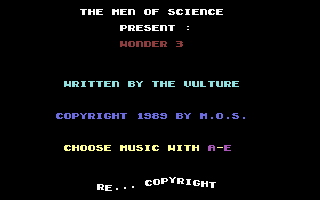 Recoveries are not over yet, another one out of the missing software's list: it's Sound Box VII by LTA, a music box we've searched for, since someone noticed a hack of the main picture in another demo. Too early to put up a series, having three chapters overall of that, but it looks like taking shape, and this is certainly a notable step to have'em all one day.
And we wish a similar destiny will come for Picture Show 6 by Gang Soft. Previously, we've found a unique specimen of their releases, i.e. the 7th chapter. A single one means nothing, two in a row begin to turn into a new series to search for...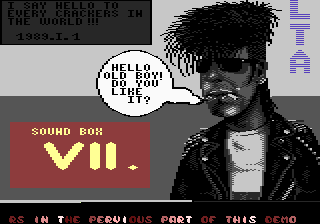 Additional stuff follows. First of all, some SD2IEC utilities we've missed before, like CBM FileBrowser 16 V1.5 and Dracopy 1.0d Plus4. Follows, a couple of very ancient Kruk's demos: Greased Lightning (Kruss) and Horror Demo; a very early picture by Crash at the time he was known as "Monster Graphics: Mach Mit; a German educational program about a Russian space program called Projekt Phobos. In the end, some minor stuff which has to be included in the archive (in some cases, though their controversial content): Tomorrow, Alpensound, Dream-woman, La Marseillaise, Move Your Feet, Plus4-power Demo, Porno (HR), Porno Show II, Sex Cartoons I, Strip 16, Strip And Slide, Swedish Girl, Work Hard.

Last little gem: Tynesoft C16 Plus4 Catalogue III, the third promotional booklet released by Tynesoft, in PDF format.
Be the first to comment!
| | | |
| --- | --- | --- |
| | Spanish Rockets Against Aliens! | |
Posted by Luca on 2013-05-18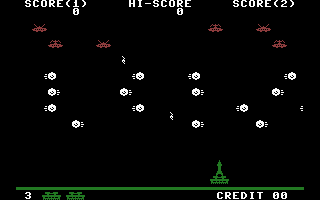 Unexpected game's releases are the sceners best friends!

We wanna thank marcos64 for the advice, we would never be aware of this juicy conversion in BASIC of a classic Taito coinop's milestone. Actually, Galaxy Wars is a conversion of this arcade machine developed by Universal Co. Ltd. and distributed by the Japanese publisher in the year 1979.

Daniel Crespo Andrés (aka dancresp), a Spanish ZX Spectrum coder (which doesn't hide his interest for other machines too!), has decided to try out the capabilities of the BASIC V3.5, as he found it much more comfortable than the most famous V2.0, and the result is this sweet'n'neat conversion which also seems to be quite enjoyable to play with!

We hope that dancresp would have a long experiencing on the C16, and right now we're looking forward for further software from him!
Be the first to comment!
| | | |
| --- | --- | --- |
| | Incoming TAPs And Other Previosly Missing Ones | |
Posted by Luca on 2013-05-07



Contributors FTW!! This community simply shine, when we call and you promptly react!
You all know we tagged all the know-but-missing stuff with the "WANTED" word in the notes, in order to have an easy searching for anyone that can help us in feeding our/your prefer archive. Well, our little advice in the forum has been enough for MIK to push him in a loooong session of tapes dumping and covers scanning. And this is the fantastic result he got!

Finally, we've got tapes of: Chopper War, Corman, Fire Ant (no fastload), Heebie Jeebies, Invaders (no fastload), Jet Set Willy II, Ping Pong, Pizza Pete, Raider, Skelby, Slippery Sid, Space Sweep (no fastload), Sqij, The Mirror, The Wizard And The Princess, Williamsburg (Adventure 3) and the famous broken version of Xargon's Revenge re-released on Omnibus II compilation!
And we've got several covers too, some fresh new, some replacements as better ones: Bridgehead, Saboteur!, The Mirror, Mercenary - Escape From Targ (disk version's back cover), Cassette Database. To these ones from MIK, we've added a rare view of the Learner Pack Software box.



Surprises are not over! gc841, alias Gary Cooper (his Sabre Wulf conversion has just been reviewed, see the forum!) did a great work to spread worldwide a rare gem: Plus Graph by David W. Johnson, released in Christmas 1984 both as a standalone utility and as an integration to the Plus/4 3-Plus-1 software!
Thanks to Gary, now we have the disk, the additional material and the whole manual for it!

Let's complete this big giveaway with these two further publications. It's C16 Chris's turn to contribute, with new covers and the whole manual for Company Pac 123 as PDF. And last, courtesy of DLH's Commodore Archive, here comes the extra paper from "Your Commodore" issue 50 entirely dedicated to the C16/Plus4, as PDF again: C16 And Plus/4 Essential Guide.

Hey, absolutely don't believe all this boon would quench our thirst! We're still waiting for your own contribute! Search the WANTED tag, then scan dump copy and finally send to us! ;)
Read comments
| | | |
| --- | --- | --- |
| | HVTC Update May 2013 | |
Posted by Luca on 2013-05-05
Further updates of the High Voltage TED Collection, aka HVTC, have been procrastinated several times, just because the near future of the whole project is closely related to the development of .C8M as the proper format for TED tunes. Why releasing new files with custom code for multiple tunes, if all this effort will be trashed out once .C8M will be here on this earth?

Well, an answer exists, and it sounds like topsy-turvy: a conversion to .C8M has to be done anyway, meanwhile let's make the collection grow. And that's why a new version of HVTC is out today!

We've reached the notable number of 330 single files overall, as usual both "pure as they are" and straight runnable to play, plus some fixes here and there (i.e.: added the missing jingle in Harvey Headbanger's file).
Csabo offered all his files in both formats, completing his own folder, Braintron's folder is now completed too, and several new authors have been added, with some very hard hacks succesfully included (Oszkár A Lovag, Oblido...). Metamerism's tune is still missing, but Degauss has promised to release a standalone prg for it quite soon, and that'll become the first file to store for the next update ;)

Don't forget to completely delete the whole previous collection (that's the way to do at any new update!), then download/unzip the new one!

UPDATE: sorry for the mistake, the right link to the ZIP file is on now!
Read comments
| | | |
| --- | --- | --- |
| | A Relaxing Shields'Harvest | |
Posted by Luca on 2013-04-27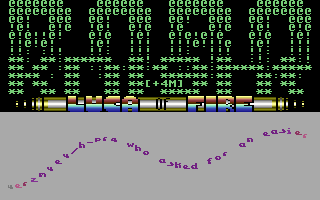 Ok, maybe here in the Plus/4 scene, we're not exactly used to release one production a week, have to admit... But what we do for sure is listen people and quickly match their needings.

In this forum's thread, Yerzmyey/H-PRG has complained about the high grade of difficulty of certain classic games, which nonetheless he would play further to see what lies more into it, and he cited Robo Knight with that intent. And, yes, Robo Knight is a classic game for real, a C16 milestone in the commercial games, with its wide map, competent usage of software sprite's techique, a gameplay extremely polished and calibrated properly. The only pity is that it's a unique opera of its coder!

May your superheroes stay blind and deaf to the neat request of a trainer? Here comes Luca of the FIRE crew, to save the day and your nerves too, releasing Robo Knight +4M, a trainer with four features you can activate and deactivate while the game is running, pickin'up shields here and there has never been that easy!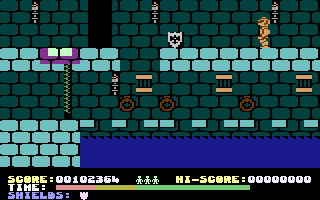 As for previous trainers, the whole stuff is absolutely C16 compliant, perfectly running in any 264 series machine, and it runs again the cracktro with music by Csabo/LOD.

And so, Yerzmyey, what do you say about? Does it is a much more easier shields'harvest or not? ;)
Be the first to comment!
| | | |
| --- | --- | --- |
| | Endings Triplets 24-30 | |
Posted by Luca on 2013-04-20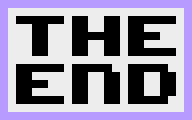 And after some weeks of silence, here we are, ready to start again our ride into the games'endings we've never seen in past years. Yes, in the usual mix of C16 classics, converted games and original ones.

Another seven-triplets release. Come to see the endings of: Tonido, Nuclear Ball, Lloyd Game, The Hell, The Hell 2, The Hell 3, Molecule Man, Extasy, Legionnaire, Kaputörő, Slipper 2, Trans Logic, Escape, Trap, Ponk, Puzzlenoid, Triple Change, Landscape Maze, Very Shit Game, Very Shit Game 2, Dixi A Megmentő.

We still have dozens of this stuff for you, and new endings are added day by day. Don't miss the signal when the Endings will call!
Be the first to comment!
| | | |
| --- | --- | --- |
| | Exomizer 2.0.7 Loves C16 | |
Posted by Luca on 2013-04-15
Exomizer, the widely used packing tool which crunches your 8bit files starting from your own PC, improves again!

This brand new version (2.0.7) includes fixes and new features exclusively dedicated to 264 machines'users, and it's a straight consequence of a feedback to the author Magnus Lind from Luca of the FIRE crew, after his recent dealing with stuff that have to work on C16 too.

Here follow the changes'list since the previous version:

- bugfixed commodore sfx targets to automatically disable irq when decrunching over system areas. This was reported for the plus4 target by Luca/FIRE. This fix together with moving the decrunch table to zero-page, -Di_table_addr=0x2, allows decrunching $0200- without corruption for all commodore targets except for the vic20-configs that have a memory hole at $0400-$1000;
- bugfixed z80 decrunchers from Metalbrain;
- bugfixed sfx c16/plus4 target where the default decrunch effect could corrupt memory while decrunching data that covers $0be7, reported by Luca/FIRE;
- added feature to sfx-mode that complains if the data it too big to fit in the available memory of the selected target, suggested by Luca/FIRE;
- added c16 target, -t 16, like -t4 but with smaller memory, suggested by Luca/FIRE;
- bug fixed in the z80 decruncher.

See how much new matter for us? Hence, you have no excuses and must update your Exomizer right today!
We respect Magnus Lind once again, thank you bud for keeping this essential tool clean and running!
Read comments
| | | |
| --- | --- | --- |
| | Liberator +5MD: A Crack For Any 264 Machine | |
Posted by Luca on 2013-04-11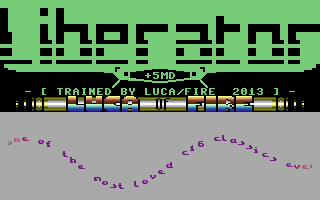 "Let's resume the tradition of cracks and trainers on Plus/4 too!" we said just a couple of weeks ago, and you all know that the scene doesn't like vapourware. So, let's go back in time, to fully exploit the games we'd loved so much, which sometimes we'd desired to win by breaking the toy to see how it's made inside.

First in row to fall is Liberator, the widely appreciated horizontal shoot'em up with softsprites, smooth scrolling great sfx; somewhat prejudiced due to various flaws and unrewarded no ending, its strong points are the Uridium-esque graphics and the great fun playing against the mothership's generator.

It's now time for revenge: Luca/FIRE takes to you Liberator +5MD, a jewel version implementing ingame modifications, and a useful autofire feature in order to blow up generators easy way! As any respectable crack deserves, a classy intro with game's docs precedes the game itself: all coded by the cracker himself, and supplied with a sweety tune composed ad hoc by Csabo/LOD.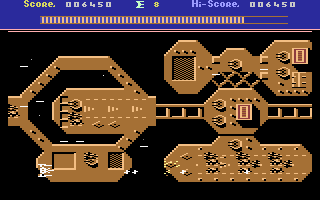 Ok for the cutey tune, but Csabo did more than you can see on the surface, occupying $1ED (493) bytes only for that tune! Why this effort? Well, simple: what has been thought to run on C16, must continue to run on C16! Yes, this cracked game lies into the C16 memory limitation, and can be run on any machine in the 264 series!

Time to scatter some generator's debris in the deep space, we shall meet again in other forthcoming cracks.
Read comments
| | | |
| --- | --- | --- |
| | Four Missing And Rare Tapes Are In! | |
Posted by Luca on 2013-04-06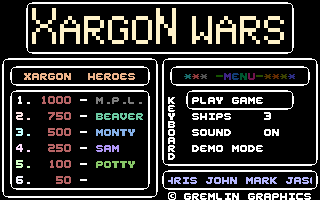 When the community asks, the community promptly answers loud and clear!

We asked for some missing tapes since months, moreover the famous case about the two different versions of Xargon Wars raised up again. This has moved MIK to save the day, under the motto:"It's saturday, let's dump some damn tapes!". Once copied as TAP images, the whole pack of four was ready to be spreaded, and that's how we've got the TAP files for Joey, the very rare Room Ten, Xargon Wars first version without turbo loader, and...ohoooo Aliens as one of the super rare tapes around!

Big bash MIK, we thank you so much! And we hope that many other buddies shall move their 1531 cables to join in and enrich the TAP archive, 'coz many many other missing files await to be crossed out from the list.
Be the first to comment!
| | | |
| --- | --- | --- |
| | Happy 39th Birthday TCFS! Wah-tchaaaa! | |
Posted by Luca on 2013-03-28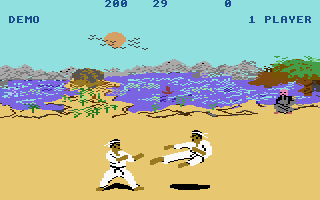 It's the day! Today is the 28th of March, hence all together in one voice we say: happy birthday TCFS, you're 39 now!

Does exist a better way to celebrate one of the most notable personalities ever in the Plus/4 scene, than release a celebration trainer of Exploding Fist +4 as one of his most loved converted games? Download Exploding Fist +5MD!, and enjoy cheating against your opponent, reaching the ranking of Master in a snap of fingers! That's the surprise present that Luca and all the FIRE crew wanna give to TCFS and to all the Plus/4 aficionados all over the world! Wah-tchaaaa!
Read comments




0.019777059555054


Copyright © Plus/4 World Team, 2001-2013