News

2018
2018/02
3
2018/01
7
Total:
10
Avg.:
5
2017
2017/12
6
2017/11
5
2017/10
6
2017/09
4
2017/08
4
2017/07
9
2017/06
8
2017/05
4
2017/04
5
2017/03
7
2017/02
6
2017/01
15
Total:
79
Avg.:
6.5
2016
2016/12
10
2016/11
7
2016/10
4
2016/09
5
2016/08
1
2016/07
7
2016/06
4
2016/05
6
2016/04
2
2016/03
4
2016/02
3
2016/01
6
Total:
59
Avg.:
4.9
2015
2015/12
10
2015/11
8
2015/10
7
2015/09
5
2015/08
2
2015/07
1
2015/06
4
2015/05
7
2015/04
6
2015/03
4
2015/02
6
2015/01
1
Total:
61
Avg.:
5
2014
2014/12
7
2014/11
5
2014/10
4
2014/09
7
2014/08
12
2014/07
7
2014/06
4
2014/05
3
2014/04
6
2014/03
2
2014/02
4
2014/01
5
Total:
66
Avg.:
5.5
2013
2013/12
6
2013/11
7
2013/10
4
2013/09
5
2013/08
5
2013/07
5
2013/06
3
2013/05
4
2013/04
5
2013/03
8
2013/02
4
2013/01
2
Total:
58
Avg.:
4.8
2012
2012/12
6
2012/11
4
2012/10
5
2012/09
3
2012/08
6
2012/07
4
2012/06
4
2012/05
10
2012/04
2
2012/03
3
2012/02
3
2012/01
4
Total:
54
Avg.:
4.5
2011
2011/12
4
2011/11
1
2011/10
1
2011/09
3
2011/08
3
2011/07
8
2011/06
7
2011/05
5
2011/04
2
2011/03
2
2011/02
6
2011/01
2
Total:
44
Avg.:
3.6
2010
2010/12
1
2010/11
3
2010/10
3
2010/09
2
2010/08
3
2010/07
4
2010/06
5
2010/05
2
2010/04
8
2010/03
1
2010/02
3
2010/01
2
Total:
37
Avg.:
3
2009
2009/12
8
2009/11
7
2009/10
7
2009/09
4
2009/08
4
2009/07
1
2009/06
3
2009/05
1
2009/04
9
2009/03
2
2009/02
6
2009/01
3
Total:
55
Avg.:
4.5
2008
2008/12
3
2008/11
6
2008/10
5
2008/09
4
2008/08
3
2008/06
6
2008/05
6
2008/04
2
2008/03
3
2008/02
9
2008/01
5
Total:
52
Avg.:
4.7
2007
2007/12
1
2007/11
3
2007/10
5
2007/09
2
2007/08
7
2007/07
6
2007/06
7
2007/05
4
2007/04
10
2007/03
9
2007/02
14
2007/01
8
Total:
76
Avg.:
6.3
2006
2006/12
4
2006/11
6
2006/10
6
2006/09
7
2006/08
13
2006/07
5
2006/06
7
2006/05
1
2006/04
11
2006/03
5
2006/02
4
2006/01
11
Total:
80
Avg.:
6.6
2005
2005/12
9
2005/11
12
2005/10
11
2005/09
17
2005/08
9
2005/07
3
2005/06
1
2005/05
3
2005/04
9
2005/03
6
2005/02
6
2005/01
7
Total:
93
Avg.:
7.7
2004
2004/12
9
2004/11
14
2004/10
10
2004/09
19
2004/08
9
2004/07
10
2004/06
13
2004/05
8
2004/04
23
2004/03
9
2004/02
17
2004/01
16
Total:
157
Avg.:
13
2003
2003/12
20
2003/11
14
2003/10
20
2003/09
23
2003/08
21
2003/07
22
2003/06
15
2003/05
18
2003/04
8
2003/03
11
2003/02
13
2003/01
19
Total:
204
Avg.:
17
2002
2002/12
12
2002/11
11
2002/10
12
2002/09
16
2002/08
9
2002/07
13
2002/06
8
2002/05
12
2002/04
9
2002/03
6
2002/02
3
2002/01
5
Total:
116
Avg.:
9.6
2001
2001/12
1
2001/11
1
2001/10
4
2001/09
4
Total:
10
Avg.:
2.5
2000
2000/08
1
2000/04
1
Total:
2
Avg.:
1
/
1




2017 - A Year In Review

Posted by Csabo on 2017-12-31
Another year has gone by... Wouldn't it be fun to sum it all up from the Commodore Plus/4's point of view? Yes? Then here we go!

Let's start with emulators: while we are happy that VICE and plus4emu each got an update this year, YAPE is leading the way here. After 6 big updates in 2017, Gaia is still around polishing this gem, adding the little feature requests that the hardcore users keep coming up with. His JavaScript emulator also got updated this year, I have to re-iterate that being able to run Plus/4 stuff right in the browser is pretty sweet stuff.

Our site had one big update, we can now properly handle Hungarian accented chars (őrült jó :-)). Our collection reached 10000 entries. Otherwise we count 78 releases this year, the highest in 10 years. Way to go Plus/4 Scene! Let's see it broken down by categories.

Games: Slipstream from BKN is the big hit of 2017, a 3D space-shooter that pushes the machine's capabilities to the limits. This game saw a commercial release as well. We have several other cool games to enjoy: Skoro dropped Mr. Mind, Megastyle surprised us with Athanor, and under "G" we can file... Genius (and it's sequel), Galli +4 and Gunfright. BASIC games are still a thing too; Castle Matcher saw its final release, Tetravex, Assembloids, Bomb Runner 2, Boray Gammon, Shield Command just to name a few.

Demos: Unfortunately no big releases this year, but we're not left empty handed! Genesis Project released Flickerfish. I was happy to see that TLT is back this year with 2 digi demos. Larry released Dreamtime 2K17, a nice picture show that generated some buzz at this year's Arok party. Otherwise we saw a massive influx of gfx releases, including lots of nice PETSCII stuff as well. MMS was very active this year, having worked on 9 releases. George released many converted pictures as well, plus some MIDI music conversions, his 16 releases make up 20% of this year's total.

...And The Rest: Erich continues to work on Club Info. BSZ+bubis unleashed Bitfire+4, and we also have SJL264 Light. After a long hiatus, we're happy to see that JamesC was active this year with some releases. On that note, let the spotlight shine on Charlemagne for a moment, as I believe he deserves a special mention. As a newly added member this year, having found our site he gave us his old archives, and then continued to develop stuff: two games and a new utility. We're all happy to have see this kind of enthusiasm and productivity. Cheers!

Is there any other important stuff I've forgotten? What was your favourite part of 2017? Discuss on the forums and of course: Happy New Year!
Read comments

HVTC Update December 2017

Posted by Luca on 2017-12-11
The High Voltage TED Collection, better known as HVTC, goes up to 577 single file: new stuff and fixes here and there.

Don't forget to completely delete the whole previous collection (that's the way to do at any new update!), then download/unzip the new one!
This is the straight link to the ZIP file.
Read comments

Genius 2 - Into The Toy Caves

Posted by Luca on 2017-12-10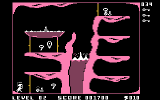 Our friend Daniele Liverani did it again, and comes to us accomplishing his mission: both the chapter of his game have been releases in the same year!

The little European prince is again in trouble and needs to be saved. Trapped in a world of dreams, a parallel dimension where fantasies are created and transmitted to sleeping minds, Genius needs to run through the eight magic toy caves from all around the world. As Genius. you'll have to follow the key sequences and unlock all the secret caverns of the toy caves, grab the toys, and avoid killer enemies. To add fun to the ride, see if you can discover the undocumented secrets. including secret passages, invisible toys, extra bonus lives, immortality, and much more!

Genius 2 takes advantage of the new game engine which improves both sound and graphics from the first Genius. So, Daniele "Twinspirit32" Liverani coded back the older chapter Genius to pack up a Release 04 version using the newer engine.

Find all the secrets, see all the caves, will you be able to save the little Prince in time?
Read comments
Copyright © Plus/4 World Team, 2001-2018