News

2018
2018/04
2
2018/03
3
2018/02
5
2018/01
7
Total:
17
Avg.:
4.2
2017
2017/12
6
2017/11
5
2017/10
6
2017/09
4
2017/08
4
2017/07
9
2017/06
8
2017/05
4
2017/04
5
2017/03
7
2017/02
6
2017/01
15
Total:
79
Avg.:
6.5
2016
2016/12
10
2016/11
7
2016/10
4
2016/09
5
2016/08
1
2016/07
7
2016/06
4
2016/05
6
2016/04
2
2016/03
4
2016/02
3
2016/01
6
Total:
59
Avg.:
4.9
2015
2015/12
10
2015/11
8
2015/10
7
2015/09
5
2015/08
2
2015/07
1
2015/06
4
2015/05
7
2015/04
6
2015/03
4
2015/02
6
2015/01
1
Total:
61
Avg.:
5
2014
2014/12
7
2014/11
5
2014/10
4
2014/09
7
2014/08
12
2014/07
7
2014/06
4
2014/05
3
2014/04
6
2014/03
2
2014/02
4
2014/01
5
Total:
66
Avg.:
5.5
2013
2013/12
6
2013/11
7
2013/10
4
2013/09
5
2013/08
5
2013/07
5
2013/06
3
2013/05
4
2013/04
5
2013/03
8
2013/02
4
2013/01
2
Total:
58
Avg.:
4.8
2012
2012/12
6
2012/11
4
2012/10
5
2012/09
3
2012/08
6
2012/07
4
2012/06
4
2012/05
10
2012/04
2
2012/03
3
2012/02
3
2012/01
4
Total:
54
Avg.:
4.5
2011
2011/12
4
2011/11
1
2011/10
1
2011/09
3
2011/08
3
2011/07
8
2011/06
7
2011/05
5
2011/04
2
2011/03
2
2011/02
6
2011/01
2
Total:
44
Avg.:
3.6
2010
2010/12
1
2010/11
3
2010/10
3
2010/09
2
2010/08
3
2010/07
4
2010/06
5
2010/05
2
2010/04
8
2010/03
1
2010/02
3
2010/01
2
Total:
37
Avg.:
3
2009
2009/12
8
2009/11
7
2009/10
7
2009/09
4
2009/08
4
2009/07
1
2009/06
3
2009/05
1
2009/04
9
2009/03
2
2009/02
6
2009/01
3
Total:
55
Avg.:
4.5
2008
2008/12
3
2008/11
6
2008/10
5
2008/09
4
2008/08
3
2008/06
6
2008/05
6
2008/04
2
2008/03
3
2008/02
9
2008/01
5
Total:
52
Avg.:
4.7
2007
2007/12
1
2007/11
3
2007/10
5
2007/09
2
2007/08
7
2007/07
6
2007/06
7
2007/05
4
2007/04
10
2007/03
9
2007/02
14
2007/01
8
Total:
76
Avg.:
6.3
2006
2006/12
4
2006/11
6
2006/10
6
2006/09
7
2006/08
13
2006/07
5
2006/06
7
2006/05
1
2006/04
11
2006/03
5
2006/02
4
2006/01
11
Total:
80
Avg.:
6.6
2005
2005/12
9
2005/11
12
2005/10
11
2005/09
17
2005/08
9
2005/07
3
2005/06
1
2005/05
3
2005/04
9
2005/03
6
2005/02
6
2005/01
7
Total:
93
Avg.:
7.7
2004
2004/12
9
2004/11
14
2004/10
10
2004/09
19
2004/08
9
2004/07
10
2004/06
13
2004/05
8
2004/04
23
2004/03
9
2004/02
17
2004/01
16
Total:
157
Avg.:
13
2003
2003/12
20
2003/11
14
2003/10
20
2003/09
23
2003/08
21
2003/07
22
2003/06
15
2003/05
18
2003/04
8
2003/03
11
2003/02
13
2003/01
19
Total:
204
Avg.:
17
2002
2002/12
12
2002/11
11
2002/10
12
2002/09
16
2002/08
9
2002/07
13
2002/06
8
2002/05
12
2002/04
9
2002/03
6
2002/02
3
2002/01
5
Total:
116
Avg.:
9.6
2001
2001/12
1
2001/11
1
2001/10
4
2001/09
4
Total:
10
Avg.:
2.5
2000
2000/08
1
2000/04
1
Total:
2
Avg.:
1
/
1




Emulator Updates!

Posted by Csabo on 2005-08-26
Gaia released YAPE 0.63! This release brings you some things that are simply amazing: Commodore V364 emulation (yes, it speaks!), read only support for D81 files, and a lot more cool things. Go to YAPE Homepage to read the rest and grab the download.

Litwr has also released a new version of his emulator. Forever Plus/4 Emulator is now up to version 1.31. Go to Litwr's Plus/4 Downloads to grab the new version. Cheers to the emulator developers!

New Release!

Posted by Csabo on 2005-08-24
We have some news from The Big Corporation, better known as TBC. When was their last release? 1993? That's been 12 years, hasn't it? That's why it's even more of a good news that Siz has just released an updated version of Zak Wizzard (version 2.1)! This version now works on 1551 drives as well. It's a well made piece of software with built in help and many feature. Check it out for some Zak Listenning fun!

New Covers and TAPs!

Posted by Csabo on 2005-08-20



Ulysses777 brings you this week's fine additions, and they are rare ones indeed. First up we have Cuthbert in the Cooler, the weakest in the Cuthbert series perhaps. The cover will tell you the 'story', so the game might make a bit more sense. Or not. Neverthe less it's cool to have the cover! Next up we have Kaktus, an Audiogenic release. The third one is another sought-after cover: Sir Knight, from Tynesoft. In fact, this was the last missing Tynesoft cover, their release are now complete. To celebrate the addition of the cover, we've made some cheats for this game. Was there anyone who even got past the first screen? Well, maybe, but with lots of practice, and I'd bet money that no-one ever completed the 14(!) screens. Cool cover though. Finally we have World Series Baseball, this time with the Plus/4 version's cover. And oh yeah, for all four games we also have the original TAP images as well! Very nice stuff, enjoy.

Crackers Demo 4 Released!

Posted by Csabo on 2005-08-10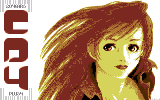 The definitive release of 2005, Crackers Demo 4 has just been released! The demo was first released on the Arok7 party, this is the final version. Parts were contributed by many sceners. Go download it now!

Club Info 88 Released

Posted by Csabo on 2005-08-08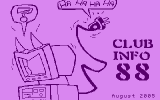 Erich/Unlimited keeps this German-language magazine going with the latest issue, Club Info 88. We also have two Bushrat card games added courtesy of The +4 King: Slide Poker and Rotato Poker. Check them out!

Arok7 Photos from ATI

Posted by Csabo on 2005-08-07
We have received the first pictures from the Arok7 party courtesy of Ati. Click here to view them. Also Click here to view bubis's photos on his blog. We have the first demo released from the party: We are the cure. This demo is also a part of the co-operation demo, but was entered at the party as an individual entry.

...and do not forget

Posted by Luca on 2005-08-02
the return of the great Jim Hehl in the forum :)

In the community

Posted by Csabo on 2005-08-01
Here are some bits of news about our scene members. The +4 King is back! Check out his new recently added photo, featuring his amazing car (F.A.B.1) in the background. Also say hello to Plasma, who just stumbled upon our site recently. Welcome back guys! We send cheers to Csio, who is getting married this month. Check his pictures section for a photo of his new family. Congratulations to him! Last but not least we now also have a piccy of Chris, the commodore16.com webmaster. This brings the total number of pictures in the Faces of the Scene gallery to 96.
Copyright © Plus/4 World Team, 2001-2018