News

2018
2018/04
3
2018/03
3
2018/02
5
2018/01
7
Total:
18
Avg.:
4.5
2017
2017/12
6
2017/11
5
2017/10
6
2017/09
4
2017/08
4
2017/07
9
2017/06
8
2017/05
4
2017/04
5
2017/03
7
2017/02
6
2017/01
15
Total:
79
Avg.:
6.5
2016
2016/12
10
2016/11
7
2016/10
4
2016/09
5
2016/08
1
2016/07
7
2016/06
4
2016/05
6
2016/04
2
2016/03
4
2016/02
3
2016/01
6
Total:
59
Avg.:
4.9
2015
2015/12
10
2015/11
8
2015/10
7
2015/09
5
2015/08
2
2015/07
1
2015/06
4
2015/05
7
2015/04
6
2015/03
4
2015/02
6
2015/01
1
Total:
61
Avg.:
5
2014
2014/12
7
2014/11
5
2014/10
4
2014/09
7
2014/08
12
2014/07
7
2014/06
4
2014/05
3
2014/04
6
2014/03
2
2014/02
4
2014/01
5
Total:
66
Avg.:
5.5
2013
2013/12
6
2013/11
7
2013/10
4
2013/09
5
2013/08
5
2013/07
5
2013/06
3
2013/05
4
2013/04
5
2013/03
8
2013/02
4
2013/01
2
Total:
58
Avg.:
4.8
2012
2012/12
6
2012/11
4
2012/10
5
2012/09
3
2012/08
6
2012/07
4
2012/06
4
2012/05
10
2012/04
2
2012/03
3
2012/02
3
2012/01
4
Total:
54
Avg.:
4.5
2011
2011/12
4
2011/11
1
2011/10
1
2011/09
3
2011/08
3
2011/07
8
2011/06
7
2011/05
5
2011/04
2
2011/03
2
2011/02
6
2011/01
2
Total:
44
Avg.:
3.6
2010
2010/12
1
2010/11
3
2010/10
3
2010/09
2
2010/08
3
2010/07
4
2010/06
5
2010/05
2
2010/04
8
2010/03
1
2010/02
3
2010/01
2
Total:
37
Avg.:
3
2009
2009/12
8
2009/11
7
2009/10
7
2009/09
4
2009/08
4
2009/07
1
2009/06
3
2009/05
1
2009/04
9
2009/03
2
2009/02
6
2009/01
3
Total:
55
Avg.:
4.5
2008
2008/12
3
2008/11
6
2008/10
5
2008/09
4
2008/08
3
2008/06
6
2008/05
6
2008/04
2
2008/03
3
2008/02
9
2008/01
5
Total:
52
Avg.:
4.7
2007
2007/12
1
2007/11
3
2007/10
5
2007/09
2
2007/08
7
2007/07
6
2007/06
7
2007/05
4
2007/04
10
2007/03
9
2007/02
14
2007/01
8
Total:
76
Avg.:
6.3
2006
2006/12
4
2006/11
6
2006/10
6
2006/09
7
2006/08
13
2006/07
5
2006/06
7
2006/05
1
2006/04
11
2006/03
5
2006/02
4
2006/01
11
Total:
80
Avg.:
6.6
2005
2005/12
9
2005/11
12
2005/10
11
2005/09
17
2005/08
9
2005/07
3
2005/06
1
2005/05
3
2005/04
9
2005/03
6
2005/02
6
2005/01
7
Total:
93
Avg.:
7.7
2004
2004/12
9
2004/11
14
2004/10
10
2004/09
19
2004/08
9
2004/07
10
2004/06
13
2004/05
8
2004/04
23
2004/03
9
2004/02
17
2004/01
16
Total:
157
Avg.:
13
2003
2003/12
20
2003/11
14
2003/10
20
2003/09
23
2003/08
21
2003/07
22
2003/06
15
2003/05
18
2003/04
8
2003/03
11
2003/02
13
2003/01
19
Total:
204
Avg.:
17
2002
2002/12
12
2002/11
11
2002/10
12
2002/09
16
2002/08
9
2002/07
13
2002/06
8
2002/05
12
2002/04
9
2002/03
6
2002/02
3
2002/01
5
Total:
116
Avg.:
9.6
2001
2001/12
1
2001/11
1
2001/10
4
2001/09
4
Total:
10
Avg.:
2.5
2000
2000/08
1
2000/04
1
Total:
2
Avg.:
1
/
1




Lone News Delayed

Posted by Csabo on 2002-08-30
We have just received word from SVS/Fire, team mate of Luca/Fire about the great diskmag Lone News. It seems that due to unforeseen reasons, Luca won't be able to release the new issue of the magazine anytime soon, but he wanted everyone to know that Lone News is not dead! From the crew here at Plus4World: good luck, Luca, and we are looking forward for that new release whenever it will arrive!

3 New Tapes at c16.de

Posted by Csabo on 2002-08-29
Scooby Doo, Sea Strike and Storm have just been added to www.c16.de. Each with TAP image and full cover scans. Good work Hoppy and Webspezi!

Minus4 to get a major overhaul

Posted by MIK on 2002-08-28
Just caught this news over at plus4.com and it sounds like Mike is busy working on an all new cycle based Plus4 emulator! This will sure bring many more improvements along the way and of course many more of your fav games running even better with the likes of Tom Thumb with any luck!

What's more this should keep us all up-to-date with the change over to M$ XP (if you've done so already) and keep the plussy alive long into the future. Things are looking good indeed :-)

All the best Mike and we look forward to your first release! Cheers.

Two rare games on www.c16.de!

Posted by Csabo on 2002-08-19
Our fellow German Plus/4 freax over at www.c16.de have just uploaded two rare games. Feuerwehr (Fire Department) is a 16K basic game by an unknown german author. Galaxis is written by Joachim Stolte in 1986. It is an english language logical game for the C16, where you have to uncover different space crafts. Download them now!

Club Info #70 is out!

Posted by Csabo on 2002-08-14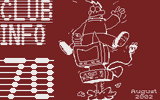 Erich/Unlimited has released the 70th issue of the excellent german diskmag: Club Info. The 2002 August issue is spreads over two sides as always. Besides the usual tons of articles (including among others a review of the Hulk Adventure), the magazine also has some goodies on the B side. This makes the new issue a must have for all Plus/4 fans even if you don't speak german.

Download it now!

c64.rulez.org Software Preview!

Posted by Csabo on 2002-08-07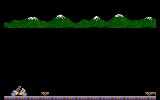 Heading its way soon to c64.rulez.org will be a whole host of goodies from Luca Carrafiello's collection. At the moment Luca's busy sorting and transferring, but in the mean time he's kindly sent in a small collection for you to dig your teeth into!

Online and ready for the downloading are Bards Tale, Bards Tale II, Cross Motor, Help to Games 1 and Music Bag. This also adds another 2 releases for 2002 thanks to Assassins (ASN)! Many thanks to Luca for sending in this great line up of software. Remember to keep an eye open over at c64.rulez.org for any future uploads!

'The Good Old Days' take a peek at the C16/Plus4!

Posted by MIK on 2002-08-06
The team have just finished an all new Commodore 264 Hall of Fame section on their homepage which brings the plussy into the spotlight and rounds up our machines history for any new comers!

At the same time they have reviewed 4 of their fav games and the presentation of these are cool to say the least. You can even add your comments in if you wish and if you like what you see you can help the team exspand their collection by supporting them with your fav games aswell. Take a trip back down memory lane by hitting the link below:



Yape 0.40 Released!!

Posted by MIK on 2002-08-05
Once again Attila Grósz has been tweaking his great Plus4 emu and fixed a number of bugs. Along with that and to celebrate the new .TAP version of Summer Events Attila corrected the raster line registers so the game now displays glitch free which is a most welcome sight for all Summer Events fans! The bug line up's are:
enhanced the internal monitor with some more editing functionality
tweaked a little on the timers, they seem to behave better now
fixed a sound initialisation bug
fixed a glitch when writing to the raster line registers
fixed a bug with pending IRQs
fixed a potential crash in the keyboard handler
fixed a crash with very long path names (it'd only crash now if they're very-very long :-) )

Summer Events is here in TAP format!!

Posted by MIK on 2002-08-02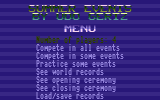 Summer Events the last C16/Plus4 creation by none other Udo Gertz has to be one of the most astounding games ever released and she's here in TAP format!

There isn't much I can really put to words as I'm just so pleased this baby has finally been TAP'd. I never thought the day would come as only yesterday I came close to creating a working sample wav version (46MEG unzipped) just so we could have it, but even that failed to load on the last event, (Wieght Lifting). Anyways if you've been waiting for this to roll off the press your day has at least come! I would also like to dedicate this tap to Attila Grósz because without his hard work on YAPE this tap may never would have seen the light of day, Cheers m8 :-)


Copyright © Plus/4 World Team, 2001-2018