News

2018
2018/02
3
2018/01
7
Total:
10
Avg.:
5
2017
2017/12
6
2017/11
5
2017/10
6
2017/09
4
2017/08
4
2017/07
9
2017/06
8
2017/05
4
2017/04
5
2017/03
7
2017/02
6
2017/01
15
Total:
79
Avg.:
6.5
2016
2016/12
10
2016/11
7
2016/10
4
2016/09
5
2016/08
1
2016/07
7
2016/06
4
2016/05
6
2016/04
2
2016/03
4
2016/02
3
2016/01
6
Total:
59
Avg.:
4.9
2015
2015/12
10
2015/11
8
2015/10
7
2015/09
5
2015/08
2
2015/07
1
2015/06
4
2015/05
7
2015/04
6
2015/03
4
2015/02
6
2015/01
1
Total:
61
Avg.:
5
2014
2014/12
7
2014/11
5
2014/10
4
2014/09
7
2014/08
12
2014/07
7
2014/06
4
2014/05
3
2014/04
6
2014/03
2
2014/02
4
2014/01
5
Total:
66
Avg.:
5.5
2013
2013/12
6
2013/11
7
2013/10
4
2013/09
5
2013/08
5
2013/07
5
2013/06
3
2013/05
4
2013/04
5
2013/03
8
2013/02
4
2013/01
2
Total:
58
Avg.:
4.8
2012
2012/12
6
2012/11
4
2012/10
5
2012/09
3
2012/08
6
2012/07
4
2012/06
4
2012/05
10
2012/04
2
2012/03
3
2012/02
3
2012/01
4
Total:
54
Avg.:
4.5
2011
2011/12
4
2011/11
1
2011/10
1
2011/09
3
2011/08
3
2011/07
8
2011/06
7
2011/05
5
2011/04
2
2011/03
2
2011/02
6
2011/01
2
Total:
44
Avg.:
3.6
2010
2010/12
1
2010/11
3
2010/10
3
2010/09
2
2010/08
3
2010/07
4
2010/06
5
2010/05
2
2010/04
8
2010/03
1
2010/02
3
2010/01
2
Total:
37
Avg.:
3
2009
2009/12
8
2009/11
7
2009/10
7
2009/09
4
2009/08
4
2009/07
1
2009/06
3
2009/05
1
2009/04
9
2009/03
2
2009/02
6
2009/01
3
Total:
55
Avg.:
4.5
2008
2008/12
3
2008/11
6
2008/10
5
2008/09
4
2008/08
3
2008/06
6
2008/05
6
2008/04
2
2008/03
3
2008/02
9
2008/01
5
Total:
52
Avg.:
4.7
2007
2007/12
1
2007/11
3
2007/10
5
2007/09
2
2007/08
7
2007/07
6
2007/06
7
2007/05
4
2007/04
10
2007/03
9
2007/02
14
2007/01
8
Total:
76
Avg.:
6.3
2006
2006/12
4
2006/11
6
2006/10
6
2006/09
7
2006/08
13
2006/07
5
2006/06
7
2006/05
1
2006/04
11
2006/03
5
2006/02
4
2006/01
11
Total:
80
Avg.:
6.6
2005
2005/12
9
2005/11
12
2005/10
11
2005/09
17
2005/08
9
2005/07
3
2005/06
1
2005/05
3
2005/04
9
2005/03
6
2005/02
6
2005/01
7
Total:
93
Avg.:
7.7
2004
2004/12
9
2004/11
14
2004/10
10
2004/09
19
2004/08
9
2004/07
10
2004/06
13
2004/05
8
2004/04
23
2004/03
9
2004/02
17
2004/01
16
Total:
157
Avg.:
13
2003
2003/12
20
2003/11
14
2003/10
20
2003/09
23
2003/08
21
2003/07
22
2003/06
15
2003/05
18
2003/04
8
2003/03
11
2003/02
13
2003/01
19
Total:
204
Avg.:
17
2002
2002/12
12
2002/11
11
2002/10
12
2002/09
16
2002/08
9
2002/07
13
2002/06
8
2002/05
12
2002/04
9
2002/03
6
2002/02
3
2002/01
5
Total:
116
Avg.:
9.6
2001
2001/12
1
2001/11
1
2001/10
4
2001/09
4
Total:
10
Avg.:
2.5
2000
2000/08
1
2000/04
1
Total:
2
Avg.:
1
/
1




Arthur Noid for the PC!

Posted by MIK on 2002-02-20
Two weeks, 579 cans of Coke and untold cups of coffee later he emerged yelling, "It's finished". These words can be found on the inlay cover but you can guess Shaun Southern did infact say this once he completed the coolest Noid clone for the C16/Plus4 ;-)

Not so long ago FatMan from Diamond Software released a neat level editor for Arthur Noid and the work hasn't stopped there. He's just released a sweet playable demo for the PC which is one of the first Plussy titles to get the PC treatment. Grab the Demo from the link below now!

Darron Broad's map of Mercenary scanned!

Posted by MIK on 2002-02-10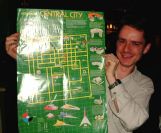 Darron Broad's map of Mercenary scanned!
(Left) In the mug shot is me holding what can only be one of the rarest map's of Mercenry ever in existence. This infact is a comprehensive toutist-guide to Targ Central City! Issued by the Palyar information committe you can see in full glory all named roads and structures on the planet surface. Just to give you an idea of the actual size I thought I'd pop that one up because the scanned version as you can imagine is a MONSTER.
Last month Darron Broad (Author of Tomcat and Task Force for C16/Plus4) was heading down to my home town (Southampton) to celebrate one of his many birthdays with some friends and said we should meet up! Wow this was brain doing, I mean I was 16 years old at the time when I bought this dudes games and here I was with a chance of meeting the man him self :-) We met up in a local pub in Romsey and before I even had a chance to say "hi" he said "I got something for you take alook" and out came this awesome map!
I was blown away and yet there was even more Mercenry stuff up for grabs (this I'll scan another day). Anyways I asked Darron where on earth did you get all this cool stuff, he said:

When I was about 20/21 (1986/87) I went to a show in London Olympia and there was the Woakes dude, with what looked like his dad on the stall and he was playing the new Atari ST version of Mercenary, and it looked good as the GFX were way smooth, but still wireframe? There I bought the Mercenary add-on hints pack with the maps etc as you have them, plus the Legendary Badge! I do remember tho, that I was not allowed to buy beer because they thought I was underage, haha, and I am sure it was when I was 21 ;-)

I guess your wondering how did I got so lucky. Well Darron has kept all this stuff in his basement for many years and said he couldn't trust him self anymore with them and just to be safe he said I was worthy of taking care of them. hanks dude! At the end of the day Darron wanted to share his maps with us all so we owe him a many big thanks, for now the LARGEST map of them all is here, enjoy :-)



Yape v0.35 has been released!

Posted by MIK on 2002-02-04
Another great release from Ati once again. Check out what he has to say and grab yours all from the homepage now! Many thanks Ati, Cheers dude!
Copyright © Plus/4 World Team, 2001-2018