News

2018
2018/02
3
2018/01
7
Total:
10
Avg.:
5
2017
2017/12
6
2017/11
5
2017/10
6
2017/09
4
2017/08
4
2017/07
9
2017/06
8
2017/05
4
2017/04
5
2017/03
7
2017/02
6
2017/01
15
Total:
79
Avg.:
6.5
2016
2016/12
10
2016/11
7
2016/10
4
2016/09
5
2016/08
1
2016/07
7
2016/06
4
2016/05
6
2016/04
2
2016/03
4
2016/02
3
2016/01
6
Total:
59
Avg.:
4.9
2015
2015/12
10
2015/11
8
2015/10
7
2015/09
5
2015/08
2
2015/07
1
2015/06
4
2015/05
7
2015/04
6
2015/03
4
2015/02
6
2015/01
1
Total:
61
Avg.:
5
2014
2014/12
7
2014/11
5
2014/10
4
2014/09
7
2014/08
12
2014/07
7
2014/06
4
2014/05
3
2014/04
6
2014/03
2
2014/02
4
2014/01
5
Total:
66
Avg.:
5.5
2013
2013/12
6
2013/11
7
2013/10
4
2013/09
5
2013/08
5
2013/07
5
2013/06
3
2013/05
4
2013/04
5
2013/03
8
2013/02
4
2013/01
2
Total:
58
Avg.:
4.8
2012
2012/12
6
2012/11
4
2012/10
5
2012/09
3
2012/08
6
2012/07
4
2012/06
4
2012/05
10
2012/04
2
2012/03
3
2012/02
3
2012/01
4
Total:
54
Avg.:
4.5
2011
2011/12
4
2011/11
1
2011/10
1
2011/09
3
2011/08
3
2011/07
8
2011/06
7
2011/05
5
2011/04
2
2011/03
2
2011/02
6
2011/01
2
Total:
44
Avg.:
3.6
2010
2010/12
1
2010/11
3
2010/10
3
2010/09
2
2010/08
3
2010/07
4
2010/06
5
2010/05
2
2010/04
8
2010/03
1
2010/02
3
2010/01
2
Total:
37
Avg.:
3
2009
2009/12
8
2009/11
7
2009/10
7
2009/09
4
2009/08
4
2009/07
1
2009/06
3
2009/05
1
2009/04
9
2009/03
2
2009/02
6
2009/01
3
Total:
55
Avg.:
4.5
2008
2008/12
3
2008/11
6
2008/10
5
2008/09
4
2008/08
3
2008/06
6
2008/05
6
2008/04
2
2008/03
3
2008/02
9
2008/01
5
Total:
52
Avg.:
4.7
2007
2007/12
1
2007/11
3
2007/10
5
2007/09
2
2007/08
7
2007/07
6
2007/06
7
2007/05
4
2007/04
10
2007/03
9
2007/02
14
2007/01
8
Total:
76
Avg.:
6.3
2006
2006/12
4
2006/11
6
2006/10
6
2006/09
7
2006/08
13
2006/07
5
2006/06
7
2006/05
1
2006/04
11
2006/03
5
2006/02
4
2006/01
11
Total:
80
Avg.:
6.6
2005
2005/12
9
2005/11
12
2005/10
11
2005/09
17
2005/08
9
2005/07
3
2005/06
1
2005/05
3
2005/04
9
2005/03
6
2005/02
6
2005/01
7
Total:
93
Avg.:
7.7
2004
2004/12
9
2004/11
14
2004/10
10
2004/09
19
2004/08
9
2004/07
10
2004/06
13
2004/05
8
2004/04
23
2004/03
9
2004/02
17
2004/01
16
Total:
157
Avg.:
13
2003
2003/12
20
2003/11
14
2003/10
20
2003/09
23
2003/08
21
2003/07
22
2003/06
15
2003/05
18
2003/04
8
2003/03
11
2003/02
13
2003/01
19
Total:
204
Avg.:
17
2002
2002/12
12
2002/11
11
2002/10
12
2002/09
16
2002/08
9
2002/07
13
2002/06
8
2002/05
12
2002/04
9
2002/03
6
2002/02
3
2002/01
5
Total:
116
Avg.:
9.6
2001
2001/12
1
2001/11
1
2001/10
4
2001/09
4
Total:
10
Avg.:
2.5
2000
2000/08
1
2000/04
1
Total:
2
Avg.:
1
/
1




New Cover Scan

Posted by Csabo on 2009-10-28

We haven't had new cover scans added in a while. To remedy this situation, Lacus sent us a little surprise: Logikai Áramkörök (Logic Circuits) is another missing piece of our puzzle. We mentioned before that while we pretty much have all the Mastertronic releases and other English software houses covered, things is far from complete on the Hungarian side.

This particular educational program, which explains the various logic gates, bears the production code of "ED 70". At this moment we don't even have the full list of releases yet, but this is a good step in the right direction! Big thanks to Lacus and Brazil himself (the orignal author), who got their hands on a copy of this tape!
Be the first to comment!

Plus4IDE Updated!

Posted by Csabo on 2009-10-22
Plus4IDE, the Integrated Development Environment for coding on for the Plussy was updated to version 1.64. The update itself is bugfixes and cosmetic improvements. However, for the first time ever, I got code contributed for a project, from gerliczer. This is much appreciated and a welcome turn of events! Also thanks to MikeZ for pointing out some problems with the documentation. (Good to know people actually read it :-))

If you use Plus4IDE, you may want to updated. Don't forget that all my utilities are released with full source code, so feel free to look into and tinker with them. Even if you're not a programmer, bug reports, requests or any other kind of feedback is appreciated.
Read comments

Hand-drawn Mercenary Maps and Revamped Solutions Page

Posted by Csabo on 2009-10-16
Roepipi scanned two ancient treasures: hand-drawn maps for Mercenary - Escape From Targ. These are quite detailed and are in color, marked up in Hungarian. Check them out, and browse the game's detail pages for a bit - it's the perfect example of how much information we have on some releases.

Allow me to use this newspost to bring the revamped Solutions page to your attention. Here you will be able to find the solution for every Commodore 16 or Commodore Plus/4 adventure game. Khm. Eventually. As of this writing, we have 254 unsolved or partially solved games. If only one person adds only one solution per day, we'll have this project wrapped up by June 27, 2010 (mark your calendars!). Enjoy!
Be the first to comment!

New Releases From RoePipi!

Posted by Csabo on 2009-10-10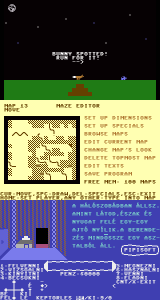 RoePipi surprised us with two brand new Commodore Plus/4 game releases: Foxish and Maze of Mazes. Both are nicely polished and definitely worth a look. The author even provided us with nice write-ups of each game:

Foxish: a real-time hunting action/rhythm game written in BASIC 3.5

runs on systems with at least 32k RAM
real-time hunting action: seek and chase preys, bring them to your grateful fox family
virtual 3D scrolling system
enormous terrain to explore
transient time system, lighting and fog effects, breath-taking landscape
30 minutes guaranteed gameplay
intimate music scores (can be turned off)
immensely sweet and unique graphics
hidden extras

This is what would have been said about Foxish in 1987:

"In PipiSoft's new game - Foxish - you play the head of a fox family as he goes hunting into the night. He must search for a prey, get as close as possible, hunt them down via a rhythm game and take them back into the foxhole.

In the main menu you can view the hungry fox family, set the volume level (so there's no need to fumble with the volume knob on your television set), and select one of two possible fur colors (orange or red, probably the writer of the program could not decide between them). The "EMULATOR SPEED" option allows the entire game to be slowed down, however, we could not find a practical use for this option.

The game features a total of four different music pieces - which is not bad if we take the fact that this is a BASIC program into consideration - however, the final piece that can be heard when the player wins is less than enjoyable.

Due to the circumstances of the game's production - which is revealed at the end of the game - the player cannot die, and the members of the fox family won't go hungry. Instead, after an apology from the protagonists the same level can be replayed. Out only enemy (well, besides all the animals that constantly attempt to escape us), is time itself, whose passing is indicated by the slowly spanning Moon at the top of the screen. With dawn the hunters arrive as well and we must quickly return home.

If, however, our task is well done, the fox hole will be slowly filled up with little foxes."


Maze of Mazes:

runs on 32k and 64k systems
play the mazes or build your own!
38 built-in maps of mazeness
4-way infinite scrolling mazes
stairways and goal objects
full-blown maze editor
random mazes for the lazy ones
build hundreds of mazes up to the free RAM!
create art with just typing!
custom colors, walls and floors for every map!
customizable title and ending screen
3 different sounds with adjustable volume!


Besides these new ones, we've noticed that RoePipi's homepage contains a few more games that we did not list before, so be sure to check out: Pipi's Stuffs, Üzlet Egy Tyúkért, Pipitrain and Madarak Bolygója.
Read comments

Club Info 113

Posted by Csabo on 2009-10-08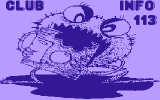 Erich/Unlimited released Issue 113 of the German diskmag Club Info. Side A has the articles, while the other side contains some new programs: Purete 9 & 10 (plans in Page Setter format for a Joystick/Paddle), Brick Buster (a good game from Australia), Battleship Game (converted from the PET by Erich himself) and End-Raterei (from Lukian).

On a somewhat related note, Jakec sent us a little BASIC utility: Művelet Tervez­ő Segédprogram. It performs some very specific calculations, might come in handy it's what you need.

AustroSpeed Decompiled!

Posted by Csabo on 2009-10-05
The AustroSpeed Compiler is an excellent piece of software: it's a 2-pass BASIC compiler that turns your BASIC programs into P-Code. We here at Plus/4 World concentrate a lot on games and demos, so why should we still care about BASIC? I think it's one of those things that need to be understood well to be appreciated: could YOU code all floating point operations, string functions and array handling in machine code? That barely scratches the surface of what kind of heavy lifting BASIC does.

The AustroSpeed Compiler is a bit of a mystery. There is no known source code for it and there are no known +4 decompilers. We're happy to announce that a successful decompilation has been done by MikeZ! He managed this with a modified C64 Austro-Blitz decompiler. During that process it was learned that AustroSpeed +4 was itself compiled by Blitz, and it was written entirely in BASIC V2.0. The decomp consists of a machine language file and a BASIC file. (It won't run as a BASIC program without some modification, because it was coded to run compiled, and some things just aren't where they should be in the BASIC version.)

This, along the nearly complete reverse engineering of the P-Code format is provided for those who wish to look inside of AustroSpeed +4 and perhaps want to modify and recompile it. This effort also provides an excellent insight to the nature and syntax of P-Code, and to the structure of a compiled program. You can read more and find the download link on the AustroSpeed Compiler page.

YAPE 0.84

Posted by Luca on 2009-10-03
Now the summer hiatus is over, a small update to Yape is ready.
Mainly tape related fixes/features but let us not forget the simple external assembler that is now added to the monitor and is available via the A (or .) command, just like for the good ole TEDMON. It could still be improved but for now it'll suffice I guess. It also supports illegal opcodes, of course.

But here's the full log of what's been changed:
. implemented a simple assembler in the external monitor (yay, at last!)
. tape head adjust dialog for wave samples
. optionally invert tape sample input signal (soundcards may invert the phase while recording WAV's)
. tape fast forward and rewind in 15 sec steps
. TAP's with non-native encoding now supported (C64, VIC20 frequencies)
. bugfixes (sound, tape)

Let's run to the Yape's page, then grab the appropriate build, or be there directly:

Copyright © Plus/4 World Team, 2001-2018