News

2018
2018/02
3
2018/01
7
Total:
10
Avg.:
5
2017
2017/12
6
2017/11
5
2017/10
6
2017/09
4
2017/08
4
2017/07
9
2017/06
8
2017/05
4
2017/04
5
2017/03
7
2017/02
6
2017/01
15
Total:
79
Avg.:
6.5
2016
2016/12
10
2016/11
7
2016/10
4
2016/09
5
2016/08
1
2016/07
7
2016/06
4
2016/05
6
2016/04
2
2016/03
4
2016/02
3
2016/01
6
Total:
59
Avg.:
4.9
2015
2015/12
10
2015/11
8
2015/10
7
2015/09
5
2015/08
2
2015/07
1
2015/06
4
2015/05
7
2015/04
6
2015/03
4
2015/02
6
2015/01
1
Total:
61
Avg.:
5
2014
2014/12
7
2014/11
5
2014/10
4
2014/09
7
2014/08
12
2014/07
7
2014/06
4
2014/05
3
2014/04
6
2014/03
2
2014/02
4
2014/01
5
Total:
66
Avg.:
5.5
2013
2013/12
6
2013/11
7
2013/10
4
2013/09
5
2013/08
5
2013/07
5
2013/06
3
2013/05
4
2013/04
5
2013/03
8
2013/02
4
2013/01
2
Total:
58
Avg.:
4.8
2012
2012/12
6
2012/11
4
2012/10
5
2012/09
3
2012/08
6
2012/07
4
2012/06
4
2012/05
10
2012/04
2
2012/03
3
2012/02
3
2012/01
4
Total:
54
Avg.:
4.5
2011
2011/12
4
2011/11
1
2011/10
1
2011/09
3
2011/08
3
2011/07
8
2011/06
7
2011/05
5
2011/04
2
2011/03
2
2011/02
6
2011/01
2
Total:
44
Avg.:
3.6
2010
2010/12
1
2010/11
3
2010/10
3
2010/09
2
2010/08
3
2010/07
4
2010/06
5
2010/05
2
2010/04
8
2010/03
1
2010/02
3
2010/01
2
Total:
37
Avg.:
3
2009
2009/12
8
2009/11
7
2009/10
7
2009/09
4
2009/08
4
2009/07
1
2009/06
3
2009/05
1
2009/04
9
2009/03
2
2009/02
6
2009/01
3
Total:
55
Avg.:
4.5
2008
2008/12
3
2008/11
6
2008/10
5
2008/09
4
2008/08
3
2008/06
6
2008/05
6
2008/04
2
2008/03
3
2008/02
9
2008/01
5
Total:
52
Avg.:
4.7
2007
2007/12
1
2007/11
3
2007/10
5
2007/09
2
2007/08
7
2007/07
6
2007/06
7
2007/05
4
2007/04
10
2007/03
9
2007/02
14
2007/01
8
Total:
76
Avg.:
6.3
2006
2006/12
4
2006/11
6
2006/10
6
2006/09
7
2006/08
13
2006/07
5
2006/06
7
2006/05
1
2006/04
11
2006/03
5
2006/02
4
2006/01
11
Total:
80
Avg.:
6.6
2005
2005/12
9
2005/11
12
2005/10
11
2005/09
17
2005/08
9
2005/07
3
2005/06
1
2005/05
3
2005/04
9
2005/03
6
2005/02
6
2005/01
7
Total:
93
Avg.:
7.7
2004
2004/12
9
2004/11
14
2004/10
10
2004/09
19
2004/08
9
2004/07
10
2004/06
13
2004/05
8
2004/04
23
2004/03
9
2004/02
17
2004/01
16
Total:
157
Avg.:
13
2003
2003/12
20
2003/11
14
2003/10
20
2003/09
23
2003/08
21
2003/07
22
2003/06
15
2003/05
18
2003/04
8
2003/03
11
2003/02
13
2003/01
19
Total:
204
Avg.:
17
2002
2002/12
12
2002/11
11
2002/10
12
2002/09
16
2002/08
9
2002/07
13
2002/06
8
2002/05
12
2002/04
9
2002/03
6
2002/02
3
2002/01
5
Total:
116
Avg.:
9.6
2001
2001/12
1
2001/11
1
2001/10
4
2001/09
4
Total:
10
Avg.:
2.5
2000
2000/08
1
2000/04
1
Total:
2
Avg.:
1
/
1




YAPE 1.0.3

Posted by Luca on 2012-07-23
A whole year passed, and Gaia relaunchs the YAPE, the widest used emulator for 264 series machines, in its V1.0.3 reincarnation.
This version is a sort of global bugfixing one, in order to have a clean start to a further rework of the older parts of his code (the interface first of all), to get a better way in reading which events are performed time by time, to improve the GUI.

But now, this one, showing the following retouches:
- properly implemented printer repeat bit image data (CHR$(26))
- SHA/SHY/SHX improvement on page boundary crossing (unseen in any programs out in the wild so far)
- memory dump into text files
- added 192000 Hz sound frequency
- carriage return in printer bitmap mode fixed
- folder drive setting no longer reset when printer emulation gets enabled
- awkward crash in the monitor fixed
- bug in the debugger when breakpoint got disabled on ignored CPU crash opcodes
- minor memory map issue in true 1541/1581 drive emulation
- memory dump command in external monitor
- video recording glitch

Run to the download page to get now your proper YAPE build (x32/x64).
Read comments

Sabrewulf Released!

Posted by Csabo on 2012-07-20
Today brings a very pleasant surprise: a new game, Sabrewulf is released. The game - which is a bit similar to Treasure Island - runs on a Plus/4 or a 64K-expanded Commodore 16. It's a faithful conversion of the ZX Spectrum game by gc841.

In the game, your task is to guide Sabreman through a 256-screen jungle. He must collect four pieces of the lost amulet and then exit the maze. Of course the jungle is filled with dangerous creatures, including the invincible Wulf itself. Sabreman can also collect valuable treasures, and find jungle orchids in various colors, each granting its own special effect with picked up.

Like many Spectrum games, the gameplay is hard, but one can get into it with a little practice. Big cheers to Gary for converting this game, now hurry up and download it!
Read comments

...And What's Left

Posted by Luca on 2012-07-13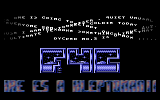 We used to catch the bigger fishes in the scene to serve'em in large dishes on your table, and satisfy your appetite for Plus/4 software. But time passes, and some little tiddlers have got caught in the nets, too little to be individually pointed out. This mass of seafood began to grow day by day, and now it's time to trash out this residue of heterogeneous stuff.

So let's see what's in the box! First of all, we missed all the gems usually released on C16 Plus4 Computing magazine, an ancient monthly appointment full of new games, interesting readings and useful tools. We're talking about several early versions of, say, Destructor and Jail Break, brand new games like Connector, tools that we've never seen before like Biorhythms. Higher quality gem between all the others is the early version of Leaper, released under Star Soft as Leaper (Star Soft).
Some new entries from the obscure side of the Plus/4 commercial games: Miner (Astralog) is another retrieved tile to complete the Astralog's history, and one of the featured games in Astralog Four Pack, how rare!.
Rainy Day II collection is one step far from being completed in his 25 games, missing one game only. Meanwhile, we added Spacemaze, Jackpot and others too, in the hope we'll find all of them once day.
Chronos did his springtime cleaning too, and what's jumped out is a bunch of rarites, especially the second side of Dark As U demo, which worked after a bit of fixing. Other programs followed too, game previews like Minesweeper V2.2, digi demos like No Sleep, tiny pretty converted games like Remember.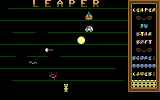 In the very end, there's the mare magnum from which weird releases and rarities have been catched. Elite Trained is a rare trainer for Elite (Csory) from the author itself, working on 1551 only; and, talking about 1551 stuff and Csory, a 1551 drive version of And Justice For All popped out from nowhere; after years with the 2nd part available only, 3M Demo 1 surfaced; 1551-demo, the official demo disk for the 1551 drive has been stored too 'coz missing it here is a nonsense.
And when we find software we claimed for in years, we celebrate with all of you: Sethack, the complete D-mon, the original Chipy by Kingsoft, the most wanted Huey C-16.

Here follows the complete list of what we've added in:
Bard's Tale I Copy, Bard's Tale II Copy, Character Generator, Dir Mover, Diskyhelp, Disc Copy 1551, D-mon, IFFL Squeezer (fix/version), The Scrollhunter, Sethack, Turbo Assembler Macro, Motor Entwicklung, 3D Maze, ACE +4 (trainer), Bockgammon, Bomber Blitz, Bongo (trainer), Billiards, Boxing, Brick-it, Chipy (original), Connector, Dooly (trainer), Driver, Destructor (version), Lo Sperduto, Miner (Astralog), 1551-demo, Extra Tutti Frutti 1 +1, Extra Tutti Frutti 2 +1, Elite Trained, Froggy (APS), Hotel (German), Huey C-16, Jackpot, Jail Break (version), Minesweeper V2.2, Leaper (Star Soft), Numbers, Oel Plus/4, Light Lines, Pénzért Élet, Pilot C16, Remember, Sixteen Terror, Spy Vs Spy (crack), Spacemaze, Super Ball, Super Frog, Survival, Scramble (APS), The Tower, Way Of The Exploding Fist (crack), Wordsworth, Yhatzi, 3M Demo 1, And Justice For All (version), Carry On!, Dark As U (side 2), No Sleep, Porno Show (TBS), Inspector Gadget V4.1, Ripped Demo, Macro Asssembler, Biorhythms, Archery-16.
Read comments

Árok 14 Wrap Up

Posted by Csabo on 2012-07-09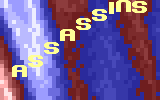 We've added the releases and results from this party at record speed! The new releases from the party were: 16 KBytes, Édesanyám, I Will Go My Way, Atilla, Welcome Stranger. Thanks to the organizers and the sceners for making the party happen, and congrats to all the compo winners!

For party reports, photos and videos, head to the Features section: Arok 14 Party Report, or check the forum thread (both continually updated).
Read comments
Copyright © Plus/4 World Team, 2001-2018