News

2018
2018/04
2
2018/03
3
2018/02
5
2018/01
7
Total:
17
Avg.:
4.2
2017
2017/12
6
2017/11
5
2017/10
6
2017/09
4
2017/08
4
2017/07
9
2017/06
8
2017/05
4
2017/04
5
2017/03
7
2017/02
6
2017/01
15
Total:
79
Avg.:
6.5
2016
2016/12
10
2016/11
7
2016/10
4
2016/09
5
2016/08
1
2016/07
7
2016/06
4
2016/05
6
2016/04
2
2016/03
4
2016/02
3
2016/01
6
Total:
59
Avg.:
4.9
2015
2015/12
10
2015/11
8
2015/10
7
2015/09
5
2015/08
2
2015/07
1
2015/06
4
2015/05
7
2015/04
6
2015/03
4
2015/02
6
2015/01
1
Total:
61
Avg.:
5
2014
2014/12
7
2014/11
5
2014/10
4
2014/09
7
2014/08
12
2014/07
7
2014/06
4
2014/05
3
2014/04
6
2014/03
2
2014/02
4
2014/01
5
Total:
66
Avg.:
5.5
2013
2013/12
6
2013/11
7
2013/10
4
2013/09
5
2013/08
5
2013/07
5
2013/06
3
2013/05
4
2013/04
5
2013/03
8
2013/02
4
2013/01
2
Total:
58
Avg.:
4.8
2012
2012/12
6
2012/11
4
2012/10
5
2012/09
3
2012/08
6
2012/07
4
2012/06
4
2012/05
10
2012/04
2
2012/03
3
2012/02
3
2012/01
4
Total:
54
Avg.:
4.5
2011
2011/12
4
2011/11
1
2011/10
1
2011/09
3
2011/08
3
2011/07
8
2011/06
7
2011/05
5
2011/04
2
2011/03
2
2011/02
6
2011/01
2
Total:
44
Avg.:
3.6
2010
2010/12
1
2010/11
3
2010/10
3
2010/09
2
2010/08
3
2010/07
4
2010/06
5
2010/05
2
2010/04
8
2010/03
1
2010/02
3
2010/01
2
Total:
37
Avg.:
3
2009
2009/12
8
2009/11
7
2009/10
7
2009/09
4
2009/08
4
2009/07
1
2009/06
3
2009/05
1
2009/04
9
2009/03
2
2009/02
6
2009/01
3
Total:
55
Avg.:
4.5
2008
2008/12
3
2008/11
6
2008/10
5
2008/09
4
2008/08
3
2008/06
6
2008/05
6
2008/04
2
2008/03
3
2008/02
9
2008/01
5
Total:
52
Avg.:
4.7
2007
2007/12
1
2007/11
3
2007/10
5
2007/09
2
2007/08
7
2007/07
6
2007/06
7
2007/05
4
2007/04
10
2007/03
9
2007/02
14
2007/01
8
Total:
76
Avg.:
6.3
2006
2006/12
4
2006/11
6
2006/10
6
2006/09
7
2006/08
13
2006/07
5
2006/06
7
2006/05
1
2006/04
11
2006/03
5
2006/02
4
2006/01
11
Total:
80
Avg.:
6.6
2005
2005/12
9
2005/11
12
2005/10
11
2005/09
17
2005/08
9
2005/07
3
2005/06
1
2005/05
3
2005/04
9
2005/03
6
2005/02
6
2005/01
7
Total:
93
Avg.:
7.7
2004
2004/12
9
2004/11
14
2004/10
10
2004/09
19
2004/08
9
2004/07
10
2004/06
13
2004/05
8
2004/04
23
2004/03
9
2004/02
17
2004/01
16
Total:
157
Avg.:
13
2003
2003/12
20
2003/11
14
2003/10
20
2003/09
23
2003/08
21
2003/07
22
2003/06
15
2003/05
18
2003/04
8
2003/03
11
2003/02
13
2003/01
19
Total:
204
Avg.:
17
2002
2002/12
12
2002/11
11
2002/10
12
2002/09
16
2002/08
9
2002/07
13
2002/06
8
2002/05
12
2002/04
9
2002/03
6
2002/02
3
2002/01
5
Total:
116
Avg.:
9.6
2001
2001/12
1
2001/11
1
2001/10
4
2001/09
4
Total:
10
Avg.:
2.5
2000
2000/08
1
2000/04
1
Total:
2
Avg.:
1
/
1




"Easter-hello": Crypt's Back Again on Festivities

Posted by Luca on 2008-03-29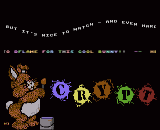 Happy Easter from Crypt!

Yeah, ok, I know it's a bit too late, but it has need a bit of additional working and debugging on real iron...but in the end here it is!
Easter-hello is another little and pretty nice sign of friendship from nukem, with graphics by DFlame and a cool dedicated SID tunes composed by A-Man/XEN. In this way, Crypt's ppl talks to the scene, and announce a bigger production in the close future.

We all got another direct lesson about scene's activity and communication with coyness from nukem, maybe one day we'll absorb it ;)

Paddles Via Userport

Posted by Luca on 2008-03-16

Chizman keeps himself active on the Plus/4 scene, and he restated this, releasing a new hardware toy.

Upgrade your blackbox in order to connect a couple of VIC20/C64 paddles via userport! Chizman offers to you the complete service, with schematics, pictures, adc as .hex file, and example video.

Moreover, you can directly test your paddles gameplay with Paddle Shooter, a little paddles driven shoot'em'up game for two players. A second version of this game, included in the package too, has keyboard commands

Two Fresh TLT's Digis in 2008

Posted by Luca on 2008-03-02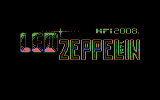 Ok ok mmm...let me take in count:
in the first two months of this year we've got: two cool newcomers in the demoscene, a new issue of a monumental diskmag, improved emulations and converters, a rare gem found, fixings, papers and babies too.

Something's missing? Only one: the traditional TLT's supply of digi demos!
But wait a moment, the postman left an envelope in my mailbox...and here they are!
Hifi releases two brand new digi demos in February 2008, they're C'Est La Vie and Led Zeppelin, proving to the scene that TLT keep it on.
Thanks István!
Copyright © Plus/4 World Team, 2001-2018