News

2018
2018/02
3
2018/01
7
Total:
10
Avg.:
5
2017
2017/12
6
2017/11
5
2017/10
6
2017/09
4
2017/08
4
2017/07
9
2017/06
8
2017/05
4
2017/04
5
2017/03
7
2017/02
6
2017/01
15
Total:
79
Avg.:
6.5
2016
2016/12
10
2016/11
7
2016/10
4
2016/09
5
2016/08
1
2016/07
7
2016/06
4
2016/05
6
2016/04
2
2016/03
4
2016/02
3
2016/01
6
Total:
59
Avg.:
4.9
2015
2015/12
10
2015/11
8
2015/10
7
2015/09
5
2015/08
2
2015/07
1
2015/06
4
2015/05
7
2015/04
6
2015/03
4
2015/02
6
2015/01
1
Total:
61
Avg.:
5
2014
2014/12
7
2014/11
5
2014/10
4
2014/09
7
2014/08
12
2014/07
7
2014/06
4
2014/05
3
2014/04
6
2014/03
2
2014/02
4
2014/01
5
Total:
66
Avg.:
5.5
2013
2013/12
6
2013/11
7
2013/10
4
2013/09
5
2013/08
5
2013/07
5
2013/06
3
2013/05
4
2013/04
5
2013/03
8
2013/02
4
2013/01
2
Total:
58
Avg.:
4.8
2012
2012/12
6
2012/11
4
2012/10
5
2012/09
3
2012/08
6
2012/07
4
2012/06
4
2012/05
10
2012/04
2
2012/03
3
2012/02
3
2012/01
4
Total:
54
Avg.:
4.5
2011
2011/12
4
2011/11
1
2011/10
1
2011/09
3
2011/08
3
2011/07
8
2011/06
7
2011/05
5
2011/04
2
2011/03
2
2011/02
6
2011/01
2
Total:
44
Avg.:
3.6
2010
2010/12
1
2010/11
3
2010/10
3
2010/09
2
2010/08
3
2010/07
4
2010/06
5
2010/05
2
2010/04
8
2010/03
1
2010/02
3
2010/01
2
Total:
37
Avg.:
3
2009
2009/12
8
2009/11
7
2009/10
7
2009/09
4
2009/08
4
2009/07
1
2009/06
3
2009/05
1
2009/04
9
2009/03
2
2009/02
6
2009/01
3
Total:
55
Avg.:
4.5
2008
2008/12
3
2008/11
6
2008/10
5
2008/09
4
2008/08
3
2008/06
6
2008/05
6
2008/04
2
2008/03
3
2008/02
9
2008/01
5
Total:
52
Avg.:
4.7
2007
2007/12
1
2007/11
3
2007/10
5
2007/09
2
2007/08
7
2007/07
6
2007/06
7
2007/05
4
2007/04
10
2007/03
9
2007/02
14
2007/01
8
Total:
76
Avg.:
6.3
2006
2006/12
4
2006/11
6
2006/10
6
2006/09
7
2006/08
13
2006/07
5
2006/06
7
2006/05
1
2006/04
11
2006/03
5
2006/02
4
2006/01
11
Total:
80
Avg.:
6.6
2005
2005/12
9
2005/11
12
2005/10
11
2005/09
17
2005/08
9
2005/07
3
2005/06
1
2005/05
3
2005/04
9
2005/03
6
2005/02
6
2005/01
7
Total:
93
Avg.:
7.7
2004
2004/12
9
2004/11
14
2004/10
10
2004/09
19
2004/08
9
2004/07
10
2004/06
13
2004/05
8
2004/04
23
2004/03
9
2004/02
17
2004/01
16
Total:
157
Avg.:
13
2003
2003/12
20
2003/11
14
2003/10
20
2003/09
23
2003/08
21
2003/07
22
2003/06
15
2003/05
18
2003/04
8
2003/03
11
2003/02
13
2003/01
19
Total:
204
Avg.:
17
2002
2002/12
12
2002/11
11
2002/10
12
2002/09
16
2002/08
9
2002/07
13
2002/06
8
2002/05
12
2002/04
9
2002/03
6
2002/02
3
2002/01
5
Total:
116
Avg.:
9.6
2001
2001/12
1
2001/11
1
2001/10
4
2001/09
4
Total:
10
Avg.:
2.5
2000
2000/08
1
2000/04
1
Total:
2
Avg.:
1
/
1




Covers From A-Z!

Posted by Csabo on 2003-05-30

This Friday brings an addition of four more classic game covers. They are: 3D Quasars, Aardvark, Galaxy and Zagan Warrior. Thanks to Lacoste for sending them in! Enjoy.

Let's Hear It!

Posted by Csabo on 2003-05-29
TLC has released his powerful music player for the TED: TLCPlay. The player is somewhat similar to SIDWinder, at least in the sense that it gives you full control over the TED. While this release is aimed at programmers, everyone should download it to listen to the demosong included (it starts with SYS6144). You'll be surprised to hear what one can achieve with those two square wave channels.

This is not the final version, but it's just in time for the C16 DemoCompo. Feel free to use this player in your games and demos, and send your comments/suggestions to the author.

A New Demo From GS!

Posted by Csabo on 2003-05-28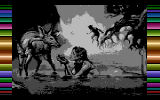 Ninja of Gentlemen Software has released a new demo called Picmover! The demo scrolls 8 multicolour bitmaps, which is an equivalent of a 2560 x 200 sized picture. All in 64K! Following the traditions of the scene it's PAL only (but the NTSC folks can still watch in on an emulator). The demoscene is slowly waking up...

Speaking of the scene, here's a picture of Foozy of SCN, the 58th addition to the Faces of the Scene gallery.

All The Firebird Covers!

Posted by Csabo on 2003-05-28
Our desperate call for covers has once again been answered, this time by Ulysses777. It sure is nice to see which covers are there on the company release lists. So our friend looked at Firebird Software Ltd., saw that 5 were missing, and sent us all 6. What's that? Well, the 6th one was Zolyx, which was not listed under Firebird. The game itself (including the TAP version) has absolutely no marking of any kind to give a clue about the makers, the year, etc. Only someone with a copy of the original could have known this! Well, now it's there, and this means that we have all 13 Firebird covers! Many thanks to Ulysses777 for these. Beautiful, aren't they?



Copyparty Produces Rare Stuff!

Posted by Csabo on 2003-05-27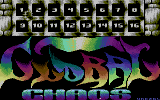 We are happy to report that an old-school copyparty had taken place in Debrecen, Hungary. Unreal, Beast and Lavina once again dusted off some old diskettes and transferred some rare stuff to PC. Here are two piccys of the guys (1, 2). First of all we have Global Chaos, a two-disk-sided gem of a megademo, full of amazing effects. This was the sequel to Syndrome, and was originally released at Global Party II back in 1994, but never really spread. Note to the demo: the 5th part is not working, this is how it got released.

We also have a previously unreleased Methabolix production: Plastic Dreams. Finally there's Logo Demo/TDD (different from CSM's Logo Demo). Cool stuff, guys!

5 Classic Game Covers!

Posted by Csabo on 2003-05-26
"You want more? You got more!" - is what Lavina may have been thinking when he decided to dig up, scan, cut and send us these beautiful classic game covers. Good thinking, buddy. Let's see it then:


We start off with two Firebird releases: Shark Attack and Into the Deep. An interesting fact is that Shark Attack's cover calls the game simply "Shark", while the program itself displays Shark Attack. Also, the side area of these covers lets you follow the order of these Silver Range releases: On Shark Attack, there's only two. By the time they released Into the Deep, there were five.




Then we have Solo from Bug Byte, and Trizons from Bubble Bus. Finally there's Zodiac (Anirog, 1985). Note that the side cover claims the game is joystick only, while the back cover lists the keyboard controls as well.

These are very good quality scans, and definitely some of the nicer covers. To 'celebrate' this, we've added a cool little feature to the site: if you are viewing the release list of a company, you can now see which games have a cover (and click the cover link to actually see it). For an example, check out Mastertronic, the covers are all there! Many thanks to Lavina, and here we go once again: if you have more covers that we are missing, then fire up that scanner and send them in!

Classic Covers

Posted by Csabo on 2003-05-25


On the left you can see two fresh covers for two classic games. Lavina has dug up the cover for Dork's Dilemma. The cassette cover's side has some nice Gremlin Graphics ads on it. Plus it also finally confirms the year for this game - 1985. James C has contributed two covers, one is for Suspect, the other is for Complete Course in Basic Programming.

Also, Attila found an old utility, Sys Cracker. I can almost hear some of you saying: oh yeah, that one. Didn't we already have it? Well, it's nice to have this one in the archives now. We bumped into it (or into the fact that's missing) through the Mail Archive search. If you searched for Sys Cracker previously, you would have gotten nothing - no mention of it anywhere. However, now that the search is extended to the Mail Archive, it popped up in a post (Lacus was looking for it).

Thanks guys and keep it coming!

Unreal Stuff!

Posted by Csabo on 2003-05-24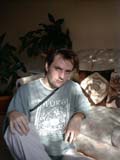 Unreal is back! It is a widely accepted opinion that he is one of the very best graphics artists ever to work on the Plus/4. Well, now we have a recent picture of him, and a website link, which is recommended to everyone who wants to see some quality visual imagery.

Unreal's old disks contained some very cool and almost lost stuff, and he is sharing them with us now. First of all, a full working version of the 3-disk wonder Cracker's Demo 3. Yeah! Also the full version of Kryptonite, plus SCN News 6, Scoll Demo II/CSM and Hyperbyte 1/CSM.

Thanks Unreal!

New YAPE Rocks!

Posted by Csabo on 2003-05-24
Well, it's been a long 11 days, but for those of us who are dying to get our emulator fix, Attila Grosz once again rushes to the rescue with YAPE 0.47. Oh, how I longed for the day when I can run all those belowed disk-based games on my PC. Borrowed Time, Bard's Tale III, Karateka, Tass Times, you name it, it works, baby! There are those who speak and those who act, and thank god this guy delivers...

There is not a shadow of a doubt in my mind, that YAPE is the BEST ANYTHING EVER, but maybe I'm just euphoric. Udo Releases, TCFS is coding Lemminx again, tons of scene members are back, two news items on one day. What's happening around here? Never mind, Battle Chess has just loaded up...

DisAss Re-released

Posted by Csabo on 2003-05-23
There seems to be no shortage of programming tools popping up all over the place. I (Csabo) thought I'd join the fun by re-releasing my DisAssembler. I developed and released this tool back in 2000, but it didn't generate much feedback then. I've improved it since then, and it's been a very useful tool to me for debugging Plus/4 applications (I used this to disassemble Oblido to find its bug).

So here is version 1.00 of my tool. I've promised that everything that I do for the scene will come with full source code - and so does this one. It's written in Delphi 5. Learn from it, modify it, rip it apart, I don't care as long as you use it and benefit from it! I'd also be happy to suggestions and comments. Happy DisAssembling!

AP4 V1.0.1!

Posted by Csabo on 2003-05-22
Today MC has released an improved version of his Plus/4 Development Environment, called AP4 (Assembler Plus 4). This is targeted towards those who want to create programs on our beloved platform once again (or start for the first time) in machine language.

AP4 features a built in assembler. This release now has a single-keypress compile and run feature, making the development process smooth and fast! It runs the compiled programs in YAPE.

Click here for more details and to download your copy!

The Flamingo Flies Again!

Posted by Csabo on 2003-05-21
Khm, excuse the cheesy headline. After a pause of almost two years, Rachy has released a new version of his Plus/4 Emulator for the Amiga. V1.53 has some bugfixes and improvements, and also faster screen rendering. Grab your copy from Aminet or from Emucamp! It's nice to see some activity among the Amiga emulators. Thanks, Rachy!

New Plus/4 Utility for the PC!

Posted by Csabo on 2003-05-18
We've received a real surprise from a veteran Plus/4 fanatic, István Bozsik. He's the author of such games as Hexaeder (if you haven't listened to the 8 channel sound in this game, do it now). The new utility is called Plus4Lst, and it's a command line utility for Windows. This tool renders any basic program into an HTML document. It uses a nice and acurate font, too - read the document included with the release for more on that. This is great to publish a basic listing, or to debug/study an older program. Many thanks to István for this! Download it now from here!

YAPE 0.46 is Out!

Posted by Csabo on 2003-05-13
This version marks a very significant improvement in Plus/4 Emulator history. YAPE now has cycle exact drive CPU emulation! For the first time, you can load and run games like The Goonies, Battery 2, Hollywood Poker Pro, etc! Also some hard-core demos are now running well - and exclusively - on YAPE, such as Silence and Amiga Mania. (Both are real gems, if you haven't seen them, check them out!) Not everything is working, but this is definitely a giant step in the right direction.

For more details and your download head on over to Ati's page. Cheers and kudos to Ati!


Scene News

Posted by Csabo on 2003-05-10
Thanks to Lavina, things are stirring up in the Plus/4 scene...

First of all we got in contact with an old Plus/4 freak, Crafty of Hypoflex. He sent us two of his pictures along with his personal info, and promised to send us more of the Hypoflex stuff - all we got from this team at the moment is one lonely demo.

Does anyone think Csavargas a Gombak Birodalmaban is the best game the 7501 ever moved? Well, what if I said that we have tracked down the dude who wrote it? Yes, it's only one person. I know it says copyright (C) Greensoft, but that's no other than András Laczi alias Brazil from

Hungary! This fella has been there from the beginning (remember Hős Lovag by M. Tihor? It says in there thanks to Brazil for the help. Later the two of them developed Idolabirintus). He's going to put an ad about Lavina's C16 retro compo in a Hungarian computer newspaper. We are in the process of getting his permission to PD this game, so eat that Nevertrade. (A cover scan and a TAP file would be nice too.)

Although this is not 100%, but so far the following people said that they will participate in the C16 democompo: Luca, Lavina, bubis, me (Csabo), Maugli, MC, Ati (yes, the Mr. YAPE himself), Steve, Crown. Maybe's: Ninja of GS, TLC, Crafty.

I left the best for the last. TCFS is coding again! You heard that right! Word is that he's developing a new, powerful and flexible sprite routine for the plussy, possibly for a game!

So come on everybody, let's get cracking and start (continue) coding again!

All the Small Things #2

Posted by Csabo on 2003-05-07
Just a few newsbits for those interested... We have received a re-release of Imagine/UTG from Lavina. It's not the real version, but rather two parts compiled together by Lavina. It's still worth checking out if you've been craving demos... Load it up on your old friend and watch the show.

An old, but not forgotten utility has resurfaced as well: Char-Editor V1.1 from CSM. This release was under their later group, Anarchy (unlike the first two, which was released by Vortex). The increase of the version number is well deserved: this version can edit charsets several different sizes, all the way up to 5x5.

Plus we have an updated (more recent) picture of Omega. Enjoy!

4 New Classic C16 Game Covers!

Posted by Csabo on 2003-05-02


We've received four new covers scans for our collection. They are Fire Ant, Indoor Soccer, Triple Decker 1 and finally Frank Bruno's Boxing. This last one is different from the one we already had, it's a special commemorative edition. One more note: while the Fire Ant cover is not much to look at as it's Commodore's plain white design, we've decided to add it to make to collection complete.

Many thanks to Paul for sending us the covers!

For those who are wonder about the jump in the total number of covers (we now have 211), it's because we have switched to counting the total number of cover scans vs. counting the number of games they are for.

Dan and Fireant Pictures

Posted by Csabo on 2003-05-01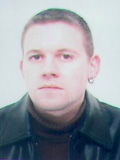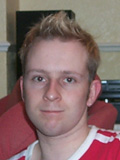 We open this month by getting you acquainted with some Plus/4 enthusiasts. These two fellows (Dan and Fireant) were kind enough to send us their pictures for the Faces of the Scene gallery. It has now grown to 54 pictures, which is pretty impressive. Go check it out now. Thanks guys!
Copyright © Plus/4 World Team, 2001-2018