News

2018
2018/04
3
2018/03
3
2018/02
5
2018/01
7
Total:
18
Avg.:
4.5
2017
2017/12
6
2017/11
5
2017/10
6
2017/09
4
2017/08
4
2017/07
9
2017/06
8
2017/05
4
2017/04
5
2017/03
7
2017/02
6
2017/01
15
Total:
79
Avg.:
6.5
2016
2016/12
10
2016/11
7
2016/10
4
2016/09
5
2016/08
1
2016/07
7
2016/06
4
2016/05
6
2016/04
2
2016/03
4
2016/02
3
2016/01
6
Total:
59
Avg.:
4.9
2015
2015/12
10
2015/11
8
2015/10
7
2015/09
5
2015/08
2
2015/07
1
2015/06
4
2015/05
7
2015/04
6
2015/03
4
2015/02
6
2015/01
1
Total:
61
Avg.:
5
2014
2014/12
7
2014/11
5
2014/10
4
2014/09
7
2014/08
12
2014/07
7
2014/06
4
2014/05
3
2014/04
6
2014/03
2
2014/02
4
2014/01
5
Total:
66
Avg.:
5.5
2013
2013/12
6
2013/11
7
2013/10
4
2013/09
5
2013/08
5
2013/07
5
2013/06
3
2013/05
4
2013/04
5
2013/03
8
2013/02
4
2013/01
2
Total:
58
Avg.:
4.8
2012
2012/12
6
2012/11
4
2012/10
5
2012/09
3
2012/08
6
2012/07
4
2012/06
4
2012/05
10
2012/04
2
2012/03
3
2012/02
3
2012/01
4
Total:
54
Avg.:
4.5
2011
2011/12
4
2011/11
1
2011/10
1
2011/09
3
2011/08
3
2011/07
8
2011/06
7
2011/05
5
2011/04
2
2011/03
2
2011/02
6
2011/01
2
Total:
44
Avg.:
3.6
2010
2010/12
1
2010/11
3
2010/10
3
2010/09
2
2010/08
3
2010/07
4
2010/06
5
2010/05
2
2010/04
8
2010/03
1
2010/02
3
2010/01
2
Total:
37
Avg.:
3
2009
2009/12
8
2009/11
7
2009/10
7
2009/09
4
2009/08
4
2009/07
1
2009/06
3
2009/05
1
2009/04
9
2009/03
2
2009/02
6
2009/01
3
Total:
55
Avg.:
4.5
2008
2008/12
3
2008/11
6
2008/10
5
2008/09
4
2008/08
3
2008/06
6
2008/05
6
2008/04
2
2008/03
3
2008/02
9
2008/01
5
Total:
52
Avg.:
4.7
2007
2007/12
1
2007/11
3
2007/10
5
2007/09
2
2007/08
7
2007/07
6
2007/06
7
2007/05
4
2007/04
10
2007/03
9
2007/02
14
2007/01
8
Total:
76
Avg.:
6.3
2006
2006/12
4
2006/11
6
2006/10
6
2006/09
7
2006/08
13
2006/07
5
2006/06
7
2006/05
1
2006/04
11
2006/03
5
2006/02
4
2006/01
11
Total:
80
Avg.:
6.6
2005
2005/12
9
2005/11
12
2005/10
11
2005/09
17
2005/08
9
2005/07
3
2005/06
1
2005/05
3
2005/04
9
2005/03
6
2005/02
6
2005/01
7
Total:
93
Avg.:
7.7
2004
2004/12
9
2004/11
14
2004/10
10
2004/09
19
2004/08
9
2004/07
10
2004/06
13
2004/05
8
2004/04
23
2004/03
9
2004/02
17
2004/01
16
Total:
157
Avg.:
13
2003
2003/12
20
2003/11
14
2003/10
20
2003/09
23
2003/08
21
2003/07
22
2003/06
15
2003/05
18
2003/04
8
2003/03
11
2003/02
13
2003/01
19
Total:
204
Avg.:
17
2002
2002/12
12
2002/11
11
2002/10
12
2002/09
16
2002/08
9
2002/07
13
2002/06
8
2002/05
12
2002/04
9
2002/03
6
2002/02
3
2002/01
5
Total:
116
Avg.:
9.6
2001
2001/12
1
2001/11
1
2001/10
4
2001/09
4
Total:
10
Avg.:
2.5
2000
2000/08
1
2000/04
1
Total:
2
Avg.:
1
/
1




Club Info 100!

Posted by Luca on 2007-08-30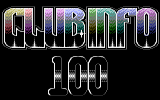 And the time has come: 100 issues of Club Info. I would mean: the very first 100 issues ;)

Erich/Unlimited has taken the most lasting disk magazine beyond the two digits limit, and he decided to celebrate this memorable goal doubling the offer: longer text and 2 disks full of the usual choice of fresh stuff around the scene.
A great intro coded by Csabo/LOD remarks the milestone, with a fantastic TED tune playing while running.

Happy 100 issues anniversary Club Info! Next goal ahead!

New Game Released!

Posted by Csabo on 2007-08-18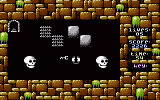 Skoro/Assassins is back once again with a new action game, simply titled: Get It. Your task is the usual: guide your character through 50 levels, avoiding all the baddies. You receive level-codes after successfully completing every fifth level. These will allow you to start the game from the given level once you restart. The author also added a built-in trainer mode for those who find it too hard. So what are you waiting for, get it now (pun intended).

Two more recent releases: Relocator V1.6 is also from Skoro/Asn, and Chronos/ACW released a one-file version of Prince of Persia. Enjoy!

plus4emu 1.2.1 is out!

Posted by Chicken on 2007-08-14
IstvanV released the latest version of his Emulator a couple of days ago. As he stated in the forum already "this release mainly focuses on improving the TED emulation". Additionally, it includes a few minor bug fixes. But even if "there is not much visible difference" you should give it a try.

You can find packages for 32 bit Windows, 32 and 64 bit Linux and the source code here

Don't forget to visit the forum (no registration required) and participate in the discussion about plus4emu. Feedback is always welcome and IstvanV would be happy to hear about your suggestions for features and improvements.

News From West!

Posted by Csabo on 2007-08-11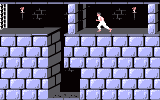 Guys From West are back... sorta :-) Regular readers of the forums may remember that there was some talk around getting our hands on an archived copy of the famed Prince of Persia game. The legendary DOS game running on the Plus/4? Could it be true? Apparently it is! The guys found the latest development copy of the game and decided to release it to the public. It's definitely worth checking out! Too bad it never got completed. We also have a new group photo of GFW. Thanks for this stuff to Tesh and Tmfs!

New Hungarian Covers!

Posted by Csabo on 2007-08-07


DGS sent us two rare Hungarian covers for our collection. The first one is Parketta, a newly added logical game. The second is for Platina, an action+puzzle game that deserves your attention if you haven't played with it yet. Big thanks for these, enjoy!

Eagle by Jedi!

Posted by Csabo on 2007-08-06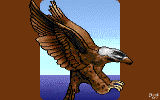 2007 continues to be a very exciting year for our scene. Today we have another fresh release for you: Eagle/Jedi! His second publicly released graphics, it's also an MCFLI picture. (To the best of our knowledge, this is also only the second hand pixelled picture using this video mode.) It was submitted to Assembly 2007 Summer Oldskool Graphics Competition, where it (once again!) took a respectable 4th place. Big congratulations and thanks to Jedi for representing our scene with another fine release!

Absence And Wilds Join Forces!

Posted by Csabo on 2007-08-01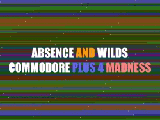 It's very rare for a new group to pop up on our scene, but today that's the case. The remaining members of Absence and Wilds have joined forces, and are proud to announce their new group: ACW. The merger makes sense, since the 5 guys have been already collaborating on various projects in the past two years. We're anxious to see the first production to be released under the new group - could it be the upcoming game, Bomberman +4?

Visit their new homepage: absenceandwilds.extra.hu/. Further reading (in Hungarian): scene.hu
Copyright © Plus/4 World Team, 2001-2018