News

2018
2018/02
3
2018/01
7
Total:
10
Avg.:
5
2017
2017/12
6
2017/11
5
2017/10
6
2017/09
4
2017/08
4
2017/07
9
2017/06
8
2017/05
4
2017/04
5
2017/03
7
2017/02
6
2017/01
15
Total:
79
Avg.:
6.5
2016
2016/12
10
2016/11
7
2016/10
4
2016/09
5
2016/08
1
2016/07
7
2016/06
4
2016/05
6
2016/04
2
2016/03
4
2016/02
3
2016/01
6
Total:
59
Avg.:
4.9
2015
2015/12
10
2015/11
8
2015/10
7
2015/09
5
2015/08
2
2015/07
1
2015/06
4
2015/05
7
2015/04
6
2015/03
4
2015/02
6
2015/01
1
Total:
61
Avg.:
5
2014
2014/12
7
2014/11
5
2014/10
4
2014/09
7
2014/08
12
2014/07
7
2014/06
4
2014/05
3
2014/04
6
2014/03
2
2014/02
4
2014/01
5
Total:
66
Avg.:
5.5
2013
2013/12
6
2013/11
7
2013/10
4
2013/09
5
2013/08
5
2013/07
5
2013/06
3
2013/05
4
2013/04
5
2013/03
8
2013/02
4
2013/01
2
Total:
58
Avg.:
4.8
2012
2012/12
6
2012/11
4
2012/10
5
2012/09
3
2012/08
6
2012/07
4
2012/06
4
2012/05
10
2012/04
2
2012/03
3
2012/02
3
2012/01
4
Total:
54
Avg.:
4.5
2011
2011/12
4
2011/11
1
2011/10
1
2011/09
3
2011/08
3
2011/07
8
2011/06
7
2011/05
5
2011/04
2
2011/03
2
2011/02
6
2011/01
2
Total:
44
Avg.:
3.6
2010
2010/12
1
2010/11
3
2010/10
3
2010/09
2
2010/08
3
2010/07
4
2010/06
5
2010/05
2
2010/04
8
2010/03
1
2010/02
3
2010/01
2
Total:
37
Avg.:
3
2009
2009/12
8
2009/11
7
2009/10
7
2009/09
4
2009/08
4
2009/07
1
2009/06
3
2009/05
1
2009/04
9
2009/03
2
2009/02
6
2009/01
3
Total:
55
Avg.:
4.5
2008
2008/12
3
2008/11
6
2008/10
5
2008/09
4
2008/08
3
2008/06
6
2008/05
6
2008/04
2
2008/03
3
2008/02
9
2008/01
5
Total:
52
Avg.:
4.7
2007
2007/12
1
2007/11
3
2007/10
5
2007/09
2
2007/08
7
2007/07
6
2007/06
7
2007/05
4
2007/04
10
2007/03
9
2007/02
14
2007/01
8
Total:
76
Avg.:
6.3
2006
2006/12
4
2006/11
6
2006/10
6
2006/09
7
2006/08
13
2006/07
5
2006/06
7
2006/05
1
2006/04
11
2006/03
5
2006/02
4
2006/01
11
Total:
80
Avg.:
6.6
2005
2005/12
9
2005/11
12
2005/10
11
2005/09
17
2005/08
9
2005/07
3
2005/06
1
2005/05
3
2005/04
9
2005/03
6
2005/02
6
2005/01
7
Total:
93
Avg.:
7.7
2004
2004/12
9
2004/11
14
2004/10
10
2004/09
19
2004/08
9
2004/07
10
2004/06
13
2004/05
8
2004/04
23
2004/03
9
2004/02
17
2004/01
16
Total:
157
Avg.:
13
2003
2003/12
20
2003/11
14
2003/10
20
2003/09
23
2003/08
21
2003/07
22
2003/06
15
2003/05
18
2003/04
8
2003/03
11
2003/02
13
2003/01
19
Total:
204
Avg.:
17
2002
2002/12
12
2002/11
11
2002/10
12
2002/09
16
2002/08
9
2002/07
13
2002/06
8
2002/05
12
2002/04
9
2002/03
6
2002/02
3
2002/01
5
Total:
116
Avg.:
9.6
2001
2001/12
1
2001/11
1
2001/10
4
2001/09
4
Total:
10
Avg.:
2.5
2000
2000/08
1
2000/04
1
Total:
2
Avg.:
1
/
1




Various Additions

Posted by Csabo on 2007-05-15
Just a few additions to the database today: we've added photo's of Tremby to our faces of the scene gallery (he's number 115). It appears that our humble webpage was featured in a magazine in Holland: Commodore Club December 2006 issue. Big thanks to Patrick for the scan! Last but not least Lacus received and scanned the 26 page manual for Botticelli! It's in Hungarian, but very nice nevertheless. Thanks guys!

Two New Cover Scans

Posted by Csabo on 2007-05-09


Rüdiger recently got his hands on a rare release: it's Savage Island Part One, the Adventure International (U.K.) release. It features different artwork than the Tynesoft release. Despite what the cover says, it not only contains the C16 text only version, but also the Plus/4 version of the game as well. The second cover we added today came from C16 Chris, it knocks one more off of our wanted list: it's the disk cover of Jet Set Willy. What's unique to this one is that the disk contains a second game (Rig Attack), which can be seen on the disk label, but it's not mentioned on the cover itself. Thanks for the scans guys!

Yape 0.74 is released

Posted by Gaia on 2007-05-08
Yape has received another update, a couple of folks will probably be happy with the reconfigurable joystick control keys, while others may get their kicks by the possibility to add breakpoints on startup. For the full story, hit the homepage below.

Link: Yape homepage

Paprita Is Back!

Posted by Chicken on 2007-05-05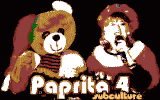 After twelve years of absence from the world of disk mags, Absence revitalized Paprita. The magazine for scene subculture is back with its fourth issue.
Check out Paprita 4!


Copyright © Plus/4 World Team, 2001-2018