News

2018
2018/02
3
2018/01
7
Total:
10
Avg.:
5
2017
2017/12
6
2017/11
5
2017/10
6
2017/09
4
2017/08
4
2017/07
9
2017/06
8
2017/05
4
2017/04
5
2017/03
7
2017/02
6
2017/01
15
Total:
79
Avg.:
6.5
2016
2016/12
10
2016/11
7
2016/10
4
2016/09
5
2016/08
1
2016/07
7
2016/06
4
2016/05
6
2016/04
2
2016/03
4
2016/02
3
2016/01
6
Total:
59
Avg.:
4.9
2015
2015/12
10
2015/11
8
2015/10
7
2015/09
5
2015/08
2
2015/07
1
2015/06
4
2015/05
7
2015/04
6
2015/03
4
2015/02
6
2015/01
1
Total:
61
Avg.:
5
2014
2014/12
7
2014/11
5
2014/10
4
2014/09
7
2014/08
12
2014/07
7
2014/06
4
2014/05
3
2014/04
6
2014/03
2
2014/02
4
2014/01
5
Total:
66
Avg.:
5.5
2013
2013/12
6
2013/11
7
2013/10
4
2013/09
5
2013/08
5
2013/07
5
2013/06
3
2013/05
4
2013/04
5
2013/03
8
2013/02
4
2013/01
2
Total:
58
Avg.:
4.8
2012
2012/12
6
2012/11
4
2012/10
5
2012/09
3
2012/08
6
2012/07
4
2012/06
4
2012/05
10
2012/04
2
2012/03
3
2012/02
3
2012/01
4
Total:
54
Avg.:
4.5
2011
2011/12
4
2011/11
1
2011/10
1
2011/09
3
2011/08
3
2011/07
8
2011/06
7
2011/05
5
2011/04
2
2011/03
2
2011/02
6
2011/01
2
Total:
44
Avg.:
3.6
2010
2010/12
1
2010/11
3
2010/10
3
2010/09
2
2010/08
3
2010/07
4
2010/06
5
2010/05
2
2010/04
8
2010/03
1
2010/02
3
2010/01
2
Total:
37
Avg.:
3
2009
2009/12
8
2009/11
7
2009/10
7
2009/09
4
2009/08
4
2009/07
1
2009/06
3
2009/05
1
2009/04
9
2009/03
2
2009/02
6
2009/01
3
Total:
55
Avg.:
4.5
2008
2008/12
3
2008/11
6
2008/10
5
2008/09
4
2008/08
3
2008/06
6
2008/05
6
2008/04
2
2008/03
3
2008/02
9
2008/01
5
Total:
52
Avg.:
4.7
2007
2007/12
1
2007/11
3
2007/10
5
2007/09
2
2007/08
7
2007/07
6
2007/06
7
2007/05
4
2007/04
10
2007/03
9
2007/02
14
2007/01
8
Total:
76
Avg.:
6.3
2006
2006/12
4
2006/11
6
2006/10
6
2006/09
7
2006/08
13
2006/07
5
2006/06
7
2006/05
1
2006/04
11
2006/03
5
2006/02
4
2006/01
11
Total:
80
Avg.:
6.6
2005
2005/12
9
2005/11
12
2005/10
11
2005/09
17
2005/08
9
2005/07
3
2005/06
1
2005/05
3
2005/04
9
2005/03
6
2005/02
6
2005/01
7
Total:
93
Avg.:
7.7
2004
2004/12
9
2004/11
14
2004/10
10
2004/09
19
2004/08
9
2004/07
10
2004/06
13
2004/05
8
2004/04
23
2004/03
9
2004/02
17
2004/01
16
Total:
157
Avg.:
13
2003
2003/12
20
2003/11
14
2003/10
20
2003/09
23
2003/08
21
2003/07
22
2003/06
15
2003/05
18
2003/04
8
2003/03
11
2003/02
13
2003/01
19
Total:
204
Avg.:
17
2002
2002/12
12
2002/11
11
2002/10
12
2002/09
16
2002/08
9
2002/07
13
2002/06
8
2002/05
12
2002/04
9
2002/03
6
2002/02
3
2002/01
5
Total:
116
Avg.:
9.6
2001
2001/12
1
2001/11
1
2001/10
4
2001/09
4
Total:
10
Avg.:
2.5
2000
2000/08
1
2000/04
1
Total:
2
Avg.:
1
/
1




Aliens return with Lamer News 10!

Posted by Csabo on 2006-02-23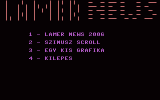 The hungarian demogroup Aliens returns to the scene after a more than a decade. A new issue of their mag, Lamer News #10 has just been released. Aliens frontman Optika writes:

"This year I found a Plus/4 emulator, and I got nostalgic. The magazine is the usual Aliens quality :-(, but at least the code is my own from the first byte to the last one. [...] It's mostly a test program for my cruncher. It works! It's a true Huffman based cruncher, in assembly! [...] Aliens is hatching again, if I could only find the other members!"
It's nice to see old faces once again. Check the new stuff out and enjoy!

More Type-ins

Posted by Ulysses777 on 2006-02-08
Some more type-ins today, from various issues of Commodore Computing International magazine. They are Ice Hockey; Knight Tour, where you guide a single knight chess piece onto every space on the board; Land It, where you fly a bathtub-like ship down to earth and then underground; and Megamind another Mastermind-type game which also runs on the C64. Enjoy!

Forever gets an update

Posted by Gaia on 2006-02-07
The pioneer of all plus/4 emulators, from our own Litwr has received an update recently. This brings this DOS based emulator up to version 1.32. If you are after a very fast emulator that is running smoothly even on a Pentium 100, Forever could be yours. It is now also paring up nicely with Yape in supporting FLI modes and other advanced TED techniques. For users that do not have DOS on their machines anymore, there's also a self-booting CD image with FreeDOS and the emulator itself, so Win2000/XP users are also able to give it a try.

Link: http://litwr.boom.ru/p4_download.html

To the third digit!

Posted by Luca on 2006-02-04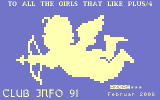 February takes to you the 91st issue of the German speaking disk magazine Club-Info.
This is the first step toward the ambitious "issue 100" goal, that will become a sort of world record, other nearby scenes included! However, at the moment, we simply have to enjoy the two sides filled with articles (in German), and a few new Unlimited stuff.
Go breaking the third digit wall, Erich!
Copyright © Plus/4 World Team, 2001-2018