News

2018
2018/02
3
2018/01
7
Total:
10
Avg.:
5
2017
2017/12
6
2017/11
5
2017/10
6
2017/09
4
2017/08
4
2017/07
9
2017/06
8
2017/05
4
2017/04
5
2017/03
7
2017/02
6
2017/01
15
Total:
79
Avg.:
6.5
2016
2016/12
10
2016/11
7
2016/10
4
2016/09
5
2016/08
1
2016/07
7
2016/06
4
2016/05
6
2016/04
2
2016/03
4
2016/02
3
2016/01
6
Total:
59
Avg.:
4.9
2015
2015/12
10
2015/11
8
2015/10
7
2015/09
5
2015/08
2
2015/07
1
2015/06
4
2015/05
7
2015/04
6
2015/03
4
2015/02
6
2015/01
1
Total:
61
Avg.:
5
2014
2014/12
7
2014/11
5
2014/10
4
2014/09
7
2014/08
12
2014/07
7
2014/06
4
2014/05
3
2014/04
6
2014/03
2
2014/02
4
2014/01
5
Total:
66
Avg.:
5.5
2013
2013/12
6
2013/11
7
2013/10
4
2013/09
5
2013/08
5
2013/07
5
2013/06
3
2013/05
4
2013/04
5
2013/03
8
2013/02
4
2013/01
2
Total:
58
Avg.:
4.8
2012
2012/12
6
2012/11
4
2012/10
5
2012/09
3
2012/08
6
2012/07
4
2012/06
4
2012/05
10
2012/04
2
2012/03
3
2012/02
3
2012/01
4
Total:
54
Avg.:
4.5
2011
2011/12
4
2011/11
1
2011/10
1
2011/09
3
2011/08
3
2011/07
8
2011/06
7
2011/05
5
2011/04
2
2011/03
2
2011/02
6
2011/01
2
Total:
44
Avg.:
3.6
2010
2010/12
1
2010/11
3
2010/10
3
2010/09
2
2010/08
3
2010/07
4
2010/06
5
2010/05
2
2010/04
8
2010/03
1
2010/02
3
2010/01
2
Total:
37
Avg.:
3
2009
2009/12
8
2009/11
7
2009/10
7
2009/09
4
2009/08
4
2009/07
1
2009/06
3
2009/05
1
2009/04
9
2009/03
2
2009/02
6
2009/01
3
Total:
55
Avg.:
4.5
2008
2008/12
3
2008/11
6
2008/10
5
2008/09
4
2008/08
3
2008/06
6
2008/05
6
2008/04
2
2008/03
3
2008/02
9
2008/01
5
Total:
52
Avg.:
4.7
2007
2007/12
1
2007/11
3
2007/10
5
2007/09
2
2007/08
7
2007/07
6
2007/06
7
2007/05
4
2007/04
10
2007/03
9
2007/02
14
2007/01
8
Total:
76
Avg.:
6.3
2006
2006/12
4
2006/11
6
2006/10
6
2006/09
7
2006/08
13
2006/07
5
2006/06
7
2006/05
1
2006/04
11
2006/03
5
2006/02
4
2006/01
11
Total:
80
Avg.:
6.6
2005
2005/12
9
2005/11
12
2005/10
11
2005/09
17
2005/08
9
2005/07
3
2005/06
1
2005/05
3
2005/04
9
2005/03
6
2005/02
6
2005/01
7
Total:
93
Avg.:
7.7
2004
2004/12
9
2004/11
14
2004/10
10
2004/09
19
2004/08
9
2004/07
10
2004/06
13
2004/05
8
2004/04
23
2004/03
9
2004/02
17
2004/01
16
Total:
157
Avg.:
13
2003
2003/12
20
2003/11
14
2003/10
20
2003/09
23
2003/08
21
2003/07
22
2003/06
15
2003/05
18
2003/04
8
2003/03
11
2003/02
13
2003/01
19
Total:
204
Avg.:
17
2002
2002/12
12
2002/11
11
2002/10
12
2002/09
16
2002/08
9
2002/07
13
2002/06
8
2002/05
12
2002/04
9
2002/03
6
2002/02
3
2002/01
5
Total:
116
Avg.:
9.6
2001
2001/12
1
2001/11
1
2001/10
4
2001/09
4
Total:
10
Avg.:
2.5
2000
2000/08
1
2000/04
1
Total:
2
Avg.:
1
/
1




Tri-Micro Newsletters Scans!!

Posted by MIK on 2002-06-30
James C has scanned some of his Tri-Micro / Plus Exchange newsletters. These newsletters cover three years of built-in software tips, software reviews, and discounted software pricing. Hit the homepage for the full story. Many thanks to James for this news.

Rescue from Zylon gets the remake magic for PC!!

Posted by MIK on 2002-06-27
Back in 1985 Gremlin Graphics hit the nail right on the head and released one cool game based on the revolutionary gravity idea set by Thrust. But as we know, Thrust was doing the rounds on everything else other than C16/Plus4 at the time and this couldn't come any sooner! It has to be said that Mark J. Moore made this title his own - Oh yes! Using an airship and having to save a team of geologists looked easy until you learned the underground cave would soon flood with water and aicd rain drops would damage your ship - it's this that made Rescue from Zylon such a classic on our machine!

Now, when Kichy dropped a note about his Zylon Remake in the Forum I couldn't believe my eyes, more so once I downloaded it and started to play! All new amazing looking GFX, groovy music which suits it so well and the same addictive game play from the original. It really is stunning and should not be missed by any retro fan be it C16 or not! Once again this Zylon remake is a phenomenal effort and there is no time to waste, hit the homepage here and grab it now. Many thanks Kichy for this new and wicked remake, Cheers!

26 Covers have been added!!

Posted by MIK on 2002-06-19
The new covers line up is as follows: Airwolf (Original), Apollo Resuce, Circus, Climb It, Cyborg, Death River, Gnasher, Golden Baton, Lawn Tennis, Loco - coco, Lunar Docking, Mail Trial, Manic Death Chase, Munch It,Panic Penguin, Petals of Doom, Pizza Pete, Raider, Rig Attack, Roller Kong, Sea Strike, Skelby, Sqij, World Cup, World Series Baseball and Zap'em.

Graphics Master - A Rare Utilitie from 1985!!!

Posted by MIK on 2002-06-18

This could be the first of it's kind ever to be released on the C16/Plus4 and came from Mr. Chip Software! Created by the same author as the classic game Xadium (Michelangelo), Graphics Master allows the user to re-define the character set of the C16/Plus4. The new GFX may then be saved to tape or disk, as well as offering the usual edit commands, common to many programmes. Graphics Master contains many unique commands including character scrolling, inverting and even the ability to rotate characters.

This gem is available in 2 formats, D64 and TAP. Both contain the full instructions in scan format which to be honest is much needed for such a program to get the max out of it, and the cover is also there to prove this title was released even though the old Magneticfields website only stated it's release for Vic20 and C64. Download Graphics Master from HERE.

Terra Cognita's 100+ screens in one single image!!

Posted by MIK on 2002-06-12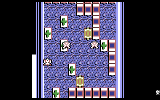 Norbert certainly deserves a pat on the back for this mother of a map which is fantasic and brilliantly presented! Scrolling in at 300 x 1500 my mouse ended up on the floor trying to look at it, but that's the point. Here for the first time we get to see Codemasters neat vertical shooter how it was meant to be seen and very impressive it is. Many thanks Norbert this will come in very handy. Hit the map's section NOW!

Club Info #69 is out!

Posted by Csabo on 2002-06-10
That's right, the 69th issue of this German

diskmag has just been uploaded to the net. Besides tons of new articles, the two sided magazine features some games and demos, including an italian hacked version of Monty on the Run. Edited by Erich/Unlimited. It's a rare thing to see new programs being released for the Plus/4. Download it now! Club Info #69

Commodore's own Education Software for Children!

Posted by MIK on 2002-06-05

Available for the first time online are Hide and Seek and Pixie Pack. Both have a series of similar games to test your skills. Pixie Pack consists of 6 PRG files which introduce and reinforce early number concepts in a fun way. Where Hide and Seek consists of 6 TAP files, these games develop and exercise memory skills in an interesting and stimulating way, "so said Commodore". :-)

Mind you we are all getting on a bit now (snif), so don't laugh because these are cool programmes for what age group they are geared towards!! Enjoy.

A Magnetic Greeting

Posted by Csabo on 2002-06-03
The members of the Hungarian group Magnetic Violence were kind enough to send pictures of each one of their members. Check out the Faces of the Scene page, which now has 35 pictures of Plus/4 guys (no girls yet). MTV member Fecoshy is also origanizing a party in Hungary. Check their new site www.clubindex.hu for more details (available from 2002/06/08).
Copyright © Plus/4 World Team, 2001-2018