News

2018
2018/02
3
2018/01
7
Total:
10
Avg.:
5
2017
2017/12
6
2017/11
5
2017/10
6
2017/09
4
2017/08
4
2017/07
9
2017/06
8
2017/05
4
2017/04
5
2017/03
7
2017/02
6
2017/01
15
Total:
79
Avg.:
6.5
2016
2016/12
10
2016/11
7
2016/10
4
2016/09
5
2016/08
1
2016/07
7
2016/06
4
2016/05
6
2016/04
2
2016/03
4
2016/02
3
2016/01
6
Total:
59
Avg.:
4.9
2015
2015/12
10
2015/11
8
2015/10
7
2015/09
5
2015/08
2
2015/07
1
2015/06
4
2015/05
7
2015/04
6
2015/03
4
2015/02
6
2015/01
1
Total:
61
Avg.:
5
2014
2014/12
7
2014/11
5
2014/10
4
2014/09
7
2014/08
12
2014/07
7
2014/06
4
2014/05
3
2014/04
6
2014/03
2
2014/02
4
2014/01
5
Total:
66
Avg.:
5.5
2013
2013/12
6
2013/11
7
2013/10
4
2013/09
5
2013/08
5
2013/07
5
2013/06
3
2013/05
4
2013/04
5
2013/03
8
2013/02
4
2013/01
2
Total:
58
Avg.:
4.8
2012
2012/12
6
2012/11
4
2012/10
5
2012/09
3
2012/08
6
2012/07
4
2012/06
4
2012/05
10
2012/04
2
2012/03
3
2012/02
3
2012/01
4
Total:
54
Avg.:
4.5
2011
2011/12
4
2011/11
1
2011/10
1
2011/09
3
2011/08
3
2011/07
8
2011/06
7
2011/05
5
2011/04
2
2011/03
2
2011/02
6
2011/01
2
Total:
44
Avg.:
3.6
2010
2010/12
1
2010/11
3
2010/10
3
2010/09
2
2010/08
3
2010/07
4
2010/06
5
2010/05
2
2010/04
8
2010/03
1
2010/02
3
2010/01
2
Total:
37
Avg.:
3
2009
2009/12
8
2009/11
7
2009/10
7
2009/09
4
2009/08
4
2009/07
1
2009/06
3
2009/05
1
2009/04
9
2009/03
2
2009/02
6
2009/01
3
Total:
55
Avg.:
4.5
2008
2008/12
3
2008/11
6
2008/10
5
2008/09
4
2008/08
3
2008/06
6
2008/05
6
2008/04
2
2008/03
3
2008/02
9
2008/01
5
Total:
52
Avg.:
4.7
2007
2007/12
1
2007/11
3
2007/10
5
2007/09
2
2007/08
7
2007/07
6
2007/06
7
2007/05
4
2007/04
10
2007/03
9
2007/02
14
2007/01
8
Total:
76
Avg.:
6.3
2006
2006/12
4
2006/11
6
2006/10
6
2006/09
7
2006/08
13
2006/07
5
2006/06
7
2006/05
1
2006/04
11
2006/03
5
2006/02
4
2006/01
11
Total:
80
Avg.:
6.6
2005
2005/12
9
2005/11
12
2005/10
11
2005/09
17
2005/08
9
2005/07
3
2005/06
1
2005/05
3
2005/04
9
2005/03
6
2005/02
6
2005/01
7
Total:
93
Avg.:
7.7
2004
2004/12
9
2004/11
14
2004/10
10
2004/09
19
2004/08
9
2004/07
10
2004/06
13
2004/05
8
2004/04
23
2004/03
9
2004/02
17
2004/01
16
Total:
157
Avg.:
13
2003
2003/12
20
2003/11
14
2003/10
20
2003/09
23
2003/08
21
2003/07
22
2003/06
15
2003/05
18
2003/04
8
2003/03
11
2003/02
13
2003/01
19
Total:
204
Avg.:
17
2002
2002/12
12
2002/11
11
2002/10
12
2002/09
16
2002/08
9
2002/07
13
2002/06
8
2002/05
12
2002/04
9
2002/03
6
2002/02
3
2002/01
5
Total:
116
Avg.:
9.6
2001
2001/12
1
2001/11
1
2001/10
4
2001/09
4
Total:
10
Avg.:
2.5
2000
2000/08
1
2000/04
1
Total:
2
Avg.:
1
/
1




Happy 39th Birthday TCFS! Wah-tchaaaa!

Posted by Luca on 2013-03-28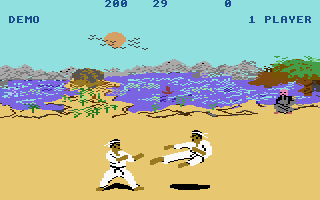 It's the day! Today is the 28th of March, hence all together in one voice we say: happy birthday TCFS, you're 39 now!

Does exist a better way to celebrate one of the most notable personalities ever in the Plus/4 scene, than release a celebration trainer of Exploding Fist +4 as one of his most loved converted games? Download Exploding Fist +5MD!, and enjoy cheating against your opponent, reaching the ranking of Master in a snap of fingers! That's the surprise present that Luca and all the FIRE crew wanna give to TCFS and to all the Plus/4 aficionados all over the world! Wah-tchaaaa!
Read comments

Plus/4 Asteroids Emulator

Posted by Luca on 2013-03-16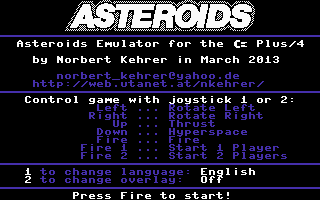 Don't believe in lazy saturdays so close to a new spring time, when anybody thinks nothing notable can really happen! That's the right time to expect the unexpected to happens!

Norbert Kehrer is not a n00b into the emulation field, it's not for a coincidence his own site is named Norbert's Emulators. He thought that the Atari coinop game classic Asteroids that hit in the arcades in 1979, all in all, is based on a 6502 CPU, a proper video generator for vectors and some circuitry for the audio output. In the very end, machines like C64 and Plus/4 work with a similar heart, so why don't emulate that old fashioned vector game in all its charming elegance?

Asteroids is the pretty cool result Norbert has achieved: a very playable version of the Atari's ancient gem, even at higher levels, when the vector objects on screen are so many to move. The Plus/4 version runs faster than the C64 one, due to the advantage of the automatic doubleclocking that occurs when the Plus/4 raster draws on the borders.

Polished, playable, unforeseen. The only thing we can ask is: more of those surprises. Thanks Norbert!

Read comments

Darker Side Of The Dark Side

Posted by Luca on 2013-03-15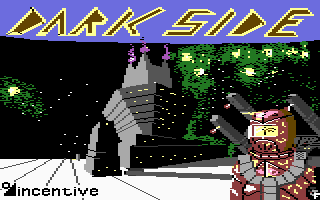 How many times we've checked and checked and checked again the disk collections? Well, we've made it for years, and at this point nothing can be actually discovered on those disks...
Wrong, absolutely wrong: sometimes the best fishes pass through the net of our sieves for years!

And this is the perfect case to describe what we're talking above: we found Dark Side (Csory), a version of the famous Freescape game Dark Side, which has been previously converted by Tarzan, ported to Plus/4 by Csory. This latter version features way better keyboard interfacing, a better conversion in single particulars like the jetpack window on the panel, and addons like the intro picture. This is a version that worths to be played till the end!

Some other precious stones lie around the big diamond hidden for so many years. The claimed 1551 version of Techno Trance fixed by Chicken has finally raised up from somewhere, some forgotten demos by Unlimited have been added too (especially Unlimited Membership (Older) which has been easily confused with the latter released Unlimited Membership), also added the 1551 version of Bard's Tale III released by Ceekay and the Manowar rerelease of Supremacy.

A complete list follows: 38 Sec. Format, Disk To Tape Transfer, Copy 224, Copy 226, Disk Turbo, Elan0, Fast-validate, Stellar 7 (alt), Dload V3.23 (versions), JCL Assembler (version), Charset Inverter V1.0, Dark Side (Csory), Eliza Packed , Unlimited Demo, Unlimited Membership (Older), Bard's Tale III (1551), Comic, Die Insel Der 1000 Gefahren, Purple Turtles (crack), Supremacy (version), Techno Trance (1551).
Be the first to comment!

Club Info 129

Posted by Csabo on 2013-03-13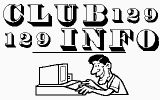 Erich/Ultd is here with the first Club Info of the year. (For those two don't know: it's a German-language disk mag, published every 3 months.) Side B doesn't have many new programs as it's mostly dedicated to SVS-Calc 2.0. There's a ton of articles on Side A, though: reviews of new programs, tips & tricks, documentation for Scapeghost and Games Creator and more. Check it out!
Be the first to comment!

Commodore Plus4 RS232

Posted by Csabo on 2013-03-12

Following a discussion about RS232 on our forums, +4Man (AKA DeadTED) published his documentation on it. You can find it in the hardware section.
Be the first to comment!

Preys Of A Hunting Weekend

Posted by Luca on 2013-03-10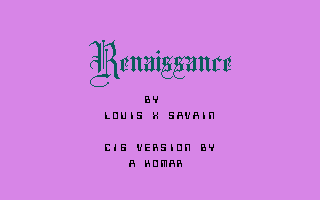 It has been a relaxing weekend of flu and bustling about the D64s in one of the older collections we have, just to pull out some missing old game cracks, just in order to persevere in our new viewpoint about cracks.

And yes, we've collected some new cracks and trainers we're proud to have in the database. But, as usual statistics teach to all of us, sometimes you also catch something you've missed before. The big fish today is Renaissance C16, the conversion of a famous version of the Othello game. We all know that Renaissance has been converted from C64 under the FYC label. Not the same with this C16 one, which seems to be much like a commercial release.
Other notable new programs: another Pigmy's tool we didn't included before called Digi Drums II, an ancient tape-to-disk copier as Kofa-kopi, another tape-to disk program including Nova Turbo hacking called Tape Copy, and a German Game Basic by Telesoft.
We've also changed the files for Danger-Willi and Helix with some complete ones.

Here is the complete addons list: Alien Invasion (crack), Blaze (crack), Digi Drums II, Digital Ball, Jetbrix (crack), Joe Blade 2 (crack), Karting Grand Prix (crack), Kofa-kopi, Krackout (crack), Laza! (crack), Magician's Curse (crack), Mario Brothers (crack), Megazone (crack), Mesél Az Erdő (crack), Molecule Man (trainer), Mychess 2.0 (crack), Netrun 2000 (crack), Pharaoh's Tomb (crack), Popeye (crack), Pottit (crack), Raider (crack), Renaissance C16, Superman (crack), Thrust (trainer), Timeslip (trainer), Helix (file), Tape Copy, TV Bongo, Tycoon Tex (crack), Ürkaland (crack), Xargon's Revenge (crack), Xcellor8 (crack), Zeppelin (crack), Danger-Willi (file), Démonok Birodalma (crack), Game Basic, Pagemaker (crack), Summer Events (crack), Way Of The Exploding Fist (crack).
Read comments

Pirate Adventure Manual

Posted by Csabo on 2013-03-07

Spektro sent us a scanned version of the Pirate Adventure Manual. This 12-page booklet came with Scott Adams' Pirate Adventure. It has tips on playing adventures in general, getting around and mapping. Check it out! Big thanks to Spektro for his contribution to the archive, and remember to send in any new/missing Commodore 16/Plus4 material you might have.
Be the first to comment!

A Never Used Loading Screen Rises

Posted by Luca on 2013-03-05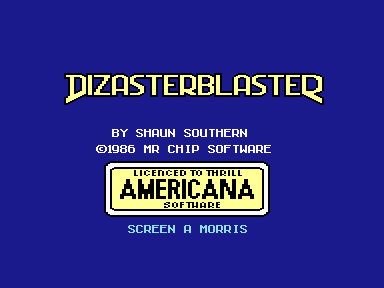 And now for something completely different. And weird. Why wasting time to draw the graphics for a loading screen, and in the end do not use it?

After some chatting with Andrew Morris, author of several graphics for various Mr. Chip Software classic hits, he recovered some diskettes containing sparse bits and workstages of graphics, mostly done for famous C64 games. In most of the D64s, there's a Graphics Master copy, clear signal that Andrew used the C16 charset editor made by Michelangelo Pignani as main graphic tool in order to edit characters.
In the very last one of the whole pack, apart of another copy of the formerly cited editor, and the original charset done for Xadium logo and letters, there is a graphics set which can be displayed by loading and running two separate custom viewers written in BASIC. It's a DizasterBlaster logo, plus the Americana label, one viewer is for C64, the other for C16. It should have been used as loading screen for a cassette loader.

Andrew Morris himself declared he doesn't remember why that screen hadn't been added to the final release, though ready to go. What we can see is the declared release date: year 1986, one year before the official release year. Viewer+graphics can be downloaded from here.
Read comments
Copyright © Plus/4 World Team, 2001-2018