News

2018
2018/02
3
2018/01
7
Total:
10
Avg.:
5
2017
2017/12
6
2017/11
5
2017/10
6
2017/09
4
2017/08
4
2017/07
9
2017/06
8
2017/05
4
2017/04
5
2017/03
7
2017/02
6
2017/01
15
Total:
79
Avg.:
6.5
2016
2016/12
10
2016/11
7
2016/10
4
2016/09
5
2016/08
1
2016/07
7
2016/06
4
2016/05
6
2016/04
2
2016/03
4
2016/02
3
2016/01
6
Total:
59
Avg.:
4.9
2015
2015/12
10
2015/11
8
2015/10
7
2015/09
5
2015/08
2
2015/07
1
2015/06
4
2015/05
7
2015/04
6
2015/03
4
2015/02
6
2015/01
1
Total:
61
Avg.:
5
2014
2014/12
7
2014/11
5
2014/10
4
2014/09
7
2014/08
12
2014/07
7
2014/06
4
2014/05
3
2014/04
6
2014/03
2
2014/02
4
2014/01
5
Total:
66
Avg.:
5.5
2013
2013/12
6
2013/11
7
2013/10
4
2013/09
5
2013/08
5
2013/07
5
2013/06
3
2013/05
4
2013/04
5
2013/03
8
2013/02
4
2013/01
2
Total:
58
Avg.:
4.8
2012
2012/12
6
2012/11
4
2012/10
5
2012/09
3
2012/08
6
2012/07
4
2012/06
4
2012/05
10
2012/04
2
2012/03
3
2012/02
3
2012/01
4
Total:
54
Avg.:
4.5
2011
2011/12
4
2011/11
1
2011/10
1
2011/09
3
2011/08
3
2011/07
8
2011/06
7
2011/05
5
2011/04
2
2011/03
2
2011/02
6
2011/01
2
Total:
44
Avg.:
3.6
2010
2010/12
1
2010/11
3
2010/10
3
2010/09
2
2010/08
3
2010/07
4
2010/06
5
2010/05
2
2010/04
8
2010/03
1
2010/02
3
2010/01
2
Total:
37
Avg.:
3
2009
2009/12
8
2009/11
7
2009/10
7
2009/09
4
2009/08
4
2009/07
1
2009/06
3
2009/05
1
2009/04
9
2009/03
2
2009/02
6
2009/01
3
Total:
55
Avg.:
4.5
2008
2008/12
3
2008/11
6
2008/10
5
2008/09
4
2008/08
3
2008/06
6
2008/05
6
2008/04
2
2008/03
3
2008/02
9
2008/01
5
Total:
52
Avg.:
4.7
2007
2007/12
1
2007/11
3
2007/10
5
2007/09
2
2007/08
7
2007/07
6
2007/06
7
2007/05
4
2007/04
10
2007/03
9
2007/02
14
2007/01
8
Total:
76
Avg.:
6.3
2006
2006/12
4
2006/11
6
2006/10
6
2006/09
7
2006/08
13
2006/07
5
2006/06
7
2006/05
1
2006/04
11
2006/03
5
2006/02
4
2006/01
11
Total:
80
Avg.:
6.6
2005
2005/12
9
2005/11
12
2005/10
11
2005/09
17
2005/08
9
2005/07
3
2005/06
1
2005/05
3
2005/04
9
2005/03
6
2005/02
6
2005/01
7
Total:
93
Avg.:
7.7
2004
2004/12
9
2004/11
14
2004/10
10
2004/09
19
2004/08
9
2004/07
10
2004/06
13
2004/05
8
2004/04
23
2004/03
9
2004/02
17
2004/01
16
Total:
157
Avg.:
13
2003
2003/12
20
2003/11
14
2003/10
20
2003/09
23
2003/08
21
2003/07
22
2003/06
15
2003/05
18
2003/04
8
2003/03
11
2003/02
13
2003/01
19
Total:
204
Avg.:
17
2002
2002/12
12
2002/11
11
2002/10
12
2002/09
16
2002/08
9
2002/07
13
2002/06
8
2002/05
12
2002/04
9
2002/03
6
2002/02
3
2002/01
5
Total:
116
Avg.:
9.6
2001
2001/12
1
2001/11
1
2001/10
4
2001/09
4
Total:
10
Avg.:
2.5
2000
2000/08
1
2000/04
1
Total:
2
Avg.:
1
/
1




Ultimate Map V1.7

Posted by Luca on 2012-03-26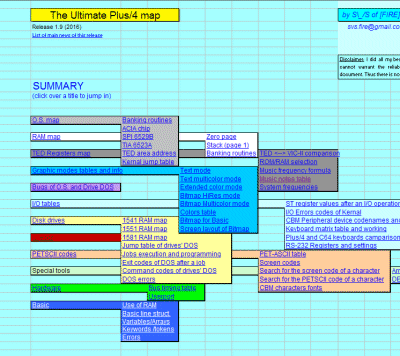 Where's the current BASIC line? How to RS-232? How to play high-pitched white noise? Where to find ALL the infos you need, even if you type BASIC lines or you manage to tame the TED by machine language? A new version of Ultimate Map is out right now!

SVS improved this very useful .XLS, in order to have the most complete memory mapping for the 264 machines. Both RAM and ROM chapters are now enriched by adding several new data (about RAM usage, IRQ specs, keyboard routines and other minor infos); keyboard matrix has been added too; TED's registers are now straight compared to the corresponding VIC-II ones; the PET-ASCII codes chapter has been fixed and new finds have been added too.

You no longer need to read all those .txt you collected in the past years because you would need to know how that certain register works: you exactly know where any info lies! Download the brand new Ultimate Map now!
Read comments

Optimal Reality

Posted by Csabo on 2012-03-04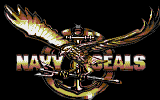 Yesterday I was going through issues of the Hungarian diskmag SCN News, and found something interesting. Number 24 mentions a certain "Optimal Real", a picture show by Chronos. Reddi (the then-editor of the magazine) isn't around nowadays, but Chronos is, so I asked him what this could have been (since there's no record of it anywhere in our database). To my surprise, he delivered it to me within a few hours. Thanks to this, we have a never-before-seen demo, using IFFL technology. (IFFL stands for something like Integrated File Flexible Loader, there are other variations but no clear definition.) Regardless, check the demo out!

Why should we read these old magazines? (I know, a lot of them require understanding Hungarian or German.) By using this little utility, it's possible to extract the magazine text into readable, searchable format. This in turn helps with the software archeology. Based on which games/demos are announced as news, we can figure out the release dates when none is provided. And, occasionally, we can find something rare and exciting, like in this case. But most importantly, to me, reading through the old mags is a nice trip down memory lane. I feel as if part of the scene, and it's a great feeling. Keep the Plus/4 alive!
Read comments
Copyright © Plus/4 World Team, 2001-2018