News

2018
2018/04
3
2018/03
3
2018/02
5
2018/01
7
Total:
18
Avg.:
4.5
2017
2017/12
6
2017/11
5
2017/10
6
2017/09
4
2017/08
4
2017/07
9
2017/06
8
2017/05
4
2017/04
5
2017/03
7
2017/02
6
2017/01
15
Total:
79
Avg.:
6.5
2016
2016/12
10
2016/11
7
2016/10
4
2016/09
5
2016/08
1
2016/07
7
2016/06
4
2016/05
6
2016/04
2
2016/03
4
2016/02
3
2016/01
6
Total:
59
Avg.:
4.9
2015
2015/12
10
2015/11
8
2015/10
7
2015/09
5
2015/08
2
2015/07
1
2015/06
4
2015/05
7
2015/04
6
2015/03
4
2015/02
6
2015/01
1
Total:
61
Avg.:
5
2014
2014/12
7
2014/11
5
2014/10
4
2014/09
7
2014/08
12
2014/07
7
2014/06
4
2014/05
3
2014/04
6
2014/03
2
2014/02
4
2014/01
5
Total:
66
Avg.:
5.5
2013
2013/12
6
2013/11
7
2013/10
4
2013/09
5
2013/08
5
2013/07
5
2013/06
3
2013/05
4
2013/04
5
2013/03
8
2013/02
4
2013/01
2
Total:
58
Avg.:
4.8
2012
2012/12
6
2012/11
4
2012/10
5
2012/09
3
2012/08
6
2012/07
4
2012/06
4
2012/05
10
2012/04
2
2012/03
3
2012/02
3
2012/01
4
Total:
54
Avg.:
4.5
2011
2011/12
4
2011/11
1
2011/10
1
2011/09
3
2011/08
3
2011/07
8
2011/06
7
2011/05
5
2011/04
2
2011/03
2
2011/02
6
2011/01
2
Total:
44
Avg.:
3.6
2010
2010/12
1
2010/11
3
2010/10
3
2010/09
2
2010/08
3
2010/07
4
2010/06
5
2010/05
2
2010/04
8
2010/03
1
2010/02
3
2010/01
2
Total:
37
Avg.:
3
2009
2009/12
8
2009/11
7
2009/10
7
2009/09
4
2009/08
4
2009/07
1
2009/06
3
2009/05
1
2009/04
9
2009/03
2
2009/02
6
2009/01
3
Total:
55
Avg.:
4.5
2008
2008/12
3
2008/11
6
2008/10
5
2008/09
4
2008/08
3
2008/06
6
2008/05
6
2008/04
2
2008/03
3
2008/02
9
2008/01
5
Total:
52
Avg.:
4.7
2007
2007/12
1
2007/11
3
2007/10
5
2007/09
2
2007/08
7
2007/07
6
2007/06
7
2007/05
4
2007/04
10
2007/03
9
2007/02
14
2007/01
8
Total:
76
Avg.:
6.3
2006
2006/12
4
2006/11
6
2006/10
6
2006/09
7
2006/08
13
2006/07
5
2006/06
7
2006/05
1
2006/04
11
2006/03
5
2006/02
4
2006/01
11
Total:
80
Avg.:
6.6
2005
2005/12
9
2005/11
12
2005/10
11
2005/09
17
2005/08
9
2005/07
3
2005/06
1
2005/05
3
2005/04
9
2005/03
6
2005/02
6
2005/01
7
Total:
93
Avg.:
7.7
2004
2004/12
9
2004/11
14
2004/10
10
2004/09
19
2004/08
9
2004/07
10
2004/06
13
2004/05
8
2004/04
23
2004/03
9
2004/02
17
2004/01
16
Total:
157
Avg.:
13
2003
2003/12
20
2003/11
14
2003/10
20
2003/09
23
2003/08
21
2003/07
22
2003/06
15
2003/05
18
2003/04
8
2003/03
11
2003/02
13
2003/01
19
Total:
204
Avg.:
17
2002
2002/12
12
2002/11
11
2002/10
12
2002/09
16
2002/08
9
2002/07
13
2002/06
8
2002/05
12
2002/04
9
2002/03
6
2002/02
3
2002/01
5
Total:
116
Avg.:
9.6
2001
2001/12
1
2001/11
1
2001/10
4
2001/09
4
Total:
10
Avg.:
2.5
2000
2000/08
1
2000/04
1
Total:
2
Avg.:
1
/
1




YAPE 1.0.9

Posted by Luca on 2016-02-14
Black C= be my Valentine! Gaia has released YAPE 1.0.9 in the day that legitimizes our neverending love to the 264 series.

So, what has been retouched and added this time?

- updated project to be used with Visual Studio 2015 and MinGW-w64;
- optional XAudio2 driver added (DirectSound's successor);
- D81 image support in 1551/IEC mode (no partitions though);
- PSID replay support via the autostart menu;
- refactored audio mixing;
- disk attachment regression bug;
- various other bugfixes (monitor settings, TED sound, snapshot).

Download it from the official page.
Be the first to comment!

Hugohunt!

Posted by Csabo on 2016-02-11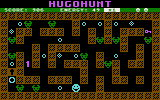 Retro-gamers rejoice: angelsoft is here with a new release! Some of you may have seen an early version of the game on the author's homepage, but today marks the official release.

Hugohunt is an action game, inspired by an Atari game. The mazes, ghosts, and 'pills' to be eaten give the game a 'Pac-man' feel, but this is a good game on its own right. It's superbly programmed: beautiful colors, nice music and sound effects, runs on a C16 and PAL/NTSC compatible. Not to mention it comes with a level editor and even a C64 version (see the author's notes on the reason behind this).

Don't delay: download it now and check it out. Be sure to give your feedback and send if your high scores to the Hall of Fame!
Read comments

Hungarian Cover Scans From Lacus!

Posted by Csabo on 2016-02-02

Lacus has been busy buying up original Hungarian releases, and he's been kind enough to do the work of scanning, photographing, and transferring files to TAP format. Here's what's been added today: Európa (tape photo), Évezredek I and Évezredek III (covers and TAP), Magyarország (tape photo), Vadász És Nyúl (cover scan), Karate (covers and TAP), and Kincsvadász (covers and tape photo).

It's awesome have the original of Karate: if you've never played this Hungarian gem, now's the time to try it out! Vadász És Nyúl is not a noteworthy release by any means, but the cover artwork (and we're using that term very loosely here) is interesting. It appears to have been drawn by a young child. Perhaps there's a story behind it? Who knows :-)

Anyway, check these out and enjoy! Big thanks for Lacus for sending them in.
Read comments
Copyright © Plus/4 World Team, 2001-2018