News

2018
2018/04
3
2018/03
3
2018/02
5
2018/01
7
Total:
18
Avg.:
4.5
2017
2017/12
6
2017/11
5
2017/10
6
2017/09
4
2017/08
4
2017/07
9
2017/06
8
2017/05
4
2017/04
5
2017/03
7
2017/02
6
2017/01
15
Total:
79
Avg.:
6.5
2016
2016/12
10
2016/11
7
2016/10
4
2016/09
5
2016/08
1
2016/07
7
2016/06
4
2016/05
6
2016/04
2
2016/03
4
2016/02
3
2016/01
6
Total:
59
Avg.:
4.9
2015
2015/12
10
2015/11
8
2015/10
7
2015/09
5
2015/08
2
2015/07
1
2015/06
4
2015/05
7
2015/04
6
2015/03
4
2015/02
6
2015/01
1
Total:
61
Avg.:
5
2014
2014/12
7
2014/11
5
2014/10
4
2014/09
7
2014/08
12
2014/07
7
2014/06
4
2014/05
3
2014/04
6
2014/03
2
2014/02
4
2014/01
5
Total:
66
Avg.:
5.5
2013
2013/12
6
2013/11
7
2013/10
4
2013/09
5
2013/08
5
2013/07
5
2013/06
3
2013/05
4
2013/04
5
2013/03
8
2013/02
4
2013/01
2
Total:
58
Avg.:
4.8
2012
2012/12
6
2012/11
4
2012/10
5
2012/09
3
2012/08
6
2012/07
4
2012/06
4
2012/05
10
2012/04
2
2012/03
3
2012/02
3
2012/01
4
Total:
54
Avg.:
4.5
2011
2011/12
4
2011/11
1
2011/10
1
2011/09
3
2011/08
3
2011/07
8
2011/06
7
2011/05
5
2011/04
2
2011/03
2
2011/02
6
2011/01
2
Total:
44
Avg.:
3.6
2010
2010/12
1
2010/11
3
2010/10
3
2010/09
2
2010/08
3
2010/07
4
2010/06
5
2010/05
2
2010/04
8
2010/03
1
2010/02
3
2010/01
2
Total:
37
Avg.:
3
2009
2009/12
8
2009/11
7
2009/10
7
2009/09
4
2009/08
4
2009/07
1
2009/06
3
2009/05
1
2009/04
9
2009/03
2
2009/02
6
2009/01
3
Total:
55
Avg.:
4.5
2008
2008/12
3
2008/11
6
2008/10
5
2008/09
4
2008/08
3
2008/06
6
2008/05
6
2008/04
2
2008/03
3
2008/02
9
2008/01
5
Total:
52
Avg.:
4.7
2007
2007/12
1
2007/11
3
2007/10
5
2007/09
2
2007/08
7
2007/07
6
2007/06
7
2007/05
4
2007/04
10
2007/03
9
2007/02
14
2007/01
8
Total:
76
Avg.:
6.3
2006
2006/12
4
2006/11
6
2006/10
6
2006/09
7
2006/08
13
2006/07
5
2006/06
7
2006/05
1
2006/04
11
2006/03
5
2006/02
4
2006/01
11
Total:
80
Avg.:
6.6
2005
2005/12
9
2005/11
12
2005/10
11
2005/09
17
2005/08
9
2005/07
3
2005/06
1
2005/05
3
2005/04
9
2005/03
6
2005/02
6
2005/01
7
Total:
93
Avg.:
7.7
2004
2004/12
9
2004/11
14
2004/10
10
2004/09
19
2004/08
9
2004/07
10
2004/06
13
2004/05
8
2004/04
23
2004/03
9
2004/02
17
2004/01
16
Total:
157
Avg.:
13
2003
2003/12
20
2003/11
14
2003/10
20
2003/09
23
2003/08
21
2003/07
22
2003/06
15
2003/05
18
2003/04
8
2003/03
11
2003/02
13
2003/01
19
Total:
204
Avg.:
17
2002
2002/12
12
2002/11
11
2002/10
12
2002/09
16
2002/08
9
2002/07
13
2002/06
8
2002/05
12
2002/04
9
2002/03
6
2002/02
3
2002/01
5
Total:
116
Avg.:
9.6
2001
2001/12
1
2001/11
1
2001/10
4
2001/09
4
Total:
10
Avg.:
2.5
2000
2000/08
1
2000/04
1
Total:
2
Avg.:
1
/
1




Merry Christmas 2014 From Absence!

Posted by Csabo on 2014-12-25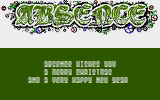 We at Plus/4 World hope that everyone is having a nice holiday time. Hopefully this brand new release from Absence will make it even nicer: Chronos maestro is sending an "e-postcard" to us all.

Check it out: Merry Christmas 2014 and enjoy!
Read comments

Blackjack aka Twenty-One!

Posted by Csabo on 2014-12-20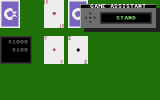 It's been announced on the forums before, and now it's actually here: check out Data-Land's new game called Blackjack aka Twenty-One.

It's a dual-platform release (the disk contains the C64 and Plus4 versions). At the heart of it all, it's the well known card game, but with tons of flair and polish. Highly playable, nice graphics and more:

Includes INSURANCE, SPLIT, DOUBLE DOWN, SURRENDER, FIVE CARD CHARLIE and TRIPLE SEVEN.
One or two player mode, as well as demo mode
Features a "GAME ASSISTANT" (with joystick support) for easy handling
Lots of customizable settings and special effects
Documentation (in German) included
So, fire up the old Commodore and give this one a whirl!
Read comments

Are You Ready To Xplode?

Posted by Luca on 2014-12-09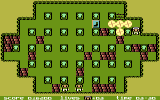 EXpect the eXplosive uneXpectable!
Our little scene still has some gaps in the game genres to fill up. One of those kind of games surely is represented by the 'Bomberman' fashioned games, and we all know attempts to do something on that way have been performed with very promising results in alpha phase (video 1, video 2), attempts which unfortunately did not reach a well deserved final release...

And just before the end of the year, who comes to save the day for the Bomberman fans? Yes, Assassins, mastering C16/Plus4 games zone, are now back, and Skoro is active again on the keys, equipped, as tradition wants, with the only Plus/4 assembler monitor to show you what the dieharder coders can do, even nowadays in the crossassemblers era!
Skoro's Xplode Man wins the prize for the first Plus/4 Bomberman, with 24 screens splitted in 4 zones to clean out and differently fast foes to set alight strategically placing your bombs. Level codes and vanity board will keep your interest high for a lot of time, we all shall meet here at Hall of Fame for sure! The game's charming graphics and overall design are another success by KiCHY, and the pretty sweet results are undeniably on screen. You just know who's missing to be named in order to regroup the terrible trio...yes, it's Csabo, who put in nice SFX and composed two of the most joyous tunes we heard ever on Plus/4, absolutely matching the gameplay.

The rhythm of play is targeted to a slow paced strategic setting, but we challenge all of you in keeping calm down when a faster foe approaches towards you thru the bricked walls and you've temporarily run out of bombs. So, let's see how you'll play your cards on the Xplode Man fields of play, challenge is now officially open. Good one, Skoro!
Read comments

SD2IEC SID Player V2.0

Posted by Csabo on 2014-12-04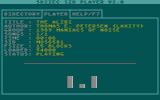 Epy has just released a new version of his SID player. The functionality is largely unchanged, but it has been rewritten from scratch for better usability and an updated look. If you have an SD2IEC, and a SID card, this little utility is a must have. Check it out!
Read comments

Club Info 136

Posted by Csabo on 2014-12-02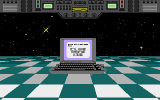 Erich/Unlimited from Germany ushers us into December with the latest issue of Club Info. The 4th and final issue of this year, issue 136 is here for your viewing pleasure with a brand-new short intro. The magazine's format should be well-known to regular visitors: two disk-sides filled with German language articles, and new/recently released software.

If you're ready get into the Christmas mood this early, be sure to check out Christmas 2014: a (mostly) cute and long Petscii-Movie converted by Erich. There's also a new German utility included called Postgebuehren 2015, which contains the current postal charges in Germany. Last but not least, if you want to fire up Page-Setter on the good old Commodore Plus/4, there are hardware plans and the solution for Total Eclipse on the disk as well.

Cheers to Erich for this issue! Check it out and enjoy!
Read comments
Copyright © Plus/4 World Team, 2001-2018