News

2018
2018/02
3
2018/01
7
Total:
10
Avg.:
5
2017
2017/12
6
2017/11
5
2017/10
6
2017/09
4
2017/08
4
2017/07
9
2017/06
8
2017/05
4
2017/04
5
2017/03
7
2017/02
6
2017/01
15
Total:
79
Avg.:
6.5
2016
2016/12
10
2016/11
7
2016/10
4
2016/09
5
2016/08
1
2016/07
7
2016/06
4
2016/05
6
2016/04
2
2016/03
4
2016/02
3
2016/01
6
Total:
59
Avg.:
4.9
2015
2015/12
10
2015/11
8
2015/10
7
2015/09
5
2015/08
2
2015/07
1
2015/06
4
2015/05
7
2015/04
6
2015/03
4
2015/02
6
2015/01
1
Total:
61
Avg.:
5
2014
2014/12
7
2014/11
5
2014/10
4
2014/09
7
2014/08
12
2014/07
7
2014/06
4
2014/05
3
2014/04
6
2014/03
2
2014/02
4
2014/01
5
Total:
66
Avg.:
5.5
2013
2013/12
6
2013/11
7
2013/10
4
2013/09
5
2013/08
5
2013/07
5
2013/06
3
2013/05
4
2013/04
5
2013/03
8
2013/02
4
2013/01
2
Total:
58
Avg.:
4.8
2012
2012/12
6
2012/11
4
2012/10
5
2012/09
3
2012/08
6
2012/07
4
2012/06
4
2012/05
10
2012/04
2
2012/03
3
2012/02
3
2012/01
4
Total:
54
Avg.:
4.5
2011
2011/12
4
2011/11
1
2011/10
1
2011/09
3
2011/08
3
2011/07
8
2011/06
7
2011/05
5
2011/04
2
2011/03
2
2011/02
6
2011/01
2
Total:
44
Avg.:
3.6
2010
2010/12
1
2010/11
3
2010/10
3
2010/09
2
2010/08
3
2010/07
4
2010/06
5
2010/05
2
2010/04
8
2010/03
1
2010/02
3
2010/01
2
Total:
37
Avg.:
3
2009
2009/12
8
2009/11
7
2009/10
7
2009/09
4
2009/08
4
2009/07
1
2009/06
3
2009/05
1
2009/04
9
2009/03
2
2009/02
6
2009/01
3
Total:
55
Avg.:
4.5
2008
2008/12
3
2008/11
6
2008/10
5
2008/09
4
2008/08
3
2008/06
6
2008/05
6
2008/04
2
2008/03
3
2008/02
9
2008/01
5
Total:
52
Avg.:
4.7
2007
2007/12
1
2007/11
3
2007/10
5
2007/09
2
2007/08
7
2007/07
6
2007/06
7
2007/05
4
2007/04
10
2007/03
9
2007/02
14
2007/01
8
Total:
76
Avg.:
6.3
2006
2006/12
4
2006/11
6
2006/10
6
2006/09
7
2006/08
13
2006/07
5
2006/06
7
2006/05
1
2006/04
11
2006/03
5
2006/02
4
2006/01
11
Total:
80
Avg.:
6.6
2005
2005/12
9
2005/11
12
2005/10
11
2005/09
17
2005/08
9
2005/07
3
2005/06
1
2005/05
3
2005/04
9
2005/03
6
2005/02
6
2005/01
7
Total:
93
Avg.:
7.7
2004
2004/12
9
2004/11
14
2004/10
10
2004/09
19
2004/08
9
2004/07
10
2004/06
13
2004/05
8
2004/04
23
2004/03
9
2004/02
17
2004/01
16
Total:
157
Avg.:
13
2003
2003/12
20
2003/11
14
2003/10
20
2003/09
23
2003/08
21
2003/07
22
2003/06
15
2003/05
18
2003/04
8
2003/03
11
2003/02
13
2003/01
19
Total:
204
Avg.:
17
2002
2002/12
12
2002/11
11
2002/10
12
2002/09
16
2002/08
9
2002/07
13
2002/06
8
2002/05
12
2002/04
9
2002/03
6
2002/02
3
2002/01
5
Total:
116
Avg.:
9.6
2001
2001/12
1
2001/11
1
2001/10
4
2001/09
4
Total:
10
Avg.:
2.5
2000
2000/08
1
2000/04
1
Total:
2
Avg.:
1
/
1




Kate's New Journey In "The Lands Of Zador"!

Posted by Luca on 2016-03-28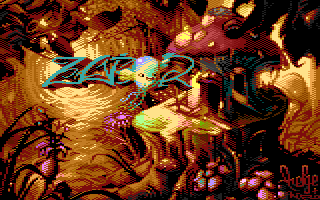 After the arrival of Majesty Of Sprites, nobody would actually expect a comeback from Kate jumping again on the most colorful platforms the Plus/4 has never displayed on a video. Against any prediction, Mad has surprised all of us once again, with a new improved version of his bitmap scrolling engine!

Bauknecht is so proud to bring to you: The Lands Of Zador! And you can consider it to be "Majesty Of Sprites II", featuring 8 wide multiscrolling bitmap levels with themed graphics and, again, tons of colors to show, all designed and drawn by Mad himself, with their respective songs in pure TEDsound composed by Luca, 5tarbuck and Degauss mixing on-the-fly with sfx. Other significant pieces of Nero art shine along the game, the main "Zador" logo is a straight evidence, and the well known comic book illustrator Helge Vogt has contributed with the fantastic introduction picture which opens to the main titles.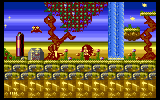 There's a brand new gameplay environment to enhance your jump'n'run experience: Kate must complete some tasks in any single level to go further in the game, and she also has to open new pathways by switching some passages on. Three skill levels can be selected at the beginning, and the passwords system won't let you stagnate in repetitive situations. There are several new touches here and there, in order to put colour really really everywhere and the .D64 handling can be fastloaded on 1541 drives (we mean: quite fast!), or use Kernel loader to be easily used both on 1551 and SD2IEC.

The Lands Of Zador has been presented at Revision Party 2016 challenging in the gamedev competition, and it ranked 3rd out of nine. Just like its noble ancestor, it will be later published by Psytronik Software to satisfy all the tangible 5.25 stuff fetishistes out there.

Will you have success in leaving the Lands of Zador and to see the end of this colorful journey along platforms and shooting foes? Start your challenge right now, get it and play The Lands Of Zador!
Read comments

Club Info 141 Released!

Posted by Csabo on 2016-03-04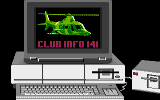 Hailing from Germany, Erich/Ultd has released issue 141 of Club Info, the first one in 2016. The two-sided German diskmag's format is the usual one: Side A has lots of articles (including German-language documentation for some new releases, hardware stuff, etc), while Side B has releases, including some small new utilities and games. Check it out and enjoy!
Read comments
Copyright © Plus/4 World Team, 2001-2018