News

2018
2018/04
2
2018/03
3
2018/02
5
2018/01
7
Total:
17
Avg.:
4.2
2017
2017/12
6
2017/11
5
2017/10
6
2017/09
4
2017/08
4
2017/07
9
2017/06
8
2017/05
4
2017/04
5
2017/03
7
2017/02
6
2017/01
15
Total:
79
Avg.:
6.5
2016
2016/12
10
2016/11
7
2016/10
4
2016/09
5
2016/08
1
2016/07
7
2016/06
4
2016/05
6
2016/04
2
2016/03
4
2016/02
3
2016/01
6
Total:
59
Avg.:
4.9
2015
2015/12
10
2015/11
8
2015/10
7
2015/09
5
2015/08
2
2015/07
1
2015/06
4
2015/05
7
2015/04
6
2015/03
4
2015/02
6
2015/01
1
Total:
61
Avg.:
5
2014
2014/12
7
2014/11
5
2014/10
4
2014/09
7
2014/08
12
2014/07
7
2014/06
4
2014/05
3
2014/04
6
2014/03
2
2014/02
4
2014/01
5
Total:
66
Avg.:
5.5
2013
2013/12
6
2013/11
7
2013/10
4
2013/09
5
2013/08
5
2013/07
5
2013/06
3
2013/05
4
2013/04
5
2013/03
8
2013/02
4
2013/01
2
Total:
58
Avg.:
4.8
2012
2012/12
6
2012/11
4
2012/10
5
2012/09
3
2012/08
6
2012/07
4
2012/06
4
2012/05
10
2012/04
2
2012/03
3
2012/02
3
2012/01
4
Total:
54
Avg.:
4.5
2011
2011/12
4
2011/11
1
2011/10
1
2011/09
3
2011/08
3
2011/07
8
2011/06
7
2011/05
5
2011/04
2
2011/03
2
2011/02
6
2011/01
2
Total:
44
Avg.:
3.6
2010
2010/12
1
2010/11
3
2010/10
3
2010/09
2
2010/08
3
2010/07
4
2010/06
5
2010/05
2
2010/04
8
2010/03
1
2010/02
3
2010/01
2
Total:
37
Avg.:
3
2009
2009/12
8
2009/11
7
2009/10
7
2009/09
4
2009/08
4
2009/07
1
2009/06
3
2009/05
1
2009/04
9
2009/03
2
2009/02
6
2009/01
3
Total:
55
Avg.:
4.5
2008
2008/12
3
2008/11
6
2008/10
5
2008/09
4
2008/08
3
2008/06
6
2008/05
6
2008/04
2
2008/03
3
2008/02
9
2008/01
5
Total:
52
Avg.:
4.7
2007
2007/12
1
2007/11
3
2007/10
5
2007/09
2
2007/08
7
2007/07
6
2007/06
7
2007/05
4
2007/04
10
2007/03
9
2007/02
14
2007/01
8
Total:
76
Avg.:
6.3
2006
2006/12
4
2006/11
6
2006/10
6
2006/09
7
2006/08
13
2006/07
5
2006/06
7
2006/05
1
2006/04
11
2006/03
5
2006/02
4
2006/01
11
Total:
80
Avg.:
6.6
2005
2005/12
9
2005/11
12
2005/10
11
2005/09
17
2005/08
9
2005/07
3
2005/06
1
2005/05
3
2005/04
9
2005/03
6
2005/02
6
2005/01
7
Total:
93
Avg.:
7.7
2004
2004/12
9
2004/11
14
2004/10
10
2004/09
19
2004/08
9
2004/07
10
2004/06
13
2004/05
8
2004/04
23
2004/03
9
2004/02
17
2004/01
16
Total:
157
Avg.:
13
2003
2003/12
20
2003/11
14
2003/10
20
2003/09
23
2003/08
21
2003/07
22
2003/06
15
2003/05
18
2003/04
8
2003/03
11
2003/02
13
2003/01
19
Total:
204
Avg.:
17
2002
2002/12
12
2002/11
11
2002/10
12
2002/09
16
2002/08
9
2002/07
13
2002/06
8
2002/05
12
2002/04
9
2002/03
6
2002/02
3
2002/01
5
Total:
116
Avg.:
9.6
2001
2001/12
1
2001/11
1
2001/10
4
2001/09
4
Total:
10
Avg.:
2.5
2000
2000/08
1
2000/04
1
Total:
2
Avg.:
1
/
1




Exomizer Updated!

Posted by Csabo on 2004-05-29
Magnus Lind brings us version 1.1.4 of Exomizer, the best cross-platform cruncher. New things in this release:

Normal decruncher source improved, now 11 bytes shorter and somewhat faster. (Hooray!)
A contrib directory, for now containing the assembler source of a 4k-demo exodecruncher by Ninja (C64 guy!). This is for the c64 but contains many tricks to reduce its size that can be useful for the c16/+4 as well.
Auto mode for -l flag. This will automatically calculate and use the highest possible load address of the crunched file that won't corrupt in-memory decrunching.

Ultimate Airwolf Covers!

Posted by Csabo on 2004-05-29

We now have all the Airwolf 16 cover scans you could ever ask for, thanks to Ulysses777. He sent in a replacement scan for the original release, and an alternative version of that as well (which does not have the "Crash Smash" logo on it). He also scanned the rare Encore box release, front and back. The artwork is similar to the other ones, but this one has the newer, bigger Encore logo on it. This stuff is just the beginning of a larger pack he sent in, so stay tuned!

Did we forget to mention that?

Posted by Luca on 2004-05-20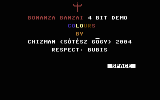 Hey hey hey! We're talking about another 2004 marked Plus/4 release, what the hell! Chizman has merged a couple things we love, Bonanza Banzai & our preferred blackbox, into this '80ish digi demo. Download it here right now, I say!

The Third "Y" Game!

Posted by Csabo on 2004-05-17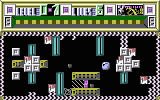 That headline probably needs a bit of an explanation. Even though our huge software archive is nearing 4400 titles, you simply could not find games under the letter Y. Well, besides the commercial classic Yie Ar Kung-Fu and the freeware Yazzi. Now however, Yttrium joins this list as the third "Y" game. The author of the game is unknown german programmer, perhaps someone out there knows?

Yttrium is the name of a metallic atom (atomic number 39), and the game does involve atoms as well. Your task on each level is to depress all red buttons, then find and recharge the atom. While you do this, you must avoid touching the electrons, which are running around. After recharging however, you MUST touch one (your color will change to purple), and then escape the level through the purple gate.

The controls are bit too sensitive, and the graphics is mediocre - but fits the mood very well. There are 10 increasingly difficult levels waiting for you to explore, after which you can see a small endsequence, which is a big plus. Well, there you have it, if you are into C16 & Plus/4 games and have some free time, check out Yttrium today.

YAPE 0.57 is Out!

Posted by Csabo on 2004-05-16
We all know that as soon as you read that headline, you will be heading on over to the YAPE Downloads page without delay. Cheer up everyone, we can all be grateful that this already superb emulator is still getting better! To sum it up quickly, the new improvements are SID emulation and fixes/improvements to the YAPE monitor. Respects to Gaia!

Roll Cover and New Programs

Posted by Csabo on 2004-05-16
It's very rare that we receive a Hungarian cover scan, but today we add one courtesy of Lacus. Check out Roll, which is a pretty cool logical game, now complete with scans and TAP file. Lacus also went through some tape archives and sent us a whole bunch of new (old!) programs, head to New Uploads to see them. Many thanks!

Oldschool Gaming - New games review site!!

Posted by MIK on 2004-05-07
Except that this time it's for more than just one format; two-man reviews of recent and current games for the Plus/4, C64, Oric, Spectrum and more as well as links to developer resources and general articles about game development, news of new releases for the classic machines, a forum to discuss programming, design and ideas and as much more as we can come up with! Many thanks to T.M.R for this news!
Copyright © Plus/4 World Team, 2001-2018