Thrust

Remakes

Title
Created by
Platform
Homepage
Notes
Thrust Deluxe
Windows

Based on the C64 version.
Thrust
GBA

Thrust 2K3
PC

Covers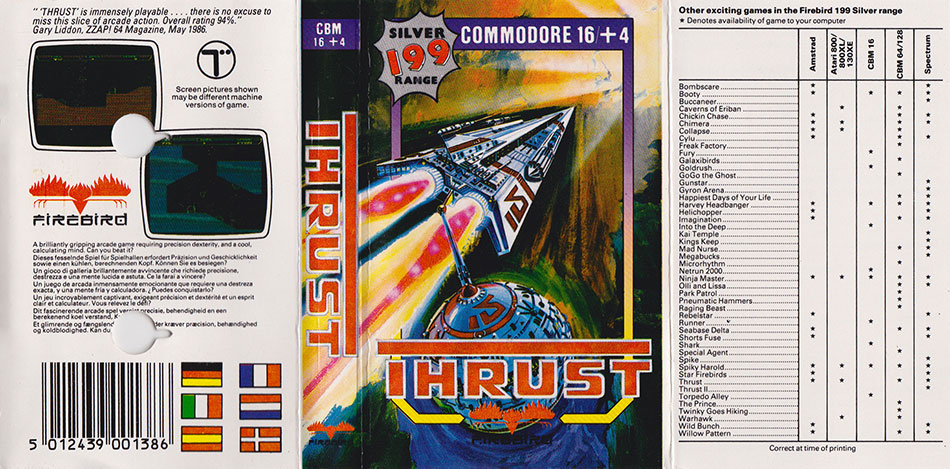 Cassette Front Cover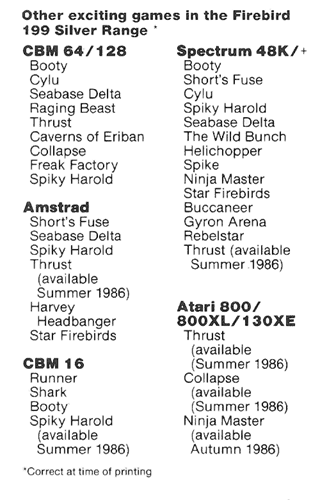 Cassette Cover (Side)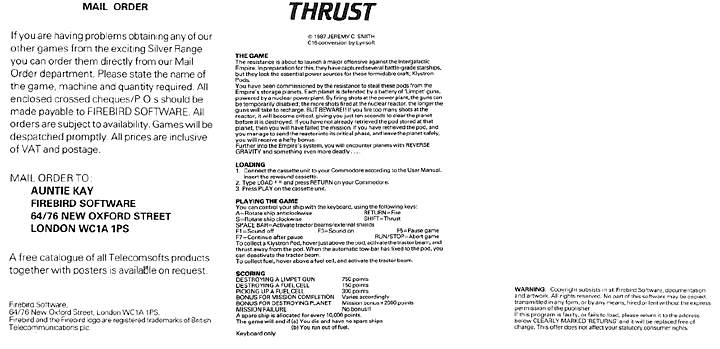 Cassette Back Cover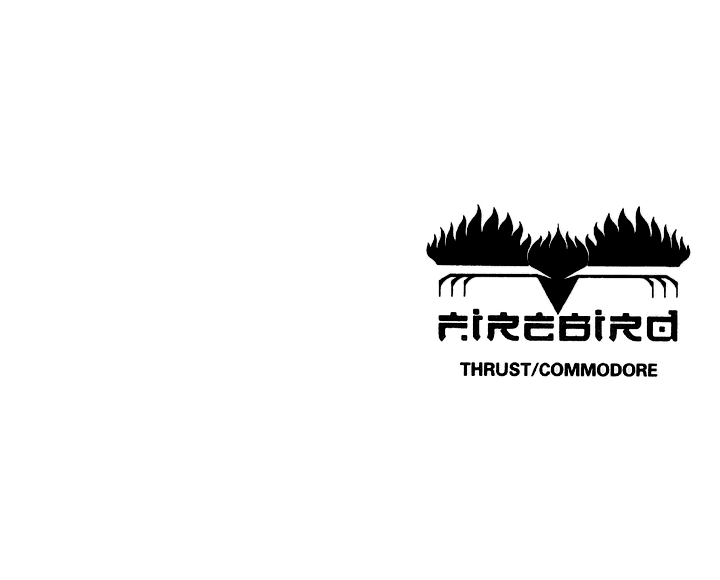 International Instructions 1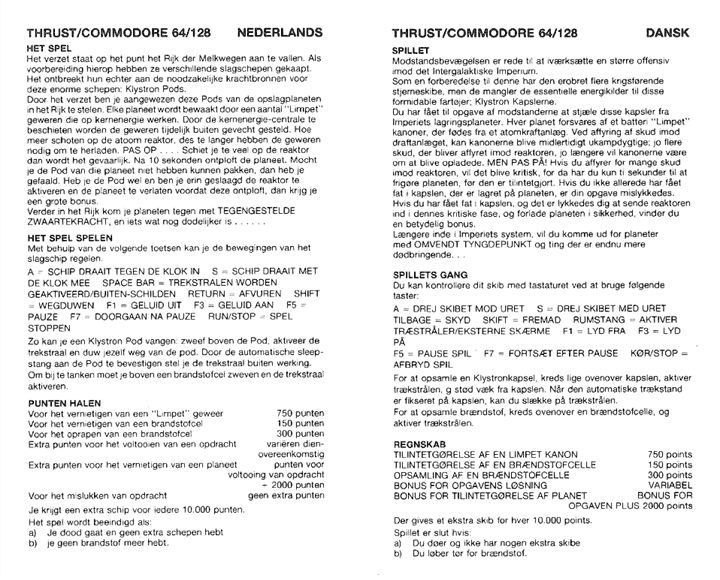 International Instructions 2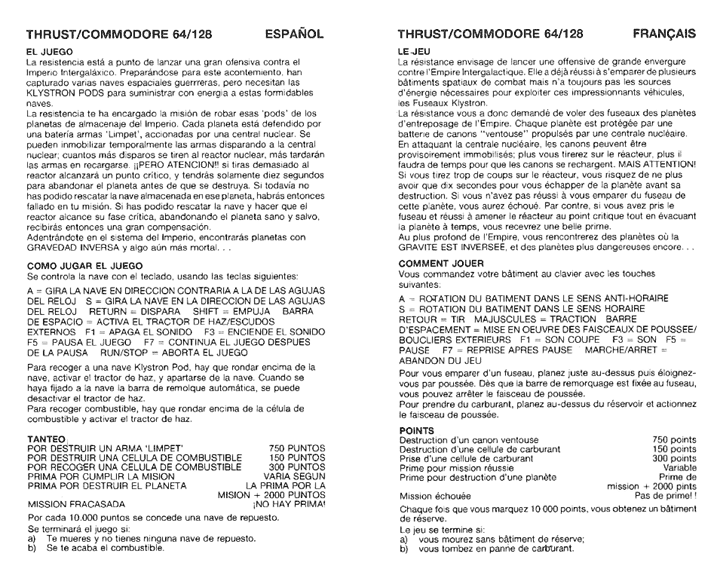 International Instructions 3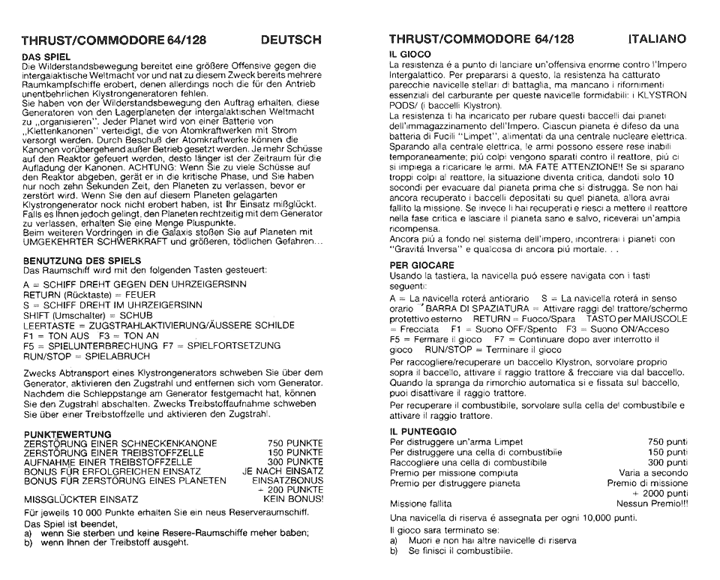 International Instructions 4

Maps

Download: thrust_map.gif
Created by Noro.
Description: Game Map
Dimensions: 1343x2542
File size: 50 KB. Created in 2002.

Instructions

-= THE GAME =-

The resistance is about to launch a major offensive against the Intergalactic Empire. In preparation for this, they have captured several battle-grade starships, but they lack the essential power sources for these formidable craft; Klystron Pods.
You have been commissioned by the resistance to steal these pods from the Empire's storage planets. Each planet is defended by a battery of 'Limpet' guns, powered by a nuclear power plant. By firing shots at the power plant, the guns can be temporarily disabled; the more shots fired at the nuclear reactor, the longer the guns will take to recharge. BUT BEWARE!! If you fire too many shots at the reactor, it will become critical, giving you just ten seconds to clear the planet before it is destroyed. If you have not already retrieved the pod stored at that planet, then you will have failed the mission. If you have retrieved the pod, and you manage to send the reactor into its critical phase, and leave the planet safely, you will receive a hefty bonus.
Further into the Empire's system, you will encounter planets with REVERSE GRAVITY and something even more deadly . . . .

-= PLAYING THE GAME =-

You can control your ship with the keyboard, using following keys:
A = Rotate ship anticlockwise
S = Rotate ship clockwise
RETURN = Fire
SHIFT = Thrust
SPACE BAR = Activate tractor beam/external shields
F1 = Sound off
F3 = Sound on
F5 = Pause game
F7 = Continue after pause
RUN/STOP = Abort game

To collect a Klystron Pod, hover just above the pod, activate the tractor beam, and thrust away from the pod. When the automatic tow-bar has fixed to the pod, you can deactivate the tractor beam.
To collect fuel, hover above a fuell cell, and activate the tractor beam.

-= SCORING =-

DESTROYING A LIMPET GUN 750 points
DESTROYING A FUEL CELL 150 points
PICKING UP A FUEL CELL 300 points
BONUS FOR MISSION COMPLETION Varies accordingly
BONUS FOR DESTROYING PLANET Mission bonus + 2000 points
MISSION FAILURE No bonus!!

A spare ship is allocated every 10,000 points.
The game will end if
(a) You die and have no spare ships
(b) You run out of fuel.

Review From Zzap C16


Deep within the abandoned car-
bon worlds of Gargos is a system
of planets containing huge
amounts of power - and with three
fighters at your disposal, it's up to
you to harness it. Each ship is
equipped with a cannon, force
field and las-leash, and can thrust
and rotate through 360 degrees.
When ftying through space, boot-
ing the field into action puts a pro-
tective bubble around the craft.
Hovering over a fuel dump and let-
ting the force flow pulls fuel into
your tanks, and activating the
shield whilst hovering over the
power pod (a small round object
on a pedestal) instantly connects
the las-leach to the middle of the
pod.
A representation of your ship is
constantly displayed in the middle
of the scanner, and as the ship
moves off towards the boundary
of the view, more planetary sur-
face appears. To complete a mis-
sion perfectly, both power pod
and generator have to be
destroyed. If the generator is
destroyed, only ten seconds are
given to vacate before the planet
explodes. Fly straight up and after
a couple of seconds a warp takes

you to the next level.
Your job progressively gets harder
and harder, with the six worlds
repeating after completion. The
first extra hazard encaontered on
the seventh sheet is reverse grav-
ity, whereas the 15th sheet pre-
sents a totally invisible landscape.
This is a competent conversion
from the original - the screen flic-
kers quite badly al times, but this
doesn't detract from Thrust 's
immense playability.
OVERALL 88%
Cheats - How do I use cheats?
>15D9 00
Unlimited lives
>1060 50 (default: 10)
Start with 5000 units of fuel
>1695 90 0C
Unlimited fuel
>1071 ##
Start from any level. (## = Level number minus 1, e.g. to start from Level 4, enter 03)
>2E45 24
Invulnerability
Copyright © Plus/4 World Team, 2001-2018