Sir Knight

| | |
| --- | --- |
| Title: | Sir Knight |
| Category: | Game/Action |
| Release Date: | Unknown |
| Language: | English |
| Size: | 32K |
| Machine: | PAL Only |
| Code Type: | Machine code |
| Distribution: | Commercial/TA |
| Game ending type: | Has an end, restarts (reward) |
| Released by: | Tynesoft Computer Software |
| Coded by: | R., Chris |
| Notes: | |

Download:
Packed version (broken sound):
User Rating: 5.1/10 (6 votes)




Covers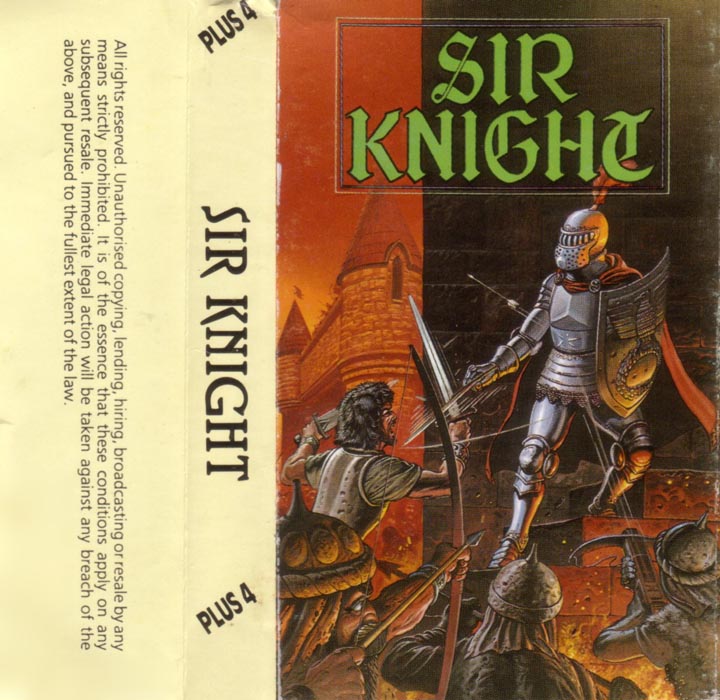 Cassette Front Cover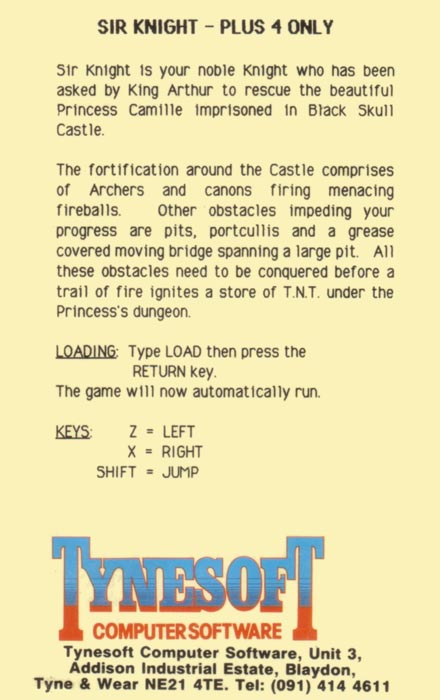 Cassette Side Cover

Hidden Message

A hidden message from the author lies from $7300. This text should be displayed into the score panel area once the keys SHIFT + Commodore + @ are pressed at the same time (code at $7200), but it does not happen because there's a loop earlier which waits for all keys to be released, resulting in a too short useful time for the accomplishment. It's unclear if that's intentional or a bug.

The routine that displays the hidden message can be activated from $7211 (enter G 7211 in the emulator's monitor).

This is the message:
MESSAGE:
GAME WRITTEN BY CHRIS (TIPPER) ROBBINS.
AS PROMISED A MENTION TO
SIGMA LIBRI.
AND ALL THE MATES:
GODDARD,LOSGIE,BOC,ASHEY,WHITEY,STIG,
KERLEY,WILK,TEZ,TIBBLE,WANYE.
Cheats - How do I use cheats?
Run/Stop + Reset
Stop game
>578A AD
Unlimited lives
>5746 24
Go to the next level when die
>6520 60
Invulnerability against the moving objects
>6B5A 60
Invulnerability against pitfalls and guards
>6774 60
Invulnerability against the bridges
>5D6D 60
Invulnerability against the portcullises
G 7290
Restart game
Copyright © Plus/4 World Team, 2001-2018