Fingers Malone

| | |
| --- | --- |
| Title: | Fingers Malone |
| Category: | Game/Action |
| Release Date: | 1986-05 |
| Language: | English |
| Size: | 16K |
| Machine: | PAL & NTSC |
| Code Type: | Machine code |
| Distribution: | Commercial/TA |
| Product Code: | 2C 0115 |
| Retail Price: | £1.99 |
| Game ending type: | Has an end, restarts (no reward) |
| | |
| Produced by: | British Software |
| Released by: | Mastertronic |
| Coded by: | Turner, Doug (Doug) |
| Notes: | AKA: The Exploits Of Fingers Malone. Press RETURN key for keyboard or joystick controls. |

Download:
User Rating: 7.4/10 (13 votes)



Remakes

Title
Created by
Platform
Homepage
Notes
Fingers Malone
Windows

Covers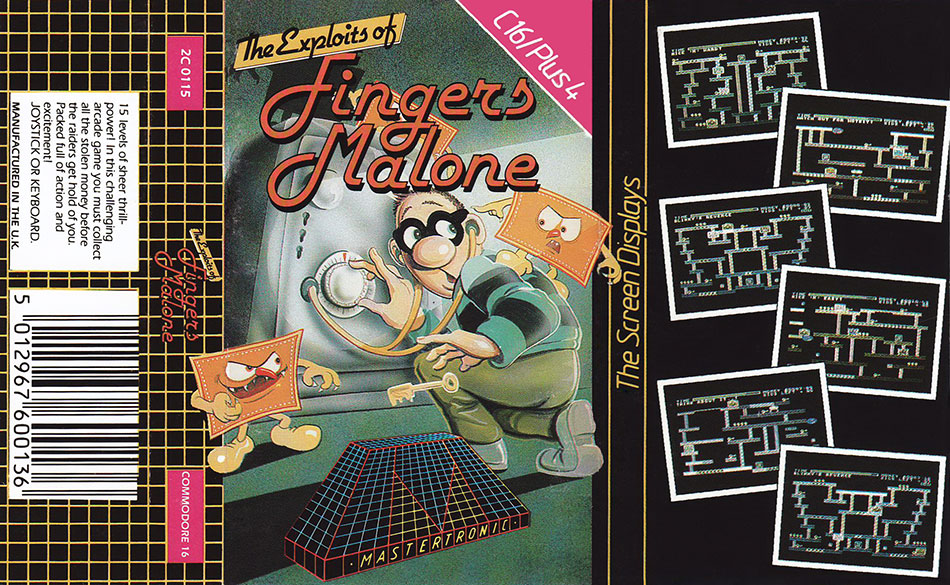 Cassette Front Cover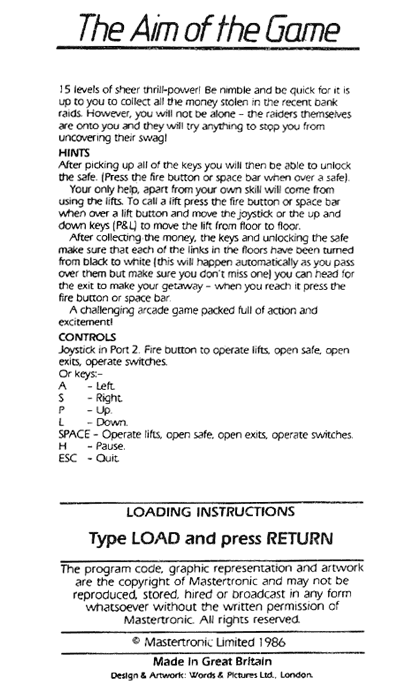 Cassette Back Cover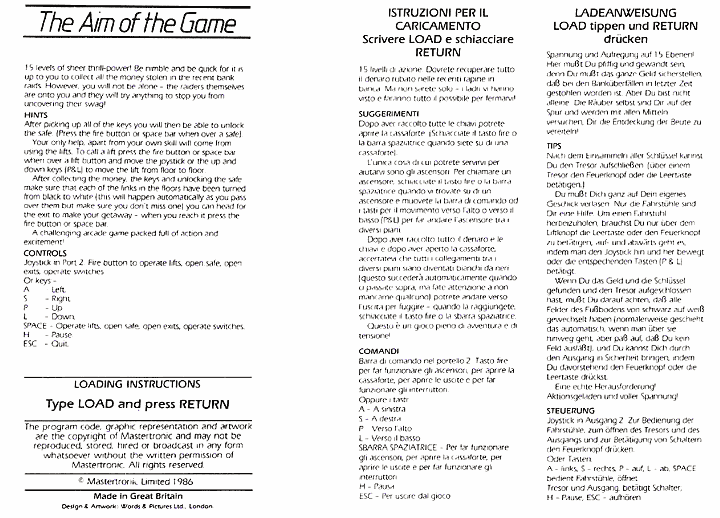 Alternative Cassette Back Cover

Level Messages

| | | |
| --- | --- | --- |
| LEVEL 1 | 'EASY DOES IT...?' | IF YOU |
| LEVEL 2 | 'DOUGGY IN THE DOG HOUSE' | THINK THIS |
| LEVEL 3 | 'IF AT FIRST...!' | IS DIFFICULT |
| LEVEL 4 | 'OUT OF THE PAN...' | YOU SHOULD |
| LEVEL 5 | '...IN TO THE FIRE!' | TRY OUT |
| LEVEL 6 | 'NICE 'N' EASY!' | FINGERS REVENGE |
| LEVEL 7 | 'NICE 'N' HARD!' | HAVE YOU TRIED |
| LEVEL 8 | 'DOUBLE TROUBLE' | MY OTHER GAMES |
| LEVEL 9 | 'BLINKY'S DAY OFF' | NEMESIS AND |
| LEVEL 10 | 'WATCH OUT FOR WOTSIT!' | ICICLE WORKS? |
| LEVEL 11 | 'THINK ABOUT IT..!' | KEEP AN EYE |
| LEVEL 12 | 'SPARKY TROUBLE' | OPEN FOR |
| LEVEL 13 | 'BLINKY'S REVENGE' | NEW TITLES |
| LEVEL 14 | 'THE RETURN OF WOTSIT' | THAT'S ALL... |
| LEVEL 15 | 'AND NOW THE END IS NEAR' | ...FOR NOW!! |

FRGCB Review

Retrieved 2016-02-16 from frgcb.blogspot.hu

The Exploits of Fingers Malone (1986, Mastertronic; 16k)

Mastertronic released a great deal of cheap classics for the Commodore computers, but for some reason, some of the better ones only ever made it to one single platform. As with Oblido and Mr. Puniverse from previous Unique Games entries, The Exploits of Fingers Malone only ever presented itself on the C16.

The Exploits of Fingers Malone is basically a variant of Miner 2049'er, Mr. Robot and other such games, where you need to walk over every bit of marked floor before you move on. There are a couple of refreshing twists here, though. First of all, it's not actually a traditional platformer, as you cannot jump - for moving up and down, you use one-way escalators and a ball-shaped lift. Each level will have two enemy sprites moving around just as quickly as you do (which is QUICK!), and my guess is, they're supposed to portray policemen, as you are apparently supposed to be a bank robber. As usual, there are also one-way conveyor belts in the levels, but in this game, you can change their directions by pushing the fire button next to them. But what's most unique about this game is how you actually make progress: you have to collect all the keys from the level before going to the safe, which you must open and get the loot from it before you can head towards the exit. Naturally, there's also a time limit in the game.

It doesn't need to be more than a fairly simple idea that can add plenty of depth for an old genre, but you have to do it either very carefully not to mess the basic idea up, or throw some wacky paint on it to see if your random ideas actually have a chance to work. Of course, I don't really know what happened here, but somehow, the game works. It's a bit rough and difficult due to its raving mad speed, but I cannot think of a reason why wouldn't I recommend this game to any platforming fan. Since it's a C16 exclusive, it only adds to the list of good potential games to own in your forthcoming C16 library, unless you already have it.
Cheats - How do I use cheats?
>27CB 00
Unlimited lives
>2BC8 ##

Valid values are 00, 01, 02, 03, 04, 05, 06, 07, 08, 09, 0A, 0B, 0C, 0D and 0E

00 is the default start level 1

Starting level
>22F4 2C
>2681 2C
Invulnerability
>1CD9 60
Unlimited time
G 16A0
Restart game
Copyright © Plus/4 World Team, 2001-2018