:





Game of the day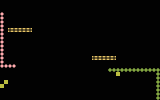 Tekergõ



Demo of the day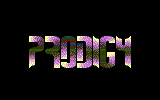 Prodigy 94



Covers of the day





Poll:
Are you a bot?





Login
Not logged on.
Login





Languages





Welcome to Plus/4 World!
| | | |
| --- | --- | --- |
| | Crackers' Demo 5! | |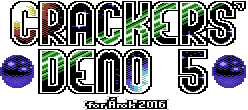 Crackers' Demo 5 is underway, to be released at Arok 2016, 8-bit retroparty in Hungary.


55 days until deadline!


Parts submitted: No-one yet



Working on parts: Ati, Csabo, Csio, Degauss, Lavina, Mad, Ninja/GS, Skoro.
May submit a part but no promises: Britelite, bubis, Kichy, Murphy, Rachy, TMR.
Thinking about it: +2



Need some help? Contact...
5tarbuck (music), carrion (gfx), Chronos (gfx), Csabo (music).

More information in the Official Forum Thread
| | | |
| --- | --- | --- |
| | Newly registered member sabe provided the solution for his only game, as well as some info and a fixed version. | [ comment ] |
| | | |
| --- | --- | --- |
| | Multipurpose Multiplatform "Multipaint"! | |
Posted by Luca on 2016-05-17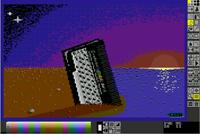 Tero Heikkinen has just improved and bugfixed his Multipaint, a very comprehensive tool which allows the user to easily draw graphics as bitmap or in tile mode, in several modes supported by various 8bit machines, like ZX Spectrum C64 MSX1 and more.

The 3rd release includes support for Commodore Plus/4, both HiRes and Multicolor modes. This takes Multipaint to the top in Plus/4 crossplatform graphics editor, with extensive brushes options, easy recolouring tools, Botticelli/Multibotticelli import and export compatibility, .ASM straight exporting, double paging and many more facilities for your needings!
Be the first to comment!
| | | |
| --- | --- | --- |
| | "Pixel Polizei" Is Out! | |
Posted by Marq on 2016-05-17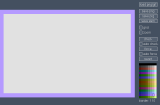 Pixel Polizei, a tool for the retro artists is out: http://www.kameli.net/marq/?page_id=4557. It lets you check and solve color clashes, after which you can save the outcome in native formats for displaying them on a real machine. Runs on Lin/Mac/Win as long as Java 7 or newer is installed. Open source, of course. Hires and multicolor supported on the Plus/4 as of now.
Read comments
| | | |
| --- | --- | --- |
| | Ultimate Map V1.9 | |
Posted by Luca on 2016-05-10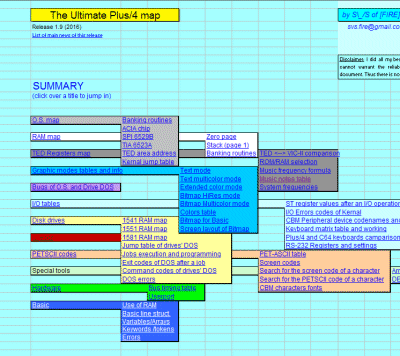 Quite a heavy update for the Ultimate Map, which has been refreshed and renewed by SVS once again! Nothing has been left out, from Commodore disk drives memory mapping thru C64 addressing compare, to the most famous and the rarest OS bugs.

This is the list of news about V1.9 release that summarizes most of the addons in Ultimate Map:

- A new INDEX page with hyperlinks to all the other pages and sub-arguments;
- New section DISK DRIVES with full memory description for 1541/1551/1581, Internal commands and exit codes, Scheme on how to set an internal command, DOS errors;
- New section HARDWARE with BUS-TIMING and USERPORT layouts (compared with C64' one);
- New section BASIC with Memory use schemes, Basic-line structure, Variable/Arrays structures and storing, Basic keywords table (tokens, parameters, defaults, etc.), Basic errors;
- Automatic calculators: 1) Arrays memory occupation and address calculation; 2) Decimal <---> Hexadecimal converter;
- New tables on TED page: Exact frequencies of the 264 machines; Music Notes table for each machine and deviation from wanted frequency. Pitch mode is selectable (Standard or "Verdi");
- Details on O.S. and DISK DRIVES pages for each bit of all the mapped ICs (/6551, 6529, 6223, etc.);
- Implementations on KEYBOARD table in I/O page, plus a new table of the differences between Plus4 and C64 keyboard matrix;
- New info for USR() function use, Long jump routines; Clock updating (RAM and ROM), exit flags for CHRGET routine, $9317 routine, TED D/A feature, TED MGR-ECM-HiRes incompatibility, Cartridge start codes, ROM/RAM switching, $BA, $02E7 (double width);
- Additional new tables: Colors, Bit-screen layout;
- More info in I/O and Expansion area $FD00-FEFF, free TED area $FF20-$FF3D, copy on RAM of TED registers $FFF6-$FFFD;
- Graphic modes mask at $0083;
- Added RENUMBER bug, erased GSHAPE bug, updated SSHAPE bug;
- Added more info regarding RAM Expansions (Hannes / Csory) and OS96 (Solder) both in O.S. and BASIC pages;
- Corrections: RS232 bug; TED<-->VICII; examples in PETSCII page;
- Lots of minor modifications.
Read comments
| | | |
| --- | --- | --- |
| | Crackers' Demo 5 is happening! Spread the word, get active and check the forum for more details. | [ comments ] |
| | | |
| --- | --- | --- |
| | A Monumental Step Forward In Emulation | |
Posted by Csabo on 2016-04-01
Wow, what a time to be alive, who would have thought this day would come. If someone suggested to you a few years ago, "Let's write a Commodore Plus/4 Emulator in JavaScript!", you would have laughed, and rightly so. That's a joke! JavaScript is way, way too slow for that.

Well, that's certainly no longer the case. Thanks to some JS magic, Gaia maestro brings us the first real JavaScript emulator! So, for example you can play Ghost Town "for real". Just look for the same blue "PLAY ONLINE" button on the detail pages, as this feature replaces the older Java emulator, which was no longer working in most modern browsers. Amazingly, even hardcore games like Zador run (although admittedly with some display issues). Still, this is a truly fantastic achievement, and hopefully will be a very well received feature. The ease of access to games online - no need for emulator downloads - is a monumental step forward in emulation.

The code is based on the popular YAPE, so the same hotkeys will work. E.g. ALT+W to toggle speed, F11 to reset, etc.

Note: there might still be some errors, but we're hoping those will be ironed out soon.

April 2nd update: Those errors mentioned above have indeed been ironed out. Happy emulating!
Read comments
| | | |
| --- | --- | --- |
| | Kate's New Journey In "The Lands Of Zador"! | |
Posted by Luca on 2016-03-28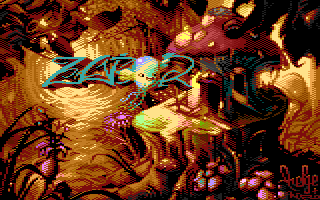 After the arrival of Majesty Of Sprites, nobody would actually expect a comeback from Kate jumping again on the most colorful platforms the Plus/4 has never displayed on a video. Against any prediction, Mad has surprised all of us once again, with a new improved version of his bitmap scrolling engine!

Bauknecht is so proud to bring to you: The Lands Of Zador! And you can consider it to be "Majesty Of Sprites II", featuring 8 wide multiscrolling bitmap levels with themed graphics and, again, tons of colors to show, all designed and drawn by Mad himself, with their respective songs in pure TEDsound composed by Luca, 5tarbuck and Degauss mixing on-the-fly with sfx. Other significant pieces of Nero art shine along the game, the main "Zador" logo is a straight evidence, and the well known comic book illustrator Helge Vogt has contributed with the fantastic introduction picture which opens to the main titles.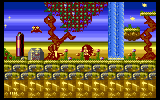 There's a brand new gameplay environment to enhance your jump'n'run experience: Kate must complete some tasks in any single level to go further in the game, and she also has to open new pathways by switching some passages on. Three skill levels can be selected at the beginning, and the passwords system won't let you stagnate in repetitive situations. There are several new touches here and there, in order to put colour really really everywhere and the .D64 handling can be fastloaded on 1541 drives (we mean: quite fast!), or use Kernel loader to be easily used both on 1551 and SD2IEC.

The Lands Of Zador has been presented at Revision Party 2016 challenging in the gamedev competition, and it ranked 3rd out of nine. Just like its noble ancestor, it will be later published by Psytronik Software to satisfy all the tangible 5.25 stuff fetishistes out there.

Will you have success in leaving the Lands of Zador and to see the end of this colorful journey along platforms and shooting foes? Start your challenge right now, get it and play The Lands Of Zador!
Read comments
| | | |
| --- | --- | --- |
| | Club Info 141 Released! | |
Posted by Csabo on 2016-03-04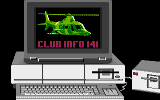 Hailing from Germany, Erich/Ultd has released issue 141 of Club Info, the first one in 2016. The two-sided German diskmag's format is the usual one: Side A has lots of articles (including German-language documentation for some new releases, hardware stuff, etc), while Side B has releases, including some small new utilities and games. Check it out and enjoy!
Read comments
Copyright © Plus/4 World Team, 2001-2016