:





Game of the day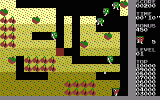 Tutti Frutti



Demo of the day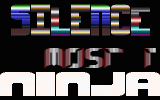 No Silence



Covers of the day





Poll:
What kind of music do you prefer in games/demos?





Login
Not logged on.
Login





Languages





Welcome to Plus/4 World!
| | | |
| --- | --- | --- |
| | Club Info 135 Released! | |
Posted by Csabo on 2014-09-01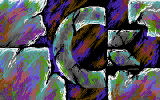 Let's start September with the latest issue of Club Info. Erich/Ultd has just released the issue 135 of the long-running German disk magazine. (Might be the longest running disk mag in all of 8-bit history, though we haven't checked.) The scene kept Erich busy with new releases: you'll find articles about tons of recently released stuff, including overview and solution for Ghost Town [PAL/NTSC], map for Saboteur C16 +2J, continued descriptions of Total Eclipse and SVS-Calc 2.0. Side B contains a nice compilation of new releases, and some maps for games - you'll have to fire up Page-Setter to view these. Check it out and enjoy!
Read comments
| | | |
| --- | --- | --- |
| | Hall Of Fame Updates | |
Posted by Csabo on 2014-08-31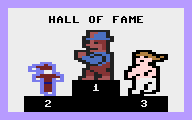 Our Hall Of Fame has got a new lease on life. Thanks to everyone for their feedback, your voices have been heard. The latest update gives you these features:

One games that is more than one game: sometimes, like with Summer Events, you can play two or more different games. A new field (called sub-game) allows you to enter which one you've used. Other examples are Cave Fighter (has Side A and Side B versions), or Daley Thompson's Star Events (has Day 1 and Day 2).
Secondary score: for games like G-Man, the score will have a maximum value (4000 in this case). Entering a secondary score (time) will allow us to rank the best ones.
Statistics: the top section has been expanded reworked and now includes some (hopefully interesting) statistics.
Some of these features still require manual work, and of course bugs might occur here or there, so be sure to speak up if you have more ideas, or if you see something that doesn't work quite right. Otherwise: keep on gaming :-)
Read comments
| | | |
| --- | --- | --- |
| | Spektro's Treasure! | |
Posted by Csabo on 2014-08-30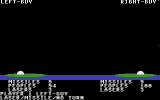 Spektro dug though his personal collection and found 12 new pieces of software for the site! 6 of these are Finnish language, which is something quite rare (including these, we're counting 9 Finnish language programs in total, ever). If you feel like checking out some rare never-before-seen oldies, give these a shot:
* Finnish games: Alcatrazin vangit (an adventure), Hazard, Kaivos, Klassista 16 (a demo, music box), Liikemiespeli and Othello.
* English games: 16 Trap, Bandit, Landing, Space Radar, War Games and Z-Worm.
Big thanks to Spektro for these, enjoy!
Be the first to comment!
| | | |
| --- | --- | --- |
| | Temple of Terror! | |
Posted by Csabo on 2014-08-23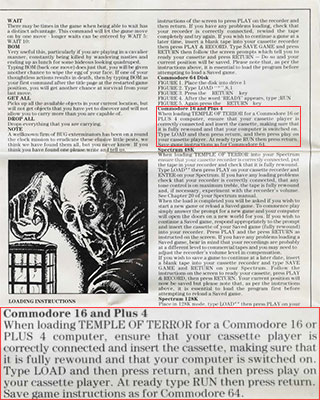 Let me tell you a little tale about Plus4 Pete. On a nice sunny day in 1987, fourteen year old Pete met up with his two best friends, ZX Zachary and SixtyFour Sid. Both of them had a brand new computer game called Temple of Terror. Over at Sid's place, as they loaded the game up, Pete exclaimed: "Oh, this is Fighting Fantasy! I love those books!" As he scanned over the instruction manual, his eyes caught this phrase: "When loading TEMPLE OF TERROR for a Commodore 16 or PLUS 4 computer..." Excited, he rushed to the nearby computer shop, and slapped a few wrinkled bills on the counter. Victor Vendor, the shopkeeper sniffled, and said to him: "Lookie here kid. That's probably just a typo, they's left it in 'cause it generic text. All I's knows is, I ain't gots this game and that's that." Disappointed, Pete left the shop and walked home. His wish to play the game on his home computer was forever unfulfilled.

But wait, the story's not over just yet! A mere 27 years later, a middle aged Pete dusts off the ol' Plus/4 and loads the game up. His friends, Zachary and Sid are over for the momentous occasion. "Did you guys ever finish playing it?" Pete asks them. "Nah," replies Zachary, "it was full of bugs, and at the end, there's this door, and when you try to open it, it says something stupid about pirates being eaten by crocodiles. I guess my copy was bugged." "Mine too!" chimes in Sid. But lo and behold, the Plus/4 version works!

With that introduction, I'm proud to present my conversion of Temple of Terror adventure game.

Plus4 Pete... IS YOU!
Read comments






0.023019075393677


Copyright © Plus/4 World Team, 2001-2014