Welcome to Plus/4 World!

Winter "Hiss!" Coming

Posted by Luca on 2017-07-17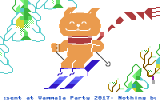 Hot sweaty summer there, Boreal half people? Melancholy remembering the snow? Need some more *purrr*?

No worries at all: Fit is coming to you with the right release for you: Nothing But PET SKI is nothing but...err...well, PETSCII of a kitty pet, indeed. Oh, and ski, ski of course! Another lovely PETSCII animation demo coded by Marq with SID music by Yzi and graphics by Dr. TerrorZ. The Plus/4 pushes colors to the max, improving the C64 twin released, which has been presented at Vammala Party 23 where it's been ranked 3rd in the Mixed Demo competition.

Thank you Finnish pals, anybody hope to see more from you.
Read comments
| | | |
| --- | --- | --- |
| | Some most wanted TAP's from Rüdiger too today: Chipy, Crillion, Die Seefahrt, Karting Grand Prix, Two To One, Turf-Form, Split Personalities, the Audiogenic release of 3D Glooper, Byte Back rerelease of Timeslip, alternative versions of Galaxy, Mr. Puniverse and Footballer Of The Year, a little faulty version of CSJ Games 1 and a working TAP for Taskforce. | [ comment ] |

Charlemagne's Stuff!

Posted by Csabo on 2017-06-18

Newly registered member Charlemagne sent us a lot of stuff. More than 40 of his old programs are now online. You may also wish to check out TV4B, an interesting Plus/4 emulator. Finally, we have some cover scans: a proper cover scan for Circus, the instructions sheet for Icicle Works (original bundle release), and perhaps most interesting: Manómánia. Quite how this game - which was built on obviously stolen code - got sold commercially is a mystery, but nevertheless the artwork is now in our database (as well as the original PRG file). Big thanks for these, enjoy!
Be the first to comment!
Copyright © Plus/4 World Team, 2001-2017