Welcome to Plus/4 World!
| | | |
| --- | --- | --- |
| | PetDraw | |
Posted by Csabo on 2015-04-08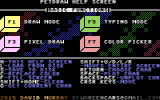 David Murray has been developing a PETSCII drawing program for the C64, and to our luck he decided to port it to the Plus/4 and PET computers as well. It has a few minor issues, but otherwise it's functional, has a nice help screen and example images. It should be a handy tool for creating PETSCII pictures, be sure to check it out and send feedback!
Read comments
| | | |
| --- | --- | --- |
| | Ladies And Gentlemen, Her Majesty The Bitmap Softsprite! | |
Posted by Luca on 2015-04-06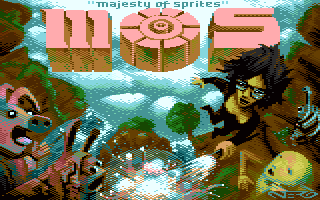 During the same days when Degauss carries in for Bauknecht the Meteoriks prize for the best low-end soundtrack, they arrived at Easterparty (aka Revision) and they were not with empty hands!

Majesty Of Sprites is a hardcoding experiment under the pretences of a no scrolling Giana Sisters' like game running in multicolor bitmap, full of software sprites, gorgeous backgrounds, evil jumps to perform and diamonds and hearts to collect! Bauknecht has shown this preview version at Revision, reaching the 4th place in the generic Game Developing competition. It allows you to play 12 different and very big screens, divided in 6 'worlds' of two screens each. Bitmap sprites look very Atari-ish, having two assigned color only, setting the code free to assign a very large variety of colours any 4x8 (8x8) box (look at the very last screens, they're incredibile), moreover allowing very extensive animation all around. The enemies attack in different movements, and some shoot at you. What you loose in all this, is the scrolling.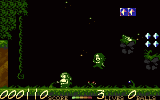 This version doesn't miss even an intro, a jolly title screen that doesn't get shame to show its little colour clashes in the sides, an ending and a gorgeous vanity board with multicolor bubbles versus hires 2x2 characters that saves your scores!

This is a preview only, without ingame tunes, missing several worlds to play and who knows what else to still add in. Don't miss to play this gem and report back your thoughts about!

Code by Mad, graphics by Nero with some help from Decca, music by Degauss.
BKN and TEK, we love you back!
Read comments
| | | |
| --- | --- | --- |
| | See this forum thread for news from Revision 2015 party! | [ comments ] |
| | | |
| --- | --- | --- |
| | After an unexpected 52 hour downtime we are back - please accept our apologies, this was beyond our control. Big thanks to indi for being on top of it and resolving the issue with our host. | [ comments ] |
| | | |
| --- | --- | --- |
| | Thanks to Gaia, we've added some Dutch curiosities: issues 1 and 2 of Bulletin is available for download as PDF. | [ comment ] |
| | | |
| --- | --- | --- |
| | Club Info 137 | |
Posted by Csabo on 2015-03-06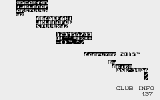 This year's first Club Info is here: Issue 137 is out now. Erich/Ultd from Germany packed two disk-sides full of German language articles (news, game guides, hardware, etc) and recent and new programs. Download your copy and check out what's new if you're interested. Enjoy!
Be the first to comment!
| | | |
| --- | --- | --- |
| | Endings Triplets 43-49 | |
Posted by Luca on 2015-02-25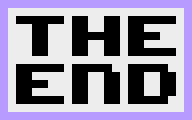 Yes, it's again time for a new batch of 21 fresh game endings just for your lust to see how those nasty games end! Several weird ones this time, including broken endings and BASIC games showing stuff you really didn't expect. Plus, the ending of Rockstar Manager, an exclusive you cannot find anywhere but here at Plus/4 World!

Another seven-triplets released. Come to see the endings of: Manic Death Chase, Heil Sperma, Nathrium Chlorid, Stonepuzzle, Stonepuzzle 2, Stonepuzzle 3, International Karate, Krakout +4, Krakout +4 2, Battery, Battery II, Shogun, ACE, Démonok Birodalma, Bölcsek Köve, Battle Star, Sir Knight, Mike To Mars, Rockstar Manager, Captain John and Beach Head.
Be the first to comment!






0.032569169998169


Copyright © Plus/4 World Team, 2001-2015