Video Meanies

| | |
| --- | --- |
| Title: | Video Meanies |
| Category: | Game/ArcadeAdventure |
| Release Date: | 1986 |
| Language: | English |
| Size: | 16K |
| Machine: | PAL Only |
| Code Type: | Machine code |
| Distribution: | Commercial/TA |
| Product Code: | 2C 0131 |
| Retail Price: | £1.99 |
| Game ending type: | Has an end, restarts (reward) |
| | |
| Released by: | Mastertronic |
| Trained by: | Castor Crew (CC) |
| Coded by: | Kelly, Tony |
| Cracked by: | H., Markus (TSM) |
| Notes: | AKA Video Nasty. Nice little game. Tony Kelly, the creator has also published this game for the C=64, which looks quite different. The C16/Plus4 version of the game was actually converted to C64 by Dale! |

Download:
Castor Crew trainer:
External links:
C64 release
Converted C16 version on C64

User Rating: 7.3/10 (14 votes)
Remakes

Title
Created by
Platform
Homepage
Notes
Video Meanies remake
Windows

A remake of the classic Video Meanies game for Windows, still under development.

Covers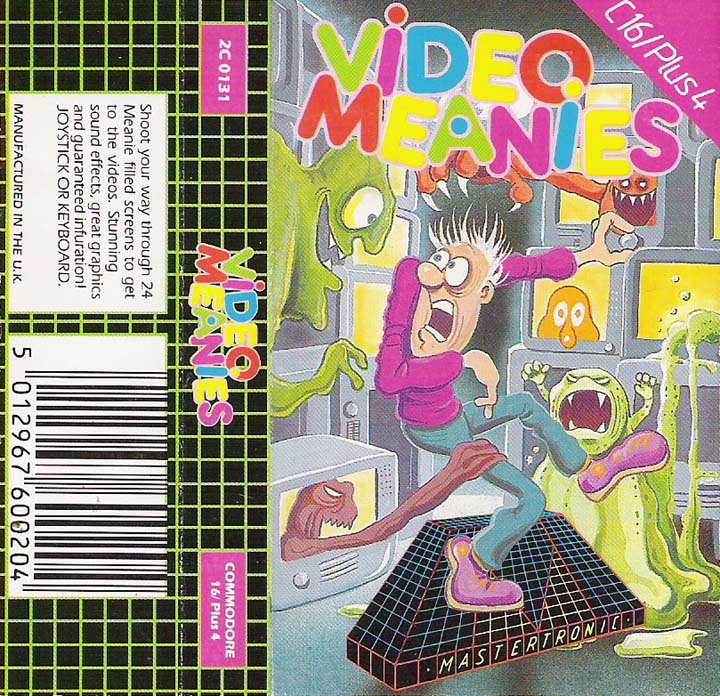 Cassette Front Cover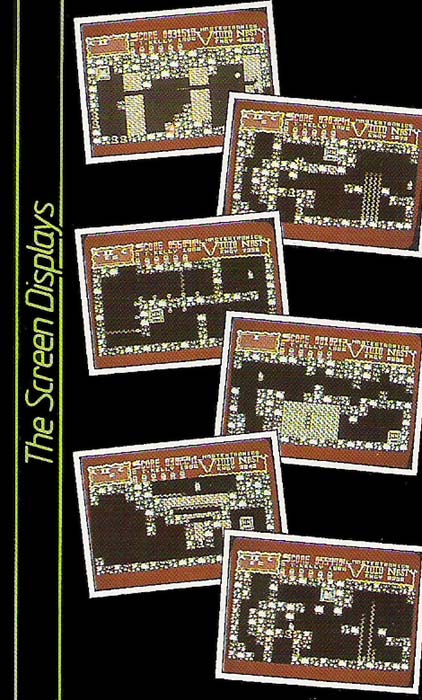 Cassette Side Cover
Note the name 'Video Nasty' in the top right corner of the screenshots!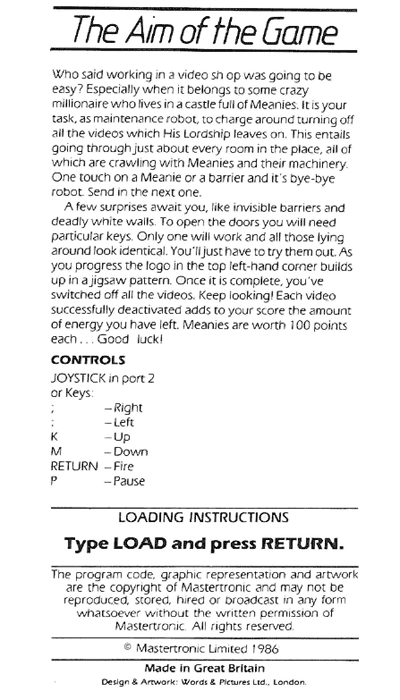 Cassette Back Cover

Final



Load this .FRE file as snapshot in YAPE emulator.

Instructions

Joystick in port 1


| | |
| --- | --- |
| Keyboard | |
| ; | Left |
| : | Right |
| K | Up |
| M | Down |
| Return | Fire |
| | |
| P | Pause |
| D | Quit (UNREPORTED!) |
Cheats - How do I use cheats?
>29BC AD
Unlimited lives
>28A3 EA
No enemies
>1D26 00
Unlimited energy
>1F27 A9
>1F75 00
>2191 FF
>219F FF

Invulnerability
G 1A18
Restart game
Copyright © Plus/4 World Team, 2001-2018