Proof

Download:
User Rating: 6.6/10 (3 votes)
Effects
Part
Effect name
Parameters
Notes
1
DYCP
2
Bobs
Items: 24 Color mode: Hires Item size: 6x6
3
Raster Split
23 splits in the lower border.

Image Gallery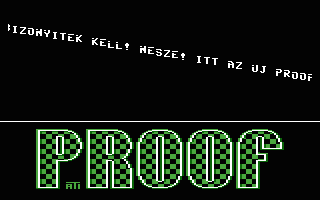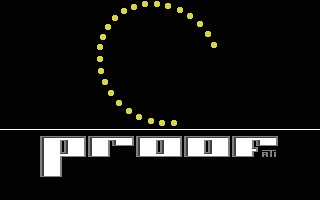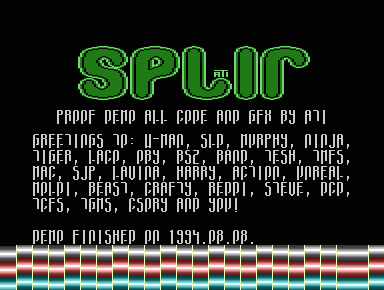 Program Text

First part:
NEKED BIZONYITEK KELL! NESZE! ITT AZ UJ PROOF! UGYAN NEM KOZOMBOSITI A TESTSZAGOT, DE TELJESEN EN KODOLTAM. SOT A GRAFIKAT IS EN CSINALBAM. A ZENE SLD, A KONVERTER TLC MUNKAJA. IGAZSAG SZERINT EGY LEMEZOLDALAS MEGAT AKARTAM CSINALNI, DE VEGUL EZ LETT BELOLE. AZT HISZEM SZEGYENKEZNEM NEM SZUKSEGES. MAS! TOVABBRA SINCS KESZ AZ UJ JATEKOM, DE HAMAROSAN BEFEJEZEM. A COVBAN SZEPEN LEIRTAK, HOGY LOGOKAI JATEK! AMIKOR MEGLATTAM, MAJDNEM SIRTAM. CSAK AZT TUDNAM, HONNAN A JO FENEBOL SZOPTAK KI EZT AZ INFORMACIOT? AZ A JANI EGY NAGY SEGGFEJ, NEM VITAS! VOLTAM A FEHERVARI PARTYN. ALIG VOLT PLUSIS! SZORNYU! MAR NEM SOK VAN HATRA ENNEK A SZARNAK! MEGTELT AZ OLDAL. SPACE!

Third part:
SPLIT

PROOF DEMO ALL CODE AND GFX BY ATI

GREETINGS TO: W-MAN, SLD, MURPHY, NINJA,
TIGER, LACO, OBY, BSZ, BAND, TESH, TMFS,
MAC, SJP, LAVINA, HARRY, ACTION, UNREAL,
MOLDI, BEAST, CRAFTY, REDDI, STEV, DCD,
TCFS, TGMS, CSORY AND YOU!

DEMO FINISHED ON 1994.08.08.

Hidden Text

Player, music and converter signatures:
$1018: -PLAYER (C) BRIAN/GRAFFITY!-
$1DC1: MUSIC BY SLD OF GS IN 11.02.1994
$4230:

--------
NORMAL
CONVERT
VERSION
1.5 BY
TLC DE-
SIGN OF
CORONERS
92.08.11
--------
Copyright © Plus/4 World Team, 2001-2018