Introduction

David's Midnight Magic is an excellent classic pinball game for up to four players. Very realistic board and ball movement, lots of bonuses and even a multi-ball bonus!

David's Midnight Magic

| | |
| --- | --- |
| Title: | David's Midnight Magic |
| Category: | Game/Pinball |
| Release Date: | 1987 |
| Language: | English |
| Size: | 64K |
| Machine: | PAL Only |
| Code Type: | Machine code |
| Distribution: | Freeware |
| Game ending type: | (n/a) |
| | |
| Notes: | AKA Davids Midnight Magic, Flipper. The original game was published for several platforms including the Apple II and the C64, and was written by David Snider. The Plus/4 version was converted from C64 by Imre Szabo in 1987. |

Download:
External links:
C64 release
Atari 8bit release

User Rating: 9/10 (20 votes)

Control Keys

During attract mode:
Help: show vanity board

Before game:
Function keys: Select number of players

Before shooting the ball:
F1/F2: Adjust power
F3: Ball size

In game:
C=: Left
Shift: Right and shoot ball
Space: Shake table
Z: Activate left magnet
/: Activate right magnet



Three Ball Action!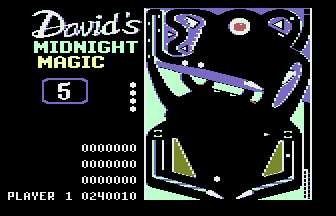 Hidden Text

The game has the following hidden message in the memory from $E850:

"A jatekot C+4-re adaptalta: Szabo Imre Budapest, 1987"
(Translation: "This game was converted to C+4 by Imre Szabo Budapest, 1987")

This also explains why there is an "IMI" entry in the high score: Imi is a nickname for the Hungarian male name Imre.
Cheats - How do I use cheats?
Before running the game:
MONITOR (return)
>7F8 80 (return)
>843E 4C 38 84 (return)
X (return)
and RUN
Unlimited balls (endless game)
Copyright © Plus/4 World Team, 2001-2018