Invasion 2000 AD

| | |
| --- | --- |
| Title: | Invasion 2000 AD |
| Category: | Game/SpaceInvaders |
| Release Date: | 1985 |
| Language: | English |
| Size: | 16K |
| Machine: | PAL & NTSC |
| Code Type: | Machine code |
| Distribution: | Commercial/TA |
| Game ending type: | No end (highscore) |
| | |
| Released by: | Solar Software Ltd. |
| Coded by: | Shay, John P. |
| Notes: | AKA "Invasion Force". Very much resembles the original Commodore classic "Avenger" for the VIC-20 that was supposed to have a C16 port, too, but was possibly never released. |

Download:
Saved as Invasion Force:
User Rating: 6.1/10 (8 votes)




Covers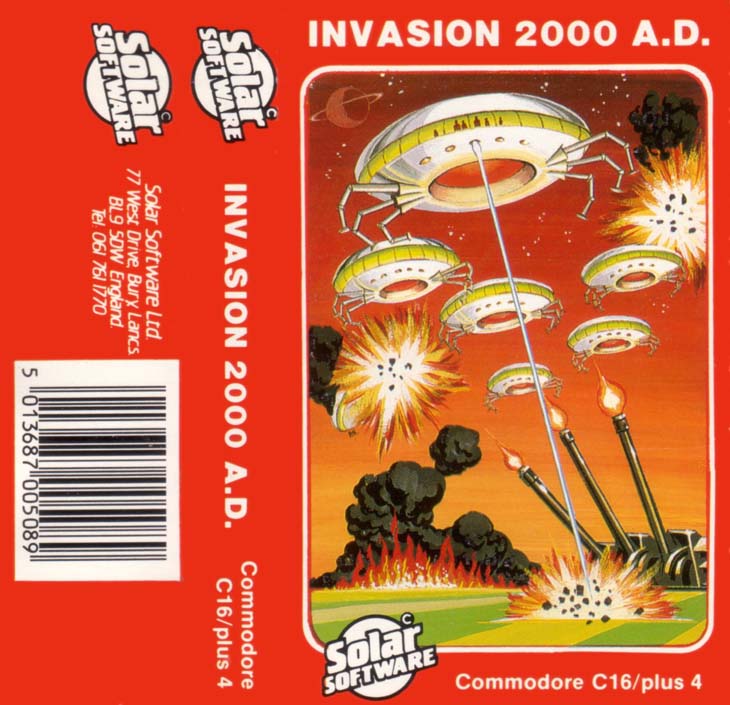 Cassette Front Cover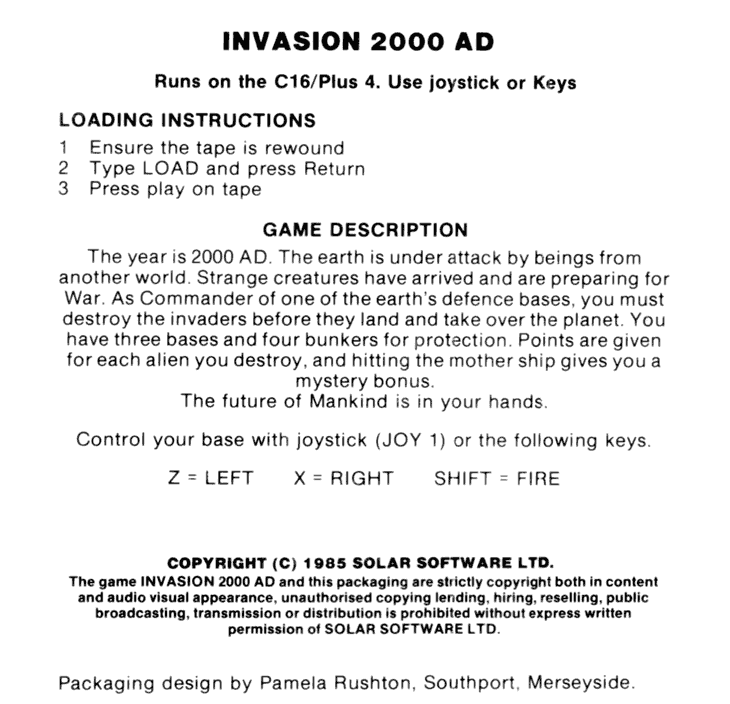 Cassette Back Cover

Hidden Text And Oddities

There is a note in $3FE2, as a reminder for the run address:
"INV. 2000 $2300"

In the interval $20A0-$22FF circa, there's some text which comes from some hacked sport game, with some words like SWIMMING and QUALIFYING TIME in a clear screen disposal.

There are evidences of others game's hacking in the graphics too, with some weird clues like unused multicolour UFOs, some frames from an airplane's animation, some frames of an explosion and background elements of a volcanic terrain.
The airplane has been hacked from Falcon Patrol II on C64. Of course, this makes a sense setting to think that even the other unused graphics elements should have been stolen from other games.


| | |
| --- | --- |
| Have you never stolen an airplane? | I want to believe! |


Guessing how animate the UFO.




A most probable desolate battlefield.

Fatal Error

Fatal error in original game code.
At random the Mother Ship as it flies across may leave graphic debris on screen after being hit. These graphic debris can be shot at to gain illegal extra points beyond the normal means of how the game was meant to be played. Each hit of the mother ship debris will give a random score as it would normally scoring anything from 50-200 points.
Copyright © Plus/4 World Team, 2001-2018