Fantastic Four

| | |
| --- | --- |
| Title: | Fantastic Four |
| Category: | Game/Adventure |
| Release Date: | 1985 |
| Language: | English |
| Size: | 64K |
| Device Req.: | Disk only (1 side) |
| Machine: | PAL & NTSC |
| Code Type: | Machine code |
| Distribution: | Commercial/TA |
| Game ending type: | Has an end, game ends |
| Published by: | Adventure International (U.K.) |
| Produced by: | Adams, Scott |
| Notes: | Full title: QUESTPROBE #3 featuring THE HUMAN TORCH and THE THING. On the cover only C64 is mentioned, but it also runs on a Plus/4. Re-released by Sharedata (working?) and Green Valley Publishing. |

Download:
G64 patched:
G64:
Green Valley Publishing:
Sharedata:
Version J 168:
External links:
C64 release
ZX Spectrum release
Amstrad CPC release
Atari 8bit release

No votes yet.




Covers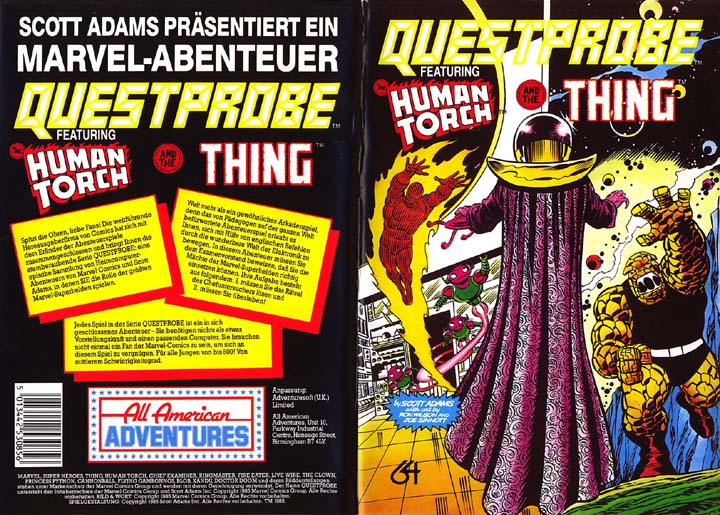 Disk Cover (German)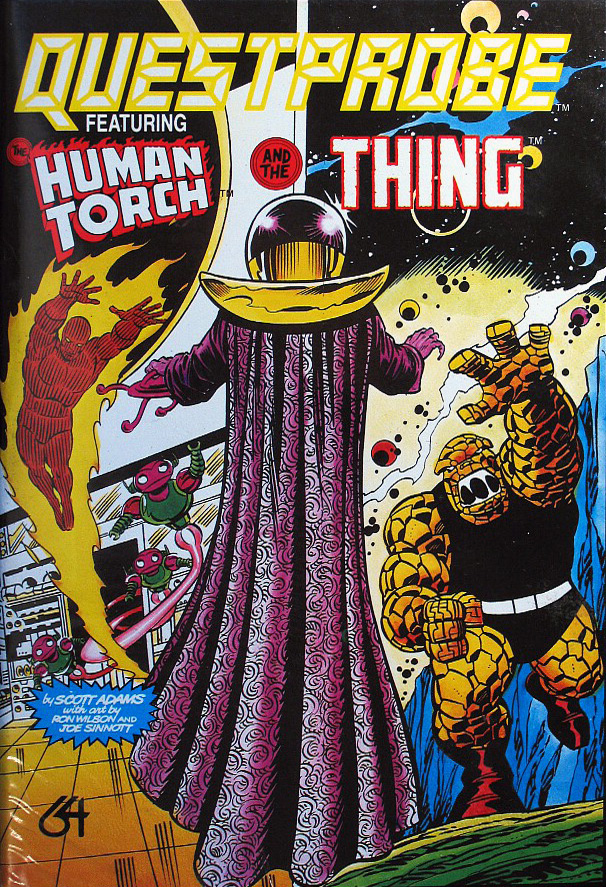 Disk Cover Front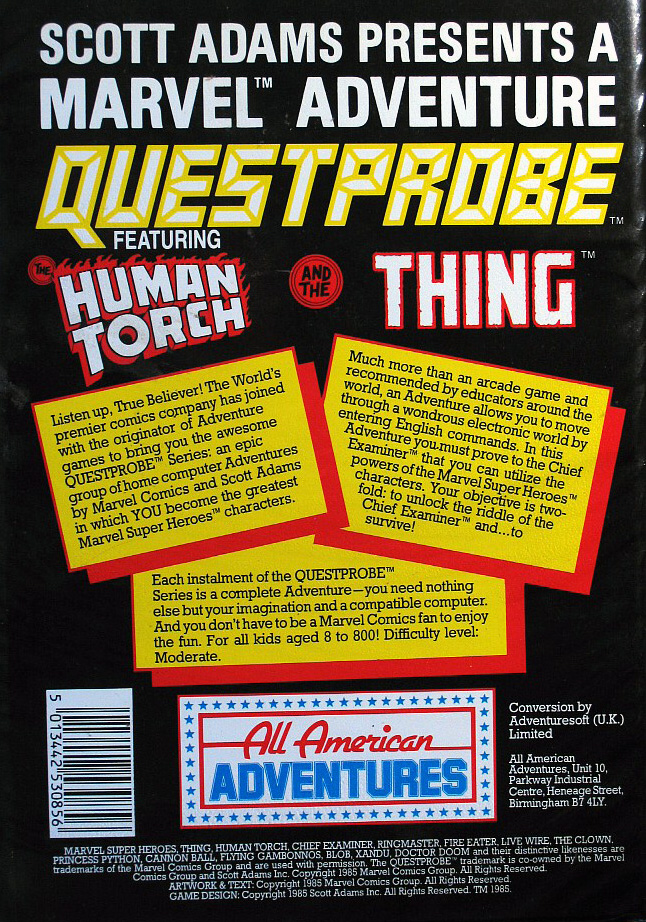 Disk Cover Back

Available Versions

Filename
Version
Notes
Loader
Title
fantastic_four.zip
Adventure International
Version K 172
Working
fantastic_four_g64.zip
Adventure International
Version K 172 .G64
Corrupted
fantastic_four_g64_patched.zip
Adventure International
Version K 172 .G64
Working
fantastic_four_j168.zip
Adventure International
Version J 168
Working
fantastic_four_gvp.zip
Green Valley Publishing
Version K 172
Working
fantastic_four_sharedata.zip
Sharedata
Version K 172
Disk error

Comic Book Series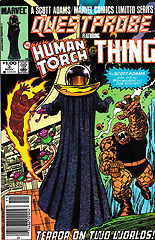 Originally intended as a 12-issue limited series, the Questprobe comic book tie-in series was canceled after issue #3 (November 1985) due to Adventure International's bankruptcy, The story intended for issue #4, featuring the X-Men, was published in "Marvel Fanfare" #33 (July 1987), although the 4th Questprobe game dedicated to X-Men, partly coded by Scott Adams and close to be finished, did never see the light of day as a published game.

Download "Questprobe featuring: Human Torch and The Thing" comic book (PDF, 31 Mb) here.

Solutions - Unsolved

This game does not yet have a solution. Do you have a verified solution? Please enter it here (if you have access rights to edit this record), or send it to an administrator.
Für dieses Spiel gibt es noch keine Lösung. Vielleicht hast Du eine. Wenn Du die entsprechenden Zugriffsrechte hast, kannst Du sie gleich hier einfügen. Sonst schicke sie einfach an einen Administrator.
Ennek a játéknak még nincs megoldása. Ha van egy leellenőrzött megoldásod, beírhatod ide (ha van szerkesztési jogod), vagy elküldheted az egyik adminisztrátornak.
Copyright © Plus/4 World Team, 2001-2018