Shogun

| | |
| --- | --- |
| Title: | Shogun |
| Category: | Game/ArcadeAdventure |
| Release Date: | 1985 |
| Language: | German |
| Size: | 16K |
| Machine: | PAL & NTSC |
| Code Type: | Machine code |
| Distribution: | Type-in |
| Game ending type: | Has an end, game ends |
| Graphics by: | F., Marc-Peter |
| Coded by: | P., Olaf |
| Notes: | |

Download:
Bugged:
User Rating: 5.5/10 (2 votes)




Instructions

Your mission is to find out all the 60 pieces of the puzzle, which makes the Shogun's Sword to appear somewhere. Once you've collect it, in a last effort, the Sword must be consigned straight in the hands of its owner.

There are several rooms with platforms, ladders, one temple and a number of enemy Ninjas (depending on the chosen game level). The player can exit in any moment thru the side openings in the four directions, or by random leaps hitting a Teleport Box which can be eventually found in a room.

Fight against Ninjas hitting them with various moves, both opponents can inflict with moves of different damage. Beware deep falls, they drain the player's energy tho.

Once all the Ninjas in the room have been beaten, an item appears under the porch of the room's temple:
- Puzzle Piece: collect 60 of those to begin searching for the Sword;
- Healing Herbs: restore all the 255 points original energy;
- Nunchaku: boost power again enemies.

After having collected all the 60 pieces, the Sword appears in one of the nearest rooms, usually in the bottom left corner of the screen, the player has to search for it.

Once taken, the Sword must be delivered. The screen changes, and the left standing player must reach the Shogun located to the right, though the continuous attack of incoming Ninjas.

In the start menu, can be changed the strength of foes'attacks (1-4), and their speed (1-8).


| | |
| --- | --- |
| Joystick in Port 0 | |
| Run/Stop | Pause |

Bugged Intro Screen

A bugged version of this game shows here and there some flawlesses and bugs. The most evident one is the weird noisy screen at the start of a game (see the picture on the left side). This only occurs because $FF12 register is ORed with #$04 instead of #$03 (that's a common way to change the register preserving the first two bits, which are involved in the sound).
This bug can be easily fixed changing that value: >2AFA 03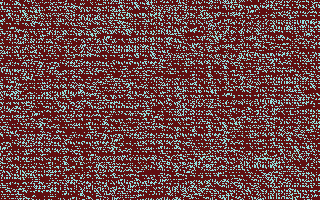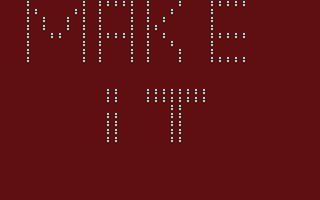 Cheats - How do I use cheats?
>2AFA 03
Fix intro screen
>1C1E 01
Minimum energy to opponents
>2B83 4C F1 1B
Cut the sound after defeating a foe
>2095 A5
Falling doesn't hurt
>1E06 00
Spears don't hurt
>2CE6 EA EA
>3AF8 4C B6 3A
Unlimited energy
Copyright © Plus/4 World Team, 2001-2018