Mr. Puniverse

| | |
| --- | --- |
| Title: | Mr. Puniverse |
| Category: | Game/Platformer |
| Release Date: | 1986 |
| Language: | English |
| Size: | 16K |
| Machine: | PAL & NTSC |
| Code Type: | Machine code |
| Distribution: | Commercial/PD |
| Product Code: | 2C 0103 |
| Retail Price: | £1.99 |
| Game ending type: | Has an end, game ends |
| | |
| Released by: | Mastertronic |
| Produced by: | Mr. Chip Software |
| Coded by: | Kelly, Tony |
| Notes: | AKA Mr Puniverse, Mr Punyverse, Mr Punniverse. A very nice classic, follow up to Big Mac. There's an older version of the game that looks almost the same, but different code compiling. |

Download:
Older version:
Tape WAV sample:
User Rating: 7.9/10 (15 votes)




Covers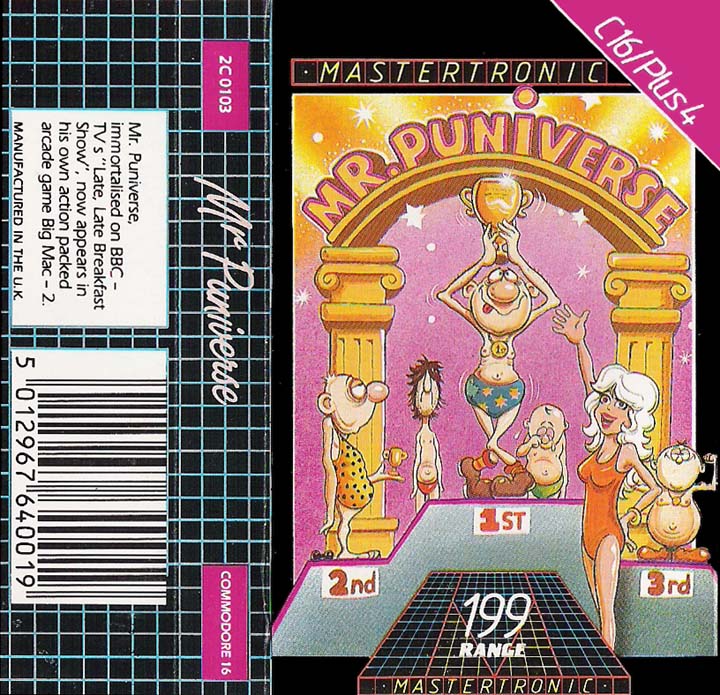 Cassette Front Cover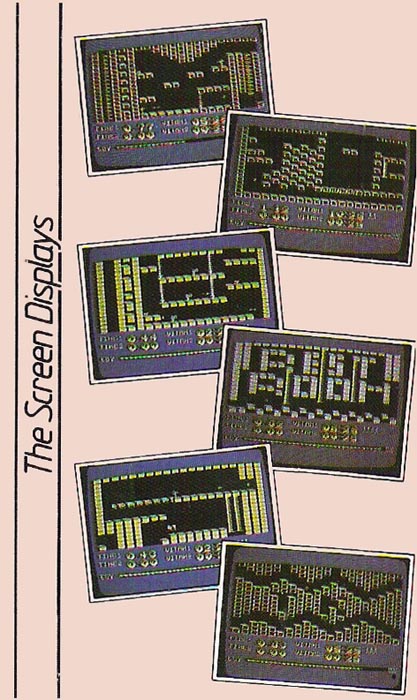 Cassette Side Cover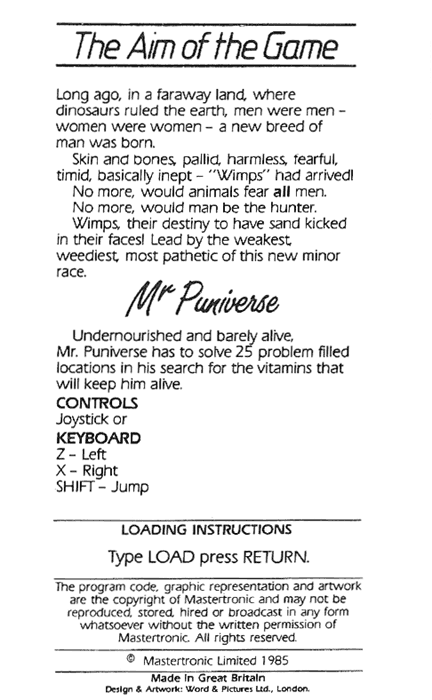 Cassette Back Cover

Cassette or Box Photo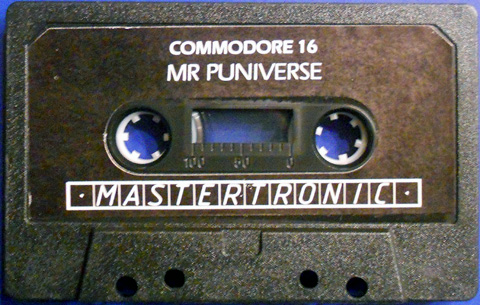 Cassette

Maps

Download: puniverse-map.gif
Created by Noro.
Description: Game Map
Dimensions: 1608x892
File size: 112 KB. Create in 2000 June.

Manual Inlay Text

"Long ago in a faraway land, where dinosaurs rulded the earth, men were men - women were women - a new breed of man was born.
Skin and bones, pallid, harmless, tearful, timid, basically inept - "Wimps" had arrived!
No more, would animals fear 'all' men.
No more, would man be the hunter.
Wimps, their destiny to have sand kicked in their faces! Lead by the weakest, weediest, most pathetic of this new minor race: Mr. Puniverse
Undernourished and barely alive, Mr. Puniverse has to solve 25 problems filled locations in his search for the vitamin that will keep him alive."

Controls

Keyboard Controls:
Z
Left
X
Right
Shift
Jump
D
Suicide
Cheats - How do I use cheats?
>3367 BD
Unlimited lives
>2172 39
Jump left through walls at great speed
>15F3 B9
Takes out a cannon which levels out 6 pulverisers on a tricky screen (hack versions not included)
>32CB 2C
Unlimited energy
>25C5 60
Invulnerability
>281E C9 ##
Number of vitamins to collect to finish the game
G 1AF4
Restart game
>33A2 BD
Unlimited lives (older version)
Copyright © Plus/4 World Team, 2001-2018