Introduction

For those who speak Hungarian, this game is highly recommended! It has lots of fun sub-games, an overall very enjoyable experience.

Időlabirintus (Time Labyrinth)

Download:
German:
KNM & CMS crack:
Mr Gregory crack:
TPPC crack:
User Rating: 7.7/10 (10 votes)




Covers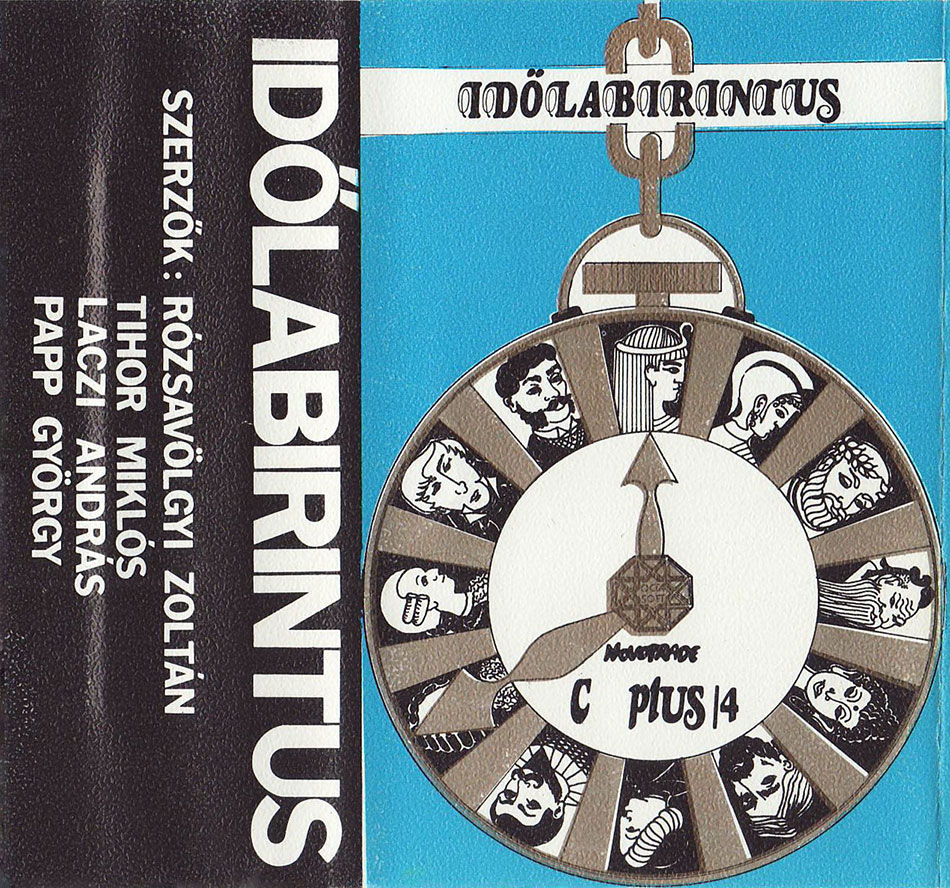 Cassette Front Cover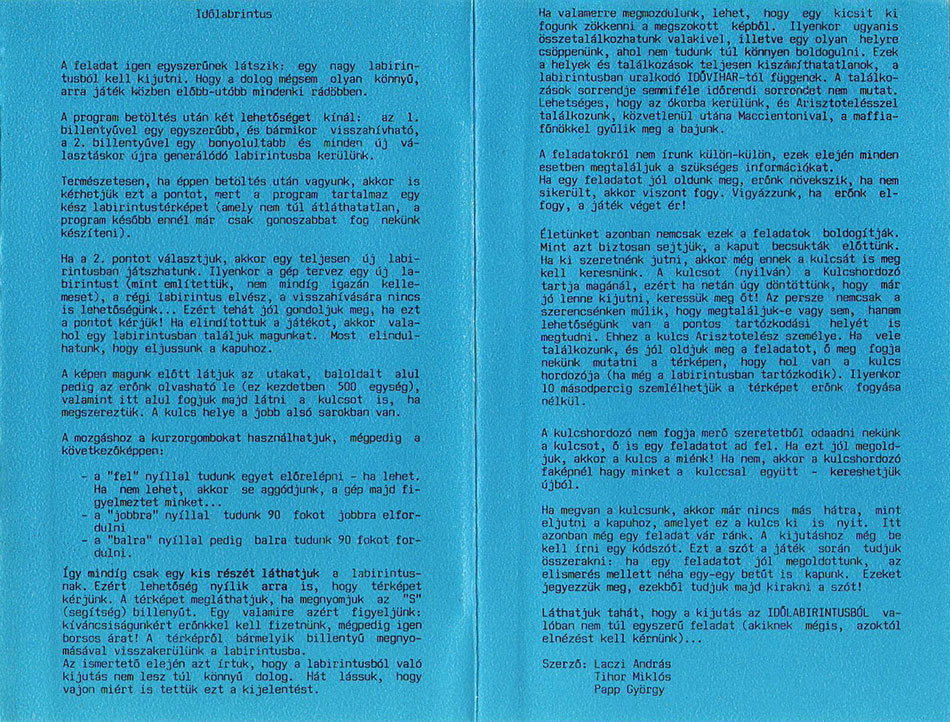 Cassette Back Cover

Controls

| | |
| --- | --- |
| CURSOR UP | : walk |
| CURSOR LEFT | : turn 90° counter-clockwise |
| CURSOR RIGHT | : turn 90° clockwise |
| S | : view map and your position (energy consuming!) |


Each subgame explains the other keys to use.

Solutions - Hints

The game is in Hungarian, so it only makes sense to write the hints in Hungarian as well.

Arisztotelész: Csak gyorsan össze kell adni a számokat. Fontos, hogy vele találkozzunk, mert ő mutatja meg a térképet, és hogy hol van a kulcs hordozója.

Kobra: Megoldás: 1, 1, 2.

Buffalo Bill: Menjünk teljesen lentre a Z-vel, és akkor lőjünk, mikor a célpont lefelé indul, így mindig eltaláljuk.

Egoista Gorilla: Mikor a gorilla másodjára rajzolódik, figyeljünk, mert egy fél másodpercig megjelenik a neve egy véletlenszerű helyen.

Festő: jól jegyezzük meg a képet, mert mindegyikből két hasonló van. A kép alatt nagyon rövid időre a neve is megjelenik.

Maccientoni: Elég egyszerű beütni a golflabdát, az erő hossza határozza meg, hogy hány karakterrel mozdul el.

Báró Duel: Csak reflex kérdése, bár elég nehéz...

Három Ketrec...: Figyeljünk a ketrecek kirajzolása után, mert nagyon rövid időre az egyik szám fölött villanás lesz. Ebben van az oroszlán tehát a másik kettő közül bármelyiket nyissuk ki.

Nagy Keverőű: Elég egyszerű, csak össze kell rakni a szót az összekevert betűkből.

Rakétatámadás: Ügyességi játék, nem túl nehéz.

Egy programozóval találkoztál: Szintén ügyességi játék.

Solutions - Complete

A játék megoldása elég egyszerű: keressük meg a kulcs hordozóját a labirintusban, akitől megszerezhetjük a kulcsot. Ezután már csak az ajtóig kell elkecmeregnünk. Minden sikeresen befejezett al-játék után egy betűt kapunk, ezeket írjuk fel, mert az ajtónál az ezekből összeállítható szót kell beírnunk. A Tippek az al-játékokhoz nyújtanak segítséget.
Copyright © Plus/4 World Team, 2001-2018