Asterix HFLI

Download:
User Rating: 8.1/10 (6 votes)
Effects
Part
Effect name
Parameters
Notes
FLI
Color mode: HFLI

Description

Asterix is one of my most favourite comics from my childhood.

I also like the Asterix and the Magic Cauldron, especially the music (Dvorak's tune (Slavonian dance) is just fantastic, just a little too short).
Unfortunately I was less satisfied (as an Asterix fan) with the C64 title screen, though technically speaking it would be a challenge to reach more details or colors with normal MC or HIRES mode.
But where is Dogmatix? What happened to Obelix's face?

The C64 Title screen of Asterix and the Magic Cauldron: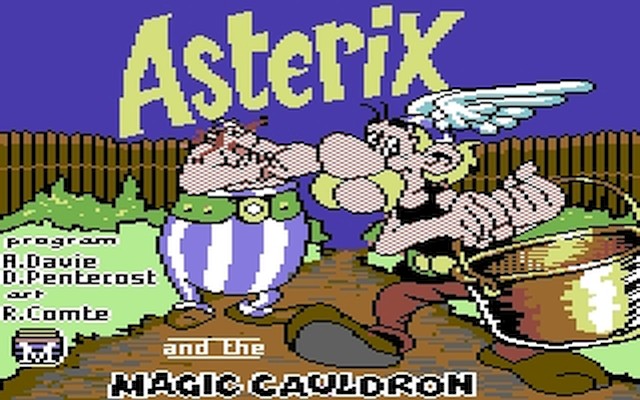 So I decided to create a new version, but wanted to be as faithful to Uderzo's original drawing (made for the C64 cassette cover) as possible.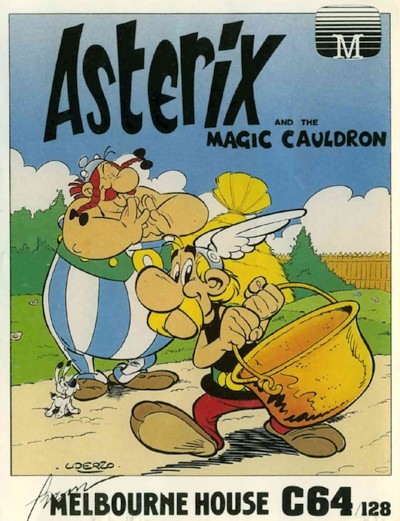 As Silesia Party 2017 was close, I decided to be ready till that time (sent it 30 minutes before deadline!) and join the compo.
Unfortunately it went to the category WILD.

Anyhow, as I also sent a slideshow to impress (and invite) C64 graphicians to Plus/4, and only one entry per category was allowed, I think it was a better option for the Plus/4 scene to show a better slideshow instead of this single oldschool GFX.
So VDC challenge was shown. Hopefully they liked it. (so this one was not shown)

As the Cassette cover has a bad aspect ratio (not 4:3) first I created the left and right part with Paint.net.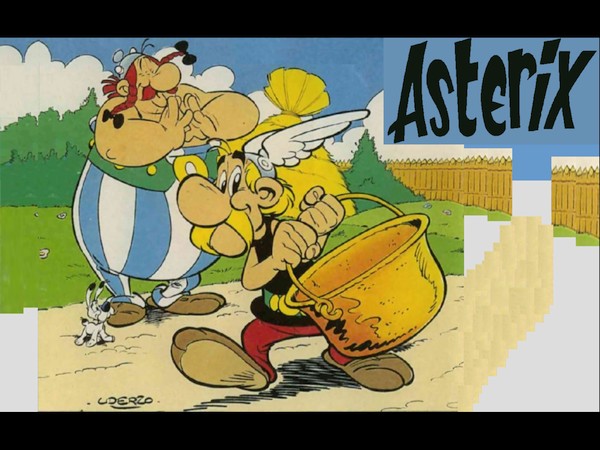 Worth to look how it looked after very fisrt conversion :-) Evidently the colors do not match to Plus/4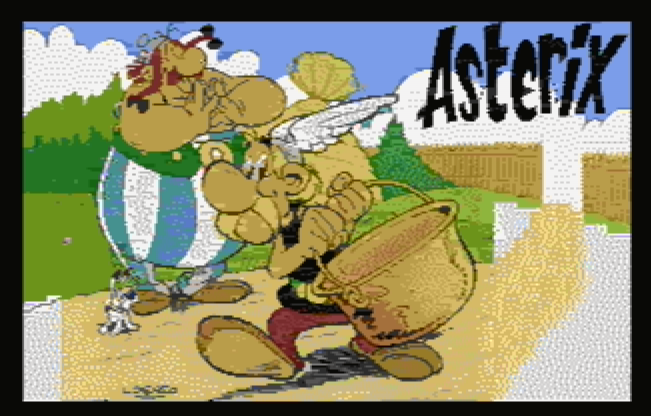 Then edited, edited, changed colors, then futher edited...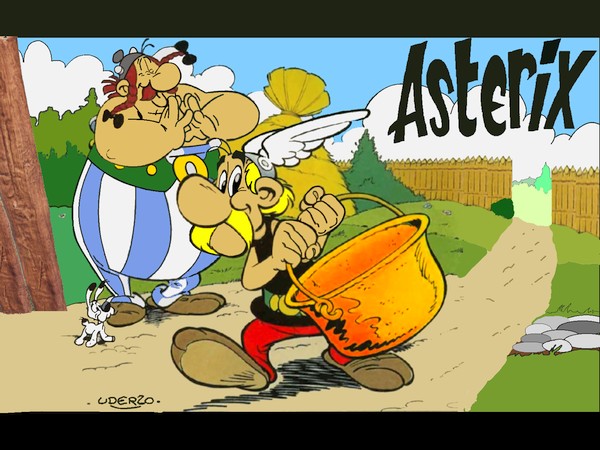 After Plus4Emu's GFX conversion some colors lost (especially the intensive orange), some blacks turned into brown and green.
Not to mention the bad pixels.
( After some hours of work I realized that I forgot to do the image optimalization I should do before conversation. (Median Filter, and so) :-O )

Anyhow at that time I already understood how Abcug's Pixelshop PRG really works (the only HFLI editor was able to recongize Plus4Emu's outpuit), so decided that pixelhunting should be continued.
(It is a really nice tool but you need patience for it,especially color setting)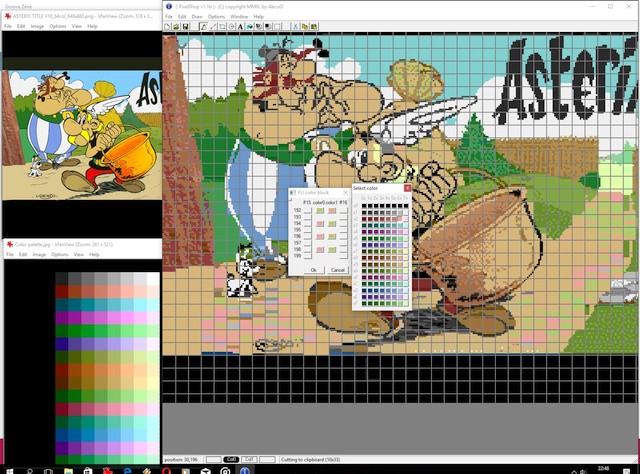 As PixelShop can save only in P4S format, it had to be converted back to PRG, was done by IstvanV's P4Sconv.exe.
What a great tool, though on Win10 you need tricks to able run it from the command shell.

So the final version you may test, I tried to do my best to remove bad pixels, though not fully happy with the cauldron's color or Asterix face (esp. eyes area).
(there are still some color collisions, still you have only in every two lines a new pair of colors per attribute area)

The biggest challenge was that Abcug's Pixelshop uses a different (digitized) color palette than YAPE or Plus/4 provides, and you cannot change it.
It required a little imagination to use the eg. yellow or orange colors I had to use.

Thank you for reading this text and checking the picture!

Copyright © Plus/4 World Team, 2001-2018