Hunter

Download:
User Rating: 5.8/10 (7 votes)




Gameplay

Controls:

| | |
| --- | --- |
| Space | Start game (from title screen) |
| Shift | Shoot |
| Cursor | Move ship |
| ESC | Continue game |


Scoring:
Destroying one enemy ship scores 3 points, however, every 4th ship is worth only 1 point. (The game cannot add 3 to the scrore when it ends with 9, so it only adds 1.)

After reaching 100 points (destroying 40 ships), a boss fight is triggered: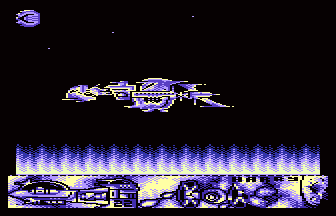 Destroying the boss takes 40 shots, but this does not affect the gameplay, no congratulations is shown. The game then continues as normal and loops forever, no additional bosses will appear. After reaching 9999 points, the screen border turns blue and the score resets to 0.

Program Text

ACTION
AND
HARRY
DESIGN

GOTU
TEAM

SZEVASZ MINDENKI! HI BSS! MIKOR IRSZ MAR... TGM! HOGY ALL A LAMER NEWS... OSCAR! KULD EL A TURBO ASSEMBLERT. VALAKI PEDIG A DMC T! HAHO! ELKESZULT AZ EVSZAZAD SZOVEGES JATEKA A : SPACE CASTLE : MOST PEDIG EGY KIS LELTAR A EDDIGI JATEKPROGRAMJAINKROL * WEST * EWOX * LOGICTRAINER * STAR WARS * SPACE CASTLE * HUNTER * EGYENLORE ENNYI... HA VALAKINEK KELL VALAMELYIK AZ IRJON! A CIMUNKET MEGTALALJATOK VALAMELYIK UJSAGBAN... FELHIVAS! COMMODORE 64 ELADO! MAGNO MEG MINDEN VACAK! AR MEGEGYEZES SZERINT! GREETINGS TO OPTIKA STEVE BSS JIMY OSCAR MAUGLI TGM LAVINA TGMS... VISZLAT!
Cheats - How do I use cheats?
>4C05 A5
Unlimited lives (Enter in emulator monitor)
>512B 60
>5A5B 60
Invulnerability (Enter in emulator monitor)
Copyright © Plus/4 World Team, 2001-2018