| | | |
| --- | --- | --- |
| | Introduction | |
You are one of the few survivors of the planet 'CORILLIAN' following a devastating raid by marauding space pirates. You have vowed to avenge their murderous attack to seek and destroy these aliens and end their gallactic tyranny.

Your newly designed super powerful startship bristles with computers and sensors enabling you to search out and destroy the space pirates wherever they may hide.
| | | |
| --- | --- | --- |
| | 3D Time Trek | |
| | | |
| --- | --- | --- |
| | Covers | |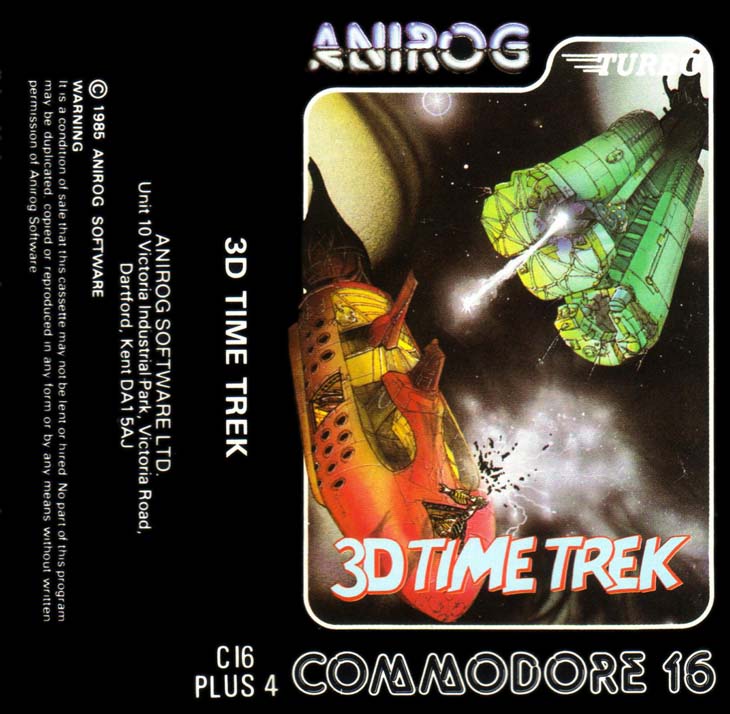 Cassette Front Cover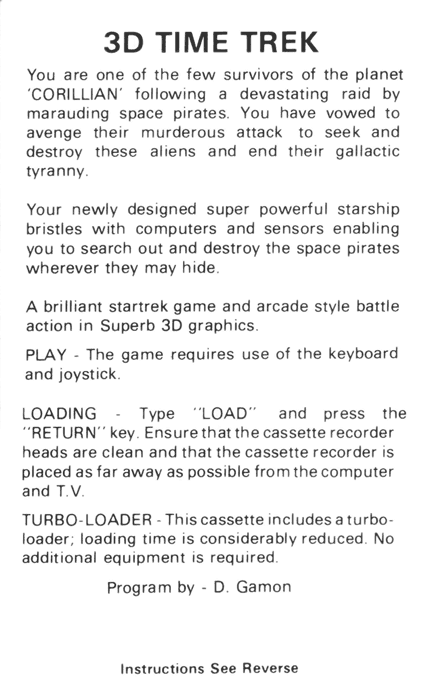 Cassette Side Cover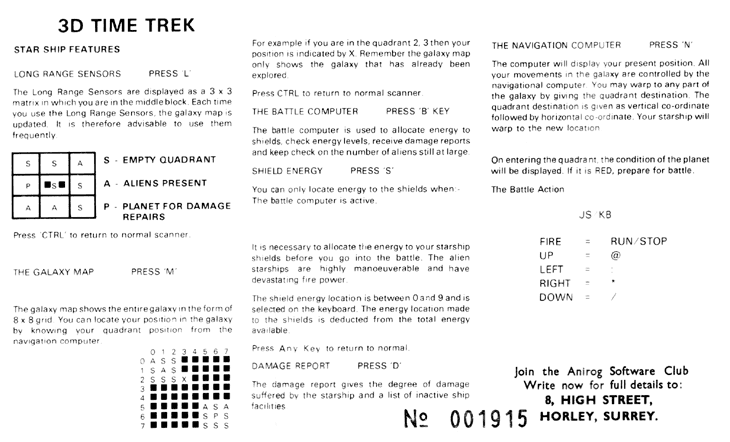 Cassette Back Cover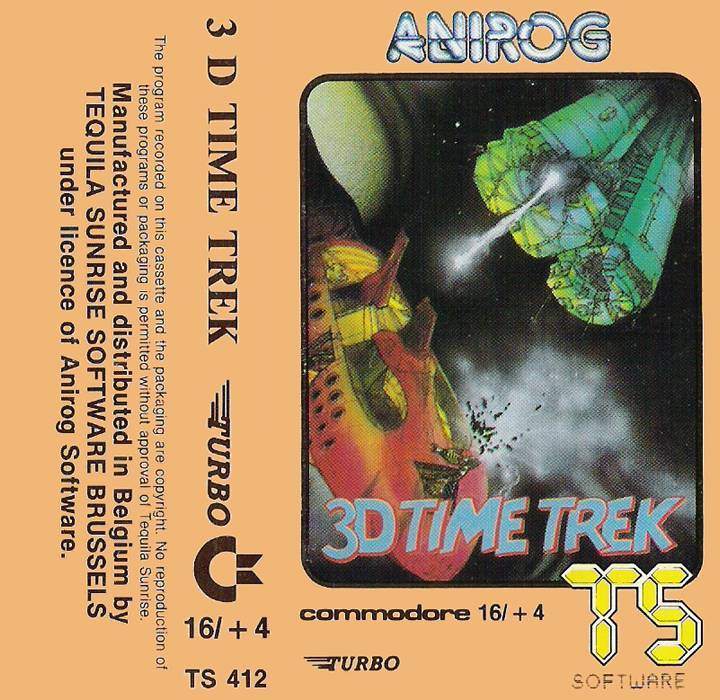 Cassette Front Cover (Tequila Sunrise Release)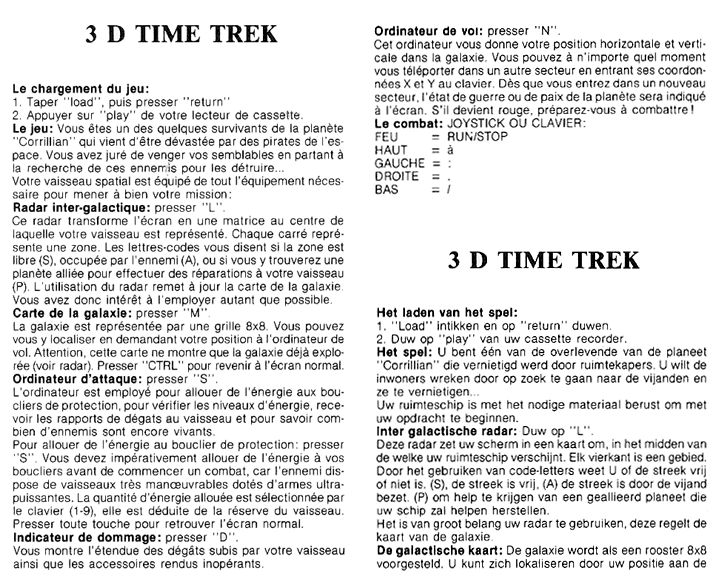 Cassette Side Cover (Tequila Sunrise Release)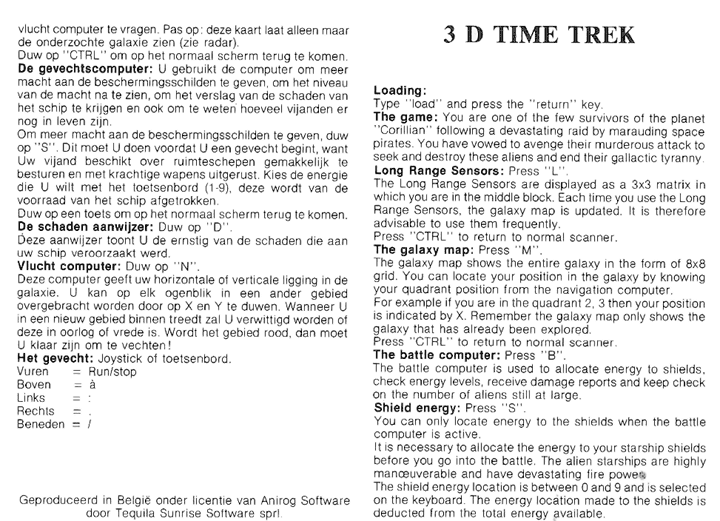 Cassette Back Cover 1 (Tequila Sunrise Release)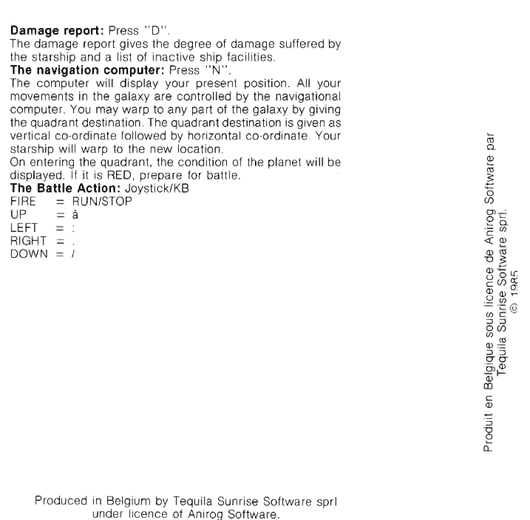 Cassette Back Cover 2 (Tequila Sunrise Release)
| | | |
| --- | --- | --- |
| | Cassette or Box Photo | |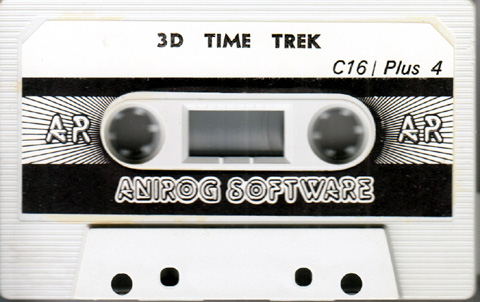 Cassette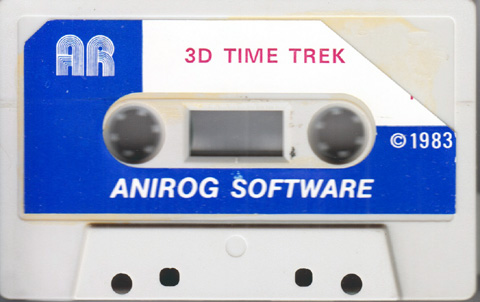 Cassette (1983)
| | | |
| --- | --- | --- |
| | No Ending | |
The game's code contains an ending, but it can never be reached. This is probably due to a bug or possibly a design problem. To see the ending:
G 3589

From the disassembled source one can see that this address is never reached either by jumps or branches. The game contains no self-modifying code or jump tables either.

It's also possible to "free" the galaxy with the command below. This turns all quadrants to "green". Even after this, the ending is never shown.
F 2F0A 2F4A 1
>11E2 60
Unlimited shield
>11D6 2C
>129E 2C
>36C6 2C
Unlimited energy
G 1100
Restart game
Copyright © Plus/4 World Team, 2001-2017