Hercules

Ending for
Hercules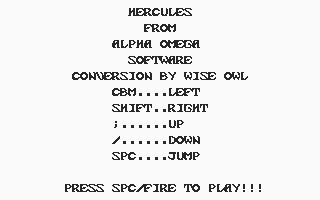 How To Reach

Simple: On each level, you have to reach an object by walking over to it. Complete the 12 levels, using your 3 lives.

In reality, probably no-one completed the game. The levels are too hard, full of invisible death traps. You can't even "practice" them, since they are chosen randomly after each death.

The Ending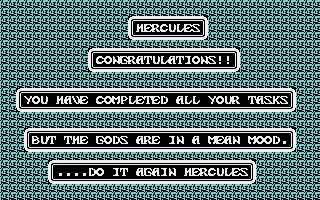 The congratulations screen. After a while, the game continues. All levels have to be done again, but an extra life is awarded.

Shortcut

Enter the following in the emulator monitor:
>16D3 4C 5C 19

With this cheat, dying on a level means completing it. Just go through the 12 levels - you can attempt to solve them, but you'll die quickly. After "completing" the 12 levels, the ending will be shown.

Alternatively, start the game, and from any level enter the following to immediately see the ending:
G 1970