Bard's Tale IV

| | |
| --- | --- |
| Title: | Bard's Tale IV |
| Category: | Game/GTW |
| Release Date: | Unknown |
| Language: | English |
| Size: | 64K |
| Code Type: | Machine code |
| Distribution: | Freeware |
| Converted by: | C., Zoltán (Csory) |
| Distributed by: | E., Karsten (Nukeman) |
| Notes: | AKA 'Dragonwars'. WANTED: Program file. Missing Software, excluded from voting. |

External links:
C64 release



Evidence In Gewgaw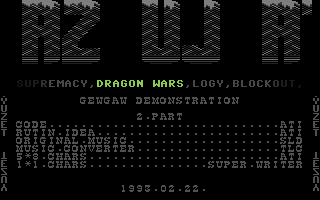 Ati cites the game in his Gewgaw demo as a wanted list.

Evidence In CoV Sun News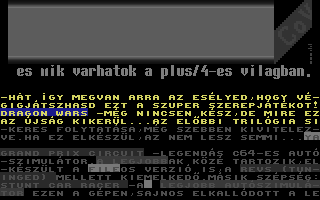 In the diskmag, released by Proky, he wrote:"It's not ready, perhaps by the time the paper (CoV) is out(?...)".

Evidence In Spy Collection

Read the Bag's messages in the first intro's scrolltext in Spy Collection.

Evidence In CoV Mooo Plus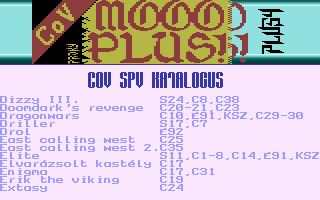 The game appears into the CoV SPV Katalogus chapter published in the diskmag CoV Mooo Plus. Note that this is a citations refering list only.

Evidences In Scene Focus Diskmag

From Scene Focus 02, page 04:
"what's with the long awaited game, called "dragon wars+4" ?! it should be converted by floppy-master csory...?!?! nukeman wrote in the c-f & in his nuke papers,that he is responsible for the colors,as we remember...!!! hey nuke-babe,don't you think,that you better shut your big mouth in the future ?!"

From Scene Focus 06, page 1:
"-dragon wars (produced by csory) is out now. nukefucker sells it,like usually"

Evidences In Nukepaper Diskmag

Nukepaper magazine has followed the making of Dragonwars since the early issues. In the last issue, Nukepaper 08, the game is credited by using SIDcard, together with forthcoming conversions: Soul Crystal, Moonfall and Space Rogue.

Evidence In Highlights

The game is cited together with "Bard's Tale" (in general, not a precise one in the series) in the last part's scrolltext in the megademo Highlights.

Evidence In TwinPigs

The game is cited in the news chapter of the diskmagazine TwinPigs #1:

"CSORY CSINÁLJA A DRAGON WARS-OT"
Copyright © Plus/4 World Team, 2001-2018