News

2018
2018/03
3
2018/02
5
2018/01
7
Total:
15
Avg.:
5
2017
2017/12
6
2017/11
5
2017/10
6
2017/09
4
2017/08
4
2017/07
9
2017/06
8
2017/05
4
2017/04
5
2017/03
7
2017/02
6
2017/01
15
Total:
79
Avg.:
6.5
2016
2016/12
10
2016/11
7
2016/10
4
2016/09
5
2016/08
1
2016/07
7
2016/06
4
2016/05
6
2016/04
2
2016/03
4
2016/02
3
2016/01
6
Total:
59
Avg.:
4.9
2015
2015/12
10
2015/11
8
2015/10
7
2015/09
5
2015/08
2
2015/07
1
2015/06
4
2015/05
7
2015/04
6
2015/03
4
2015/02
6
2015/01
1
Total:
61
Avg.:
5
2014
2014/12
7
2014/11
5
2014/10
4
2014/09
7
2014/08
12
2014/07
7
2014/06
4
2014/05
3
2014/04
6
2014/03
2
2014/02
4
2014/01
5
Total:
66
Avg.:
5.5
2013
2013/12
6
2013/11
7
2013/10
4
2013/09
5
2013/08
5
2013/07
5
2013/06
3
2013/05
4
2013/04
5
2013/03
8
2013/02
4
2013/01
2
Total:
58
Avg.:
4.8
2012
2012/12
6
2012/11
4
2012/10
5
2012/09
3
2012/08
6
2012/07
4
2012/06
4
2012/05
10
2012/04
2
2012/03
3
2012/02
3
2012/01
4
Total:
54
Avg.:
4.5
2011
2011/12
4
2011/11
1
2011/10
1
2011/09
3
2011/08
3
2011/07
8
2011/06
7
2011/05
5
2011/04
2
2011/03
2
2011/02
6
2011/01
2
Total:
44
Avg.:
3.6
2010
2010/12
1
2010/11
3
2010/10
3
2010/09
2
2010/08
3
2010/07
4
2010/06
5
2010/05
2
2010/04
8
2010/03
1
2010/02
3
2010/01
2
Total:
37
Avg.:
3
2009
2009/12
8
2009/11
7
2009/10
7
2009/09
4
2009/08
4
2009/07
1
2009/06
3
2009/05
1
2009/04
9
2009/03
2
2009/02
6
2009/01
3
Total:
55
Avg.:
4.5
2008
2008/12
3
2008/11
6
2008/10
5
2008/09
4
2008/08
3
2008/06
6
2008/05
6
2008/04
2
2008/03
3
2008/02
9
2008/01
5
Total:
52
Avg.:
4.7
2007
2007/12
1
2007/11
3
2007/10
5
2007/09
2
2007/08
7
2007/07
6
2007/06
7
2007/05
4
2007/04
10
2007/03
9
2007/02
14
2007/01
8
Total:
76
Avg.:
6.3
2006
2006/12
4
2006/11
6
2006/10
6
2006/09
7
2006/08
13
2006/07
5
2006/06
7
2006/05
1
2006/04
11
2006/03
5
2006/02
4
2006/01
11
Total:
80
Avg.:
6.6
2005
2005/12
9
2005/11
12
2005/10
11
2005/09
17
2005/08
9
2005/07
3
2005/06
1
2005/05
3
2005/04
9
2005/03
6
2005/02
6
2005/01
7
Total:
93
Avg.:
7.7
2004
2004/12
9
2004/11
14
2004/10
10
2004/09
19
2004/08
9
2004/07
10
2004/06
13
2004/05
8
2004/04
23
2004/03
9
2004/02
17
2004/01
16
Total:
157
Avg.:
13
2003
2003/12
20
2003/11
14
2003/10
20
2003/09
23
2003/08
21
2003/07
22
2003/06
15
2003/05
18
2003/04
8
2003/03
11
2003/02
13
2003/01
19
Total:
204
Avg.:
17
2002
2002/12
12
2002/11
11
2002/10
12
2002/09
16
2002/08
9
2002/07
13
2002/06
8
2002/05
12
2002/04
9
2002/03
6
2002/02
3
2002/01
5
Total:
116
Avg.:
9.6
2001
2001/12
1
2001/11
1
2001/10
4
2001/09
4
Total:
10
Avg.:
2.5
2000
2000/08
1
2000/04
1
Total:
2
Avg.:
1
/
1




Masters Of The PETSCIIverse

Posted by Luca on 2018-03-21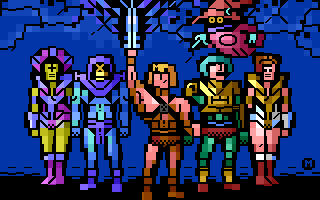 Even a funny online scene episode may become a source of outstanding creations to release, and Mermaid doesn't miss the chance to unleash once again her own art with PETSCII.

In the past months, she did show how an extended palette like the Plus/4 one can improve her skillful usage of the rawest side of 8bit graphics, describing big subjects in the powerful environment of 121 colors. Now this is different, because any individual character of the Grayskull posse has been exalted and described thru his own discrete materials, colors and shapes in some minimal detalis sincerely never seen in previous PETSCII builds. Mermaid never ends to amaze us.

A little G*P+FIRE release for you, graphics by Mermaid, code by Luca, frq converter by TLC. Enjoy!
Read comments

YAPE 1.1.6 now out!

Posted by Gaia on 2018-03-18
This year's first release of YAPE brings you all the usual fixes, some TED improvements and new functionalities including:


added Hungarian KERNAL version to the machine setup
MTAP pulse length correction in the 'Tape head adjust' dialog
option to confirm writing back changes to disk images
couple of TED improvements
regression bug when switching to fullscreen mode from windowed GDI mode fixed

Get it from its usual location.
Read comments

Club Info 149!

Posted by Erich on 2018-03-08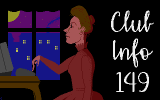 Yo Plus/4 World,

Here is the newest issue of Club Info. New stuff for you:
1. Frohe Ostern! (a Petscii from me)
2. Torte. Mono / Multicolor. Torte / Hardcopy. 1 & 2 / Version. Plus4 (these programs belong together)
3. S.Plus4Int.28A&B (maps for the hardware)
4. S.Athanor Map 1&2 + Clues (solution and maps in page setter size)
5. Muenzwurfspiel (from Rüdiger Baumann)

Have a good time. Greetings: Erich
Be the first to comment!

HVTC Update February 2018

Posted by Luca on 2018-02-26
Mostly due to the last releases, the High Voltage TED Collection, better known as HVTC, has been updated, reaching 608 single files and fixing 3 instances.

Don't forget to completely delete the whole previous collection (that's the way to do at any new update!), then download/unzip the new one!
This is the straight link to the ZIP file.
Be the first to comment!

It's Now Time For "Pets Rescue"!

Posted by Luca on 2018-02-24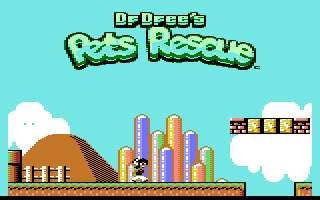 Nine months passed since Mad/BKN started a thread in the forum about the chance to begin converting some famous games to run on Commodore Plus/4. The so called conversion did early become a game from scratch with some recognisable style, precisely: a platform in Giana's style. After these nine months of painful but passionate work, Pets Rescue has finally seen the light!

She's Dr. Andrea Brown, but all the people name her "Afro Dree", as she uses to entertain their puppies by singing and dancing. Her bigger mistake? To choose her co-workers very badly! And now, the whole county has been invaded by ex-pets under evil mutation; so: it's time to set'em all free, Dr. Dree! The Plus/4 All Stars crew invite all of you to enter this big quest lying in one single disk side, along 20 levels splitted in 5 worlds full of mean creatures, brave jumps, moving platforms, coins to collect, secrets to reveal and much much more! You get one password per world once you solved it, so don't loose your hopes even against the higher difficulties, where you must express your best platformer's performances.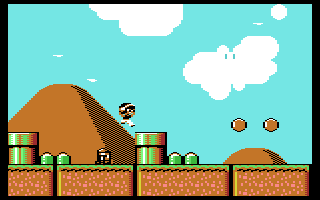 Technically speaking, Mad has allowed the Plus/4 to show exactly the stuff that would have proverbially been deny to it due to the well known specifics of the machine, and the solutions he did find for his code mark another quantum leap in the TED history. Give an experienced graphician and game map's builder to a skilled coder, and the game simply takes off: KiCHY/ASN has designed some very enjoyable game levels with graphic blocks in fancy colours and shapes. It's 5tarbuck at the tracker, composing most of the ingame tunes, together with Luca/FIRE and Degauss/TEK; and the latter two also have also been in charge for all the sprites (Luca) and the music driver (Degauss). Seen that stunning intro picture in overscan MFLI 248 pixels high, and the relative titlescreen's logo? Exactly, it's Carrion! And Nero added his art too. Have you just tried to load the game? Lightspeed, isn't it? Do you still have some technical questions for bubis and BSZ/NST, now that the game loads from both 1541 and 1551 drives?

Pets Rescue has been presented at BCC #12 party held in Berlin, challenging in the Mixed compo. Though the whole game almost fills an entire disk side, and the main part occupies all the memory but 14 (!) bytes left, there will be a commercial release in some months, predictably distributed by Psytronik Software. Rumors say that the commercial release could show some little bonuses here and there, and Carrion himself will draw the box cover...rumors say! ;)

Enough said, we think it's now time to connect your most friendly joystick and stop appreciating the efforts in coding graphics or whatever else; give the real best prize wanted for a game like this, give it your greatest scores. Play Pets Rescue!
Read comments

New Map From Atisoft!

Posted by Csabo on 2018-02-12
Atisoft (who created the Booty Map) is back with another one, this time it's for SQIJ. SQIJ is a C16 game from The Power House, perhaps it's a bit of a stretch to call it a classic. It's from the heyday of commercial C16 games, but it's perhaps a bit obscure. If you've written it off as a mindless shooter at first glance, this map will perhaps convince you to give the game another chance. The game's area is quite large - 64 screens, and you will need some planning ahead if you want to complete it. The map should really help to plan out the route.

Check it out (direct link to the map) and enjoy!
Read comments

Big Cover Update From Lacus!

Posted by Csabo on 2018-02-08

Lacus got his hands on tons of new tapes, which means our archive gets some new additions. A lot of missing gaps were filled; cassette photos added for: A Hős Lovag, Észvesztő Útvesztő, Music-16, Űrtojások. Same for Marsall, plus TAP image as well. For 21-es, the back cover was added.

Even better, we have some brand new stuff added! Here's the list:
* Assembler + Szimulátor: a programming utility with 5 programs.
* Basic Elastic (or BASelastIC): two BASIC utilities
* Flopp: TAP file, covers and cassette photo added
* Keresztcsere Szoliter: a compilation of two never-before-seen games
* Pandográf: TAP file, cover and cassette photo added
* Sejtautomaták: a new Conway's Game of Life program
* Igenévragozás and Lineáris És Abszolútérték Függvény: two new educational program.

Hopefully you'll find something interesting in that list :-) Big thanks to Lacus for these!
Read comments

Club Info 148!

Posted by Csabo on 2018-01-30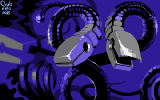 Our sincere apologies, but we're a little late this time: Club Info 148 was released in December, but we could only get our hands on it now. Side A contains the usual German-language articles, while Side B contains new and recent releases. Perhaps worth mentioning is a little co-op release from Erich and Csabo: Erich's PETSCII Collection is a slideshow of Erich's PETSCII art. Hope you guys enjoy it!
Read comments

"Video Basic" Killed The Archive Stall

Posted by Luca on 2018-01-15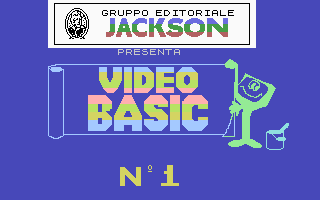 It's Giuseppe Di Lillo (sovox) time again.

We just preserved the whole Video Basic series, archived in one single page where to download the related 20 (!) TAP files; now, any issue has its own regular space, completed with cover scans and tape pictures, and any single issue has been linked to its own 36 pages manual in PDF, big work indeed!
Computer Games E Utilities N.9 Anno 2 got the same treatment: the whole tape in its TAP file, cassette picture, any single program now present in the archive as TAP file too, and the manual in PDF. Last, Il Libro Dei Giochi Per Commodore 16 E Plus/4 has its own TAP, cover and tape picture, and this takes to recover two lost games: Flipper Cinese and Mondo Di Colori.

The cooperation with Giuseppe and his fantastic homepage dedicated to the Italian newsstand's compilations of hacked games is running wild beyond any expectation, thank you once again, bud!
Be the first to comment!

YAPE SDL Updated!

Posted by Csabo on 2018-01-10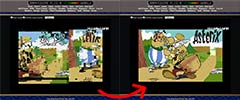 Gaia just updated the YAPE SDL project. This code is also the base of the fantastic JavaScript emulator, and the new version of that is now online here at Plus/4 World! (Look for the [PLAY ONLINE] links on program pages.) The biggest visual difference you will see is the ability to handle more FLI effects. Be sure check it out, big cheers to Gaia!
Read comments

Sweet DFLI C16

Posted by Csabo on 2018-01-08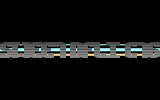 Looks like 2018 is certainly off to a good start, as the good news just keep on coming. A new intro from gerliczer has just arrived; check out Sweet DFLI C16! It should run on any 264 family computer as it only needs 16K memory, and has PAL/NTSC versions. The music is a cover of Chuck Berry's Sweet Little Sixteen. As the name suggests, it has a DFLI effect, which is put to good use: waving rasters, 3D rasters and a twister. Check it out and enjoy!
Read comments
| | | |
| --- | --- | --- |
| | SJL264 Light has just been updated to V0.3 - the loader now works with 16K/32K/64K, as well as NTSC machines. Cheers, BSZ! | [ comment ] |
| | | |
| --- | --- | --- |
| | We stilll have some winter holidays, let's spend them in family playing bingo with the C16: Boray Bingo (eng/swe). | [ comment ] |

2017 - A Year In Review

Posted by Csabo on 2017-12-31
Another year has gone by... Wouldn't it be fun to sum it all up from the Commodore Plus/4's point of view? Yes? Then here we go!

Let's start with emulators: while we are happy that VICE and plus4emu each got an update this year, YAPE is leading the way here. After 6 big updates in 2017, Gaia is still around polishing this gem, adding the little feature requests that the hardcore users keep coming up with. His JavaScript emulator also got updated this year, I have to re-iterate that being able to run Plus/4 stuff right in the browser is pretty sweet stuff.

Our site had one big update, we can now properly handle Hungarian accented chars (őrült jó :-)). Our collection reached 10000 entries. Otherwise we count 78 releases this year, the highest in 10 years. Way to go Plus/4 Scene! Let's see it broken down by categories.

Games: Slipstream from BKN is the big hit of 2017, a 3D space-shooter that pushes the machine's capabilities to the limits. This game saw a commercial release as well. We have several other cool games to enjoy: Skoro dropped Mr. Mind, Megastyle surprised us with Athanor, and under "G" we can file... Genius (and it's sequel), Galli +4 and Gunfright. BASIC games are still a thing too; Castle Matcher saw its final release, Tetravex, Assembloids, Bomb Runner 2, Boray Gammon, Shield Command just to name a few.

Demos: Unfortunately no big releases this year, but we're not left empty handed! Genesis Project released Flickerfish. I was happy to see that TLT is back this year with 2 digi demos. Larry released Dreamtime 2K17, a nice picture show that generated some buzz at this year's Arok party. Otherwise we saw a massive influx of gfx releases, including lots of nice PETSCII stuff as well. MMS was very active this year, having worked on 9 releases. George released many converted pictures as well, plus some MIDI music conversions, his 16 releases make up 20% of this year's total.

...And The Rest: Erich continues to work on Club Info. BSZ+bubis unleashed Bitfire+4, and we also have SJL264 Light. After a long hiatus, we're happy to see that JamesC was active this year with some releases. On that note, let the spotlight shine on Charlemagne for a moment, as I believe he deserves a special mention. As a newly added member this year, having found our site he gave us his old archives, and then continued to develop stuff: two games and a new utility. We're all happy to have see this kind of enthusiasm and productivity. Cheers!

Is there any other important stuff I've forgotten? What was your favourite part of 2017? Discuss on the forums and of course: Happy New Year!
Read comments

HVTC Update December 2017

Posted by Luca on 2017-12-11
The High Voltage TED Collection, better known as HVTC, goes up to 577 single file: new stuff and fixes here and there.

Don't forget to completely delete the whole previous collection (that's the way to do at any new update!), then download/unzip the new one!
This is the straight link to the ZIP file.
Read comments

Genius 2 - Into The Toy Caves

Posted by Luca on 2017-12-10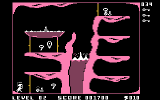 Our friend Daniele Liverani did it again, and comes to us accomplishing his mission: both the chapter of his game have been releases in the same year!

The little European prince is again in trouble and needs to be saved. Trapped in a world of dreams, a parallel dimension where fantasies are created and transmitted to sleeping minds, Genius needs to run through the eight magic toy caves from all around the world. As Genius. you'll have to follow the key sequences and unlock all the secret caverns of the toy caves, grab the toys, and avoid killer enemies. To add fun to the ride, see if you can discover the undocumented secrets. including secret passages, invisible toys, extra bonus lives, immortality, and much more!

Genius 2 takes advantage of the new game engine which improves both sound and graphics from the first Genius. So, Daniele "Twinspirit32" Liverani coded back the older chapter Genius to pack up a Release 04 version using the newer engine.

Find all the secrets, see all the caves, will you be able to save the little Prince in time?
Read comments

Slipstream's Psytronik Release

Posted by Luca on 2017-11-14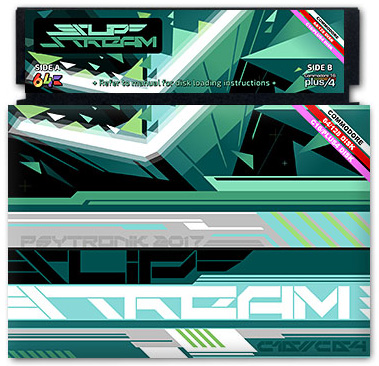 Psytronik Software has finally released the commercial edition of Slipstream, the revolutionary first perspective shoot'em up game previously released by Bauknecht as freeware.

If you buy Slipstream, you get two: the physical 5,25'' diskette includes both C64 and Plus/4 PAL/NTSC compatible versions. The commercial edition contains a completely new extra level.
Psytronik offers three different releases of the game: the Budget disk edition (6,99£) features a 5.25'' floppy disk presented in a full colour glossy disk-sleeve with a glossy disk label and printed instruction card; the Premium+ disk edition (13,99£) is presented with full colour double-sided artwork in a clear plastic disk case; the Collector's edition (39,99£) is presented in a stunning fully printed glossy box that contains the game on floppy disk, soundtrack CD, artwork stickers, a deluxe art card, badges, glossy game artwork poster and more.

Choose your prefer edition at Binary Zone, from date 2017-11-13. Yes, it's the end of 2017 and we can buy Plus/4 software...surprised? ;)
Read comments

The TED Side Of The Compo

Posted by Luca on 2017-10-20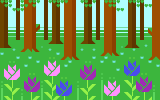 Oh well, at this point it's official: the C64 dedicated Plain PETSCII Graphics Competition 2017 has overflown into the Plus/4 scene becoming an obscure sidecompo, where the C64 entries get enhanced with more colours.

It's Marq's turn, being the author of the powerful PETSCII he cannot miss the challenge in any case: here comes the sweet and delicate Flickery Flowers Of Spring, and the funny animated scene in Cosmic Bakery, both under the Fit label. Later, he also added Calaveritas. Our friend Almighty God won't miss the chance too, converting Octopus to the Plus/4 palette.

Three days left, shall we see more in the full 121 colors before deadline?
Read comments

Athanor: the awakening

Posted by Luca on 2017-10-19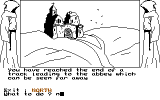 In the exact day after 20 months since the sad demise of Umberto Eco, author of "The Name of the Rose", Megastyle lands on the Plus/4 with a classic text'n'graphics adventure which seems to be heavily inspired by the work of the famous Italian novelist, philosopher, semiotician and critic.

"Athanor: the awakening" has been previousy released on C64, VIC20, Amstrad CPC and Oric 1, commercially and/or as freeware, under the Safar Games label, to make the tradition of the French text adventures from the 80ies shines again. You, a Franciscan monk, have been sent by your Holy order to a mysterious abbey located in the south of Italy in the 12th Century, to lead an inquiry in order to discover the mysteries lying within.
Majikeyric presents himself to the Plus/4 audience with a first release of deep quality, supplying original sketches and cover with a top presented disk where nothing has been kept left: intro, titlepic, docs, English/French language option and all the classy touches a great production would have deserved. The game is accompanied by the original TED tunes composed by Rotteroy, shows some additional graphics by Sparkler, and takes advantage from the work of several artists and authors operating behind the shadows line on illustrations, original graphics, concept and all the rest.

"The awakening" represents just the very first chapter of the saga, with more to come. The hope is to see more surprising releases from Megastyle for the Commodore Plus/4, taking into the scene further jewels like this. But now, there's no time to greet Majikeyric, that abbey awaits for your intervention!
Read comments

Freezing At The Pole

Posted by Luca on 2017-10-18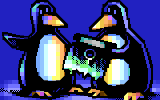 Mermaid's back on the crime scene, and this time is a penguins affair for Genesis Project


The Plain PETSCII Graphics Competition 2017 is showing the hardest ones to compete for the 1st place, we will know more after the 23 October. Till then, you know what PETSCII can do for you ;)
Read comments

Rocking In The Swamp

Posted by Luca on 2017-10-17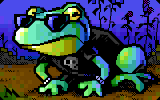 We at Plus/4 World are absolutely out of words for this one, it turned all of us into stone. More precise: into rocks.

We are only able to write down some sparse keywords: Metal Frog, Mermaid, Genesis Project, PETSCII, Plain PETSCII Graphics Competition 2017.
Read comments

Refill Of Missing Stuff

Posted by Luca on 2017-10-15
A shower of new content during the last dozen of days. We're talking about new PRGs, TAPs, covers, manuals, cassette pictures, notes and so on!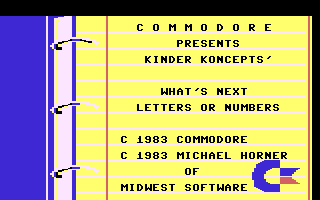 Rüdiger has ignited a global change for the Solar Software releases, revealing a clear storyline about all the different tapes per release, both in the original edition and as rerelease into the Triple Decker series. Now all the related pages are supplied with notes, all the known files are included if available and all the PRGs have been cleaned and better classified: Alien Attack, Cruncher (do you have the turbo TAP version?), Knock Out, Mission Mars, Quick Draw, Suicide Run, Galaxions, Meteorite, Monkey Magic, Space Freeks, Winnie Witch's Superbroom (Solar Software release anyone?), Robin To The Rescue (is it broken in all the Triple Decker 5 copies, can you confirm?). And of course: Triple Decker 1, Triple Decker 5, Triple Decker 6.
In addition, other juicy uploads are: Joe And The Seriff joystick version on tape (probably a later version), Invaders (Arcadia) tape (rarity!), Tutti Frutti tape no turbo version, Rockman C16 only no turbo version, Savage Island Part One C16 tape.

Just bought from the online auctions, dumped, scanned, uploaded...briefly: put here for your pleasure. Experiences In Software Italian version, with manual, tapes, pictures and scans; Mindbenders Italian version's scanned manual; What's Next/Letters And Numbers, complete service for it too; Computer Set 12 to get closer to having the whole series; Devils / La Torre Di Hanoi, anything of it too; Software Club #16 tape; Grisbi, a rare Italian hack of UXB sold as a single release; several tape pictures (like Baby Berks), covers (like Monkey Magic (Playsoft)), obscure publications (like Corso Di Basic Con Esercitazioni Pratiche Sul C16).
Be the first to comment!

Let Us Make Your Dreams Come True Together

Posted by Luca on 2017-10-14
Nope, Plus/4World is not gathering people to start some sort of Ponzi scheme. "Let Us Make Your Dreams Come True Together" (LUMYDCTT) is actually the name of this new IDE and compiler for Commodore Plus/4 released by Charlemagne.

LUMYDCTT allows the user to add and modify both BASIC and Assembly code in RAD method in order to achieve the full control of the machine while it's performing the program. It has just reached its V1.8.0 version, now featuring:
- use of PETSCII characters;
- handle more sources side by side;
- highlight keywords;
- tooltip help for instructions, TED registers;
- Monitor & Disassembler;
- insert special CBM characters;
- use of illegal assembly instructions;
- handle binary, decimal and hexadecimal numbers;
- include logical operations (&&, <<, etc.);
- print (about 52 chars per line);
- execute on emulator.

Also, see the presentation video to unveil how LUMYDCTT works.
Read comments

Castle Matcher Released!

Posted by Csabo on 2017-09-23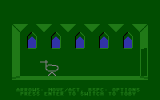 Castle Matcher is finally done! For those of you who played the Release Candidate, this version has improved gameplay and more clues. Never heard of this game before? Well then :-) Take a trip into the wonderfully twisted imagination of RoePipi. Without giving away all the ingredients, here's the recipe: take a dodo bird stuck in a castle, add a screwdriver-kicking rooster, mix in some high-tech locked doors and bake to perfection :-)
Read comments
| | | |
| --- | --- | --- |
| | Erich/ULTD has just released Club Info 147. The two-sided German-language diskmag has the usual selection of articles + utils/games/demos on Side B. Check it out! | [ comments ] |

Stuff From BSZ

Posted by Csabo on 2017-09-13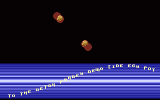 A little while ago I was looking at Sensor's Digital Box and noticed that it had a list of releases. I added that list, but a few of them were missing. I thought it might be worth it to ask some NST members if they remember any of them. To my surprise, BSZ stepped up and sent me some of the missing stuff!

First off, JKL Assembler and Copy 217 Faster has been found. (There's still 3 releases listed on SDB missing, check to see if you have them or if you know anything about them.)

Even better, BSZ has some new stuff: Eyes Only is a rare demo from Mercenary. Detox Party is another curiosity: we need to figure out what we have here, but it's definitely worth a look. And finally, BSZ offers up an explanation as to the origins of Logo Paint/BSZ - which was mixed up with the original release in our database until now. Check it out and enjoy!
Read comments
| | | |
| --- | --- | --- |
| | Early steps of a comeback. Dale releases two useful Windows based tools: Retro Assembler, a generic 6502 cross-assembler; and SID To Plus4, which converts SID files to SIDcard ($D400 --> $FD40 / $FE80). Classic releases ahead! | [ comment ] |

New Stuff From Lacus!

Posted by Csabo on 2017-08-15


Lacus collected a lot of Hungarian commercial tapes, and took the time to put it all into digital formats for our archive. Here's the list: we have the TAP file for 4+4 Sarok, TAP file and cassette photo for Alex (The Game), cassette photo for Amoba (Novotrade), TAP file for Betűrömi, everything (TAP, cover scans, cassette photo) for Bűvös Kör, TAP file and another alternative cover scan for Joe And The Seriff.

Finally, there's one brand new piece of software that have just been added: check out Reklámujság. It's a Plus/4 only utility, kind of a text editor and presentation software. One interesting thing though - for those of you who are familiar with the old Plus/4 cracks, the beginning of this software should be instantly recognizable: Frontier (AKA Deli) used this scroller in several of his cracks. (Never seen it? Check out Botticelli - Frontier crack.) So did he take it from here? Or perhaps did the author of this software "borrow" this routine from Frontier? :-)

Anyway, I hope you guys check this out and enjoy - big thanks for Lacus for all this stuff!
Read comments
| | | |
| --- | --- | --- |
| | Accents galore: Plus/4 World can finally handle the Hungarian long "ő" in program names (example). See forum for more details. | [ comments ] |

Soccer Boss As It Should Be!

Posted by Csabo on 2017-07-31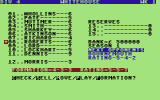 Forum member JimmyCoupe raised some issues about Soccer Boss; apparently the scene-made 64K conversion has many problems. Kichy and JamesC stepped up, and we now have Soccer Boss Plus/4 V1.2! This is a fresh conversion of the same game, but this time bug-free and loaded with improvements and bonus features. It's fantastic to see this type of scene response, be sure to check it out!
Read comments

Tetravex!

Posted by Csabo on 2017-07-27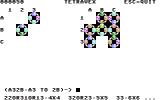 Charlemagne has just released Tetravex, an implementation of the classic edge-matching puzzle game. The objective of the game is to place the tiles in order, so that their edges line up, in the shortest time possible. Check it out and enjoy!
Be the first to comment!

Run To The Bomb...Again!

Posted by Luca on 2017-07-22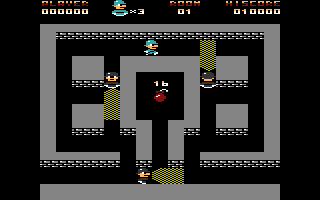 Just like cinema, summer is a season of games' sequels: following up Bombrunner, RKSoft releases Bomb Runner 2!

As an official sequel, Bomb Runner 2 improves Mark Quante's original in all its aspects. The game ensures 12 screens of increasing challenge full of enemy guards to avoid, one Zelda style's big boss to defeat, extensive options about difficulty level and controls, interlude scenes. All moves into a deep BASIC 3.5 galore supplied with the pretty cute MC graphics RKSoft signed we all well know.

Bomb Runner 2 can be downloaded here, or from the official page at RKSoft.info. Do your best!
Read comments

Winter "Hiss!" Coming

Posted by Luca on 2017-07-17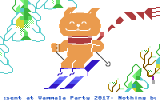 Hot sweaty summer there, Boreal half people? Melancholy remembering the snow? Need some more *purrr*?

No worries at all: Fit is coming to you with the right release for you: Nothing But PET SKI is nothing but...err...well, PETSCII of a kitty pet, indeed. Oh, and ski, ski of course! Another lovely PETSCII animation demo coded by Marq with SID music by Yzi and graphics by Dr. TerrorZ. The Plus/4 pushes colors to the max, improving the C64 twin released, which has been presented at Vammala Party 23 where it's been ranked 3rd in the Mixed Demo competition.

Thank you Finnish pals, anybody hope to see more from you.
Read comments
| | | |
| --- | --- | --- |
| | Some most wanted TAP's from Rüdiger too today: Chipy, Crillion, Die Seefahrt, Karting Grand Prix, Two To One, Turf-Form, Split Personalities, the Audiogenic release of 3D Glooper, Byte Back rerelease of Timeslip, alternative versions of Galaxy, Mr. Puniverse and Footballer Of The Year, a little faulty version of CSJ Games 1 and a working TAP for Taskforce. | [ comment ] |

Charlemagne's Stuff!

Posted by Csabo on 2017-06-18

Newly registered member Charlemagne sent us a lot of stuff. More than 40 of his old programs are now online. You may also wish to check out TV4B, an interesting Plus/4 emulator. Finally, we have some cover scans: a proper cover scan for Circus, the instructions sheet for Icicle Works (original bundle release), and perhaps most interesting: Manómánia. Quite how this game - which was built on obviously stolen code - got sold commercially is a mystery, but nevertheless the artwork is now in our database (as well as the original PRG file). Big thanks for these, enjoy!
Be the first to comment!
| | | |
| --- | --- | --- |
| | The second and last run of the sovox's big bunch of Italian newsstands compilation has landed: scans and pubs in general, and TAPs of Byte Games 2 7 15 17 18 20 21 22 25 26 27 (fix) 28 29 33 34. | [ comment ] |

YAPE 1.1.3

Posted by Luca on 2017-06-05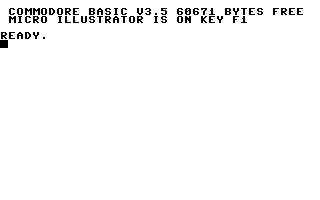 Another step forward for the most friendly 264 emulator around, now emulating the rare Commodore 264 early prototype featuring Micro Illustrator as a ROM package to be included in the final release.

Commodore 264 prototype added (courtesy of Rob Clarke)
unlimited frame rate option added
keyboard driver regression fixes and improvements
TED regressions fixed
create empty D64 image bug in x64 build fixed
Time to browse up the download page and download it!
Read comments

Trackloader For The Masses Not The Classes!

Posted by Luca on 2017-05-05
Do you wanna put up your stunning trackmo but you're tired and sick to fight against weird coding environments discouraging your efforts like hell? Now you can trackload your stuff in style and 1541 compatibility (1551 in a near future?)!

Bubis/RSC and BSZ/NST have just ported on Plus/4 one of the most famous C64 packages to manage your trackloadable releases: Bitfire+4 is a fixed interleave loadersystem with depacker, a basic framework and an image writing tool, all in one! It comes with these main features:
- resident part: $0200-$03FF;
- zeropage: $04-$09;
- 2bit ATN double clock receiver;
- load raw, load+decomp, decomp routines;
- Basic IRQ handler for music, frame counter, partial SID detection;
- Win32 and Plus/4 binaries, ACME cross-assembler, include files and macros;
- simple code example and Win32 build script.

It's easy to use for anyone, it mixes trackloading for executables and levelpacked code with generic files and BAM editing by protecting the used sectors; it also marks up to 16 different disksides to be recognized when needed, it really does what you need. Download it here to give it a well deserved try.

Read comments

Gunfright Goes V1.10

Posted by Luca on 2017-05-01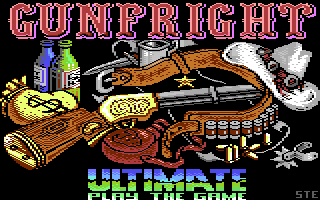 Less than one month passed, and the converting duo Rob and emu has released a tweaked version of the ZX Spectrum isometric classic Gunfright, with an enhanced intro picture redrawn by STE'86, well known graphics pioneer in the C64 history.
Don't miss to download Gunfright V1.10, in single SID and TED versions again or both into a D64 image. New source also included.
Read comments

Mr. Mind!

Posted by Chronos on 2017-04-29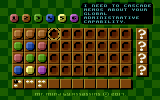 April ends well, or should we say that May is off to a good start? Little assassins climbed in through Chronos's chimney stack in the night and left behind a floppy disk in a bulky envelope.

While scanning through the contents of the disc, the assassins' intention became clear: They want to tied us down in front of our good old Commodore for hours once again.

The game is called Mr. Mind, it uses the rules and of the classic mastermind game turned into a bit of an arcade in a very entertaining way. Virtually an infinite amount of time can be spent with it, be careful, it's very addictive!

The program does not require any hardware expansion.

Available on compact disk or cassette in a store near you! Have fun!
Read comments

HVTC Update April 2017

Posted by Luca on 2017-04-19
The High Voltage TED Collection, better known as HVTC, reaches 544 single files, and recover the two missing tunes composed by Degauss for Crackers' Demo 5!

27 brand new files added and some few ones fixed/moved/renamed (and the heaven knows how much Treasure Island really needs a fix to better choose between the tunes!); some complete services like Genius (including the super hidden level 81 tune!) and Slipstream, some brand new exclusives like 5tarbuck's Woodymania, some oldie-goldies we'd incredibly missed like Hektik's jingles. Add-ups and linking to the archive will be completed in a very short time.

Don't forget to completely delete the whole previous collection (that's the way to do at any new update!), then download/unzip the new one!
This is the straight link to the ZIP file.
Be the first to comment!

YAPE 1.1.2 Is Here...

Posted by Gaia on 2017-04-14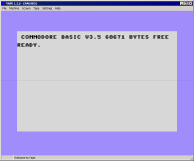 ... with the usual bunch of bugfixes and improvements:

CPU and TED timing improvements
some more monitor improvements
regression bug related to cancelling the autostart dialog fixed
AltGr got stuck in Message Queue based input mode
failing OpenGL mode crash fixed
speech quality regression fix
Head on over to the download page for your copy!
Read comments

Gunfright!

Posted by Csabo on 2017-04-02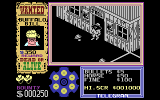 Rod and Emu writes: "Gunfright is now available for the Plus4. Mariuszw has done another excellent Z80 to 6502 conversion for the Atari 800 which this is based on. Both TED sound & SID Card sound versions are available. We hope you enjoy the conversion!"
Read comments

10000!

Posted by Csabo on 2017-03-30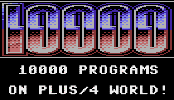 Ten thousand programs on Plus/4 World! What a milestone!

The last time we had an announcement like this was back in 2004, reporting 5000. That was a little over 12 years and 4512 days ago, so on average, we've added about one program per day since. What is the 10000th program you may ask? Well, it's a GTW: Lemmings - that ID has been reserved for it a long time ago. To rain on our own parade a little: the way we count things is a bit strange: we have 6 different cracks of ACE 2 lumped together as one "program", but we list Kichy's conversion of Storm +4 which has 3 versions as 3 separate entities. Well, it is what it is, not perfect, but it's still nice to step back, look at this nice round number and feel a little proud of ourselves.

With that, I would like to send a huge THANK YOU to everyone who worked on the site, sent in programs, cover scans, TAP files, information, or used our forum to keep the site alive!
Read comments

14 New Programs From Sanya

Posted by Csabo on 2017-03-23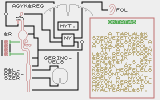 Sanya sent us a pack of Hungarian educational programs. Some of them are commercial releases, let the hunt for the covers begin!

Here's the full list: A Légzőműködés Szabályozása, Az Emésztés Szabályozása, Elemek Képlete, Fokhálózat, Ismerkedés A Periodusos Rendszerrel, Kémiai Lexikon, Lencsék Képalkotása, Magyarország Kőzetei, Magyarország Megyéi És Megyeszékhelyei, Magyarország Megyeszékhelyei, Mozgási Energia (Tábl. 2), Oldatok, Politika Memo, Vaktérkép.
Read comments

New Bunch Of Stuff Added

Posted by Luca on 2017-03-23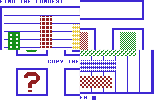 Another auction has been won on eBay, another bunch of missing software comes to fix our software database.

Today we saved both Italian's originals/cracks and early beginnings software from CBM U.S., and we added in some missing pictures like covers and cassettes. First of all Letter Sequences/Long And Short and Maze Mania with their respective manuals and accessory stuff, and Mindbenders (Italian version, and we just had the relative manual for this). Savage Collection N.2 and Al Ladro / Briscola compilations from the rare Savage Software's production, Jackson Soft Compilation 3 also comes to complete the whole series (although a better TAP would be fine in the near future), and Software Club #15 enters as another piece of the jigsaw regarding this series to better define its dualism between Italian and German versions. Star Fighter is another Playvision's resold crack, just as Star Wars (Golden Software) would have been too, being probably the very first release from Golden Software, but the tape has been found quite gone forever due the bad preservation state, and it remains a MIA... Plus, additional cassette pictures for C16 Super Games 1, C16 Super Games 2, Olimpia 1 / Evadere, Math Games And Word Problems.
Thanks to these entries, several mistakes have been fixed: now we own the official release of Android Nim, and we have a better idea about the different versions of Assedio. Unfortunately, the archive still misses a disk image for Letter Sequences/Long And Short, which may rise as soon as possible in our hopes.

EDIT: a last minute acquisition is Trivia, a quite rare Italian software indeed.
Read comments

Venice Carneval!

Posted by Csabo on 2017-03-21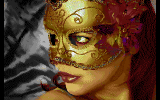 MMS has just released a new picture show for the Plus/4. It features 12 HFLI images, all about the Venice Carneval. Check it out and read the author's notes!
Read comments

75Up From Knucklehead Collection

Posted by Luca on 2017-03-11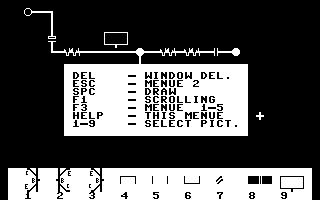 We've just had an initial taste of the programs which could be found into the Knucklehead's D64s collection, and once seen that, Knucklehead himself has decided to donate the whole bunch of 91 diskimages.

Although the Knucklehead's collection is mostly composed by personal data files, classic utilities we already have and commercial games, we got success by individuating further 75 (!) programs tickling our sure interest. They appear to mostly be rare German game cracks we didn't have and German utilities. Actually, it looks to be both difficult and useless to link any of these 75 addons into the database (a facility about tracking'em could be the New Stuff page), so here come some notable ones to cite: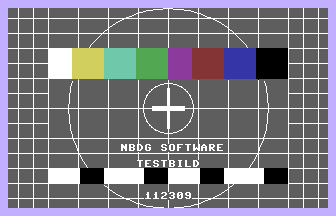 a working copy of the very rare Ikari Warriors crack by Alvosoft; the long awaited Elomaker, a CAD editor to draw circuit boards; the real Koenig Arthus ('coz we only got "Koenig Artus", with no 'h') and the real Disk-Eddi (without final 'e'); the rare version of Hamurabi with titles and music; tape version of The Jet 2.0 with perfect depacking that doesn't affect the intro picture; several programs, cracks and prg-lists made by J.A.N. in the pre-MCB era, when he was generally know as "NDBD(G)-Soft" et similia; Indoor Sports cracked by the author of Page-Setter, and Page-Setter itself cracked by KST, whoever he was; Designer-Set, a complete suite of 4 different graphic tools; an alternative conversion of the classic VIC20 type-in Dangerous Pyramid (SPWS); despite its simplicity, Druckertool prints your hires with style; both Print and "Print-Shop"; new versions for Wurmi, several cracks from obscure crackers...and the rest is up to you!

Thank you Knucklehead, our archive has done a big leap once we crossed into your collection ;)
Be the first to comment!

Club Info 145 Released!

Posted by Csabo on 2017-03-10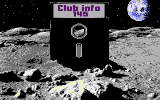 The first issue of Club Info in 2017 is here. Erich/Ultd just released the two-sided diskmag, featuring German language articles, and a B-side full of recent or new demos/games/utilities. There are descriptions and documentation for most of the games on the B-side, including 1010!, Matatu GDF and many others. Check it out!
Read comments

Slipstream!

Posted by Csabo on 2017-02-27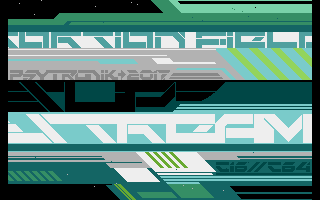 If you haven't seen it yet, check out the new game from Bauknecht: Slipstream!

Coded by Mad, with the touches of Nero for the graphics and the music department covered by 5tarbuck and Degauss, it's a fast-paced 3D space shooter, it will take you to the stars along five different galaxies to clean from the enemy forces. Play it in the classic way with your joystick, or play it in teamwork with two joysticks: one for a pilot, one for a sniper. Presented at the German party BCC #11, it won first place...in two different categories! That's because the game was simultaneously released on C64 as well.

The game has been announced as Psytronik release as well, coming soon here, both in Premium and Budget formats, in a special double-take production including the game for both the formats!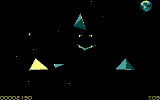 Read comments
| | | |
| --- | --- | --- |
| | The freshly released 1.2.10.1 version of plus4emu fixes the preview bug in p4fliconv utility. | [ comment ] |
| | | |
| --- | --- | --- |
| | Straight from Forum64.de, the user Knucklehead has given to us some lost cracks for ACE, ACE+4, Ace 2, Indoor Sports, Aliens, Emerald Mine II, and Novaload-Copy, Novaload-Turbo, Tape Wizard, Ace 64K & 16K, Escape's Loader; we added some other stuff: About Acez, File-id.diz, Microfuck!. | [ comment ] |

New Releases From TLT!

Posted by Csabo on 2017-01-24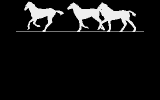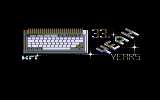 Last year saw no TLT releases, but they are not yet gone as Hifi/TLT just released some new digi demos for 2017! The first one, White Horses features the running horse animation from Horse 2, and you can hear the deep remix of White Horse. The second demo, Joo Trabika samples and remixes the chorus of a Hobo Blues Band song.

All this stuff is made without the use of any emulators, uses traditional packers - as old-school as it gets. As a bonus, you can see the packaging of the stuff as it was sent to Chronos, our number #1 zero-day supplier :-)
Be the first to comment!
| | | |
| --- | --- | --- |
| | If you haven't played the already available version of Genius yet - now there's no excuse: the author says the latest release is the official one. | [ comments ] |

Two Lost Demos From TPSH

Posted by Csabo on 2017-01-21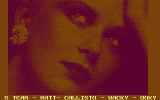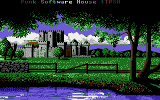 New Proggys!! was recently added, and I've combed through the program list (now also online) to see what our database has and what it doesn't. In the missing list, I saw 3 programs from TPSH, so I emailed him to ask if he remembered any of those. Imagine my surprise when he sent back two :-)

So here's a mini review of them: Face Of A Woman may look familiar, the titular picture shows up in Advertisment, First Demo (TNS) and even One Sided. The origins of this picture are currently unknown, if anyone knows, drop a line to us on the forum! The second demo, No Future - not to be confused with CSM's demo with the same name - has 3 parts, the middle part being "build-it-up" style. Pretty typical for the Plus/4 scene for 1990 :-)

Best of all, TPSH said there's more to come :-) Check them out and enjoy!
Read comments

7 More Unhearted Programs To Write History

Posted by Luca on 2017-01-19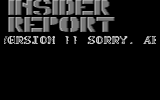 It never ends. Doesn't matter how many times you've checked for unreleased stuff hidden in the same old disks: new programs continue to jump in from nowhere.

Today we have the chance to write another little slice of history, adding up Spread It! into our database, an information demo which had been repeatedly released into the famous German disks of imported stuff called "CBT-news". It's actually a call for news, texts and generally materials to publish in a forthcoming 3rd issue of Insider Report diskmag, now under the Manowar label with graphics by Axxis and text by CBT and Ikari, into a core code by Degauss. Of course, nothing really existed consequently to this effort, but Degauss has found the prototype candidate of the mag's code lost into an old disk own by him: Insider Report 3 Preview! And full circle comes!

End of the story for TYG Demo too. The disk usually spreaded to almost everyone has ever shown big flaws, but nowadays we know that two versions were actually spreaded in those times, and the latter was a perfectly working one. And now the latter is the only one to show ;) On the other hand, we have no further news about Sound-Former by Apos/Charon, which basically is a screens gallery for what we currently know. No silence for Amiga-Samplez instead, 'coz its 2 disk sides of digitized instruments play loud via keyboard! To close the sound tools argument, Player 8bit is one of the most consumpting (and less used in practice) known overall. Last comes a +3 trainer for Zolyx which has never been included into the database, due to its similar name with Zolyx +++.
Be the first to comment!

9 From Our Ancient Times

Posted by Luca on 2017-01-18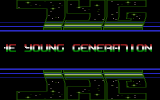 Our old 5,25'' disks still hide some secret gems we've missed to reveal to the world, and a second scan must be done before archiving'em forever.
This time, 9 unseen programs have been saved forever. 7 Gfx and Elvira Wanted from the Demos/Picture Show side, ABC Turbo and another alternative version of Nova Copy System as speedcopiers on tape, New Proggys!! as catalog text from Tarzan which becomes another tile to insert into the Terrorists'' release mosaic; Rastr-Barz and Raster Intro (TYG), two copperbars movers from very opposite eras, the MOS'' Scroll-Generator editor and a never seen before Italian version of a beloved game: Rebound (Italian).
Be the first to comment!

Massive Cover Update

Posted by Csabo on 2017-01-16




Lacus
sent us a big pack of covers, photos and TAP files. This probably took a long time to archive, and certainly was a big effort to process, upload and add to the database. Let's see then!
First off we have added
everything
(full cover scans, cassette photos and TAP files) for four Hungarian educational titles:
A Helyhatározó
,
A Kérdő Névmás És A Mutató Névmás
,
A Határozói Igenév
and
Tulajdonnevek
. The last two are completely new in the database: we didn't know these existed. They are pretty neat, it might be fun to even if you don't speak Hungarian, as each one has a fun way of entering text that is unique. Those of us who do speak it - it's a trip back to elementary school, or something to test your kids with :-)


On to

games

: we now also have all the stuff for

Pattinka

and

Szemirámisz

, as well as an alternative cover and cassette photo for

Breki

and

Tányértorony

. Next is the cover for

A Nyuszi Olvasni Tanít 5

. Unfortunately the cassette Lacus got no longer had the original program on it, but at least we have the cover. Judging from the back side, most likely all 6 parts had the exact same cover, with only the title replaced. Additionally, we have a new crack for all 6 parts, these include the title screen in each case.


The bonus round includes: cassette photos for Kis Professzor (also TAP file!), Music-16, Térbeli Amőba; some new programs (Bolyongás A Labirintusban, Játék POKE-ok C-16-ra, Magician's Curse 5 Hungarian.

Finally, Acrid also noticed one thing missing: the Blue Ribbon release of Cave Fighter. He sent it in, and we now have full size cover scans for it, cassette photo, and two TAP files. This is the version that contains a turbo loader. Check it out and enjoy, big thanks for these to Lacus and Acrid!
Read comments

7 More Programs From Sanya!

Posted by Csabo on 2017-01-09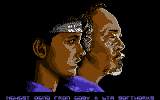 Continuing from last week, today we have 7 more programs from Sanya. Kockarutin, Az Alföld and Walesi Bárdok are smaller demos. Piramis Adventour is a Hungarian adventure. New-ROM Info is from Tiger, made with his own text-writer utility, describing his own hardware creation. The last two are pretty interesting: The Santa-Claus is a Christmas greeting from Fool and finally the Real PP Demo is a curious one: a collaboration by Coby and LTA. Check it out if you love demos!

A few more house keeping notes: Luca found Practising Games on a D64, a collection of cheats, this is now properly in our database. Also, we've created a new category called "Demo/Information", for demos that are mostly made for giving out information or documentation (previously called "Misc/Documentation").
Read comments

VDC Challenge!

Posted by Csabo on 2017-01-06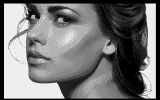 The first release of the new year comes from MMS: he's here with his new picture show called VDC Challenge. Some of you may remember this topic from the forum, or this preview picture, and this demo is now real! It's up to you to test the pictures and compare them to the C128 slideshow, then decide: who does it better? :-)
Read comments

7 Programs From Sanya

Posted by Csabo on 2017-01-05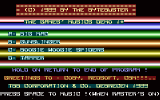 I'm always happy to see new demos for the Plus/4, and I feel the same whenever I discover an old, but previously unseen demo as well. So, if you're like me, you'll be happy to know that we have added 7 new programs from Sanya's archives: two Hungarian games (1 Szó Mint 100, Vegyjel-Kitalálósdi), a tape copy (Szalagmásoló), and some demos: COV29-30 Info, Fantastic Demo, Graphic Demo, The Games' Musics Demo 1+. Go on a retro-demo trip and check them out!
Be the first to comment!

New Year New YAPE!

Posted by Luca on 2017-01-03
It's time for an evolution: YAPE goes 1.1.0! Don't miss the brand new video features which will make your prefer 264 machines emulator shine on your monitors!

A brief list of what you'll get follows:
- added an OpenGL video mode;
- external fragment shader support in OpenGL mode (see included sample 'crt.glsl');
- adjustable font size in the monitor;
- line breaks in the monitor;
- set any sound sampling rate between 8000 and 192000 Hz;
- optionally audible tape signal;
- added $FF as powerup pattern;
- cleaned the ACIA 6551 emulation from non-functioning legacy code;
- minor fine tuning in the measured palette hues and lumas;
- breakpoint purge deadlock fix;
- more monitor cleanup.
Check out the new OpenGL mode with CRT emulation turned on - recommended mainly with at least 3× magnification. In case the external fragment shader source file is removed from the executable folder, YAPE falls back to a built-in, simpler fragment shader. Support for external fragment (aka pixel) shaders is still somewhat experimental, but feel free to play around with the attached sample.

Download it from the usual place.
Read comments

2016 - The Year in Review

Posted by Csabo on 2016-12-31
Wow, the last one of these was 10 years ago. And, since no-one has asked for them ever since, here it is: 2016 - The Year in Review, from the Plus/4's point of view. Here we are in the truly fortunate position to examine last year in 8 bits: no deaths, no voting upsets (unless you count CD5 :-)), only happy news. Let's see then!

Emulators
Well, we pretty much only have YAPE left, and it saw 3 updates this year (1.0.9, 1.0.10, 1.0.11). Additionally, the JS version of YAPE came online on April 1st (along with some April Fools jokes): this is a really cool feature. Now, if you like, you can send a link to that friend who would not be able to install an emulator, and they can see your favourite game or demo right in their browser. Here's to hoping this feature will get better and faster in the future. December brought us another surprise: Plus4Emu also got updated. Fingers crossed that this trend continues.

Utilities
We had some updates and some new utils this year, among them are WinMTAP 1.0, Plus4HTML, Pixel Polizei, MultiPaint, Regenerator. There are still many gaps to be filled in terms of utils, so let's hope next year we will have even more.

The Collection
Our ever-growing collection... grew some more :-) One nice addition was the original TAP for Botticelli. Big thanks to Acrid, Lacus, Perfect Darky, Sanya and everyone else I may have forgotten for sending in the scans, TAP images, and previously missing programs. I guess this would be the section to mention site updates: although our little home looks mostly like its old self, there have been some small improvements here and there.

Demos
Unfortunately we don't have much here this year. The list of demos is dominated by pictures from George and carrion. The big thing was Crackers' Demo 5. It came together nicely and it's something to be proud of. 20 parts contributed, but the main thing to note is how much buzz and excitement it generated, both in our scene, and outside of it.

Games
Finally, let's take a look at the games. Hugohunt started the year off. Next, MOS2 aka The Lands Of Zador dropped. It's a massive achievement, but IMHO it did not receive the welcome from our scene as it deserves. Pac-Pac from Skoro was a huge hit, however. There was a huge resurgence of BASIC games this year, some of them are: Blasto, Randtown Builder, Randtown Crusher, Frutty Man +4, Hitball, Brickhunter, Bombrunner, Castle Matcher. This is definitely a good trend, let's hope it continues!

That's it in a nutshell. What (Plus/4 related things!) did you like or dislike about 2016 ? Discuss on the forums! Happy New Year to everyone!
Read comments

HVTC Updated

Posted by Luca on 2016-12-30
HVTC has been updated and linked, trash the old one and unpack the new version on your device. BKN and TEK tunes from Crackers' Demo 5 are still MIA, they'll be included in the next update.
Read comments

Xmas Gift From Uganda: Matatu

Posted by Luca on 2016-12-28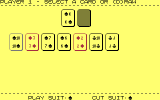 The race to get the medal for the very last release in 2016 continues! RKSoft has ported on the Plus/4 the african born card game he's just released some days ago on C64, together with other ppl at Hokuto Force. That's the kind of gifts we really like to receive, but...may we expect a very last 2016 release after this? Meanwhile, we can wait for the verdict playing against the Plus/4 or a human opponent, with Matatu, of course!
Read comments
| | | |
| --- | --- | --- |
| | The tradition in our house is to open present on Christmas day morning, so here's a small gift from Csabo to everyone to go under your virtual Plus/4 trees! | [ comments ] |

Plus4Emu Updated!

Posted by Csabo on 2016-12-21
After 8 years, Plus4Emu by IstvanV has been updated! The list of things changed can be found here. Update your copy today!
Read comments

Castle Matcher 5-Level WIP Demo Released!

Posted by Csabo on 2016-12-13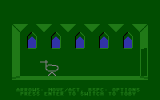 RoePipi just released a preview of his new game called Castle Matcher. Featuring his usual brand of humor, your task is to guide Vivor (a dodo bird) through a castle, and find the exit eksit. Toby the rooster, who is outside the castle, will also be an integral part of solving the puzzles. The final version will have 20 levels, so it's up to you if you want to play it now, or wait for the final version (which might take around half a year). Enjoy!
Read comments

New stuff from Acrid and Sanya!

Posted by Csabo on 2016-12-07
Acrid took the time to nicely scan some missing stuff for us. Check out the covers section of Maniax, we now have the disk cover and the disk inlay, as well as an image of the diskette itself.

Sanya also sent us a small package of curios. Adatfile-Kezelo Program (tape version), Csipogos Keyboard, Double-Screen (Hungarian version), Extended Screen Intro, Hardware (alternative version) and Magyarositott BASIC. This latter one is kind of fun: it changes all the BASIC tokens to Hungarian words. Just try to program like that :-)

Further added materials are: a charset fixed Trivial Pursuit version and a working file for Disk Manager V4.0, a cracked version of The Sorcerer Of Claymorgue Castle +4, two better disks (official and alternative) for Rug Rider (in the past, we've got the cracked version, which is quite common to find anywhere as a valid copy), and a bunch of different releases regarding Fantastic Four plus a fully working patched G64 disk.

Thanks for these guys! If you have new stuff for our site, be sure to send it in!
Be the first to comment!

1010!

Posted by Csabo on 2016-12-01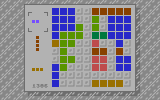 As hinted on the forum, Csabo's new game is here! 1010! (ten-ten) is a simple "coffee-break" puzzle. It uses PETSCII graphics and can be considered a spiritual sibling of 2048 and FloodIt. Check it out and don't forget to submit your high score :-)
Read comments

Club Info 144 Released!

Posted by Csabo on 2016-11-30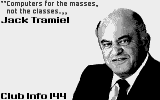 Erich/Ultd is here with the 4th and last issue of Club Info of the year. Side A of the disk is full of German-language articles, reviewing games, demos and utilities, and program tips, etc. Side B has recent and new releases, including a few BASIC match utilities. Check it out and enjoy!
Be the first to comment!
| | | |
| --- | --- | --- |
| | A rare TAP has been sent in by Perfect Darky for Quiwi! It's one of the largest TAPs, we're glad to have it in the collection. Be sure to check it out. | [ comment ] |
| | | |
| --- | --- | --- |
| | Another bunch of programs from Sanya's archives: 7501 Einzelschritt-Emu., BASIC ellenőr, Bitmonitor, Floppy Master, Gépi Átíró, Datamaker, Memory Peeker, Picture Cracker, Puzzle, Save Directory, Síelő (Head crack), Szintetizátor, Vicc Válogatás, Wordpro Intro, Zongora 1.2. | [ comment ] |

Cover Update!

Posted by Csabo on 2016-10-20


Lacus sent us a couple of goodies! 2 Pass Assembler is an old programming tool by NewLine - it now has a full cover scan, TAP file and a cassette photo.

The second program to get this treatment is Newton Almája: we now have the full cover (7 pages folded), a TAP file and a cassette photo. This game has come up before - it's an odd one. It was released on 4 platforms at the same time (the other ones besides the Plus/4 were the C64, ZX Spectrum and the Enterprise). The authors ran a contest along with it. Anyone who could solve the game could fill out the last page of the cover and mail it in to win prizes.

As far as we know at this point - no-one has managed to solve the game. I realize the language barrier is a problem - but still, I wonder if there's any interest in doing a coordinated effort to try and crack its mysteries?...

Anyway, big thanks for Lacus and enjoy the covers and the TAP files!
Read comments

Run After Bombs With Bombrunner!

Posted by Csabo on 2016-10-09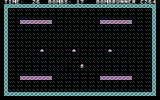 264er_Fan just released his 4th game that runs on a C16/Plus4. Following Hitball and Brickhunter (released earlier this year), it's his biggest effort so far. The gameplay is simple: run and pick up the bombs before the time runs out, and don't get caught or hit any obstacles! Be sure to check it out and give it a spin!
Be the first to comment!

Retro Photoshoot!

Posted by Csabo on 2016-09-01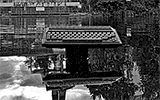 Markus from Stuttgart, Germany writes:

"I work with former homeless people, we had a photographers workshop where we did a photo-shoot of old 8-bit machines. The results are fantastic, we want to share them with the forum members. The images are free for private use."
If you even wanted to see a Plussy floating, reflected in a pond, now's your chance :-) Check it out!

Retro Photoshoot
Read comments

Pentagram!

Posted by Csabo on 2016-08-17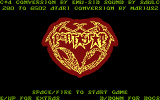 Pentagram has just been released for the Commodore Plus/4. It's an isometric game using the Filmation engine, originally developed for Spectrum. More info on the forum, check it out!
Read comments

Crackers' Demo 5!

Posted by Csabo on 2016-07-30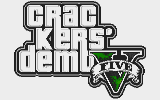 Crackers' Demo 5 is here! CD5...
...is an old-school megademo
...is super compatible: works on any disk drive (or SD2IEC), works on NTSC machines (making it the first and only NTSC megademo), and should gracefully stop on pretty much any Commodore computer.
...was made by 24 people (Ati, aNdy, Bubis, Chronos, Csabo, Degauss, gerliczer, Harry, Kichy, Lavina, Luca, Mad, MMS, Moldi, Murphy, Ninja, Nukem, PPCS, siz, Skoro, Spektro, 5tarbuck, TMR, Unreal), from 6 countries (Canada, England, Finland, Germany, Hungary, Italy)
...contains 20 parts (plus an intro and credits), making it the biggest demo in the CD series
...takes up 3 disks, 1520 blocks, 374 kilobytes
...has a run time of around 38 minutes
...was presented at the Arok 2016 party
Read comments

YAPE 1.0.10

Posted by Luca on 2016-07-23
Coders never go on holiday, and they need safe and versatile tools for their tasks! That's the reason why Gaia just released YAPE version 1.0.10 in the season of sundowns over the sea and fires on the shore at midnight.

This time, some of the most ancient bugs have to say bye forever:

- show subfolders as type CBM in IEC/filesystem mode;
- implemented monitor watchpoint/breakpoint ranges;
- watchpoint context displayed when hit;
- improved speedometer to cater for non-standard, longer frames;
- occasionally stuck joystick states when emulated thru the keyboard fixed (long outstanding bug!);
- uninitialized variable in a newly optimized part of SID engine patched;
- digitized palette in non-CRT mode fixed;
- rasterline counter overflow fix;
- weird and random save PRG dialog crash fixed.

Download it from the official page.
Be the first to comment!

Pac-Pac!

Posted by Csabo on 2016-07-11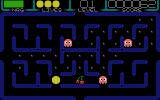 Assassins crew brightens up our summer with their brand new just-released game called Pac-Pac. It's a Pac Man clone, coded by game developer veteran Skoro. Guide your dot-eating hero through 64 different screens. Smooth gameplay, beautiful colours and overall attention to detail: it's a fun game that's totally worth checking out and playing! Be sure to check out the YouTube video as well.
Read comments

Micro Projects' Sourcefiles Galore

Posted by Luca on 2016-06-18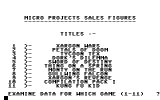 Just few days before the first publishing of his long awaited book about the history of Gremlin Graphics, Mark Hardisty has launched a dedicated blog full of memorabilia, pictures, stories, whatever, about the famous software house. Among all, there are some source files (click to download!) nested in few D64s donated by Anthony J. Clarke, mostly regarding C16/Plus4 games developed under the Micro Projects label.
We managed to handle those disk images, just to see if something of our interest would have jumped out...and that's really the way it went!

The weird or just known material that has been discarded is: final versions of some C16 games just as we know (Tycoon Tex), some chars and sprites editors for C64 coded for personal usage, a slice of code about "Thing on a Spring" on C64 and one uselessly single uncompiled text regarding Sword Of Destiny.
Let's go on with the juicy stuff, then. There are some early stages versions of games from Anthony J. Clarke and Micro Projects in general to add to our archive with some notes where needed: Dork's Dilemma, Xargon Wars (a sort of gameplay testing one), Xargon's Revenge and Kung-fu Kid (with missing animation for the big boss at the end, and different sfx).
Again regarding Xargon's Revenge, two different disk versions have popped out from the disks, built up in distinct ways, one with PETSCII loading screen.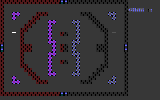 Apart of the interesting older versions of the games we just know, two other programs has been saved from the dusts of time. Micro Projects Sales is a really interesting document about sales and revenues regarding all the Micro Projects games which have been sold in 1985. And the author's personal Dork's Dilemma Editor has come to the light too, revealing that those 24x24 chars rooms are actually stored as Y-mirrored 12x24 chars ones!

At the same time, two surprises were asleep into those D64s. Here come the C64 test versions of Dork's Dilemma and Tycoon Tex, arguably coded before being passed to the C16, in order to have quite comprehensive assembler and compiler which were available on C64 only at that time: though the games have badly implemented or missing sound, it's clear that the code is absolutely the same as for the C16 version. Luca has managed to release the both of them on the C64 related sites under the label of his buddies in Hokuto Force, with trainers: Dork's Dilemma Preview +2 and Tycoon Tex Preview +2.

We want to see thanks once again to Anthony J. Clarke for his donation, and to Mark Hardisty for having put'em online available for anyone.
Read comments

Plus4HTML Released!

Posted by Csabo on 2016-05-31
István Bozsik has just released v2.0 of Plus4HTML (a Windows tool). If the name sounds unfamiliar, it's because it was previously known as Plus4Lst. The new version is a complete rewrite:

There's a clean GUI now instead of a command line tool, with instant preview
The generated HTML files use a web-font and should pass markup validation
Syntax highlighting and many cool formatting options.
This is a very useful tool for programmers, if you liked the older version, you'll love this one. There's no installation needed, the included EXE is all you need. Be sure to check it out!
Read comments
| | | |
| --- | --- | --- |
| | Newly registered member sabe provided the solution for his only game, as well as some info and a fixed version. | [ comment ] |

"Pixel Polizei" Is Out!

Posted by Marq on 2016-05-17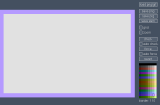 Pixel Polizei, a tool for the retro artists is out: http://www.kameli.net/marq/?page_id=4557. It lets you check and solve color clashes, after which you can save the outcome in native formats for displaying them on a real machine. Runs on Lin/Mac/Win as long as Java 7 or newer is installed. Open source, of course. Hires and multicolor supported on the Plus/4 as of now.
Read comments

Multipurpose Multiplatform "Multipaint"!

Posted by Luca on 2016-05-17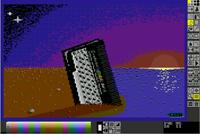 Tero Heikkinen has just improved and bugfixed his Multipaint, a very comprehensive tool which allows the user to easily draw graphics as bitmap or in tile mode, in several modes supported by various 8bit machines, like ZX Spectrum C64 MSX1 and more.

The 3rd release includes support for Commodore Plus/4, both HiRes and Multicolor modes. This takes Multipaint to the top in Plus/4 crossplatform graphics editor, with extensive brushes options, easy recolouring tools, Botticelli/Multibotticelli import and export compatibility, .ASM straight exporting, double paging and many more facilities for your needings!
Read comments

Ultimate Map V1.9

Posted by Luca on 2016-05-10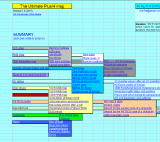 Quite a heavy update for the Ultimate Map, which has been refreshed and renewed by SVS once again! Nothing has been left out, from Commodore disk drives memory mapping thru C64 addressing compare, to the most famous and the rarest OS bugs.

This is the list of news about V1.9 release that summarizes most of the addons in Ultimate Map:

- A new INDEX page with hyperlinks to all the other pages and sub-arguments;
- New section DISK DRIVES with full memory description for 1541/1551/1581, Internal commands and exit codes, Scheme on how to set an internal command, DOS errors;
- New section HARDWARE with BUS-TIMING and USERPORT layouts (compared with C64' one);
- New section BASIC with Memory use schemes, Basic-line structure, Variable/Arrays structures and storing, Basic keywords table (tokens, parameters, defaults, etc.), Basic errors;
- Automatic calculators: 1) Arrays memory occupation and address calculation; 2) Decimal <---> Hexadecimal converter;
- New tables on TED page: Exact frequencies of the 264 machines; Music Notes table for each machine and deviation from wanted frequency. Pitch mode is selectable (Standard or "Verdi");
- Details on O.S. and DISK DRIVES pages for each bit of all the mapped ICs (/6551, 6529, 6223, etc.);
- Implementations on KEYBOARD table in I/O page, plus a new table of the differences between Plus4 and C64 keyboard matrix;
- New info for USR() function use, Long jump routines; Clock updating (RAM and ROM), exit flags for CHRGET routine, $9317 routine, TED D/A feature, TED MGR-ECM-HiRes incompatibility, Cartridge start codes, ROM/RAM switching, $BA, $02E7 (double width);
- Additional new tables: Colors, Bit-screen layout;
- More info in I/O and Expansion area $FD00-FEFF, free TED area $FF20-$FF3D, copy on RAM of TED registers $FFF6-$FFFD;
- Graphic modes mask at $0083;
- Added RENUMBER bug, erased GSHAPE bug, updated SSHAPE bug;
- Added more info regarding RAM Expansions (Hannes / Csory) and OS96 (Solder) both in O.S. and BASIC pages;
- Corrections: RS232 bug; TED<-->VICII; examples in PETSCII page;
- Lots of minor modifications.
Read comments
| | | |
| --- | --- | --- |
| | Crackers' Demo 5 is happening! Spread the word, get active and check the forum for more details. | [ comments ] |

A Monumental Step Forward In Emulation

Posted by Csabo on 2016-04-01
Wow, what a time to be alive, who would have thought this day would come. If someone suggested to you a few years ago, "Let's write a Commodore Plus/4 Emulator in JavaScript!", you would have laughed, and rightly so. That's a joke! JavaScript is way, way too slow for that.

Well, that's certainly no longer the case. Thanks to some JS magic, Gaia maestro brings us the first real JavaScript emulator! So, for example you can play Ghost Town "for real". Just look for the same blue "PLAY ONLINE" button on the detail pages, as this feature replaces the older Java emulator, which was no longer working in most modern browsers. Amazingly, even hardcore games like Zador run (although admittedly with some display issues). Still, this is a truly fantastic achievement, and hopefully will be a very well received feature. The ease of access to games online - no need for emulator downloads - is a monumental step forward in emulation.

The code is based on the popular YAPE, so the same hotkeys will work. E.g. ALT+W to toggle speed, F11 to reset, etc.

Note: there might still be some errors, but we're hoping those will be ironed out soon.

April 2nd update: Those errors mentioned above have indeed been ironed out. Happy emulating!
Read comments

Kate's New Journey In "The Lands Of Zador"!

Posted by Luca on 2016-03-28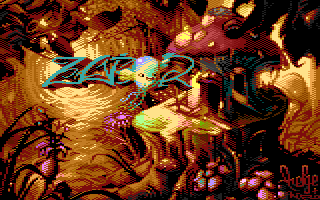 After the arrival of Majesty Of Sprites, nobody would actually expect a comeback from Kate jumping again on the most colorful platforms the Plus/4 has never displayed on a video. Against any prediction, Mad has surprised all of us once again, with a new improved version of his bitmap scrolling engine!

Bauknecht is so proud to bring to you: The Lands Of Zador! And you can consider it to be "Majesty Of Sprites II", featuring 8 wide multiscrolling bitmap levels with themed graphics and, again, tons of colors to show, all designed and drawn by Mad himself, with their respective songs in pure TEDsound composed by Luca, 5tarbuck and Degauss mixing on-the-fly with sfx. Other significant pieces of Nero art shine along the game, the main "Zador" logo is a straight evidence, and the well known comic book illustrator Helge Vogt has contributed with the fantastic introduction picture which opens to the main titles.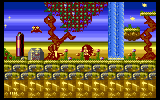 There's a brand new gameplay environment to enhance your jump'n'run experience: Kate must complete some tasks in any single level to go further in the game, and she also has to open new pathways by switching some passages on. Three skill levels can be selected at the beginning, and the passwords system won't let you stagnate in repetitive situations. There are several new touches here and there, in order to put colour really really everywhere and the .D64 handling can be fastloaded on 1541 drives (we mean: quite fast!), or use Kernel loader to be easily used both on 1551 and SD2IEC.

The Lands Of Zador has been presented at Revision Party 2016 challenging in the gamedev competition, and it ranked 3rd out of nine. Just like its noble ancestor, it will be later published by Psytronik Software to satisfy all the tangible 5.25 stuff fetishistes out there.

Will you have success in leaving the Lands of Zador and to see the end of this colorful journey along platforms and shooting foes? Start your challenge right now, get it and play The Lands Of Zador!
Read comments

Club Info 141 Released!

Posted by Csabo on 2016-03-04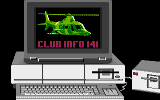 Hailing from Germany, Erich/Ultd has released issue 141 of Club Info, the first one in 2016. The two-sided German diskmag's format is the usual one: Side A has lots of articles (including German-language documentation for some new releases, hardware stuff, etc), while Side B has releases, including some small new utilities and games. Check it out and enjoy!
Read comments

YAPE 1.0.9

Posted by Luca on 2016-02-14
Black C= be my Valentine! Gaia has released YAPE 1.0.9 in the day that legitimizes our neverending love to the 264 series.

So, what has been retouched and added this time?

- updated project to be used with Visual Studio 2015 and MinGW-w64;
- optional XAudio2 driver added (DirectSound's successor);
- D81 image support in 1551/IEC mode (no partitions though);
- PSID replay support via the autostart menu;
- refactored audio mixing;
- disk attachment regression bug;
- various other bugfixes (monitor settings, TED sound, snapshot).

Download it from the official page.
Be the first to comment!

Hugohunt!

Posted by Csabo on 2016-02-11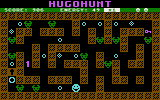 Retro-gamers rejoice: angelsoft is here with a new release! Some of you may have seen an early version of the game on the author's homepage, but today marks the official release.

Hugohunt is an action game, inspired by an Atari game. The mazes, ghosts, and 'pills' to be eaten give the game a 'Pac-man' feel, but this is a good game on its own right. It's superbly programmed: beautiful colors, nice music and sound effects, runs on a C16 and PAL/NTSC compatible. Not to mention it comes with a level editor and even a C64 version (see the author's notes on the reason behind this).

Don't delay: download it now and check it out. Be sure to give your feedback and send if your high scores to the Hall of Fame!
Read comments

Hungarian Cover Scans From Lacus!

Posted by Csabo on 2016-02-02

Lacus has been busy buying up original Hungarian releases, and he's been kind enough to do the work of scanning, photographing, and transferring files to TAP format. Here's what's been added today: Európa (tape photo), Évezredek I and Évezredek III (covers and TAP), Magyarország (tape photo), Vadász És Nyúl (cover scan), Karate (covers and TAP), and Kincsvadász (covers and tape photo).

It's awesome have the original of Karate: if you've never played this Hungarian gem, now's the time to try it out! Vadász És Nyúl is not a noteworthy release by any means, but the cover artwork (and we're using that term very loosely here) is interesting. It appears to have been drawn by a young child. Perhaps there's a story behind it? Who knows :-)

Anyway, check these out and enjoy! Big thanks for Lacus for sending them in.
Read comments

Endings Giveaway

Posted by Luca on 2016-01-15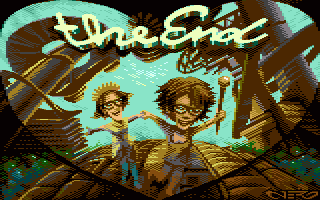 With this last appointment, the usual endings triplets' sets do not need to have further releases. The folder which we have completely filled with screenshots and data to be added one by one has now been stripped and has gone forever. From now, we will usually enrich the Game Endings page just like all the others, so take a look to it from time to time.

Here's the titles we added to end with a bang: Mac Coin, Nibbly 92, 3D Time Trek, Battle Axe, Crazy Tennis, Sqij, Power Ball, Simple Puzzle, Zolyx +++, Pilot X, Memento, Bit Fox, Star Wars, Tower Of Evil, Grid, Flaschen Hannes, Xargon Wars, Skramble, Pharaoh's Tomb, Micropainter, Go Ahead!, Drol, Break Dance, Dizzy 3, Mr. Puniverse, Leapin Louie, Jack Attack, Jabba Otthona, Strange Building, Dodo, Adventures In Time, Majesty Of Sprites.
Be the first to comment!

Moldi's Treasure 10/10

Posted by Luca on 2016-01-08
It's over, we've done, can't believe we completed it in the very end!
It's the real 10th flowout from the treasure chest donated to us by Moldi when ppl did meet him at the Busodore Party almost 5 years ago, from which we saved up to about five hundred programs not included in any archive before! Moldi we'll never thank you enough for this immense feeding of Plus/4 stuff!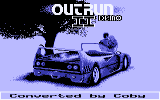 What can you find in this latest appointment with the world of unseen before software? Oh well, basically what still remain, we're squeezing the sponge and see what falls down. Sometimes certain productions get stuck into the clefts of homonymy and misunderstandings, and nobody take'em to the light, just like in the case of Outrun II Demo, which is another failed attempt to align digis and Coby's waveconverter. Or like for Terror Music Box by Moldi himself, Sohase Mond which was easily confused with Christmas 91, or Castle Demo which at first glance could seem Castle Pic. On the other hand, the scene succeded in missing not one only but both the demos explicitly dedicated to the Hungarian city of Mezőkövesd, where TPSH lives. Party In Mezőkövesd and The Demo Of Mezőkövesd: same party? We dunno yet...

It seems even incredible to us how many complete games we've still missed, in the times when we would believe that nothing can really be discovered from the past. The Moldi's software archive has surprised us till the end of this journey, and here come Dodo, Drakula Kastélya, Tekergő, and last but not least Risiko Demo, a pretty nice working preview of an implementation in BASIC V3.5 for the classic board game, one of those works we really would have been seen in the final shape!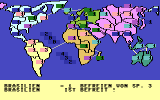 Finally, there's room for the weirdest pieces in this collection! Be honest here in GOTU, who has truly written the texts of Minifuck? ;) Do you know that Mucsi had reduced one of the most complete notewriters to be used on tape too, with The Best Letter Writer / Tape? Now we have Reincarnation 2, so where's the first one, which should be very similar to it according to the author himself? Is the author of Music Box 2 (Ati) the Ati we all know but still away from Gentlemen? Does LBM really believe in oriental destiny interpretations like I Ging? Does truly exist a third one, as written in the scrolltext of the fresh found Impulse Mega 2? For what piece of hardware Digital Frequency Counter practically counts? Did TGH really use Life Of Pictures for his graphics?

As you all can see, a finish point is ever a new starting point for further discoveries, where no Plus/4 scener has gone before!
Here it is, that's the very last complete list of releases for this tenth wave, and we can't hide a little emotional tear dropping from the eye: ABC (onefile), Atlós Fényujság, Beszélő Nyelvtan, I Ging, Digital Frequency Counter, Disk Lister V3.2, Duplázó V1.0, Ékezetes Képújság, Errorsearcher 1551 V2, Földrajz (Fodor Antal), Full Copy Plus/4, Hangközök, Háztartás-kalkuláció, Hipra Copy 1541, Hypa-load V3 1551, Katalog Maker, Life Of Pictures, Mágneses Indukció Számítása, MAT's Typewriter, Pluto, Scroll Writer II, Speed Assembler, Super Disk Monitor, Super Speed Loader, The Best Letter Writer / Tape, Uni Header, Dodo, Drakula Kastélya, Életjáték V1.2, Hanoi Torony, Kétlépéses Vagy Háromlépéses Mattfejtő, Kukacka, Lander, Logikai Játék, Memóriajáték, Souvenirs, Tekergő, Tenisz, Risiko Demo, Bekannte Bauwerke Aus Luebeck, Bomber Demo, Castle Demo, Digit Sounds, Impulse Mega 2, Microdemo II, Minifuck, Music Box 2 (Ati), Outrun II Demo, Party In Mezőkövesd, Poseidon Demo, Reincarnation 2, Sohase Mond, Terror Music Box, The Demo Of Mezőkövesd, Variációk Egy Témára.

And here's a list of the other nine lists, from the respective news: 1, 2, 3, 4, 5, 6, 7, 8, 9.

Read comments

Lost Games Found

Posted by Csabo on 2016-01-06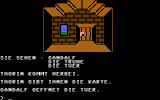 Let's start this year off! Welcome to Plus/4 World, where old BASIC games are never out of place. 264er_Fan purchased a disk collection from eBay, which had some previously unknown games on it. What luck!

Six of these come from Mark Lünnemann, a German programmer, who also wrote Pyramid Guy: Crack World, Dead of Night, Diamonds Man, Gallows Man, Sticknadel, Tunnel John.

The rest, making up the total 13 are: Bomb Man, Chicago (Strategy), Der kleine Hobbit, Doppelkopf, Monsterwall, Nono and Planspiel. Enjoy!
Read comments

YAPE 1.0.8

Posted by Luca on 2015-12-25
Did you notice the real ultimate xmas present of this year? YAPE 1.0.8 from Gaia! Download it from the official page.
Read comments

Spotlight on Cassiopei!

Posted by Chronos on 2015-12-21
Cassiopei is a multi-functional cassette tape port adapter developed by Jan Derogee. It allows you to add your own hardware to your CBM computer. This hardware then can be used on all CBM's.

The expansion connector features:

- PWM audio (speech synthesizer and the 8KHz, mono, 4/8bit sample player)
- 10bit Analog to digital converter
- KlikAanKlikUit signal generator (for both the old (dip-switch modules) and the more advanced (learning modules) system). Use the Cassiopei for home automation.
- I2C interface, allows you to connect many digital circuits in an easily expandable way. Add many digital IO's, control servo's using a I2C PWM controller, driver stepper motors or relays, etc.


Read comments
| | | |
| --- | --- | --- |
| | Sdw writes: "I did a small christmas demo with PETSCII graphics by Redcrab. It was originally made for C64, but since it was pure PETSCII, I did a port for Plus/4 as well! SID-card at $d400 needed for music." | [ comments ] |

Moldi's Treasure 9/10

Posted by Luca on 2015-12-15
We're unstoppable! Once we gain thrust, nothing can push us away from our target: just after few days since we've released the 8th bunch of rare and unseen software taken from the Moldi's magic chest, here comes the 9th to make clear light toward the overall completion of this mission. We're now one step close to the end!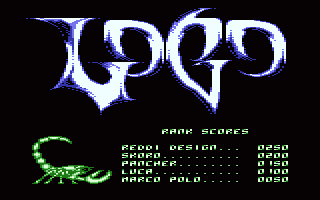 This 9th shipment brings to light several "first productions" from the dawn of the scene, demos which we've thought to be lost forever in the mists of time, starting from that First From Genius demo just present into our archives but found to be buggy and impossible to fix. Now we can actually see the beginnings of DCD's career in the scene. The same can be said regarding CSM Demo, a far dated demo of which nowadays the author himself doesn't have any clue about; and can be said about Demodemo, the very first TBC production, where we still can see evidencies of both Hitman and siz's previous alter egos. Again, Beastie Boys Digi Mix by The Codebuster is the most ancient demo we saw from him (1988!), Color Routine, dated October 1990, is the first KRUK demo that buries Krussoft once forever, and Big Bear's first steps in software swapping have found statement with The Bear Demo. Last but not least, My Dream Cars by Catwheezle beats all the previous demos in being a real antique, 'coz we're talking about May 1988, the real outset of the Plus/4 demoscene.
Just to swell the Masters Of Dragon program list, there's another stuff from Catwheezle which goes place itself into a longlasting saga that's far to be completely explained: Cracker Ball 3. Another tile reaches the right place, and maybe one day the whole story will get completed. On the other hand, nobody did know about Logo Game, which now represents the very last software Reddi did release before his disappearance: logical game with SID/TED music, a big and uncredited logo drawn by Unreal, an interesting intro and the last time the Scorpions tag can be seen around ever. Again from the games' side, the rule has been respected even this time: the more you dig into Moldi's Treasure, the more prods from LEH jump out: Asteroids 2, Kincsebarlang and the graphic editor Grafitor V2.1 are the nowadays examples. Another unlimited source of continuous surprises is the Gentlemen catalog: we were almost sure to have the 100% of their productions, but we didn't get in count how prolific W-Man & friends have been. Hence, No Limits! and Stakker Humanoid have come to complete our database.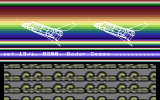 This 9th bunch doesn't miss to give us some rarities and uniques. Cocom Demo? Never heard of it before! And now we rediscover stuff which seemed to be removed from the memory of the scene. Devil Head Demo is a rare one, a second demo from István Ignácz, who's been credited of one sure release only, before this finding. And we can say the same about Music Simulator 2 by RTS, the digi demo which definitely links the tag RTS we've read in several scrolltexts from ancient demos, to Norbert Bernáth's "Riszpong Tilogramma Software". Unfortunately, if the latter mystery has been solved, the dark aura surrounding Toxic still remains, although there's a Last From Toxic message which might link his nick to the author of Blasting Bob Backup utility. Oh, and Franky: who's Franky who coded Game Music II?
Unexpectedly, Tiger has released an improved version of his previous utilities collection, called Tiger Disk Utility V2.1, containing a couple of well known tools of unknown version, like Duplicator V3.2 and Turbonibbler V2.0. abcug's Register 2000 software database editor also has come up, and in the end, now we have a disk working crack of Optika, produced by Octasoft and distributed by Novotrade at the times, though we're still in search of TAP files, scans and in general all the commercial stuff around it.

So, here we are! Let's have the complete list of incoming software, today for the 9th time. And the next will be the very last, so don't run too far away from our shores: Optika, Directory Director, Az Itélet Napja, Tiger Disk Utility V2.1, Register 2000, Grafitor V2.1, Easy Turbo +4, Easy Turbo 3, Caddimat C116, Digimixer (version), Disk Cracker, Adatbank, The Disc Wizard (version), ROM-control +, ROM Modifier V1.0, Elektromos Teljesítmény (Táblázat 2), Profimon, Disk Format System V3.0, Flash Demo, No Limit!, Stakker Humanoid, Demodemo, First From Genius (fix), Beastie Boys Digi Mix, CSM Demo, Color Routine, Music Simulator 2, Game Music II, Cocom Demo, Devil Head Demo, The Bear Demo, My Dream Cars, Last From Toxic, Csomagoló Üzem, Flipper (AMA), Kincsebarlang, Handel, Wirtschafts Manager, Plus/4 Invaders, Asteroids (Soft Vawe), Asteroids 2, Cracker Ball 3, Rohamkukac C-16, Logo Game, Diamond Hunter (Hungarian), Break-Out (Mac-Copies), Duplicator V3.2, Turbonibbler V2.0.
Be the first to comment!

TLT Is Back!

Posted by Csabo on 2015-12-13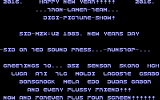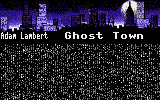 Gyöngyös is in the house: Tron Lamer Team is back! We haven't heard anything from them since 2012. Did anyone miss the digi-demos from the northern part of Hungary? I did, and I had an email exchange with Hifi this January. He promised: "there will be a demo" :-) I've been waiting ever since!

But you don't have to wait at all: just fire up the old iron once more (or just open that emulator), and check out 2016 Happy New Year and Ghost Town (TLT)!

Also, if you're interesting in seeing some more Faces of the Scene, check out the new photos Hifi sent for himself, and for BCK and Mela.
Read comments

Club Info 140 Is Here!

Posted by Csabo on 2015-12-07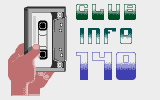 The last issue of Club Info for 2015 is here! Erich/Ultd just released issue 140, featuring a small intro by CsoryCsabo. Side A is full of German language articles, and Side B has demos, games, as well as some new stuff, including 4 Christmas-themed pictures (which you can view with the Magica driver). Check it out and enjoy!
Read comments

Moldi's Treasure 8/10

Posted by Luca on 2015-12-07
We've promised to you all, and a promise is a promise! Let's repeat it: it's now time to finalize matters with the gigantic bunch of programs we've never seen before, as picked up one by one from the big treasure chest donated to us by Moldi nearly 5 years ago. That's the reason why, after two weeks only from the 7th session, here comes the 8th! We're on a run and we don't intend to slow down the flow.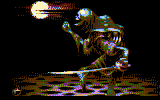 From this release and both the next two, there's no particular stuff which stands out as the main one in the whole heap. Nonetheless, there are so many unseen utilities, unknown games and demos coming from the very first period of the forming scene, but we can't point a specific one. If we would find a theme for this 8th leak, Hires FLI, M-FLI 1, M-FLI Laced 2, Virtual FLI Show are further (and probably definitive) single steps which did allow to understand and implement FLI graphics on Commodore Plus/4. That had been a very hard journey in order to interpret how the machine manages the color per line and the (unexpected in the early era) double badline. Pioneers like TLC, bubis, DCD and most of all Larry had given their contribute to reach the results we all know nowadays, and these old releases are the missing tiles to fill the history about FLI on Plus/4 which now awaits to be definitely written from the beginnings to the end.

The acquisition of several programs lists has generated in the course of time various holes into our database, empty entries of missing stuff of which we've never heard before, and these last appointments with the Moldi's treasure will fill some of the gaps. This time we've got Lethargix, a little dentro from the time when TDD was close to Terrorists; Demo Madness, as it contains a short software list in a scrolltext which allows to determine the release date of several other TEC demos with a good approximation; the most wanted King Demo, released when TCL still was known as TBB.
Furthermore, there are programs out of every known list: Klaustrofobia the adventure written by Bitecus with a great intro coded by Murphy with music by SLD, Yazz V2.0 as the improved conversion of Yazz music box, the independent Hungarian translation of Tricky Dices done by LBM, Keresztrelytvény 1 and Keresztrelytvény 2 crossword games in Hungarian language. And more, rarities from authors with very little production: Disc Doctor & Monitor V1.1 is the second known production overall by Balász Vissy, Miami Vice picture show from CCW, Depeche Mode Demo (TCKT) where the bond between BCS and Ern0 got one group's name we really didn't know before (further infos are well accepted!).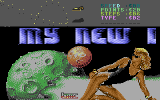 It comes the traditional complete list of releases included in this 8th batch, the show is slowly coming to an end in two last chances, so stay tuned: Lethargix, Demo Madness, Kémiai Reakciók II (part 2), Kémiai Reakciók II (part 3), Német Nyelvi Gyakorlás, Német-Magyar Szótár, Tanulj Velem Németül!, Disc Doctor & Monitor V1.1, Csucsu Super Tape, Ultraformat V3.5, SuliKomp - Matematika és számítástecnika I. (crack), Konto-file 1.0, 664 Blokk, TARDOS V8.28, Bit Image (MPS), Integrate DOS V1.0, Házibuli Teszt, Relokator (Commodore Újság), Plus 23 Funktion Keys, Legionnaire 5, Legionnaire 6, Legionnaire 7, Legionnaire 8, Legionnaire 9, Jazzy, Cube Caster, Deltex Converter, Deltex-Dump, Deggendorf, Bus-Stop, U-Boot (AMA), Plus-Paket (AMA), Keresztrelytvény 1, Keresztrelytvény 2, Klaustrofobia, Beobachtungen, Hires FLI, M-FLI 1, M-FLI Laced 2, Virtual FLI Show, That's A Way, Digi Ripped Piccys, Depeche Mode Demo (TCKT), Miami Vice, Yazz V2.0, King Demo, Killed By Death, Hoaxers Party 00, Sinus Raster.
Read comments

Large Pack of Stuff From Lacus!

Posted by Csabo on 2015-12-03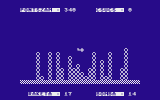 We've just added a large pack of stuff, sent in by Lacus. Our ever-growing database now has these additions:

Invázió (a previously missing release, complete with TAP and cover scans), TAP files and cover scans for 4 parts of the Évezredek series: II, IV, VI, XIV, and another TAP file for Timeslip. (Note to the serious collections: check your tapes and let us know which one is the "original" please!)

Also added are several cassette photos: Abraka-Dabra, Almatúra, Bevezetés A Basic Nyelvbe, Bubble Trouble, Szerpentin, Terra Cognita and Timeslip. Check it out and enjoy!

Before it gets lost in the shuffle, we'd like to mention a few others added today: Hoppit, Space Fiends, Wolf Pack, and Retro Gamer 149.
Read comments

Moldi's Treasure 7/10

Posted by Luca on 2015-11-21
No! Nononono! This must reach an end, once forever. Two dozens months passed since we've saved the opportunity to release another big pack of rare and unreleased stuff dripping from the archive donated to us by Moldi, after we'd promised short times. It's gonna happen no more, let's start our run from this 7th bunch of software straight to the 10th and last!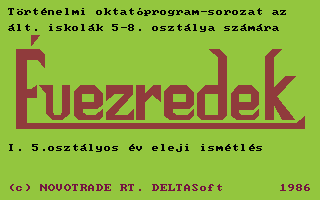 Now we reached the final steps to accomplish this project of gigantic update, and many primary objectives have been profusely threated and solved, but this 7th appointment can still show you a further one: we've finally begun to organize the Évezredek (Millennia), a series of quiz game's programs made for elementary school's kids to teach'em the Hungarian history. For what we'd been able to understand, Évezredek consists of 20 or 24 individual releases on cassette, most of the times containing two distinct programs focused on different difficulty degrees. The nine .PRG files we've found into our treasure chest have been added to some spare others we just stored along the past years, and now the whole matter gets a reasonable shape overall. Now there's a good base where to start from in order to achieve the complete series!

The other soul of this 7th appointment with the Moldi's gems concerns about the different versions of what we've just got. Alternative releases, improved disks, fixed stuff, reduced prods, they're just all around us. Általános Szöveg És Rajz Szerkesztő has been also spreaded as complete D64; Two In One also exists as V2 version, released just one day after the diffusely known first one; Wizard Of Wor (TCFS)'s 43K big .PRG uses the TCFS' defender packer, but it's beaten to the ground by the alternative file that simply uses Cruel-Crunch V2.0++ and its less-than-30K result; Pirates boasts an advanced version working in one single file with dedicated instructions file apart; somebody has spreaded a weird onefile version of The Jet 2.0; somebody else (we dunno who he is, at the moment...) has done a tougher challenge, packing Winter Events in one single, flawlessly working, file! Yes, no loading needed anymore!
Oh, and we have a winner here too! The legends say: a neighbour of TCFS who hasn't got a disk driver, did ask to him for a tape version of Blue Angel 69. Quite impossible, one would argue, due to the amount of different bitmaps displayed under the board, level after level. Anyway, if you're not a newbie in the Plus/4 scene, you should well know the genius of our mate Tamás. So, he came out with this Blue Angel 69 V3.1 release, apparently spreaded on tape for real, with a turbo tape loader coded by TCFS himself. Once loaded, the program unpacks and saves the needed graphics on the next slice of the tape in order to free the memory for the game itself, then this graphics will eventually be loaded once the game advances. 24 years have passed, but TCFS leaves us astonished again!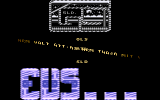 File catalogs often show their fundamental role in the unveiling of rare hidden or unreleased stuff, and that's the reason why the 7th bunch intends to put out some newer ones: Alex's Catalog 1.0, Alex's Catalog 2.0 and EDC's Stuffs (apropos: who really is Alex of GS? "That's the old nick of W-Man" Murphy has told us ;) ). And when we talk about "stuff to flush out" we mean software like TIT-anic demo, most rare compared to TIT-anic 2; like Space Taxy, a fully working game created by St.GLS in his very last activity on Plus/4; like 48 Hours Party (Gentlemen), the lost part that W-Man ("RTL" at that time) coded to join the 48 Hours Party cooperation demo, but didn't get included (why?); like Feasibility Experiment (Csory), a conversion of the famous C64 graphic adventure done by Csory...6 years before the well known Crown's one; like Puzzle 09, the lost one in the Puzzle Collection, the missing piece that comes to complete a puzzle; like Relax Demo, apparently the very first demo production released by Larry, when he still was...Kibasoft!
Aside the cited ones till now, other programs are included, some basic disk tools, some education stuff, one game's crack we didn't have, some digi demos, one scrolltext editor made for Skull's internal usage, a weird program which's maybe an info file maybe a magazine's attempt.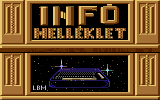 As the tradition needs, here's the complete list for the 7th batch, hope you're gonna like all of them, prepare yoursef for the forthcoming three: Fast Format 08, Kristalyoszcillatorok, Általános Szöveg És Rajz Szerkesztő (disk), Two In One V2, Feasibility Experiment (Csory), Bard's Tale III Songs, B.H.C., Texteditor V1.1, Bridgehead (crack), Relax Demo, Alex's Catalog 1.0, Alex's Catalog 2.0, Advertising, Space Taxy, Puzzle 09, Disk-eddie, Eprom Packer V9.1, Infó Melléklet, Fast Backup 1551 D9, Fast-load 1551 (Starsoft), Fast Backup 1551 (Magnetic System), Fastload 1551 V4, Kerek Bar, Évezredek III (AB), Évezredek IX (AB), Évezredek IX (CD), Évezredek V (AB), Évezredek V (CD), Évezredek VI (AB), Évezredek XIII (AB), Évezredek XIII (CD), Évezredek XX (CD), Microscopy, EDC's Stuffs, Pirates (version), Miner 410er, 48 Hours Party (Gentlemen), Dizzy V3.5, Stick Or Twist, The Jet 2.0 (tape), Winter Events (onefile), Wizard Of Wor (TCFS) (alternative), Blue Angel 69 V3.1, TIT-anic, Crash (NBS), Chubby Checker.
Read comments

Gate of Power!

Posted by Csabo on 2015-11-16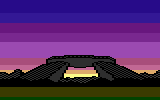 We don't have a good explanation as to why this game is announced now, as opposed to last year, but nevertheless, here's Gate of Power!

A new adventure awaits: set out to see the world in the shoes of Fred Nelson, archaeologist. Your quest is to find the mysterious gate of power, which, according to ancient records, is somewhere in Asia. Visit many exotic locations while making friends and collecting clues. Test your skills and see if you pass the ultimate test, that is IF you manage to stay alive!

The game was coded by angelsoft, and is accompanied by music from Csabo. It requires a disk drive, but it runs on any stock C16 (PAL or NTSC)! The current version was released in time for the DoReCo party in Germany. It was shown at the party to some great feedback. It is still in development (of sorts), with a hopefully final version forthcoming, but it's definitely playable now. So get to it :-) (As an added bonus, you can enjoy a remix of the soundtrack.)
Read comments

Babel Baby!

Posted by Csabo on 2015-11-14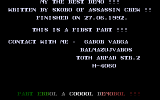 In the world of Plus/4, there are no bad things to worry about, only retro demos to enjoy. Surely there must be some folks out there, who are happy when old stuff is found?

Babel Baby was recently added to the database. In our spare time, we slowly dig though all programs, and this release showed up in several personal catalogs. I decided to ask Skoro about it: he said he had it on a disk, but it was unfortunately damaged... But as a consolation prize, he sent me no less than 9 programs which were previously missing from the database. Here's the full list:

Characters, Skoro's Music Box, The Last Demo From Assassin Crew, Demonsdom +4 (Skoro's trainer version), My The Best Demo, Oliver Otthona +4 (Skoro's trainer version), Skoro's Char 2, Skoro's Char 3, Skoro's Char 5.

So who will babel our baby? Only time will tell.
Be the first to comment!

Aramir's All-in!

Posted by Luca on 2015-11-13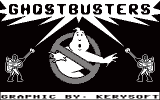 You all know that we at Plus/4 World are used to keeping our promises, always, even if sometimes the processes' schedules sustain heavy delays. So, we still have some older open matters to complete on the software donors' side, and new some contributions too!

Due to the necessity of releasing that flow, it's now time to push on spitting out all the decanting software which has been waiting for months. The first in the row to fall under our merciless publishing machine is the Aramir's collection, that fantastic bunch of assorted stuff sneaked thru the big software libraries of Csaba Egri. Our mate Csaba filtered some very rare additions, including PRGs, D64s, TAPs, covers and other mixed material, just to send 'em to us with an useful information text file.


We're talking about rarities like the very unique TAP of Démonok Birodalma with IRQ loader, or the only known release from Kerysoft (a user we've seen in the mags' citations only till now), better or alternative covers for several uncommon releases (Csavargás A Gombák Birodalmában, Legicsata...), alternative/older versions we didn't have (FLI Editor, A Hős Lovag...) and tons of new software previously unknown. Read the whole list of added stuff on the forum thread opened by Aramir one year ago.

Deng! The bell's ring announces the end of a victorious first round in our fight to enlarge the database. And for now, stay tuned to see the forthcoming ones!
Read comments

Happy Halloween To All From Absence!

Posted by Csabo on 2015-10-30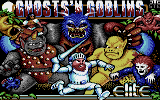 Chronos/Absence is back with a new release in time for Halloween. The usual theme is spooky stuff; so what could be better than Ghost'N Goblins? Check out the new music box, featuring 5 tunes and some sweet graphics. Plus, it comes on a disk full of some other bonus material. Time to dig in and enjoy :-)
Read comments

TED Tunes In Your Browser!

Posted by Csabo on 2015-10-22
You can now listen to TED tunes right in your browser, with the help of a JavaScript emulator! This entire section is still in flux, so things may break or be rough around the edges, but it's definitely a very promising start. Check it out now!

Well deserved credits go to Luca, for his tireless efforts of collecting the files, Gaia for his excellent emulator, MikeDX for working his magic to compile YAPE for the web and myself for some back-end work. Enjoy!
Read comments

Dork Dave Is Here!

Posted by Csabo on 2015-10-19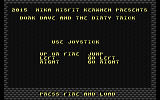 Hailing from Finland, Misfit is here with his second game called: Dork Dave and The Dirty Trick. It is a C-16 compatible side-scrolling platformer, where you must jump accurately, avoid the enemies, sometimes break bricks by jumping into them, and hurry across swiftly crumbling platforms.

So grab a joystick and guide the titular hero through many levels, and attempt to find the (apparently stupid) Princess. Or is this all just a dirty trick? Play the game to find out!

You may also want to check out this promotional YouTube video, or visit the game's official page.
Read comments
| | | |
| --- | --- | --- |
| | 5 never before seen Danish adventures have been added today, courtesy of RetoryPlay. Check them out! | [ comments ] |

HVTC Update October 2015

Posted by Luca on 2015-10-11
The arrival of Knaecketraecker has left the footprints we've expected about, then TEDzakker has landed, with its bunch of fantastic demo tunes and a big potential looking for further TED music to be released in the near future. Among both, Majesty Of Sprites has been a cascade of new brilliant game tunes. It's absolutely time for a new High Voltage TED Collection update!

465 single files overall, 39 new files added, and they're mostly some recent ones. Quite a big addon is the /5tarbuck folder, which contains the wider slice of the Majesty Of Sprites OST (the other tunes has slipped into the folders related to Luca and Degauss. Of course, the /hermit folder is now on too, and the same we can say about all the others who had a carousel run with those two fantastic tools. Little by little, the contribution from the classic games has now become less significant in numbers because they're almost all in right now, but there's still chance to find something again here and there, especially short jingles that play in some particular ingame cases (Minipedes, 3D Glooper...) but there's a big one in the bag today: Golf Royal, a very hard one to hack, and a great tune whoever had composed it! Little fixes have been done too.

Don't forget to completely delete the whole previous collection (that's the way to do at any new update!), then download/unzip the new one!
This is the straight link to the ZIP file.
Be the first to comment!
| | | |
| --- | --- | --- |
| | It's a mature age for SIzPlay: V1.0 is here with an updated visual interface and playing TED files in PSID format. | [ comments ] |

TEDzakker 1.0 Released!

Posted by Csabo on 2015-10-02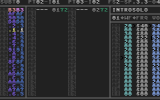 If Knaecketraecker doesn't fill the void of not-having-a-music-editor for you, here comes TEDzakker! Developed by Hermit (C64 coder/musician), it's a C64/Plus4/C16 TED tracker. (The C64 version emulates the TED on the SID.) It has a massive list of features and if you listen to the included example tune, you will hear that it is capable of producing some very interesting sounds.

Two modern, feature complete music trackers, one for the PC, one for the 8 bit machines - there is now no excuse for anyone who wants to write TED tunes :-)
Read comments
| | | |
| --- | --- | --- |
| | Today SIzPlay reaches the closest shape to its final release with this V0.99beta update, and it means that siz is quite ready for the last step. | [ comments ] |
| | | |
| --- | --- | --- |
| | Exomizer, the most popular cross-platform cruncher has just been updated. Those who are still developing for the Commodore Plus/4 will want to update to the latest. | [ comment ] |
| | | |
| --- | --- | --- |
| | Epy just released version 2.1 of his SID player. With the newly added playlist handling feature and SID card detection, it's better than ever, check it out! | [ comments ] |

Club Info #139 is out

Posted by SVS on 2015-09-07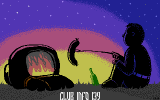 Club Info 139 has been released a while back. If you're a fan of "2001: A Space Odyssey", you might want to check out the B side of the disk for two images converted by George.
Read comments

With Rage And Barrels!

Posted by Luca on 2015-09-06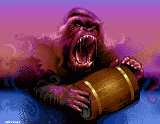 It's again time for Carrion, to let the scene feel the massive hit of a 264 machine palette, now competing at home in Poland!

That's what he did, entering Here I Come as competitor in the Pixel GFX competition held at Riverwash party 2015 edition 7, the Polish main event and a well known party for the Eastern side of Europe. In the very end, the Carrion's great entry has been ranked 2nd with a votes score of 241, only 2 points below the lucky 1st! Congratulations bud, fantastic achievement for another masterpiece!
Read the story behind Here I Come straight from the Carrion's notes here, with interesting workstages.
Read comments

Unexpected downtime

Posted by Csabo on 2015-08-27
We apologize for the recent downtime, which - according to the logs - was two days and four hours. It looks like our provider has changed some things on their servers, which means even though we're back, there are still many pages or functions which are broken. This is being fixed manually, so please bear with us. Feel free to post on the forum about whatever is still broken!
Read comments

Breaking Thru Your Own Rules: Majesty Of Sprites Final!

Posted by Luca on 2015-08-02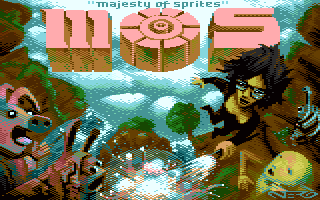 In the very end, here comes the final version of the game by Bauknecht that we all have been appreciating since Revision 2015. It took 3 months for the creator (Mad) to break thru the limitations the game!

Majesty Of Sprites was born as a coding experiment under the pretenses of a non-scrolling Giana Sisters' like game, running in multicolor bitmap, full of software sprites, gorgeous backgrounds, evil jumps to perform and diamonds and hearts to collect. 10 game levels grouped by two in 5 worlds have been recreated from the original Majesty Of Sprites Preview, this time with a proper in-game soundtrack composed by 5tarbuck and Degauss, with a pair of tunes by Luca too. All the tracks have been composed in the essential tool Knaecketraecker released by Degauss. However, here comes the real big surprise: three single levels were added, this time with multi-directional bitmap scrolling, to explore hyper-coloured worlds with a global sense of freedom! Mad has really achieved his best performance in designing those levels, we all have never seen so many colours playing on our Plus/4 screens, and with the current graphics by Nero with some help by Decca, the final product simply shines!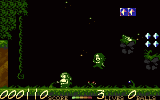 All this stuff, plus presentation pictures, main titles program, loading intros, full ending and hiscore table with saver, lies exactly in one disk side, with no space left! Majesty Of Sprites has been ranked 3rd in the Interactive competition held during the Evoke 2015 party.

Majesty Of Sprites has been released as freeware, but soon a commercial release will be published under the Psytronik label, with cover art by Nero again, on 5.25 disk, a real collectible that you can't miss!
Read comments
| | | |
| --- | --- | --- |
| | The popular Plus/4 emulator YAPE has been updated to version 1.0.7. Head over to the homepage to find out what's new and download the latest. | [ comments ] |
| | | |
| --- | --- | --- |
| | Litwr has released the 4th version of his ultimate Conway's study Xlife (in conjunction with the BK-0011 version). It's twice as fast, with better pseudo-color option, blinking cursor, general improvements and support for the 4th version of Notepad+4. | [ comment ] |
| | | |
| --- | --- | --- |
| | Looter is a new unexpected action game working within 32K machines, coded by OnlineProf2010 as a porting of C code from C64. Give it a try! | [ comments ] |

HVTC Update May 2015

Posted by Luca on 2015-05-11
It's springtime, and once again May is the month when High Voltage TED Collection, aka HVTC, improves with its traditional update! And the timing is pretty perfect: we really have the need to close this HVTC release, in prospect of the first bunch of tunes composed with the brand new tool Knaecketraecker.

426 single files overall means a +36 files compared to the previous. These new ones come from very different sources, either from the newer productions (like Csabo's tunes from Xplode Man, or the prize winning Rocket Science OST composed by Degauss) and from obscure ancient releases (the surprising player from Master Mind (ICE), or some unassigned tunes found in The Super-Writer).
Various fixes have also been applied, some tunes composed by Ern0 now have their right name, some game tunes have been renamed in order to allow the adding of new related files (Rockman, Ürpók), and some other have got a better playable file (TED Storm, Trouble For Bubble).

Don't forget to completely delete the whole previous collection (that's the way to do at any new update!), then download/unzip the new one!
This is the straight link to the ZIP file.
Read comments

Mr Angry Dude Released!

Posted by Csabo on 2015-04-25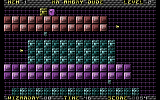 Looks like Christmas is coming early to the Plus/4 Scene. This month has been nothing short of amazing: Majesty Of Sprites, PetDraw, Knaecketraecker, Blubb - and if you think April is over, think again. With that little intro, let's get to the release at hand...

Regular forum readers probably already know about the new game: Mr Angry Dude. Well, now it's public and official, the game is out, stop reading this and go play! Still here? Okay then. The game is a platformer, in which you control the titular character, Mr Angry Dude, who is indeed a dude, and presumably angry (although the game doesn't provide a backstory as to why that is). While playing, you can listen to the self-described "most annoying music ever". In the game, 8 levels await you with some interesting mechanics - the kind which is much harder to describe than to show. It's definitely something unique, even the first level (which is meant to be simple and introductory) will be a challenge to complete, until one figures out what's going on.

All in all, it's a polished game and wonderful addition to our scene, go play it now and be sure to provide feedback on our forums!
Read comments
| | | |
| --- | --- | --- |
| | After some days of deep debugging, Andreas Steffen tested his skills as rookie assembly coder releasing the sweet action game Blubb. | [ comment ] |

Knaecketraecker: First TEDsound Tracker Ever!

Posted by Luca on 2015-04-22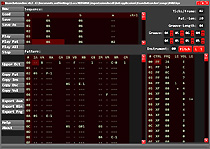 Year after year, era after era, anybody who decided to create something that would run on a C16 or Plus/4, had to deal with that horrible questionmark: what with the audio stuff?

We tried anything. We tried to use rudimentary music editors like Sequential Circuit or Music Editor or Music-16 trying to keep us away from playing like an alarm clock; we tried the BASIC commands, but the results were...basic too; we tried to use the samples like in Rock Editor V1.3 but the screen had to get off when playing and the memory got wasted; then, we've stolen the best tunes from the commercial games, and somebody else had coded his own player, say Ern0, but that spaghetti code would be quite far from being spreaded in the scene. We've stolen and reduced the SID files to be played by two poor voices, then mixed to seem like three, sometimes with unhearable results, sometimes composing music on converted C64 editors just to have a working tool...eventually playing on 2 voices only; we've followed this way, using little slices of digitized SID audio to improve the quality, but the rastertime went away like hot cakes. When crossplatform tools made inroads, somebody coded his own TEDsound music player, and the code has been easily distributed as source, but the usage of those tools often looked like obscure and difficult, hence only few dudes did challenge the beast obtaining their results.

We tried anything, but now we can stop doing with what we have, because times are changing again!
As promised days before, Degauss/TEK has just released the Protracker-ish tool he used to compose the music for masterpieces like the multiprized Rocket Science and the incoming Majesty Of Sprites. Ladies, gentlemen, here it is: Knaecketraecker!

Knaecketraecker version 0.2b is the first proper crossplatform TEDsound tracker ever. It allows editable multispeed, partial and global playback via TEDplay (included in the installation package), .ASM/.BIN/.PRG file exporting, single instruments I/O in order to build up your own sound database, virtual 3rd voice editing, claviature mimicking to easily enter the notes and many other friendly features. It comes with a brief manual and several example tunes.
Classic trackers' experts out there shall have no difficulties to easily understand it and bring out the best in Knaecketraecker, whereas a certain training time is needed to beginners and to editors' addicted, just to get accustomed to the usage of pattern lines vs. groove in order to get out the best from it, especially using the virtual 3rd channel at its best.

If someone didn't read the relative thread in the forum, Degauss has released this great tool under the request of Mad/BKN, who announced the needing of contributions in order to have the game music to be included in the final release of his Majesty Of Sprites. Hence, time has come, to learn all the inner secrets of Knaecketraecker, show what you're able to do with it and join the BKN's great job!

Thanks again to Degauss for having placed another milestone along the path in the history of our beloved Plus/4. And now, time's ticking out, download Knaecketraecker and start handling it as a real pro. Show us your real potential dealing with TEDsound!
Read comments

PetDraw

Posted by Csabo on 2015-04-08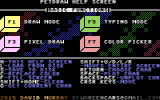 David Murray has been developing a PETSCII drawing program for the C64, and to our luck he decided to port it to the Plus/4 and PET computers as well. It has a few minor issues, but otherwise it's functional, has a nice help screen and example images. It should be a handy tool for creating PETSCII pictures, be sure to check it out and send feedback!
Read comments

Ladies And Gentlemen, Her Majesty The Bitmap Softsprite!

Posted by Luca on 2015-04-06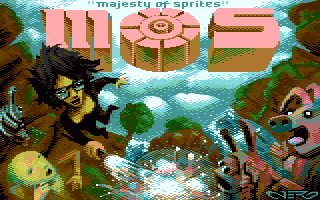 During the same days when Degauss carries in for Bauknecht the Meteoriks prize for the best low-end soundtrack, they arrived at Easterparty (aka Revision) and they were not with empty hands!

Majesty Of Sprites is a hardcoding experiment under the pretences of a no scrolling Giana Sisters' like game running in multicolor bitmap, full of software sprites, gorgeous backgrounds, evil jumps to perform and diamonds and hearts to collect! Bauknecht has shown this preview version at Revision, reaching the 4th place in the generic Game Developing competition. It allows you to play 12 different and very big screens, divided in 6 'worlds' of two screens each. Bitmap sprites look very Atari-ish, having two assigned color only, setting the code free to assign a very large variety of colours any 4x8 (8x8) box (look at the very last screens, they're incredibile), moreover allowing very extensive animation all around. The enemies attack in different movements, and some shoot at you. What you loose in all this, is the scrolling.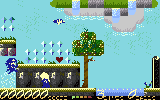 This version doesn't miss even an intro, a jolly title screen that doesn't get shame to show its little colour clashes in the sides, an ending and a gorgeous vanity board with multicolor bubbles versus hires 2x2 characters that saves your scores!

This is a preview only, without ingame tunes, missing several worlds to play and who knows what else to still add in. Don't miss to play this gem and report back your thoughts about!

Code by Mad, graphics by Nero with some help from Decca, music by Degauss.
BKN and TEK, we love you back!
Read comments
| | | |
| --- | --- | --- |
| | See this forum thread for news from Revision 2015 party! | [ comments ] |
| | | |
| --- | --- | --- |
| | After an unexpected 52 hour downtime we are back - please accept our apologies, this was beyond our control. Big thanks to indi for being on top of it and resolving the issue with our host. | [ comments ] |
| | | |
| --- | --- | --- |
| | Thanks to Gaia, we've added some Dutch curiosities: issues 1 and 2 of Bulletin is available for download as PDF. | [ comment ] |

Club Info 137

Posted by Csabo on 2015-03-06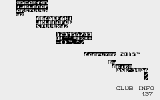 This year's first Club Info is here: Issue 137 is out now. Erich/Ultd from Germany packed two disk-sides full of German language articles (news, game guides, hardware, etc) and recent and new programs. Download your copy and check out what's new if you're interested. Enjoy!
Be the first to comment!

Endings Triplets 43-49

Posted by Luca on 2015-02-25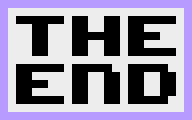 Yes, it's again time for a new batch of 21 fresh game endings just for your lust to see how those nasty games end! Several weird ones this time, including broken endings and BASIC games showing stuff you really didn't expect. Plus, the ending of Rockstar Manager, an exclusive you cannot find anywhere but here at Plus/4 World!

Another seven-triplets released. Come to see the endings of: Manic Death Chase, Heil Sperma, Nathrium Chlorid, Stonepuzzle, Stonepuzzle 2, Stonepuzzle 3, International Karate, Krakout +4, Krakout +4 2, Battery, Battery II, Shogun, ACE, Démonok Birodalma, Bölcsek Köve, Battle Star, Sir Knight, Mike To Mars, Rockstar Manager, Captain John and Beach Head.
Be the first to comment!
| | | |
| --- | --- | --- |
| | Our thanks go to Ninja The Dreams who apprised us of a shared C64 archive of D64 files, containing some German Plus/4 stuff which are missing here. The notable one might be the Kingsoft's Quiwi disk version. | [ comment ] |

Directory Browser V1.0

Posted by Csabo on 2015-02-09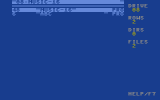 February is here, and today it's Epy who pumps a little life into our scene's beating heart with Directory Browser V1.0. It's a little utility, based on code from his SID player, and as the name suggests, it's for... browsing directories :-) Check it out, you might find it useful. Be sure to give feedback on the forums!
Read comments

Archive Update from Lacus

Posted by Csabo on 2015-01-14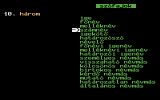 Lacus sent us a big update for our ever-growing archive of All Things Commodore 16 and Plus/4. They are all Hungarian releases. First up is Szófajok, an education title that was completely missing from the database previously. This bears the release code of "ED 100" (interestingly this is printed backwards on the cover).

Three additional releases got brand new alternative covers: Axonometria (which you might recall, as we hunted down the original last January), and Headjust. The third one is Gépi Kód Oktató, for which we now also have a 25-page scanned user manual (see here).

Also added are photos of cassettes for Forth+, Karakter-Szerkesztő and Turbo 16.

Finally, two sought-after TAPs has now been found: Kőműves Kelemen and Csavargás A Gombák Birodalmában! If you're so inclined, you may play the originals in all their glory (instead of a crack).

I hope you enjoy checking these out, big thanks to Lacus for all his work getting these and sending them to us!
Read comments

Merry Christmas 2014 From Absence!

Posted by Csabo on 2014-12-25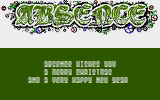 We at Plus/4 World hope that everyone is having a nice holiday time. Hopefully this brand new release from Absence will make it even nicer: Chronos maestro is sending an "e-postcard" to us all.

Check it out: Merry Christmas 2014 and enjoy!
Read comments

Blackjack aka Twenty-One!

Posted by Csabo on 2014-12-20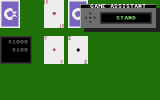 It's been announced on the forums before, and now it's actually here: check out Data-Land's new game called Blackjack aka Twenty-One.

It's a dual-platform release (the disk contains the C64 and Plus4 versions). At the heart of it all, it's the well known card game, but with tons of flair and polish. Highly playable, nice graphics and more:

Includes INSURANCE, SPLIT, DOUBLE DOWN, SURRENDER, FIVE CARD CHARLIE and TRIPLE SEVEN.
One or two player mode, as well as demo mode
Features a "GAME ASSISTANT" (with joystick support) for easy handling
Lots of customizable settings and special effects
Documentation (in German) included
So, fire up the old Commodore and give this one a whirl!
Read comments

Are You Ready To Xplode?

Posted by Luca on 2014-12-09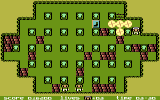 EXpect the eXplosive uneXpectable!
Our little scene still has some gaps in the game genres to fill up. One of those kind of games surely is represented by the 'Bomberman' fashioned games, and we all know attempts to do something on that way have been performed with very promising results in alpha phase (video 1, video 2), attempts which unfortunately did not reach a well deserved final release...

And just before the end of the year, who comes to save the day for the Bomberman fans? Yes, Assassins, mastering C16/Plus4 games zone, are now back, and Skoro is active again on the keys, equipped, as tradition wants, with the only Plus/4 assembler monitor to show you what the dieharder coders can do, even nowadays in the crossassemblers era!
Skoro's Xplode Man wins the prize for the first Plus/4 Bomberman, with 24 screens splitted in 4 zones to clean out and differently fast foes to set alight strategically placing your bombs. Level codes and vanity board will keep your interest high for a lot of time, we all shall meet here at Hall of Fame for sure! The game's charming graphics and overall design are another success by KiCHY, and the pretty sweet results are undeniably on screen. You just know who's missing to be named in order to regroup the terrible trio...yes, it's Csabo, who put in nice SFX and composed two of the most joyous tunes we heard ever on Plus/4, absolutely matching the gameplay.

The rhythm of play is targeted to a slow paced strategic setting, but we challenge all of you in keeping calm down when a faster foe approaches towards you thru the bricked walls and you've temporarily run out of bombs. So, let's see how you'll play your cards on the Xplode Man fields of play, challenge is now officially open. Good one, Skoro!
Read comments

SD2IEC SID Player V2.0

Posted by Csabo on 2014-12-04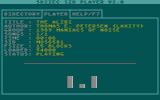 Epy has just released a new version of his SID player. The functionality is largely unchanged, but it has been rewritten from scratch for better usability and an updated look. If you have an SD2IEC, and a SID card, this little utility is a must have. Check it out!
Read comments

Club Info 136

Posted by Csabo on 2014-12-02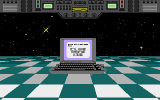 Erich/Unlimited from Germany ushers us into December with the latest issue of Club Info. The 4th and final issue of this year, issue 136 is here for your viewing pleasure with a brand-new short intro. The magazine's format should be well-known to regular visitors: two disk-sides filled with German language articles, and new/recently released software.

If you're ready get into the Christmas mood this early, be sure to check out Christmas 2014: a (mostly) cute and long Petscii-Movie converted by Erich. There's also a new German utility included called Postgebuehren 2015, which contains the current postal charges in Germany. Last but not least, if you want to fire up Page-Setter on the good old Commodore Plus/4, there are hardware plans and the solution for Total Eclipse on the disk as well.

Cheers to Erich for this issue! Check it out and enjoy!
Read comments

Improving The Unimprovable

Posted by Luca on 2014-11-15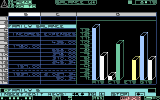 How possible would be, to improve something that just went beyond any expectation, pushing the limit of a certain machine's environment far far away from what anybody could imagine?

Exactly after two years from the release of the powerful version 2.0, SVS as the serious and professional side of the FIRE crew throws an ultimate hit in order to definitely close the match, advancing the program which has been usually indicated as the highest in quality he did ever: SVS-Calc 2.5 is out now, and it looks like being the tool that candidates itself to become the most advanced on 8bit machines in its category!

Apart of the loooong list of fixed bugs, there's a huge amount of new features and improvements: complete usage for the Symbolic Names managing relative coordinates too, speed up video, Plus Graph / Plus Graph 2.0 total integration, new nasty-to-find easter eggs to spot out... Too many features, that's quite impossible to write'em all here, in facts there's a very long whatsnew.txt included in the package in order to keep track of the fresh new weaponry available in SVS-Calc 2.5. Some of the new characteristics are completely innovative and miss into the most known nowaday PC tools, like the PUT() option, the WHAT option available by menues or the recalculation counting in lthe eap years. So many news about the video output too, with the implementation of dedicated ML routines to speed it up, and several new customizable themes have been included too. The shiny instruction manual in .doc format will be your guide thru the most professional ways to use the tool, in order to maximize its efficiency.

Congrats goes to SVS, who worths big respect for winning his challenge to improve something that sincerely would seem to be out of further improvement. And now, it's SVS-Calc 2.5!
Read comments

Happy Birthday Csabo!

Posted by Luca on 2014-11-15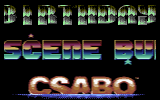 It's the 27th in November again, and I hope nobody out there is three times triskaidekaphobic, because...yes, today is the birthday of our beloved mate Csabo, leader of Legion of Doom!!

How many times the heroic co-maintainer of this honoured site has spent his precious slices of life, stealing'em from job, family, whatever, in order to keep Plus/4 World as much comfortable as possible for the sake of any single user of it? I mean, every of them, from the frequent sceners to the ones we'd see just one time and then never seen again around here? How many bugs have been fixed, how many new features have been added to the site's original structure, how many dramas had been shut off with smiles and wiseness? And has someone counted how many TED tunes went out from Csabo's ears and hands, for the releases of anyone out there? And why don't keep in count the pretty neat magazine intros Csabo has given away as presents in recent times? And who's that guy, which keeps upgraded the best Plus/4 dedicated development tools? Maybe the same guy that added one by one the outer sites' download links to the current pages here? Again the same guy that joins the minigame compos gaining prizes, that converts and fixes C64 adventure games, that even finds the time to accept the gauntlets to enter his scores into the Hall of Fame?

I remember that dude: once a day, he said to me:"Sometimes, you spend a lot of time in something that people won't even take the bore to try...". And he'd spoken these words, but to me it was absolutely clear that, although he was right about that, the joy he got in making his own stuff was inestimable beyond words to him!

The man deserves to hear all the voices in one big batch, in all the glory of one of the traditions the Plus/4 scene should reinstate: the birthday scrolltro! Does he deserve it for what we've written at the beginning? Oh well yes, it also does, but first of all he deserves a birthday scrolltro because he's Csabo and we know, love and respect him since long time.
And you really have to sit down with your tea and read for a long time, as this is a very long one, beating any previous scene's record, with idea, code and TED music by Luca and graphics by Unreal...in a weird 90's fashion ;)

What's left to say? Nothing, apart...happy birthday Csaba! From all of us, with all our love!
Read comments
| | | |
| --- | --- | --- |
| | DirMaster arrived to 3.0.0 version. The update came from August but it seems haven't be noticed. This PC utility is a must, allowing all the functions you dream to/from a disk (tape) image. | [ comment ] |

YAPE 1.0.6 out

Posted by Gaia on 2014-11-03
In what is probably the shortest interval between new releases in years, YAPE 1.0.6 was published a couple of days ago. While 1.0.5 has become the Windows Vista of YAPE, this new release hopefully becomes its Windows 7. Here is the full lowdown:

direction controllers (D-PAD or 'POV' buttons) can now, too, be used as joystick
fullscreen mode made ALT+TAB friendly
occasional crashes on some machines with small border mode on
assembler bug in 64 bit build ironed out (thanks to Luca for pointing it out)
minor fixes
Head on over to the official page for the download. Link: http://yape.homeserver.hu
Read comments

Happy Halloween!

Posted by Csabo on 2014-11-01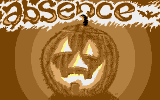 Chronos/Absence is here with a little surprise for the Plus/4 demo scene: Halloween! The picture is the first one drawn by him on his brand new drawing tablet (a birthday present - happy belated birthday from all of us!). Let's hope the tablet gets more use in the future. For now, enjoy the halloween colors and the spooky SID music!
Read comments

YAPE 1.0.5 released

Posted by Gaia on 2014-10-21
Another surprise: after an almost 2-year hiatus finally a new version of YAPE is released. Most notable changes are:

show full IEC path in directory listing
using Direct3D 9.0 (at last...) - still not the most up-to-date but hey...:

better fullscreen mode (no resolution mode change)
more consistent CRT emulation across video modes
adjustable video oversampling in DX mode (i.e. 'Use GDI' off)
Direct3D surfaces can be saved to PNG format
replaced 'double size' with 'double scan' in DX mode (576 row line buffer)
removed deprecated overlay mode and DirectDraw dependencies

Windows XP and higher only (sorry... no time to maintain earlier ones)
file association bug fixed
autostart fixes
tape motor should not start when PLAY/RECORD is pressed via the GUI
some code cleanups

This time follow the link to the "Gaia's Shrine" page to download the latest version. Link: http://gaia.atilia.eu
Read comments
| | | |
| --- | --- | --- |
| | Surprise! After two years, Gaia has updated the TedPlay! Nothing fancy, but we can now see things are moving! | [ comments ] |

Club Info 135 Released!

Posted by Csabo on 2014-09-01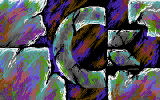 Let's start September with the latest issue of Club Info. Erich/Ultd has just released the issue 135 of the long-running German disk magazine. (Might be the longest running disk mag in all of 8-bit history, though we haven't checked.) The scene kept Erich busy with new releases: you'll find articles about tons of recently released stuff, including overview and solution for Ghost Town [PAL/NTSC], map for Saboteur C16 +2J, continued descriptions of Total Eclipse and SVS-Calc 2.0. Side B contains a nice compilation of new releases, and some maps for games - you'll have to fire up Page-Setter to view these. Check it out and enjoy!
Read comments

Hall Of Fame Updates

Posted by Csabo on 2014-08-31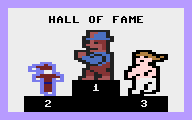 Our Hall Of Fame has got a new lease on life. Thanks to everyone for their feedback, your voices have been heard. The latest update gives you these features:

One games that is more than one game: sometimes, like with Summer Events, you can play two or more different games. A new field (called sub-game) allows you to enter which one you've used. Other examples are Cave Fighter (has Side A and Side B versions), or Daley Thompson's Star Events (has Day 1 and Day 2).
Secondary score: for games like G-Man, the score will have a maximum value (4000 in this case). Entering a secondary score (time) will allow us to rank the best ones.
Statistics: the top section has been expanded reworked and now includes some (hopefully interesting) statistics.
Some of these features still require manual work, and of course bugs might occur here or there, so be sure to speak up if you have more ideas, or if you see something that doesn't work quite right. Otherwise: keep on gaming :-)
Read comments

Spektro's Treasure!

Posted by Csabo on 2014-08-30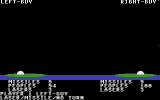 Spektro dug though his personal collection and found 12 new pieces of software for the site! 6 of these are Finnish language, which is something quite rare (including these, we're counting 9 Finnish language programs in total, ever). If you feel like checking out some rare never-before-seen oldies, give these a shot:
* Finnish games: Alcatrazin vangit (an adventure), Hazard, Kaivos, Klassista 16 (a demo, music box), Liikemiespeli and Othello.
* English games: 16 Trap, Bandit, Landing, Space Radar, War Games and Z-Worm.
Big thanks to Spektro for these, enjoy!
Be the first to comment!

Temple of Terror!

Posted by Csabo on 2014-08-23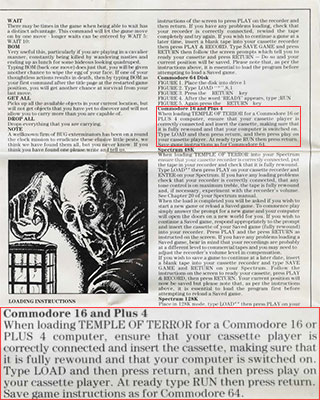 Let me tell you a little tale about Plus4 Pete. On a nice sunny day in 1987, fourteen year old Pete met up with his two best friends, ZX Zachary and SixtyFour Sid. Both of them had a brand new computer game called Temple of Terror. Over at Sid's place, as they loaded the game up, Pete exclaimed: "Oh, this is Fighting Fantasy! I love those books!" As he scanned over the instruction manual, his eyes caught this phrase: "When loading TEMPLE OF TERROR for a Commodore 16 or PLUS 4 computer..." Excited, he rushed to the nearby computer shop, and slapped a few wrinkled bills on the counter. Victor Vendor, the shopkeeper sniffled, and said to him: "Lookie here kid. That's probably just a typo, they's left it in 'cause it generic text. All I's knows is, I ain't gots this game and that's that." Disappointed, Pete left the shop and walked home. His wish to play the game on his home computer was forever unfulfilled.

But wait, the story's not over just yet! A mere 27 years later, a middle aged Pete dusts off the ol' Plus/4 and loads the game up. His friends, Zachary and Sid are over for the momentous occasion. "Did you guys ever finish playing it?" Pete asks them. "Nah," replies Zachary, "it was full of bugs, and at the end, there's this door, and when you try to open it, it says something stupid about pirates being eaten by crocodiles. I guess my copy was bugged." "Mine too!" chimes in Sid. But lo and behold, the Plus/4 version works!

With that introduction, I'm proud to present my conversion of Temple of Terror adventure game.

Plus4 Pete... IS YOU!
Read comments
| | | |
| --- | --- | --- |
| | Hollywood Poker: One of the biggest commercial tapes ever to be released on Plus/4 has finally been converted to TAP files! | [ comments ] |
| | | |
| --- | --- | --- |
| | Plus/4 World now has "one-liners" or "notices", small news items that are usually not more than a sentence. | [ comments ] |

Back On The Ground

Posted by Luca on 2014-08-15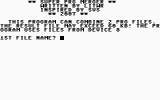 We really need to land our feet on the solid ground again, after the incredible stuff seen on the scene. And there's no better way to do that than updating the serious side with utils and tools.

SVS has released an English translated version of PLUS-Comp compiler, hence now it can be used worldwide. Please notice that this translated one is based on the Kocka's crack, hence we're still looking for the original one!
Some stuff coded by Litwr has been wrongly omitted from this archive, and it's now time to recover it. First of all, the Super Prg Merger utility. And more, two PC conversion tools: Prg2p00 converts PRG files into [P00] format with no characters mismatching; Txt2seq allows to easily convert any plain .TXT file into one or several SEQ files.
Be the first to comment!

Rocket Science!

Posted by Csabo on 2014-08-09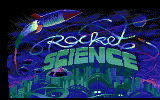 Bauknecht just released Rocket Science (a new Commodore Plus/4 trackmo spanning two disks) at the Evoke 2014 party. Don't delay, check it out now!
Read comments

Some Updates

Posted by Csabo on 2014-08-08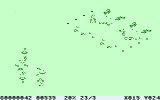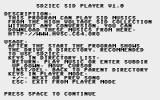 A little retro-active update: Epy released V1.1 of his SD2IEC SID Player. The utility got a nice facelift as well as several other improvements. Check it out and comment on it here on our forums.

The other update is from Litwr: he released V3 of Xlife. He created two new YouTube videos (#1, #2), check them out! If you think the second one doesn't look like a Plus/4, it's not a mistake: the program has also been ported to Amstrad CPC6128 (the first such conversion that we know of!).

Enjoy!
Read comments

Dracula Adventure from Brazil!

Posted by Csabo on 2014-08-05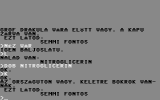 Brazil writes:

I had a little free time and I converted an old C64 adventure game to the Plus/4 - again, since I did this once around '86, but that one along with many programs is unfortunately lost. I think the original game is very entertaining, one of the best works from my friend Miklós. In the end, one will either like the game or not, but of course it's never a problem that there's one more piece of software for the Plus/4 :-)
Couldn't agree more! I'm also personally very happy to see one of the Elder Greats sit down and code something after a 26 year break. Anyway, if you're an adventure fan, check out Dracula Adventure!
Be the first to comment!

Arok #16 Party Releases!

Posted by Csabo on 2014-07-20
The Arok 2014 party has wound down, the competitions are over, and we have the releases! Here they are:

In the graphics compo, Grass released Mechfight and Chronos released Partyland Revisited. Unreal created a C64 graphics, which came in first (Plus/4 version is here)! Results are now up.

In the wild compo, BSZ and Stinky of NST presented something extraordinary: 50 fps animation and 12 bit music on a Plus/4, with the help of some special hardware. It's called Evo Lution, check the video on YouTube! Update: check our page for details on the making of this demo by BSZ and Stinky!

In the demo competition, there were only two entries: Afterglow by Csio/Absence and a C64 invitation intro. Unsurprisingly, the Plus/4 entry won :-) Congrats to the authors! The current release is only a party version, so we're hoping to see a full release soon.
Read comments

PLUS-Comp Found!

Posted by Csabo on 2014-07-16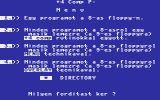 This is just a quick note that a long time missing utility, PLUS-Comp has been found. (It was on the B side of Pluvi 32, so, in a way we've already had it on our site all this time...) It's a BASIC to Machine Language compiler, similar to AustroSpeed (or the much lesser used Micro-BASIC-Compiler). In the past there have been some interest about these (as well as some very dedicated reverse engineering efforts), so it's probably worth a quick mention. Check it out if you're interested!
Read comments

Shack!

Posted by Csabo on 2014-07-11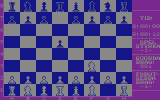 Shack? No, not the English word meaning "a roughly built hut or cabin", but rather a Swedish word which translates to Chess. After releasing another five-letter, one-syllable converted game (Whack) earlier this year, Gaia is back with a new conversion called Shack. It's a Swedish chess program converted from Commodore 64 that runs on 64K machines. It has adjustable difficulty setting (from 1-9), load/save state option and even undo. If you feel like playing a round, fire it up and see if you can beat the computer! Check it out and enjoy!
Read comments

Notepad+4

Posted by Csabo on 2014-07-10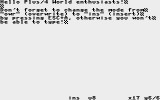 Litwr just released a new text-editor for the Commodore Plus/4 called Notepad+4. The editor can use the same keyboard combinations as the default BASIC editor can. It can also load and save SEQ files, has a find function as well. The disk contains the Austrospeed compiled version, the original BASIC, documentation and example files.

Litwr suggests that it can be thought of as a complement SVS-Calc, together they form the perfect Office :-)
Be the first to comment!

Indoor Soccer Brasil Edition!

Posted by Csabo on 2014-07-08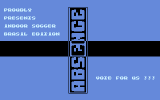 There has been so much talk about the FIFA World Cup on our forums that Chronos decided to do do something about it: he just released Indoor Soccer Brasil Edition! It's a dressed up version of Indoor Soccer: play as either Germany or Brazil in 1 or 2 player modes. For those who haven't seen the match yet, I won't spoil it :-) Anyway, enjoy the game!
Be the first to comment!

Botticelli Bilderdisk

Posted by Csabo on 2014-07-05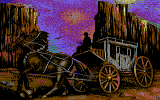 Once again Erich/Ultd is back: he just released this year's installation of the Botticelli Bilderdisk series. (It's a two-sided picture show using the Magica driver.) You'll find 32 public domain multicolor pictures (side B has an info file). If you enjoy picture shows, be sure to check this one out!
Read comments

Endings Triplets 38-42

Posted by Luca on 2014-07-02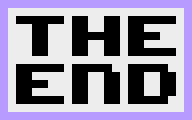 Long time no see, eh? We guess it's time for a new batch of game endings! A quick announcement: the Game Endings page has been improved again: not only they're sorted by language, but we've also included Broken Ending and No Ending types. Picking up the most notable ending of this round? Oh well, Pogo Pete for sure!

Another seven-triplets released. Come to see the endings of: Bloby, Ghost Castle, Moon Buggy, Patt Ball, King Of Kings, Boomber 2, Puzzle 3, Puzzle 4, Kazik And The Ghosts, Megabolts, Diamond Town, Magic Ball, Pogo Pete, Matrix, Commando, S.H.I.T., Halallabirintus II, Punk Puzzle, Cave Guennie, Mc Stoney, Apollo Mission.
Be the first to comment!

SD2IEC SID Player

Posted by Csabo on 2014-06-17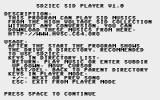 Our newest registered member, Epy has just released a little utility called SD2IEC SID Player. If you're a lucky owner of a BSZ SID card (see this forum topic), this may come in really handy. It can load SID files from HVSC and play them automatically. Check it out and enjoy!
Read comments

Virtual Cyclist by Grass

Posted by Csabo on 2014-06-12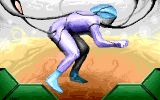 Some quick news about a fresh release: Flashback 2014 was a party in Australia that ended a few days ago. Grass represented the Plus/4 scene by submitting the only Plus/4 production: a picture called Virtual Cyclist. It came 6th. Check it out and enjoy!
Read comments

Club Info 134 Released!

Posted by Csabo on 2014-06-04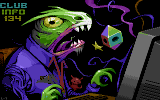 The second (out of four) issue of 2014 is here for Club Info: Erich/ULTD just released Club Info 134. (For those who don't know, Club Info is a long running German Commodore Plus/4 diskmag, released every three months.) The theme of this issue is celebrating 50 years BASIC. In that vein, there's several new BASIC examples/demos that can be found on the B-side of the disk. They are: Katze ASCII Print, Meriday in the morning, Walk Sprite-Animation, Indiana Jones PETSCII, Going Up PETSCII, Calculate It and Far Cry. Check it out and enjoy!
Be the first to comment!

Commando Loader

Posted by Csabo on 2014-06-01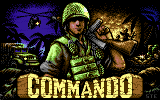 Chronos dropped a self-described "quick and dirty" release onto the scene: check out Commando Loader! It contains the improved version of a newly converted picture that was recently discussed on the forum. While your eyes feast on the pixel work, you can listen to Pigmy's conversion of the classic Rob Hubbard Commando tune! So... Enjoy :-)
Read comments

Hungarian Cover Scans And Tapes

Posted by Csabo on 2014-05-21


Lacus scanned and digitized a big batch of Hungarian tapes, all of which has now been added to our database. Many of these have been missing and sought after for a long time!

If you're interested in the "collecting" side of things, this should be the list for you to check out: Almatúra (TAP file and proper crack), Breki (TAP and proper crack), Bűvös Négyzetek (TAP, cover), Headjust (TAP), J Vagy Ly (Alternative cover), Memória (TAP, cover), Oszkár A Lovag (TAP - finally and an alternative cover), Sakk Kezdőknek (C16 only TAP), Számépítő (Alternative cover), Ürpók (Alternative TAP), Walaki (TAP, cover).

Besides the above, several other C16 games' cassette photos have been added (Gunlaw, Killapede, Menekülés, Roll, Spore, Steve Davis Snooker, Varmit). Big thanks for these, enjoy!
Read comments

Note-Game From Champ

Posted by Csabo on 2014-05-20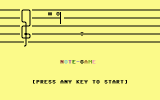 If you have a few minutes, check out Note-Game, written by someone who must be the youngest coder on the scene: Champ (angelsoft's son). It's his first program coded completely by himself! It's available in both English and German. The game teaches musical notation (and scores you as well). If you have some words of encouragement or perhaps ideas or other comments, be sure to hit up the forums.
Read comments

HVTC Update May 2014

Posted by Luca on 2014-05-19
Long time not seen with the High Voltage TED Collection, aka HVTC, which now is very close to contain all the known significative TED music that has been produced overall. After a whole year now, here comes the brand new update for the HVTC!

We've reached the notable number of 391 single files overall, preserving the classic folder structure with both untouched piece of the original code and the quickly runnable ones. Some previously added tunes have been fixed or swapped with a better version (not Metamerism file, which still has been claimed to be a slightly different version compared to the one actually played in the released demo), and there are several new folders too. Let's sum up addons both from the '80ies games (Nike hawk, Blockbusters, Footballer Of The Year...) and the most recent releases (Warrior of RAS Volume I - Dunzhin, Sgt. Helmet Zero, Amiga Music Box 1...), and a shiny number of 66 managed files pops out from the hat!

Don't forget to completely delete the whole previous collection (that's the way to do at any new update!), then download/unzip the new one!
This is the straight link to the ZIP file.
Read comments

Flood What? It!

Posted by Csabo on 2014-04-30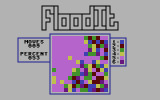 If you're going to flood something, let that be the playing field in this game. Okay, enough of the "witty" banter, Csabo has just released another small "toy" game (somewhat similar to 2048) called FloodIt. If you enjoy puzzles and logical games, this might provide you with a nice distraction. The game has a tournament mode, which contains 16 hand-picked levels and is meant for players to compete in our Hall Of Fame. It also features a random level mode for virtually unlimited variety. Check it out and enjoy!
Read comments

A.R.C.O.S. In Steroids

Posted by Luca on 2014-04-29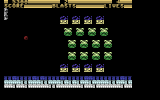 Do you remember about the little Spanish knockout game A.R.C.O.S. C16 developed by Baron Ashler and sweetly released in .PRG and .TAP formats under the Kabuto Factory label?

Even though being a pretty nice and original game, it was a BASIC written piece of code, and this unfortunately meant it would undergo a terrible slowness overall, which definitely affects the game's playablility. Baron Ashler has declared that he tried to compile the code with unfruitful results. That's why we've asked for an hero to save the day!

And an hero has come, at last! If the earlier version has been released in Xmas, the new one can't have a release day better than Easter! Easy to guess him, SVS is the Man who eats beef'n'compilers since years. With his help, it has been possible to compile A.R.C.O.S. C16 into a better playbale 32K version, again available as .TAP and .PRG in the same page! Go try the new one!
Read comments

Commodore16.com Relaunches For Its 10th Anniversary!

Posted by MIK on 2014-04-26
As some of you regulars know Commodore16.com has been out of the lime light for a few months now so the guys could work on updating the site as a whole. Whats more the site has become more stable overall and at the same time the guys have also been intergrating other and extra features to work together as one. As it stands now the site is coming along very nicely and has now reached the point where business is back to normal. While there is still some minor work to be done as Chris explains in his latest news entry, that all important shop is also back online!!

If you missed it the first time, now's your chance to experience the C16/Plus4 site that offers help and support while reliving all those classic games rolled into one! As for all you regulars your in for a treat as the whole site has had a total face lift using that classic Commodore font you know and love. Anyway's pop along and show your support, hope to see you there! Cheers Chris & Barry,(Webmasters of Commodore16.com). :)


Read comments

Tamed/Plus4

Posted by Csabo on 2014-04-23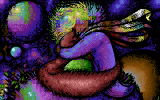 Chronos/ACW released a new picture today: check out Tamed! The picture is based on Exupéry's book "The Little Prince", and was drawn on C64 by Jailbird (who gave his blessing for this conversion). Check it out and enjoy!
Read comments

2048

Posted by Csabo on 2014-04-06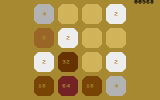 The "Flappy Bird" mania has skipped our platform, but if anyone is still interested in playing 2048, they now can! (Or, if you've never heard of it before, you might want to give it a try as well.) A simple implementation, no fancy colors or music, in all PETSCII glory. Let the hunt for the high scores begin!
Read comments

What Is Essential Is Invisible To The Eye

Posted by Luca on 2014-04-01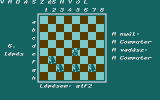 Because of a certain lack of solid news, you can argue there's a sort of short lapse of snoozing around here... Well, this little reminder as news is just to say: nothing wronger than thinking that!

Even with no manifest symptoms, all the guys who periodically keep this site fresh adding more and more stuff and infos into it, are under heavy working day by day, and so many new entries have been (and will be!) added to our beloved archive. Listing all of them is almost impossible, also because several of these fresh entries have been included by synergistic job during more than a single day of duty. Let's try to cite some of them!

Csabo has recently added some precious scans and tapes of very rare Hungarian games: Vadász És Nyúl and Flipper, and his very hard work about adding new download links in any single entry (yes, in any single entry, you've read it!) continues with no pause.
Luca keeps up to include infos about tons of obscure Italian rereleases in the archive, the old game hacking labels seem to continuously appear from nowhere: Master's Software House collections, the never seen before Movie Box, Computer Set, Go Games, Byte Games, C16/MSX, all of those and many others daily get new infos, covers, pubs in .PDF and .JPG formats. Plus, dozens of new .PRG and .TAP files have been added about, 'cause he's keeping to buy and dump several tapes in order to preserve'em forever (just to cite the very last ones: C16/MSX 5, Pott-it / Shoot-it, Tennis (Movie Box), Calcio, Interceptor (Soft)). He's also entering all the fantastic contributions coming from all our friends, especially C16 Chris...
...And several German magazines just coming from C16 Chris have been added too (we're talking of about a Gb of those!). Due of this big supply of virtual paper stuff, Rüdiger is right now affording a majestic work on that ones: entering obscure magazines issues and all the related entries (Commodore Welt anyone? :) ), linking any single published type-in or reviewed software, including any single credit per entry and much more. And when the searching succeeds, .PRGs and .D64s of some published programs got added too.
Do I also have to cite all the uncited fixing and improving that hourly occur around here? Endings, Hall of Fame, new cheats, new stuff's fixes... Oh well, that's routine in the very end ;)

We strongly suggest to keep watching to the New Stuff page here, what is essential is invisible to the eye!
Be the first to comment!

Ultimate Map V1.8

Posted by Luca on 2014-03-23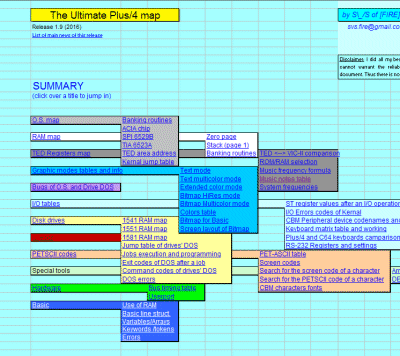 Two years are enough since the last version of SVS'Ultimate Map, it's now time for an advanced, most complete, version of that XML file you have to refeer to in order to play your cards right while coding on a Commodore 264 series machine.

There are dozens of improved definitions and fixed infos inside the new V1.8 version of Ultimate Map, and a new light blue color to define inner ranges of memory. Sections and arguments which have been substantially revised are:
- graphic modes;
- PETSCII codes with CBM+key codes;
- fixed F-keys codes and more;
- new tables and command modes about RS232;
- further infos in RAM/OS about: ACIA registers, banking routines, OS96, LOAD routines, functions keys, monitor commands, RT clock.
Read comments

Club Info 133 Released!

Posted by Csabo on 2014-03-09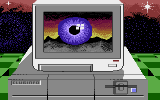 Erich/Ultd is here to kick off the news this month: Club Info 133 is here. The German diskmag is back with a fresh intro and lots of new articles, plus the usual release-filled B side. Among these is a new conversion from Erich called Cooking PETSCII, a nice looking PETSCII animation (done by JSL on C64). Check it out and enjoy!
Be the first to comment!

Methabolix Anno 2014!

Posted by Luca on 2014-02-12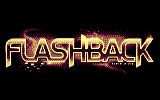 Which would be the best way to begin a new year in the scene? Yes, with the first demo release of the year! What can be called 'a good omen demo release to begin the year'?. Yes, again: a demo release from a memorable crew we've missed for too much time so far!

Methabolix is one of the groups we missed the most. Its members merged under that label to take the Plus/4 scene a step forward in the quality side, having released groundbreaking megademos in terms of code, graphics, ideas and overall design. We really miss its beneficial presence in the nowadays scene since 20 years now. Fact is that Rachy has represented his group several times when he'd taken part in the new millenium's compos like 4Ever 2003, or the limiTED online democompos (both first and second editions). Sometimes old unreleased stuff signed MX surfaces from the forgotten depths of the scene's history, and in the best case someone reorganize old parts in a modern and working release, like Metapharstic 80%. But the truth is that we're missing a straight release since 20 years now!

The wait is now over! After 20 years of silence, Beast and Unreal are back, now with the assistance of Csabo/LOD in the music department, with a little dentro named Flashback, a pretty nice democoding training just to regain the habit and see the gears moving again.
Flashback is an emotional leap behind to the golden era of evolution in the Plus/4 demoscene, before the looming big crisis in the years 199x.

Welcome back Beast and Unreal, even though for a while. We've missed you, and you have reminded us that it's never never never too late!
Read comments

16K Sabotage In Joystick Sauce

Posted by Luca on 2014-02-08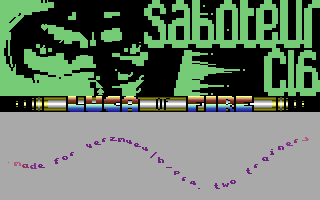 In the forum's thread where Yerzmyey/H-PRG asked for a trainer version of Robo Knight, there has also been a second request, regarding Saboteur C16, a request that flowed a bit unnoticed, with no real feedback about.

After some months, Luca of the FIRE crew has taken back to his steps, and realised that it had been formulated as a tangible request, not a simple chitchatting about a game! So, why don't accept it?
Moreover, a trainer for Saboteur C16 is a juicy challenge. Go to read what the original instructions say as first sentence:"...originally designed to run on computers with a least 48k of RAM. So to fit it in the C16's much smaller memory we have had to make a number of cuts (for example, you can not kill the guard dogs, or use a joystick). This version occupies almost every single byte available on the C16 - we are sorry for the cuts...". This means: hard to pack with an initial cracktro, and with no joystick feature.

It's a deal, then! Here comes Saboteur C16 +2J, an useful double trainer in order to finish the game at every difficulty level, plus the joystick feature, claimed to be cutted due to memory limitations by Barney, the misterious name that hides who's the actual coder. Slicing here and there, moving whole memory areas and other tricky stuff, and the cracktro fits too...yes, 'that one with the enjoyable tune composed by Csabo/LOD!

Rediscover a great C16 classic, now by comfortable joystick action!
Read comments

Moldi's Treasure 6/10

Posted by Luca on 2014-02-05
Almost two whole years passed since we'd promised the next release of Moldi's stuff, we know that, ok. But, hey: did you ever think we've dropped with this series of surprising releases? No, really? Absolutely not, of course! Half of the journey has gone, and now it's time to catch the turning point and run the second half till the very end...starting now!


Let's have a glance to the serious side first. There are various utilities of different kind and educationals about different arguments in this bunch, but it's rare to find another two programs about astronomy in the same giveaway, both Hungarian: Naprendszerünk and Csillagaszat 8.0, pure BASIC power at the service of the celestial bodies' science. Still from the education side, here comes Kolumbusz Hajója as the second release of Vince Balla we know. But that's not the one and only sophomore here around: other author's second absolutes are KonyvKatalogus by Zoltán Czako and Super-file 4.0 by Big-Frog. Other programs follow, and a mistery too: who really is the TCT that converted by his own Disk Manager +4? The scrolltext suggests to read his address under $6000...where?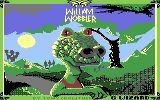 Let's jump to these old demos that almost nobody has seen before. There's no doubt that our today's ace is Demo Mine I, the demo searched for so much time by its author Gaia...yes exactly, the man nowadays we mostly know as the YAPE's father. Read the whole story about this old two parts demo straight from his own words. Let's complete the palmares of Beginner Duo's demos by adding Logo Demo (Beginner Duo) and the Beginner Duo Disk which collects the most known of their productions. Digimix-1, Digimix-2 and Digimix-3 play the tunes that Sharp/SCN had composed in Rock Editor V1.3, Adventure Leírások talks you about Hungarian adventures, and...oh! Whoever Basf and Sony are, here's their Lista of programs!

Enough with coding, it's time to play! The Hungarian adventure game A Ninja Küldetése has now been found and included in the database! Also, the wonderful Plus/4 version of Loopz is now in with its original copy, and a different Rakontakota version with intro picture has been picked up too. Solitair is an unknown board game created by TGH, and it's neat and lovely as we could expect known its creator. Wait a moment...Rockman II Editor by TCFS? Oooh now I see, Krussoft cheated again, his Rockman III + Editor was basically a ripoff ;)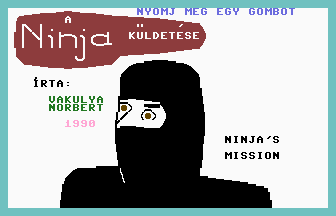 This is the complete list for the 6th release in the series:
A Ninja Küldetése, Digiripper V2.1, Page-Setter (hungarian), TurboTrans With Fload (original), Dirsort LEH (2 versions), RAM Disc, Reformat V4.0, Naprendszerünk, Osszeadas Es Kivonas, Lemezteszt, Rejo-turbo, Floppy Master, Micro Text 2.0 (crack), Anti-cracker, Csillagaszat 8.0, Disk Manager +4, Characters 2 (2 versions), Cool Convert, Kolumbusz Hajoja, KonyvKatalogus, Super-file 4.0, Digimix-1, Digimix-2, Digimix-3, Beginner Duo Disk, Logo Demo (BD), Adventure Leírások, Lista, Demo Mine I, No AIDS, Fantasi, Loopz (original), Cuthbert Enters The Tombs Of Doom (crack), Jump Jet (crack), Spiderman (crack), Solitair, Othello (Hungarian), Rakontakota (picture), Rotary C16-ra, Rockman II Editor, Pasziansz.

We promise you won't wait years before the 7th...oh wait...wait a minute, someone here is telling...telling us...that we have a relished bonus for this 6th date! The emotional flow once he has met his past, took Gaia to his roof, searching for some old PPCS releases we didn't get into our archive yet! Thank you Attila, here comes a little unexpected addon:
The Final Deleter (version), Deli Compacker KNM Versio, Kep-Konverter, Picture Show 2 (PPCS), Dudaorru Patric (crack), Super Cobra (crack).
Read comments

A First Release From Slovakia

Posted by Csabo on 2014-02-01
New releases are quite rare for the C16/Plus4, so I believe this is worth a mention: MIRKOSOFT from Slovakia released a little utility called Text Resizer. If you're happy to see new releases, or gladdened by the fact that new coders are choosing our beloved platform, be sure to add some words of encouragement in the forums.
Read comments

Releases By Dr. Szilassi Online

Posted by Csabo on 2014-01-29



Some retroactive news: the missing releases by Dr. Szilassi are now online! We have the covers and program files for: Algoritmusok, Játékok, Axonometria and Számoljunk. If you haven't done so, be sure to read the entire saga on the forum, and big thanks to all involved: Lavina for tracking down the author, Lacus for actually meeting him and transferring the disk images, and Luca for processing and uploading the files to our site.

Last, but not least our deepest respect and thanks to the author for offering up these materials for our site, we're very thankful.
Read comments

NST's Monitor Extension Updated

Posted by Csabo on 2014-01-20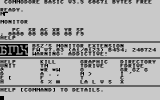 Just a quick note to let everyone know that NST's Monitor Extension was updated to version 7.02. Head on over to its website, or read the (English language) change log here to see what's new.
Read comments

Happy New Conversion!

Posted by Luca on 2014-01-08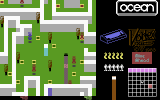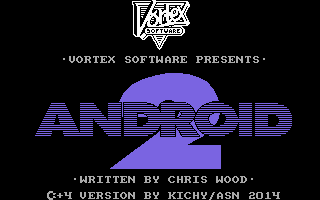 Happy new year, my dear Commodore 16 and Plus/4 sceners, users and, in a word, lovers! We've got some lucky days in the very end of 2013, with several surprising and unexpected releases, and the best we can wish for the new year is to keep on with this trend.

Hence, there's another record in the Assassins' trophies case: KiCHY has performed the very first release tagged 2014! Android 2 is a 1983 game just converted to Plus/4 in order to say goodbye to those 30 years and enter in a new era! It's an action game filled in with robots, mazes, worms and mines, all doomed by a ruthless time limit, along three levels of hard tasks. Get in search of 5 Millitoids per level, kill'em with two well dealed shots and turn back to the transporter capsule in time.

Year 2014 is just at the beginning, and we're now ready to shoot at droids! We at Plus/4 World are believing it's a good sign, happy new shooting, dudes!
Read comments

Merry Xmas-gaming From Spain!

Posted by Luca on 2014-01-04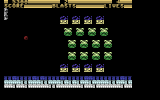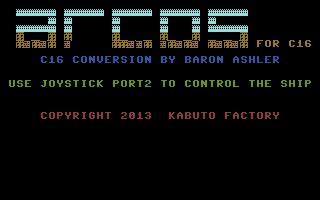 We were so close to have a glance back on our shoulders to see what's happened along the whole 2013 in the Plus/4 scene, but the proverb say:"Never close the stable door until all the cows are in". And, oh well, there was a last cow standing outside.

Just after the Xmas day, the Spanish software developer group Kabuto Factory has released its sophomore product on C16, previously presented for several machines (C64, MSX, ZX Spectrum, Amstrad CPC, ZX81) and once again created by Baron Ashler: it's A.R.C.O.S. C16!
The game basically plays like a knockout clone, but here the 'bricks' to break out need to be strategically amied at, and others must be saved in some ways. Not an easy task, especially when the level design complicates your job.

The game has been written in BASIC and, although pretty nice, it appears to be quite slow. The author did some attempts of compiling it with C16/C116/Plus4 Micro-BASIC-Compiler, but unfortunately he failed. So, does exist around here a Compiler Hero who is able to release a compiled version of A.R.C.O.S. C16 to see how it runs? Game in the game, sirs! ;)

Meanwhile, happy new year Kabuto Factory, and keep up with the C16 section, we're gonna like it more and more!
Read comments

Hires Color 8 Arrives

Posted by Csabo on 2014-01-02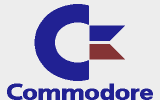 After what we could call a successful year in the Plus/4 Scene, Erich/Ultd from Germany is here to usher in the new year.

2014's first release is here: Hires Color 8. It's the 8th in the yearly series. The two disk-sides contain 16 pictures each, all of them are using the high-res graphic mode. It's a very varied bunch, ranging from C64 artists like Leon and Veto - to even including the title screen from Storm +4.

What's your opinion? Which one's your favourite? Enjoy and discuss! Big thanks to Erich for this release.

Read comments

Angyalbőrben - Happy New Year!

Posted by Csabo on 2013-12-31
At the moment of this writing, the European folks are already in 2014, while some of us here in North America are still stuck in the Old Year.

Anyway, a quick last minute gift for you all: C16/Plus4 in the Media. I found an old clip from a Hungarian TV show, called Angyalbőrben (literally meaning "In Angel Skin", refers to being in military uniform). One episode features a Commodore 16, and even a Hungarian C16 game! Check it out and enjoy - and be sure the read the transcript (complete with translation!) to get a clue as to what's going on.

Hopefully this section will expand more in the future. Happy New Year to all!
Read comments

RPG Time!

Posted by Csabo on 2013-12-24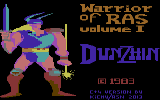 Kichy Maestro has already rocked the news this year, but he's back once again with an encore!

Dunzhin is a 2D Rogue-like role-playing game. Enter the dangerous dungeons to fight hordes of enemies and leveling up. The hero's main goal is the recovery of a treasure hidden on the deepest level. The levels are always randomly generated, which will ensure a fresh experience each time you choose to descend. The game accepts even complex commands, so be sure to read the documentation included on our page.

This little gem is placed under your virtual Plus/4 Christmas Tree, enjoy!
Read comments

C+4Hires V2

Posted by Csabo on 2013-12-18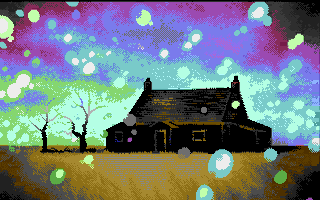 carrion released a new picture show today: C+4Hires V2. It's the sequel to C+4Hires from June of this year, this time with 7 pictures instead of 15. The pictures are recolored versions, the originals are from Deev, Frost, Leon, Electric, Mermaid and Veto. Visit carrion's blog for more details. Check it out and enjoy!
Read comments

MCG's Treasure

Posted by Csabo on 2013-12-18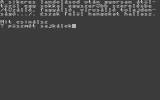 Recently registered but long-time Plus/4 enthusiast MCG sent us some programs that were missing from the database. Please allow me to editorialize a bit:

One in particular, A Sötét Jövő, is especially a happy find for me. There's a few reasons: the author is from my hometown (Eger). I like adventure games (and judging from recent forum threads, I'm not the old one!). But mostly, because this game was "lost" for so long.

We all had different childhoods, but most of us are here on this site because of nostalgia. For many of us Hungarian folks, CoV (Commodore World) was an important part of our lives. I religiously bought every issue, and I remember that many of us lamented the eventual end of the Plus/4 section in the magazine. In issue 24 of the magazine, the solution to this adventure was listed. I didn't have the game myself, but I didn't have that many "contacts" back in the day. (Remember, this is pre-internet times, so all scene software was spreading via snail-mail.) I figured I'd eventually get it.

Fast-forward to the era of Plus/4 World: it seems that we've looked though everyone's disk archives, and this game is just gone... Along with quite a few others. I personally thought that it's lost forever, since the author himself (Jakec) confirmed that the didn't have it.

That's where our friend MCG comes in :-) He just simply had the game! Rediscovering something like that, 22 years after it's release, is great in my opinion.

Besides that one game, he sent me a nice big batch of files, including this own program archive listing. This was at the end of October, and with "lightning" speed, the programs are already up. Well, a few things slowed me down. First, I created a page specifically for checking collection listings. It's not very fancy (quite the opposite), but it can be found here. The idea is simple, copy/paste a list of PRG files, and the page will tell you which ones we have and which ones we don't. Matching programs by filenames requires the database to be 100% up-to-date and correct, but that's probably impossible. Nevertheless, if someone wishes to use it, it's there, you can contact me for more details and/or feature requests.

The other thing where I bogged myself down was that his programs included 10 versions of Formula 1 Simulator, (1-10). After long-time gentle nagging from Gaia, I picked up Visual C# and the first small program I wrote in it was a utility that can draw the scenery and display the track from the game. (You can read more on that in this forum thread.) Armed with this utility, I was able to sort all of them; it turned out that only one was completely new, the others were variations of the existing programs.

Finally let me mention two more programs: Microdemo II was also a long-lost demo from CSM. Farm Song 4 requires viewer discretion, and I'll reserve judgement, but this was mentioned on the forum 7 years ago, and well, now we have it.

Big thanks to MCG for these! More will likely be forthcoming, so be sure to keep an eye on the New Stuff section.
Read comments

There Is No 16K Only Support

Posted by Csabo on 2013-12-15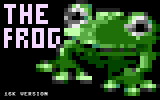 A little gift from Germany! Inspired by our famous forum thread, angelsoft did some programming and sent us 3 new versions of his games. Each new one runs just fine on stock C16 machines. Diabolo is the first one, it replaces the old Plus/4 only executable. For Pilot X, there's a new loading screen and the game autostarts (it has to be loaded with ,8,1). Last but certainly not least The Frog, which made the news recently (and was rated nicely) is now also available for Commodore 16 gamers! The new version sports a nice loading screen and has also one change in the gameplay: the levels will now progressively get harder.

Check it out and enjoy! Big thanks to Jens for these, and remember, there is no 16 only support ;-) (Or is there?)
Read comments

Club Info 132 Released!

Posted by Csabo on 2013-12-12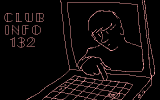 The last 2013 issue of the German disk-mag Club Info, number 132 has arrived. Erich/Ultd packed the two sides full: side A has German language articles. Among these is a very detailed review and description of Championship Wrestling, the continued docs for Scapeghost, a users guide to SVS-Calc 2.0. Side B offers recent and new games. Check them out! Big respects to Erich!
Read comments

Better Colors In "Town"

Posted by Luca on 2013-11-30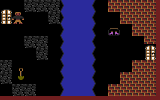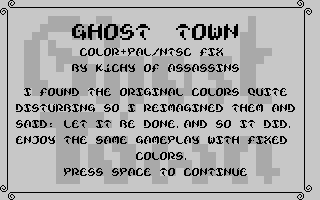 Yes you're right, it's a C16 classic. And again: yes we understand it should be considered perfect as it has ever been. But everything can be improved, you know...

Kichy of Assassins crew just liked this Kingsoft's famous arcade/adventure game, but he dislikes how some assigned colours have been set along the screens. Hence, it's a change for a rerelease, with better colours and, why not, PAL/NTSC compatibility as addon!
Et voilà, release achieved! Ghost Town [PAL/NTSC]. Download it and enjoy the old classic in a brand new guise in palette!
Read comments

NST's Monitor Extension

Posted by Csabo on 2013-11-26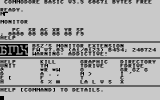 BSZ/NST (the guru behind NST's Audio Extension - AKA the SIDCard - that has been making news for the past few years) has just made the latest version of NST's Monitor Extension public. In a nutshell, it's a utility designed to go into an EPROM, and it replaces the built in TEDMON. Even a quick glance into the documentation will show you that it's what the TEDMON should have been. The description and documentation is available in both Hungarian and English, so head on over to the homepage to read more and for the download.
Read comments

Game Of A Xlife-time

Posted by Luca on 2013-11-17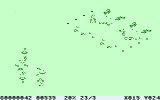 In view of a forthcoming version 2 of it, we've decided to hold the announcement about this program, which have just been commented in a known thread in the forum. And now, V2 of Xlife has come!

Xlife is by far the best implementation of the Game of life on every 8bit machine. Based on the experience achieved with the previous Life V1.01, Vladimir "Litwr" Lidovski has coded one that there's no other like it. It offers an impressive list of features, considering so many variables in order to satisfy even the most demanding user.
The basic rules of the game can be modified completely. You can set your initial pattern in a comfortable way, let it evolve (even with a 'blind' faster mode), stop it, change it on fly, reprise it, do it step by step. There's a random pattern option with adjustable ratio. The pseudocolor mode is a real joy for the eyes, and perfectly highlights the population's behaviour. A zoom option allows to spy even the minimal cells'communities locally evolving.

Patterns can be loaded and saved in any moment, even merging'em with the population currently on screen. Aside of the available source codes, from the official XLife 8bit version page you can download a gigantic pack of 2396 preset patterns, which should really satisfy any presumable need.
The V2 improves the first version, and adds a fully explicative instructions file, and a SEQ files reader in order to immediately check any single record.

Try the Xlife experience right now!
Read comments

They Perfectly "Fit" In The Scene

Posted by Luca on 2013-11-14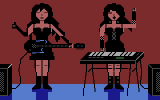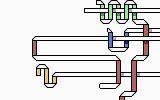 Referring to the über-big C64 scene, if 2012 has been the year of hires graphics, we can easily say that 2013 will be remembered as the year the PETSCII style is reborn into a new life of its own. After some weak signs about PETSCII art, In the end of the year the Plain PETSCII Graphics Competition consecrates this graphic format with a huge number of users taking part of the compo.
Aside of this trend, several powerful PETSCII editors has popped out, but no offence for anyone if we dare to recommend PETSCII as the best of the bunch, thanks to its coder Marq.

Even parties, hot on the heels of that compo, have set competition PETSCII-based, just like Zoo 2013, where the same Marq has literally ruled the scene, placing here and there graphic and demo entries all based on PETSCII.
But PETSCII is a common language for 8bit Commodore machines. And Fit, the ancient group founded by Marq, is known for the heterogeneous choice of different machines involved. Easy to realize, then: let's port the C64 PETSCII demos to Plus/4!

First comes Beisikki Demo, code by Marq and music by Yzi, a little gem written in BASIC, and the porting on Plus/4 of a compo winner in BASIC demos. Pretty nice!
But then the big gem comes! Straight from its first place at the demo competition, The First Ball is the best advert for the fresh new PETSCII animation feature just included into PETSCII! Code by Marq, additional code and the stunning graphics by Dr. TerrorZ, and a perfectly fitting SID tune composed by Yzi.
Marq opted for the SIDcard usage, in order to leave unchanged the cool tune, and that's why there are two files in the spreaded D64: in order to be compatible even with the much obscure SIDcards, you can choose between SID music at $FD40 or $FE80.

Hence, welcome Fit, we all wish to see more and more productions from you, hoping for a dedicated Plus/4 release, in the next future.
Read comments

"Memento" Test Your Memory With Style

Posted by Luca on 2013-11-12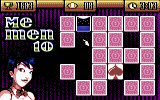 Time passes for all of us, are you getting older and older, uh? ;) Are you worried for your synapses sparkling any day lesser than yesterday? No-oh-oo! You don't have to worry for that, because your old buddy, the Plus/4, comes to you in order to train your memory with a classic match-the-couples game!

Of course, it's November 2013, and nowadays the best scene's dudes know how to push a real classic like that to the apex of cuteness! It's Memento, a memory game just born under the Assassins label!
Whom we're talking about? Oh well, here comes a great comeback in the scene: the most appreciated Skoro, author of famous demos and games in the past and stronghold of the real oldschool way of coding! The awesome visuals are all from the well known Kichy, ubiquitous in these times (and of course the audience has reasons to be happy of that!). Listen to the sweet TED original tune, you should recognize him because at this point you should have heard his music in several other productions...yes he's Csabo of LOD, gotcha!

The quality is very high, the game is nicely entertaining and you have 20 levels of increasing difficulty and different graphics to play with. Sometimes, there's no need of revolutionary ideas to release a highly enjoyable game.
Memento homo, quia Plussier es et in Plussierem reverteris! :D
Read comments

Angelsoft Games

Posted by Csabo on 2013-11-09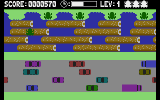 Plus/4 World has been here for a long time (and hopefully will continue to exist for a long time as well). We consider ourselves to be the center of everything Plus/4 and C16 related. Though occasionally we miss some stuff... www.angel-soft.de is one such case. Jens Engel AKA angelsoft is the author of such classic games as Diabolo and Pilot X. He recently contacted us (after some encouragement from Rüdiger), and our database is now four games richer!

First up is Coltfire. The story behind this one was that he was contacted by Kingsoft in the '80s to write a western game, but it was never released. Last year he released the C64 version and now the C16 version is out as well. Kristall-Labyrinth is a BASIC game, in which (true to its name) you collect crystals in a labyrinth. Finally there's a very professional Frogger clone called The Frog, which includes a level editor and it's accompanied by a C16 version of the game as well (The Frog (Basic)). The recommended emulator for all of these is Minus4.

So check those games out... Like them? Not so much? Be sure to give your feedback on the forums!
Read comments

Plus Graph 2.0: New Life For A Golden Oldest

Posted by Luca on 2013-11-05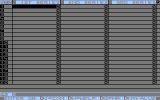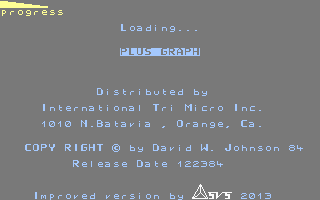 Everything can be improved, and time does not count! This time, SVS/FIRE will use his own words to present here his new effort!

"When the Plus/4 was launched in the '80s, it was intended to be a business machine. The original plan was to sell the machine with programs built into its internal ROM, ready to use. The user could choose which embedded program to have. They were ready but the fact is that just a month before the launch date, Commodore decided to include only a single ROM program, the same for everyone. David W. Johnson - a developer at Tri Micro - gathered 4 applications and built the so called 3+1 (a Word Processor, a Spreadsheet, a Database and Graphics). In order to fit all of the programs into 32K, and to integrate between them, he had to reduce their code by cutting some features. The most penalised was the Graphics program, reduced to a single command which generated a text histogram (GR).

Years later, some of these ghost programs were discovered by Plus/4 users, for example Plus/Extra – the original Word Processor – with the original features. This year (2013), Gary "gc841" Cooper found a copy of Plus Graph, the graphic program excluded from 3+1. When it was available here I confess to having felt the original feeling of the Plus/4's golden era.
Would the fate of our machine have been any different if they had been released? What features should there be in a 2.0 version of these programs? Well, Plus Graph 2.0 is my answer: by modifying and improving the original Plus Graph code from Tri Micro".

Briefly, SVS/FIRE has improved and fixed Plus Graph releasing Plus Graph 2.0 and that's quite a great release, try it!
Read comments

"Sgt. Helmet Zero" Hits On Plus/4!

Posted by Luca on 2013-10-26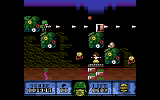 Yes, after three years they did it again!

Exactly three years ago, we've learned how a 48K long game can be squeezed in less than 16K with no loss overall, either in graphics'n'sound or in terms of gameplay. Its name was Uwol, and the guys behind that conversion did a really great job. Could they do better than that?

Eheh they could indeed, we say, while watching the stunning results of their effort!
The man that moved the strings of graphics and code is Kichy/ASN again, the artist behind the fabuolus TED original soundtrack is Csabo/LOD again, and once again the original ZX Spectrum game is another success coming from those cool guys under the well-known name The Mojon Twins! And this time there's no 16K memory limit to stay in, so why don't put down an enhanced version of the original one, with better multicolor graphics instead of spectrumesque hires stuff? So they thought, so they did! Now we have a fantastic enhanced version of Sgt. Helmet Zero running on Plus/4, with additional joystick support and several adjustments and addons here and there.

Sgt. Helmet Zero is a fast jump'n'shoot action game along 4 levels, in which you have to set free the girls which have been taken hostage by evil forces. Free all of them and you'll be allowed to exit and go to the next level. Enemies and turrets shoot at you with no mercy while jumping around avoiding bullets and deep pits, so you have to show to be the tough dude you look to really be.

Less words, more jumps, even more bullets: it's time to play Sgt. Helmet Zero!
Read comments

New Programs Added

Posted by Csabo on 2013-10-22
Hungarian Plus/4 fan Gabucino (who happens to be second cousin of TGMS!) sent us a little care package that includes a few lost programs. Here's the list of new things added:
He also found a light pen of unknown origins, complete with some programs. Since we don't know the official name (or indeed if it IS an official release), this has been added with the generic name Fényceruza (Lightpen). Check it out and big thanks for these!
Read comments

PETSCII Power

Posted by Luca on 2013-10-13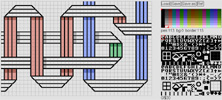 The 31 October 2013 is the deadline for a pretty nice graphics compo previously launched at CSDb: the Plain PETSCII Graphics Competition consecrates the art of PETSCII drawing in its plain shape, color matrix and screen once background and border have been set, no special effects, no fireworks, no borders opening, just PETSCII. Right now, several fantastic works have just been inlcuded in the competition, which appears to be quite a harsh battle.

Big competitions need better berforming weapons to fight with, you know. That's the reason why Markku Reunanen (aka Marq/DKD) has developed PETSCII, a powerful crossplatform graphic tool with tons of innovative features, including smart PETSCII mirroring and rotating, copy/paste, straight conversion, multiple exporting options and so on. It works under Windows, Mac or Linux.
Ok, quite nice. But where's the intopic part? Well, just from today, PETSCII started to support Plus/4 format too, besides PET, C64 and VIC20! And further improvements are on the way!

Don't miss the experience to try this cool one, let's PETSCIIing right now!

Update! After few hours, the author added a fantastic C64 -> Plus/4 feature!
Read comments

Endings Triplets 31-37

Posted by Luca on 2013-10-05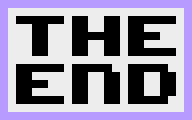 Here comes another bunch of game endings!
Old and new games, brief congrats and extensive finals, they all gather here!. Plus, a famous final hidden since dozens years because of a buggy converting. Yeah buddies, right, that Barbarian game!

Another seven-triplets release. Come to see the endings of: Ghost Town, Decstone, Toyballs, Logical Ball, Treasure Island, Into The Eagle's Nest, Nibbly 92, Mentsd Meg Az Életed, Blue Thunder, Space Warrior, Krakout, Leonardo, Captain Fizz, Üveggolyó, Rug Rider, Scumm, Trans Logic 2, The Power (Onefiler), Barbarian 3, Barbarian The Ultimate Warrior, Barbarian.

We still have dozens of this stuff for you, and new endings are added day by day. Don't miss the signal when the Endings will call!
Be the first to comment!

Ultimate Battle For Italian Stuff Has Started

Posted by Luca on 2013-09-25



We officially started to afford a big challenge: we'll cover all the Italian newsstands'compilations, both serial and single releases!

It looks like being a very difficult mission, because the longlasting story about the Italian lack of a copyright extension to the software creations during a big slice of the 80's had set free unscrupolous publishers in releasing pirate compilations with (sometimes very badly) hacked commercial games, even under several fake labels per same game, in newsstands and shops. They were used to steal each other's hacks, or to re-release unchanged copied games with no camouflage, and no right of course!
But even this doesn't scare us! Empty slots have just been prepared in order to sort all the available .PRG and .TAP files at the moment and in the future: see, e.g., the series Byte Games and Go Games, we'll put there complete and single tapes and programs, as well as covers and booklets. In the next days, other longlasting series like Computer Set and C16/MSX shall be started too.





Waiting for the big ones, here come some minor newsstands'series.
Super Commodore 16 and Super Commodore 16 Plus/4 VIC20 are two Jackson and J.Soft releases consisting in multisystems'tapes bundled with magazines, full of utilities and games (mostly come straight from foreign magazines and books, converted and/or translated in Italian). We're lacking most of those mags, but we'll hope to find all of them one day; meanwhile, tapes covers and single programs are all in. Now we are quite sure that Jackson released these programs as first, then several newsstands'compilations did steal some of these in order to re-release'em.

Another notable series is Commodore Club, published by Systems. They'd started aiming for Commodore machines, and n the end of 1985 it became "Software Club" due to the inclusion of ZX Spectrum and MSX programs. Now, Commodore Club #6, Commodore Club #7, Software Club #09 and Software Club #12 boast complete coverage.


Here's a series of hacked games which has give us several headaches. Linguaggio Macchina 16/20 had been the C16/VIC20 newsstands'series which moved Edizioni Foglia from selling single hacked games into the shops under the labels Cassetta Games/Go-Go Games to the multiple games distribution under proper label, and can be considered the prototype of what the famous and longlasting C16/MSX would have been next, after the publisher name's change in GEIE. They seemed they don't had a release date, hence we used to tag all of those releases with the initial letters of the included games. A recent finding of one of their booklet's cover has suggested that the date should be printed on the booklet and not on the cassettes and cassette's covers. While waiting for further investigation, we recovered one and dumped two of them, with all the games.

Computer Games E Utilities by Ed. Softwell Milano. And yes, the tapes under this series really contain what they declare to contain: computer games and utilities! We have very few hints about these releases, the cassette we got (Computer Games E Utilities N.5) as for the one we recovered (Computer Games E Utilities N.9) contain both hacked stuff and original utilities, all disrespectfully signed "Max & Alb". Hope to find more of these in the near future.

Last but not least, for something completely different. Introduzione Al Basic Parte 1, official Commodore Italiana SpA. release of An Introduction To Basic Part 1, fully covered with tapes and box covers.

Also, don't miss all the daily new stuff continuously entered by the whole community. There are several publications and covers for so many entries around: Vorks, Future Knight, Multipede, Rambo, C&A Games 07, the Argentinian Commodore 16 press like Drean Commodore and several other books... Oh too many stuff, you'd better stay around and be alert ;)
Be the first to comment!

A Byte's Life

Posted by Luca on 2013-09-17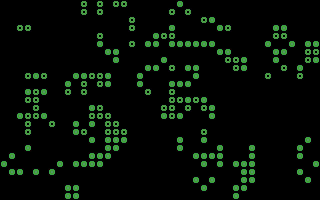 Puffers? Gliders? Guns? What they're really talked about? Of course, those are some patterns which can occur, unexpectedly or not, while playing a session of the ultimate concept of math beauty ever: the Conway's Game Of Life!

In order to have a test run on the "C64 Studio" IDE, Marek "Mkarcz" Karcz, has just finished to code his own version of 'game of life' on Commodore 64, in less than 4Kb, read anything about his work in the dedicated blog page here. It's a pretty neat implementation, with fullscreen display and I/O feature to store the most notable sequences.
"Let the C16 have it too!", that's what Luca/FIRE said! And that's the reason why now you can enjoy it on C16 too, with its set of archived patterns.

Enjoy the beautiness of life, death and what lies inbetween. On C16!
Read comments

Two Tech Demos

Posted by Csabo on 2013-09-05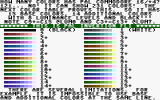 Litwr released two tech demos that push the limits of the Commodore Plus/4 (and put emulators to the test). The first one is 231c, it shows 231 distinct colors. There are limitations though (so you can't just use all the "additional" colors with the normal ones, at least not on the same horizontal lines). The second, 40x36c extends the upper/lower border as much as possible.

Both demos only work on PAL systems. Check 'em out and discuss it on the forum!
Read comments

World's First Useful Trainer For Rockstar Manager

Posted by Luca on 2013-09-04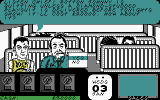 No words needed, just try googling out with keywords like 'rockstar' 'ate' 'hamster' 'cheat' 'walkthrough' 'solution'. See how many results? And how many people did try in the past to see the ending of this cornerstone of British humor's recreational piece of art?
Although the game plays like a sarcastic joke around the music biz in the '80ies, it represent the proverbial hard nut to crack, and nobody (I repeat: n-o-b-o-d-y) had never seen what happens to Clive and his boss Cecil Pitt when they eventually get the desired platinum disc! Some trainers of the original C64 version exist, but the single help of unlimited money does not assure that you'll finish the game, resulting basically useless...

..until now! Luca of FIRE crew takes to you the world's first trainer which enables you to reach the ending of Rockstar Manager!
Rockstar Manager +2! forces your musical releases to hold the first place in both the billboards, you will have no contestants! You'll aim straight to conquer the 4 gold discs by recording your album and releasing it, no more actions have to be required for! Beat it like only a Wacky Jacko can do it! To complete the package, introductions pictures from both C64 and ZX Spectrum versions have been included as bonuses.

What shall we do? Well...eat dirt Clive!
Read comments

Club Info 131

Posted by Csabo on 2013-09-02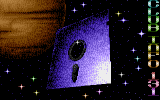 September is here, and it is my pleasure to announce the new issue of Club Info, Issue 131 is here. Erich/Unlimited packed two sides of a disk full of stuff for your Commodore-related pleasure. Side A contains the German-language articles. Side B has some new stuff that might be of interest: Full Moon (a newly converted PETSCII movie demo), Kamel Adventure (a strategy game with selectable answers), Micro6 (a previously missing utility by Ceekay) plus a whole lot more. Download it and dig in!
Be the first to comment!

New Release: Rambo Pic

Posted by Csabo on 2013-08-31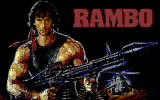 Chronos/ACW wraps up the news for August 2013 with a converted picture. Inspiration came from the recent forum threads. Check it out and enjoy!
Read comments

Knights & Demons

Posted by Luca on 2013-08-23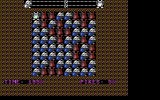 What were we thinking? We at Plus/4 World's HQ are seriously getting old, if a brand new game for Commodore 16 has popped out from a Spanish nowhere and we didn't hear a word about it! It's a real scandal, and now it's time to grasp at straws, and fix this outrageous event.

Kabuto Factory is a brand new - yet little but quite active - reality into the 8bit game developing. They cover the classic Spanish retroscene, and this means they mostly create stuff for ZX Spectrum, MSX and Amstrad CPC. Their passion for the old home computer times is so genuine to drive'em in the trade of their best games on cassette, for a paltry cost. But, as we cited before, they're quite active, and that's the reason why they stray into other platforms'developing too!
And guess what? In July 2013, they converted Knights & Demons to various systems, including the C16!

The game's mechanics are based on those EORoid games, a beloved branch of the logical type. It has been converted by Baron Ashler aka Manuel Gómez Alcaide, with additional code and support by marcos64, which was formerly a friend of Plus/4 World representing our link with the Spanish side of C16.

A commercial release for the Commodore 16 version of Knights & Demons is on the way, as announced straight from Kabuto Factory, and you can see a preview of the package you'll get.
Meanwhile, we hope that the guys at Kabuto Factory would delight us with further C16/Plus4 software in a near future.
Read comments

11 Very Rare Italian Tapes

Posted by Luca on 2013-08-19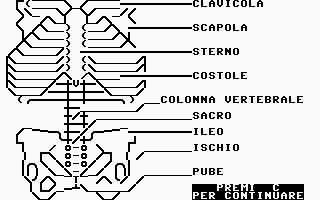 Another must-have bunch of Italian tapes have been intercepted on eBay, and this time we really had to win the bid at (almost) any cost, because the cassettes auctioned were very rare ones. All aspects were covered: TAP files, covers, leaflets and cassette photos.

Let's start considering some most wanted hacks re-released by Playvision: Dots Eater, Bomber (Playvision) and Bolt Knight. Playvision used to have the same released games as Visiogame, even in the product code sequence but we don't know if both labels (which can be considered as twin ones at this point) had released'em in parallel matching till the very last one, and nowadays all these tapes are very rare.
Another most wanted one: Impariamo A Conoscere Le Ossa / Calcolo Dell'Ora Nel Mondo is another two programs compilation by Mantra Software. Mantra (as usual) released original software instead of hacked games, and this is a quite interesting scientific compilation of human physiology and weather science.
Back to hacked games again, with Wacky Painter (Golden Software) and Tennis (Soft). And an ultimate hint that links the fate of these two software labels: the Soft re-release of Tennis has the Golden Software label printed on the cassette!





And now for the bigger gems: hard to find utility programs labelled C.S.P. Microgame and Data Comp (the latter is another satellite label of Visiogame).
Magic Brush and Pixin are two never seen before graphics utilities both coded by Paolo Aimetti, arguably the same tools he used in order to create games like Small Jones. Now we know that Conto Corrente has been originally released under the Data Comp release, then re-released by Soft in Data Manager compilation together with other hacked programs. Supertoto (C.S.P.) (utility about football bets) and Labirinth (3D maze game implementation) has finally come to almost complete the rare softography under this label.

We really hope that we'll be able to snatch more lucky loots to win like this one. Meanwhile, enjoy this one!
Be the first to comment!

Amiga Music Box 1

Posted by Csabo on 2013-08-11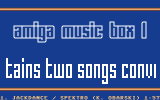 If you like Amiga tunes and Plus/4 demos, then you're in luck: today marks the release of Amiga Music Box 1. In contains two tunes, converted from Amiga by Spektro. I (Csabo) helped out a little by wrapping them up in a little music box. There's not much else to add, give it a listen and enjoy!
Read comments

A Few Hungarian Tapes

Posted by Csabo on 2013-08-05

We're happy to report that a couple of new cover scans have been added to the database: Bear(tm) sent us the cover for Breki (an old Hungarian game for two players), and an alternative scan for Turbo 16. The artwork isn't earth shattering on either, but our inner completionist is smiling nevertheless. In addition, first time contributor Gabucino sent us the files from Octasoft's Assembler, which includes the previously missing 64K version of the program.

Thanks for these guys! Remember to keep an eye out for more missing cover scans and programs!
Be the first to comment!

More News From Newsstands

Posted by Luca on 2013-07-31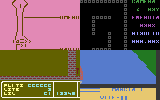 How many the hell they were? They show up anywhere, especially on eBay, where we consume our best money to achieve the completeness of our archive!

Yes, it's time again for some Italian newsstand's compilations, this time even more rare, and this represents a further approach to the forthcoming challenge against the really long-standing series of compilations with hacked and re-hacked games with chronological crosslinks between them. This update looks forward to find a path of managing those tough nuts, starting to store, where possible, both PRGs and TAPs of any single entry spending time in order to cut the original TAP into the right slices. Congruence of an archive consumes time, aware of this? ;)

First of all, we discovered that Special VIC20 C16 hadn't been the one and only ride of Pubblirome in the field of C16 games'hacking and rereleasing. There's Super VIC20-C16 too, and the two compilations have in common some of the games. We've also borrowed Input VIC20-C16, a smaller Pubblirome compilation of hacked games, again with several crosslinked titles, but saved with a different loader based on Turbo Tape.
Newsstands' power again, with two issues of "Software Club" recovered: Software Club #09 and Software Club #12, containing themself-hacked games like Invaders (Systems) (!) and weird utilities like Chef. And let's go on with C16 Best, complete with its dedicated instructions paper, learn how to C16 with Commodore 16 Per Te, take advantage of many utilities with Essenziali E Routine and Programmi Per C16.



Also added, several tapes of hacked games, especially from Visiogame, even like two missing ones we're in search for: Triple Decker 4, and that Maze Builder tape spreaded in Educational Line N1, which turned out to be an editor for Small Jones game released in bundle with it!
Last but not least, two quick addons in the publications field: Commodore 16 Guida All'Utente as the user manual sold in Italy with the C16, and a big 57Mb PDF of Super Commodore Commodore 16 2.

A list of the addons follows: C16 Best (+paper), Essenziali E Routine, Commodore 16 Per Te, Jet Mission, Karate Master, Maze Builder, Programmi Per C16, Software Club #09, Software Club #12, Chef, Char Editor (Systems), Graphics (Systems), Soldiers, Space Fortress (tape), Star Wars (Visiogame), Triple Decker 4, Zodiac (crack), Super VIC20-C16, Anatomia, Astronavi Aliene, Breakout, Cruise, Il Genio, Invaders (Systems), L'Esorcista, Vecchio West, Super Commodore Commodore 16 2 (magazine), Agente Segreto (tape), Astronave Talpa (tape), Corsa Sul Fiume (tape), Il Ladro (tape), Il Legionario (tape), La Morte Nera (tape), La Spia (tape), Le Chiavi (tape), Lupo Di Mare (tape), Missione Su Marte, Commodore 16 Guida All'Utente (manual), Biss (tape), Guerra Totale (tape), Il Pizzaiolo (tape), Invasione 2000 (tape), Scacchi (tape), Tennis (Pubblirome) (tape), Velocipede (tape), Autostrada (tape), Meteorite (Pubblirome) (tape), Tennis (Pubblirome) (tape), Il Pittore (tape), World Games 2, Off-shore, Soccer, Pool, Flushing Meadows.

Oh, and new tapes have been bought, so they are coming too, war is not over yet!
Be the first to comment!

PETSCII Game Tree Some Converted

Posted by Luca on 2013-07-15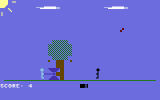 In a past far far away, all of us had a run animating weird figures by assembling those PETSCII bits of graphics. Someone improved that particular skill and coded games based on that. On C64, The Skull has been well known just because of his funny PETSCII based BASIC games.

Luca/FIRE celebrates the strange brilliance of PETSCII gaming, converting to Plus/4 Tree Some, the most original one in The Skull ludography! The Nature has to defend by itself against all humans: they're simply men whereas you're a huge tree, so kick'em hard on their heads. Which side will prevail today?
Be the first to comment!

Árok Party 2013 Releases!

Posted by Csabo on 2013-07-06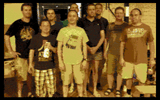 The wait for those of us who could not attend is over: Chronos/ACW supplied us with the freshest warez on the scene. We're talking about the releases from Arok 2013 (AKA. Arok 15), the 8-bit retro-computer party that was held in Ajkarendek, Hungary over the weekend. Head on over to the New Stuff section now!

Unfortunately there was no demo this year, but plenty of nice pictures and a much-awaited preview of Adventures In Time 2 was released. Congrats and thanks to all the guys who produced stuff for this party. It must have been a blast, we're anxiously awaiting party reports, so stay tuned.

Update: Partial results (and correct release names) are out, check the compos page.

Update #2: Photos/video of the event, courtesy of Chronos.

Update #3: More photos of the event, courtesy of Rambo.
Carrion has won both the gfx compos at Árok and Silesia parties, respectively with a Plus/4 picture and a C64 picture. After very few days, he tested how the latter would look as a Plus/4 MFLI, and the result is S7! Grass also has done the opposite, converting GCV to C64 NUFLI format for fun.

Update #4: Umpfh, it looks like the Berlin wall inbetween formats and machines has been shot down, so who's still missing in the row? Ah yes, EleonORA C16, a conversion for any 264 machine of the wonderful HiRes picture that Leon sent in the mixed gfx compo, quickly put up by Luca/FIRE.
Read comments

SD-Snatcher Preview Released

Posted by Csabo on 2013-07-04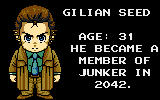 George released his first demo today: SD-Snatcher Preview is here! It's a picture show with 5 converted images. Check it out, discuss it on the forum and enjoy!
Read comments

Botticelli Bilderdisk 38

Posted by Csabo on 2013-07-03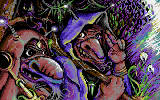 Erich/Ultd released this year's installation of his Botticelli Bilderdisk series. It's a two-sided picture show using the Magica driver. You will find 32 public domain multicolor pictures (check Side B for the info file). Check it out and cheers to Erich for his continued work! (Note: If you have any Plus/4 related news or new releases, and you'd like to see it appear here instead of the forum, be sure to email Luca or Csabo.)
Be the first to comment!

Lunar Rescue Released

Posted by Csabo on 2013-06-10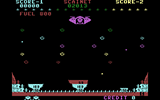 A new classic coin-op game conversion called Lunar Rescue has been released. The game was written in BASIC and runs smoothly on an unexpanded C16. It was made by the same author as the recently released Galaxy Wars game. A lot more info (in Spanish) can be found on this forum. Check it out!
Read comments

Club Info 130

Posted by Csabo on 2013-06-08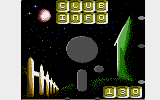 Erich/Ultd released the new issue of Club Info. You can find many articles on Side A (in German), while Side B has some new and recently released stuff. Among these are: "Physik Programm" (edutainment in German), "Gener.F-Copy 8.1" a new multi-platform copy program by DataLand, "Poker/C" and "The Living Dead" - both converted by Erich.

There's also an extra 3rd disk included this time. It has some "missing" programs on it, like Save Our Turtles. Check it out!
Be the first to comment!

New Picture Show By Carrion

Posted by Csabo on 2013-06-02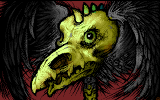 Carrion released a new picture show today, called C+4Hires. It contains 15 hi-res pictures converted from C64. For more information, head on to the forum!
Read comments

Two Three Most Wanted And More

Posted by Luca on 2013-05-20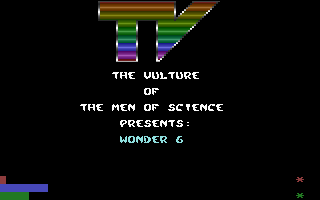 Our persisting fight against the "Missing software" tagging has won against other celebrated hidden software we were looking for.

Rising out of nowhere, in the very end here comes Wonder 6, a most wanted demo released by The Vulture under the Men Of Science label, which we just had as broken program from several collections. Finally, now we can put that as working into the whole ser...oh wait! What's that one? Wonder 3? Yes, it's Wonder 3 from the same coder, a missing one we've absolutely never seen before! And all this means one thing only: the Wonder series is now complete! Great achievement!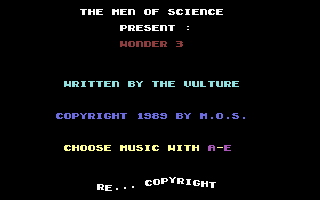 Recoveries are not over yet, another one out of the missing software's list: it's Sound Box VII by LTA, a music box we've searched for, since someone noticed a hack of the main picture in another demo. Too early to put up a series, having three chapters overall of that, but it looks like taking shape, and this is certainly a notable step to have'em all one day.
And we wish a similar destiny will come for Picture Show 6 by Gang Soft. Previously, we've found a unique specimen of their releases, i.e. the 7th chapter. A single one means nothing, two in a row begin to turn into a new series to search for...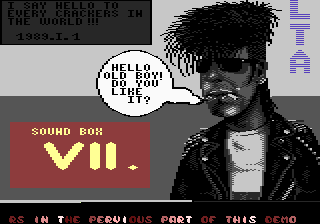 Additional stuff follows. First of all, some SD2IEC utilities we've missed before, like CBM FileBrowser 16 V1.5 and Dracopy 1.0d Plus4. Follows, a couple of very ancient Kruk's demos: Greased Lightning (Kruss) and Horror Demo; a very early picture by Crash at the time he was known as "Monster Graphics: Mach Mit; a German educational program about a Russian space program called Projekt Phobos. In the end, some minor stuff which has to be included in the archive (in some cases, though their controversial content): Tomorrow, Alpensound, Dream-woman, La Marseillaise, Move Your Feet, Plus4-power Demo, Porno (HR), Porno Show II, Sex Cartoons I, Strip 16, Strip And Slide, Swedish Girl, Work Hard.

Last little gem: Tynesoft C16 Plus4 Catalogue III, the third promotional booklet released by Tynesoft, in PDF format.
Be the first to comment!

Spanish Rockets Against Aliens!

Posted by Luca on 2013-05-18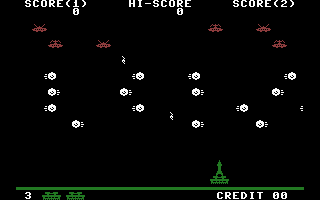 Unexpected game's releases are the sceners best friends!

We wanna thank marcos64 for the advice, we would never be aware of this juicy conversion in BASIC of a classic Taito coinop's milestone. Actually, Galaxy Wars is a conversion of this arcade machine developed by Universal Co. Ltd. and distributed by the Japanese publisher in the year 1979.

Daniel Crespo Andrés (aka dancresp), a Spanish ZX Spectrum coder (which doesn't hide his interest for other machines too!), has decided to try out the capabilities of the BASIC V3.5, as he found it much more comfortable than the most famous V2.0, and the result is this sweet'n'neat conversion which also seems to be quite enjoyable to play with!

We hope that dancresp would have a long experiencing on the C16, and right now we're looking forward for further software from him!
Be the first to comment!

Incoming TAPs And Other Previosly Missing Ones

Posted by Luca on 2013-05-07



Contributors FTW!! This community simply shine, when we call and you promptly react!
You all know we tagged all the know-but-missing stuff with the "WANTED" word in the notes, in order to have an easy searching for anyone that can help us in feeding our/your prefer archive. Well, our little advice in the forum has been enough for MIK to push him in a loooong session of tapes dumping and covers scanning. And this is the fantastic result he got!

Finally, we've got tapes of: Chopper War, Corman, Fire Ant (no fastload), Heebie Jeebies, Invaders (no fastload), Jet Set Willy II, Ping Pong, Pizza Pete, Raider, Skelby, Slippery Sid, Space Sweep (no fastload), Sqij, The Mirror, The Wizard And The Princess, Williamsburg (Adventure 3) and the famous broken version of Xargon's Revenge re-released on Omnibus II compilation!
And we've got several covers too, some fresh new, some replacements as better ones: Bridgehead, Saboteur!, The Mirror, Mercenary - Escape From Targ (disk version's back cover), Cassette Database. To these ones from MIK, we've added a rare view of the Learner Pack Software box.



Surprises are not over! gc841, alias Gary Cooper (his Sabre Wulf conversion has just been reviewed, see the forum!) did a great work to spread worldwide a rare gem: Plus Graph by David W. Johnson, released in Christmas 1984 both as a standalone utility and as an integration to the Plus/4 3-Plus-1 software!
Thanks to Gary, now we have the disk, the additional material and the whole manual for it!

Let's complete this big giveaway with these two further publications. It's C16 Chris's turn to contribute, with new covers and the whole manual for Company Pac 123 as PDF. And last, courtesy of DLH's Commodore Archive, here comes the extra paper from "Your Commodore" issue 50 entirely dedicated to the C16/Plus4, as PDF again: C16 And Plus/4 Essential Guide.

Hey, absolutely don't believe all this boon would quench our thirst! We're still waiting for your own contribute! Search the WANTED tag, then scan dump copy and finally send to us! ;)
Read comments

HVTC Update May 2013

Posted by Luca on 2013-05-05
Further updates of the High Voltage TED Collection, aka HVTC, have been procrastinated several times, just because the near future of the whole project is closely related to the development of .C8M as the proper format for TED tunes. Why releasing new files with custom code for multiple tunes, if all this effort will be trashed out once .C8M will be here on this earth?

Well, an answer exists, and it sounds like topsy-turvy: a conversion to .C8M has to be done anyway, meanwhile let's make the collection grow. And that's why a new version of HVTC is out today!

We've reached the notable number of 330 single files overall, as usual both "pure as they are" and straight runnable to play, plus some fixes here and there (i.e.: added the missing jingle in Harvey Headbanger's file).
Csabo offered all his files in both formats, completing his own folder, Braintron's folder is now completed too, and several new authors have been added, with some very hard hacks succesfully included (Oszkár A Lovag, Oblido...). Metamerism's tune is still missing, but Degauss has promised to release a standalone prg for it quite soon, and that'll become the first file to store for the next update ;)

Don't forget to completely delete the whole previous collection (that's the way to do at any new update!), then download/unzip the new one!

UPDATE: sorry for the mistake, the right link to the ZIP file is on now!
Read comments

A Relaxing Shields'Harvest

Posted by Luca on 2013-04-27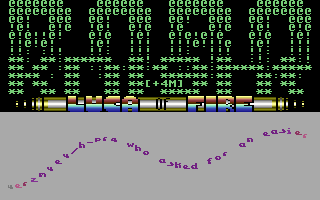 Ok, maybe here in the Plus/4 scene, we're not exactly used to release one production a week, have to admit... But what we do for sure is listen people and quickly match their needings.

In this forum's thread, Yerzmyey/H-PRG has complained about the high grade of difficulty of certain classic games, which nonetheless he would play further to see what lies more into it, and he cited Robo Knight with that intent. And, yes, Robo Knight is a classic game for real, a C16 milestone in the commercial games, with its wide map, competent usage of software sprite's techique, a gameplay extremely polished and calibrated properly. The only pity is that it's a unique opera of its coder!

May your superheroes stay blind and deaf to the neat request of a trainer? Here comes Luca of the FIRE crew, to save the day and your nerves too, releasing Robo Knight +4M, a trainer with four features you can activate and deactivate while the game is running, pickin'up shields here and there has never been that easy!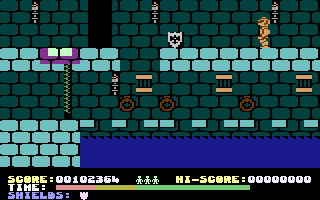 As for previous trainers, the whole stuff is absolutely C16 compliant, perfectly running in any 264 series machine, and it runs again the cracktro with music by Csabo/LOD.

And so, Yerzmyey, what do you say about? Does it is a much more easier shields'harvest or not? ;)
Be the first to comment!

Endings Triplets 24-30

Posted by Luca on 2013-04-20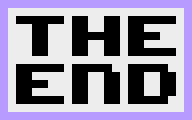 And after some weeks of silence, here we are, ready to start again our ride into the games'endings we've never seen in past years. Yes, in the usual mix of C16 classics, converted games and original ones.

Another seven-triplets release. Come to see the endings of: Tonido, Nuclear Ball, Lloyd Game, The Hell, The Hell 2, The Hell 3, Molecule Man, Extasy, Legionnaire, Kaputörő, Slipper 2, Trans Logic, Escape, Trap, Ponk, Puzzlenoid, Triple Change, Landscape Maze, Very Shit Game, Very Shit Game 2, Dixi A Megmentő.

We still have dozens of this stuff for you, and new endings are added day by day. Don't miss the signal when the Endings will call!
Be the first to comment!

Exomizer 2.0.7 Loves C16

Posted by Luca on 2013-04-15
Exomizer, the widely used packing tool which crunches your 8bit files starting from your own PC, improves again!

This brand new version (2.0.7) includes fixes and new features exclusively dedicated to 264 machines'users, and it's a straight consequence of a feedback to the author Magnus Lind from Luca of the FIRE crew, after his recent dealing with stuff that have to work on C16 too.

Here follow the changes'list since the previous version:

- bugfixed commodore sfx targets to automatically disable irq when decrunching over system areas. This was reported for the plus4 target by Luca/FIRE. This fix together with moving the decrunch table to zero-page, -Di_table_addr=0x2, allows decrunching $0200- without corruption for all commodore targets except for the vic20-configs that have a memory hole at $0400-$1000;
- bugfixed z80 decrunchers from Metalbrain;
- bugfixed sfx c16/plus4 target where the default decrunch effect could corrupt memory while decrunching data that covers $0be7, reported by Luca/FIRE;
- added feature to sfx-mode that complains if the data it too big to fit in the available memory of the selected target, suggested by Luca/FIRE;
- added c16 target, -t 16, like -t4 but with smaller memory, suggested by Luca/FIRE;
- bug fixed in the z80 decruncher.

See how much new matter for us? Hence, you have no excuses and must update your Exomizer right today!
We respect Magnus Lind once again, thank you bud for keeping this essential tool clean and running!
Read comments

Liberator +5MD: A Crack For Any 264 Machine

Posted by Luca on 2013-04-11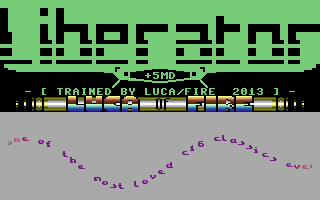 "Let's resume the tradition of cracks and trainers on Plus/4 too!" we said just a couple of weeks ago, and you all know that the scene doesn't like vapourware. So, let's go back in time, to fully exploit the games we'd loved so much, which sometimes we'd desired to win by breaking the toy to see how it's made inside.

First in row to fall is Liberator, the widely appreciated horizontal shoot'em up with softsprites, smooth scrolling great sfx; somewhat prejudiced due to various flaws and unrewarded no ending, its strong points are the Uridium-esque graphics and the great fun playing against the mothership's generator.

It's now time for revenge: Luca/FIRE takes to you Liberator +5MD, a jewel version implementing ingame modifications, and a useful autofire feature in order to blow up generators easy way! As any respectable crack deserves, a classy intro with game's docs precedes the game itself: all coded by the cracker himself, and supplied with a sweety tune composed ad hoc by Csabo/LOD.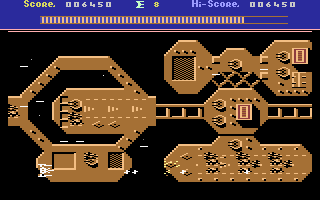 Ok for the cutey tune, but Csabo did more than you can see on the surface, occupying $1ED (493) bytes only for that tune! Why this effort? Well, simple: what has been thought to run on C16, must continue to run on C16! Yes, this cracked game lies into the C16 memory limitation, and can be run on any machine in the 264 series!

Time to scatter some generator's debris in the deep space, we shall meet again in other forthcoming cracks.
Read comments

Four Missing And Rare Tapes Are In!

Posted by Luca on 2013-04-06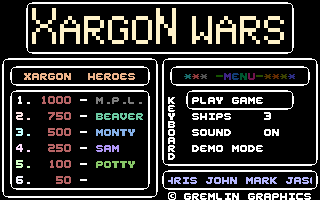 When the community asks, the community promptly answers loud and clear!

We asked for some missing tapes since months, moreover the famous case about the two different versions of Xargon Wars raised up again. This has moved MIK to save the day, under the motto:"It's saturday, let's dump some damn tapes!". Once copied as TAP images, the whole pack of four was ready to be spreaded, and that's how we've got the TAP files for Joey, the very rare Room Ten, Xargon Wars first version without turbo loader, and...ohoooo Aliens as one of the super rare tapes around!

Big bash MIK, we thank you so much! And we hope that many other buddies shall move their 1531 cables to join in and enrich the TAP archive, 'coz many many other missing files await to be crossed out from the list.
Be the first to comment!

Happy 39th Birthday TCFS! Wah-tchaaaa!

Posted by Luca on 2013-03-28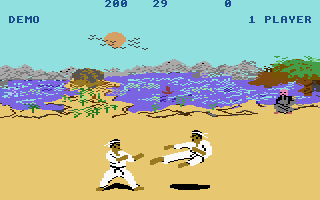 It's the day! Today is the 28th of March, hence all together in one voice we say: happy birthday TCFS, you're 39 now!

Does exist a better way to celebrate one of the most notable personalities ever in the Plus/4 scene, than release a celebration trainer of Exploding Fist +4 as one of his most loved converted games? Download Exploding Fist +5MD!, and enjoy cheating against your opponent, reaching the ranking of Master in a snap of fingers! That's the surprise present that Luca and all the FIRE crew wanna give to TCFS and to all the Plus/4 aficionados all over the world! Wah-tchaaaa!
Read comments

Plus/4 Asteroids Emulator

Posted by Luca on 2013-03-16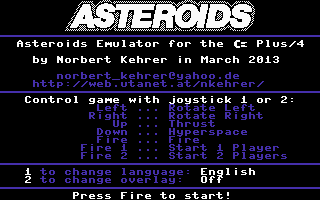 Don't believe in lazy saturdays so close to a new spring time, when anybody thinks nothing notable can really happen! That's the right time to expect the unexpected to happens!

Norbert Kehrer is not a n00b into the emulation field, it's not for a coincidence his own site is named Norbert's Emulators. He thought that the Atari coinop game classic Asteroids that hit in the arcades in 1979, all in all, is based on a 6502 CPU, a proper video generator for vectors and some circuitry for the audio output. In the very end, machines like C64 and Plus/4 work with a similar heart, so why don't emulate that old fashioned vector game in all its charming elegance?

Asteroids is the pretty cool result Norbert has achieved: a very playable version of the Atari's ancient gem, even at higher levels, when the vector objects on screen are so many to move. The Plus/4 version runs faster than the C64 one, due to the advantage of the automatic doubleclocking that occurs when the Plus/4 raster draws on the borders.

Polished, playable, unforeseen. The only thing we can ask is: more of those surprises. Thanks Norbert!

Read comments

Darker Side Of The Dark Side

Posted by Luca on 2013-03-15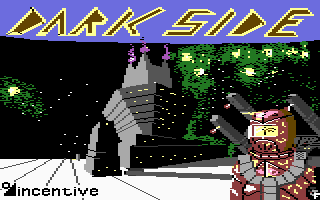 How many times we've checked and checked and checked again the disk collections? Well, we've made it for years, and at this point nothing can be actually discovered on those disks...
Wrong, absolutely wrong: sometimes the best fishes pass through the net of our sieves for years!

And this is the perfect case to describe what we're talking above: we found Dark Side (Csory), a version of the famous Freescape game Dark Side, which has been previously converted by Tarzan, ported to Plus/4 by Csory. This latter version features way better keyboard interfacing, a better conversion in single particulars like the jetpack window on the panel, and addons like the intro picture. This is a version that worths to be played till the end!

Some other precious stones lie around the big diamond hidden for so many years. The claimed 1551 version of Techno Trance fixed by Chicken has finally raised up from somewhere, some forgotten demos by Unlimited have been added too (especially Unlimited Membership (Older) which has been easily confused with the latter released Unlimited Membership), also added the 1551 version of Bard's Tale III released by Ceekay and the Manowar rerelease of Supremacy.

A complete list follows: 38 Sec. Format, Disk To Tape Transfer, Copy 224, Copy 226, Disk Turbo, Elan0, Fast-validate, Stellar 7 (alt), Dload V3.23 (versions), JCL Assembler (version), Charset Inverter V1.0, Dark Side (Csory), Eliza Packed , Unlimited Demo, Unlimited Membership (Older), Bard's Tale III (1551), Comic, Die Insel Der 1000 Gefahren, Purple Turtles (crack), Supremacy (version), Techno Trance (1551).
Be the first to comment!

Club Info 129

Posted by Csabo on 2013-03-13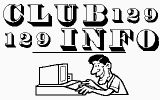 Erich/Ultd is here with the first Club Info of the year. (For those two don't know: it's a German-language disk mag, published every 3 months.) Side B doesn't have many new programs as it's mostly dedicated to SVS-Calc 2.0. There's a ton of articles on Side A, though: reviews of new programs, tips & tricks, documentation for Scapeghost and Games Creator and more. Check it out!
Be the first to comment!

Commodore Plus4 RS232

Posted by Csabo on 2013-03-12

Following a discussion about RS232 on our forums, +4Man (AKA DeadTED) published his documentation on it. You can find it in the hardware section.
Be the first to comment!

Preys Of A Hunting Weekend

Posted by Luca on 2013-03-10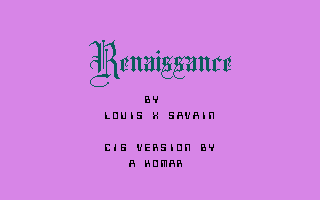 It has been a relaxing weekend of flu and bustling about the D64s in one of the older collections we have, just to pull out some missing old game cracks, just in order to persevere in our new viewpoint about cracks.

And yes, we've collected some new cracks and trainers we're proud to have in the database. But, as usual statistics teach to all of us, sometimes you also catch something you've missed before. The big fish today is Renaissance C16, the conversion of a famous version of the Othello game. We all know that Renaissance has been converted from C64 under the FYC label. Not the same with this C16 one, which seems to be much like a commercial release.
Other notable new programs: another Pigmy's tool we didn't included before called Digi Drums II, an ancient tape-to-disk copier as Kofa-kopi, another tape-to disk program including Nova Turbo hacking called Tape Copy, and a German Game Basic by Telesoft.
We've also changed the files for Danger-Willi and Helix with some complete ones.

Here is the complete addons list: Alien Invasion (crack), Blaze (crack), Digi Drums II, Digital Ball, Jetbrix (crack), Joe Blade 2 (crack), Karting Grand Prix (crack), Kofa-kopi, Krackout (crack), Laza! (crack), Magician's Curse (crack), Mario Brothers (crack), Megazone (crack), Mesél Az Erdő (crack), Molecule Man (trainer), Mychess 2.0 (crack), Netrun 2000 (crack), Pharaoh's Tomb (crack), Popeye (crack), Pottit (crack), Raider (crack), Renaissance C16, Superman (crack), Thrust (trainer), Timeslip (trainer), Helix (file), Tape Copy, TV Bongo, Tycoon Tex (crack), Ürkaland (crack), Xargon's Revenge (crack), Xcellor8 (crack), Zeppelin (crack), Danger-Willi (file), Démonok Birodalma (crack), Game Basic, Pagemaker (crack), Summer Events (crack), Way Of The Exploding Fist (crack).
Read comments

Pirate Adventure Manual

Posted by Csabo on 2013-03-07

Spektro sent us a scanned version of the Pirate Adventure Manual. This 12-page booklet came with Scott Adams' Pirate Adventure. It has tips on playing adventures in general, getting around and mapping. Check it out! Big thanks to Spektro for his contribution to the archive, and remember to send in any new/missing Commodore 16/Plus4 material you might have.
Be the first to comment!

A Never Used Loading Screen Rises

Posted by Luca on 2013-03-05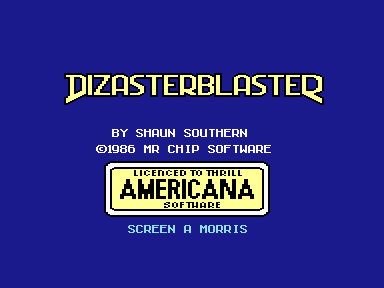 And now for something completely different. And weird. Why wasting time to draw the graphics for a loading screen, and in the end do not use it?

After some chatting with Andrew Morris, author of several graphics for various Mr. Chip Software classic hits, he recovered some diskettes containing sparse bits and workstages of graphics, mostly done for famous C64 games. In most of the D64s, there's a Graphics Master copy, clear signal that Andrew used the C16 charset editor made by Michelangelo Pignani as main graphic tool in order to edit characters.
In the very last one of the whole pack, apart of another copy of the formerly cited editor, and the original charset done for Xadium logo and letters, there is a graphics set which can be displayed by loading and running two separate custom viewers written in BASIC. It's a DizasterBlaster logo, plus the Americana label, one viewer is for C64, the other for C16. It should have been used as loading screen for a cassette loader.

Andrew Morris himself declared he doesn't remember why that screen hadn't been added to the final release, though ready to go. What we can see is the declared release date: year 1986, one year before the official release year. Viewer+graphics can be downloaded from here.
Read comments

Rare Newsstand Compilation Found

Posted by Luca on 2013-02-23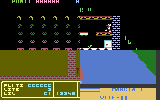 This one is a very particular tape collection of pirated C16 games, because it's the one and only known newsstand collection released by Pubblirome with C16 games, in the time when Pubblirome was one of the most active C64 oriented publishers of newsstand cassettes.

Moreover, it's a LONG tape, with 20 hacked games per side (side A has Vic20 games recorded on), and in general the longer the tape is, the rarest is the chance to find it working.
Read comments

Rare Maniax Tape Found

Posted by Luca on 2013-02-15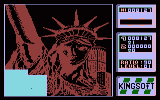 It's a Maniax, Maniax on the tape! And it's playing like it's never played as cracked!

We've finally found an original tape for Maniax, the colorful Qix clone released by our beloved Kingsoft in 1988! We've bought for less than a dozen Euros, and promptly dumped into .TAP format. It comes in its original tape suit as you can see in the cassette's picture, but in a deck with copied cover and inlay instructions, just like it should have been a sort of closure offer stuff.
The purchase of this original version has allowed us to understand few data about Maniax:
- some graphic tiles used as bonuses are originally broken in the tape version, this means it wasn't due to a bad cracking consequence;
- even in the original tape the infamous bug which randomly occurs after the 2nd level does happen, consisting both in a non moving main foe and preventing the background graphics to appear when an area is closed;
- the same bug does not generally happen in Maniax (MOS), hence might it the latter be a crack from the disk copy, maybe different from the tape one?

We're still hunting for the disk version of Maniax, even spotted around but at high prices. Who wanna join into the big hunting challenge?
Read comments

Hires Color 7

Posted by Csabo on 2013-02-12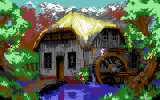 Erich/Ultd is here with the 2nd release this year, the 7th part of his Hires Color series. Hires Color 7 contains 32 images and utilises the Magica driver. With several Duce and Veto (C64 graphicians) pictures included, it's a good selection. Thanks to Erich for this release, enjoy!
Read comments

New Scans

Posted by Csabo on 2013-02-10
Several new scans have been added to the Plus/4 World collection today:

* First, we have the German version of Targ Survival Kit, called Targ-Überlebenspackung. This was bundled with the German Mercenary Compendium Edition. Thanks to Rüdiger and C16 Chris for these! (Watch out for the ultra-hq versions, they are huge.)

* Hans got his hands on the manual for Page Setter V2.0, this has been added in PDF format (see: Page-Setter 2.0). He's been in contact with the program's author, so other info might be forthcoming.

* First time contributor Björn saw that we needed the cover for the Tynesoft game Munch It, so he scanned it and sent it in. This has been now added, and in very high quality too!

Thank to all who sent in this stuff, check it out and enjoy!
Be the first to comment!

Retro Hardware Project: 1541 II/1551

Posted by Csabo on 2013-01-16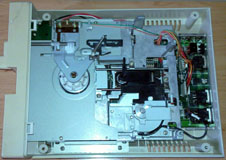 Our unstoppable and extremely talented hardware guru BSZ did it again! As his latest project, he converted a standard Commodore 1541-II drive into a super dual drive, which also functions as a 1551 on the touch of a button. The hardware two drives have internally similar hardware, but there are plenty of differences, including clock speed, etc. He designed and added a new board into the remaining free space of the 1541 II, and - after a lot of grief and effort - it works! You can find the entire story with a lot of pictures on his project page (unfortunately on in Hungarian):

http://hup.hu/node/120659
Save me, Google Translate, you're my only hope!

Read comments

Cirno

Posted by Csabo on 2013-01-02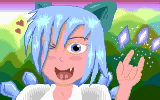 Let's start the new year off with a picture Luca spotted: Cirno was drawn by Exin. It was entered into the Oldskool Graphics compo on the Ultimate Meeting, which was held at the end of last year. I personally think it's a solid piece of work. Love it? Hate it? Indifferent? Discuss on the forums!
Read comments

A Little Holiday Gift From BSZ

Posted by Csabo on 2012-12-23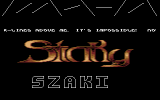 This should make the Plus/4 World demo-enthusiasts (cough...*Luca*...cough) happy! BSZ/NST send some goodies our way:
- Would you like to see Stinky's First demo? Now you can!
- What, there was a part that never made it to The 2nd? For realz, yo!
- Speaking of which, did you know that The 2nd has a hidden mode, and that the "notes" file was stuffed onto an already full disk? Read the author's notes!
- Who could have been responsible for Kedvenc Sidplay? BSZ has a few words about this piece of software as well.
Big cheers to BSZ for digging these up from his old disks (and his memory)!
Read comments

Hall Of Fame

Posted by Csabo on 2012-12-22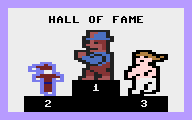 What's that? A new item in the main menu?

Plus/4 World returns to its gaming roots by the addition of the Hall Of Fame. This section is a combined high score list for all games. LanMIK had the right idea on our forums, but a forum post is hard to maintain. The dedicated page makes it easy to see all scores in one place, and thanks to our site's database driven nature, the scores are also automatically listed on the game's and the submitting person's pages as well.

So, play a game, give it a try and submit your own score. Some things may be rough around the edges, so any feedback (Does the submission flow make sense? Are the layouts useful and coherent?) is appreciated. Game on!
Read comments

YAPE 1.0.4

Posted by Luca on 2012-12-18
Yes, the most used emulator of the Commodore 264 machines needs a further tuning on several points.
Gaia collected several improvements in the past months, also thank to all the users helping with their feedbacks, notes and requests. And finally, YAPE has reached version 1.0.4!

What will find into the new version?
- /LOAD:filename to type text on startup from a text file
- improved ("increased") oversampling
- forward looking adaptive sound buffering
- more accurate interim CPU read cycles
- joystick setup crash fixed (64 bit build)
- 192 kHz sound frequency got not saved in previous version
- clear byte ready inaccuracy for 1551 fixed
- minor IEC printer clocking fix
- removed obsolete emulator ID

Run to the download page to get now your proper YAPE build (x32/x64).
Read comments

Deadline

Posted by Csabo on 2012-12-17
>examine mailbox
In the mailbox you find Deadline.

>get deadline
Taken.

>examine deadline
After careful examination, you conclude that Deadline is a new converted game by gc841. It's Infocom's 3rd title, one that was never ported to Plus/4. The game is a murder mystery, you control a detective who has 12 hours to solve the death of a wealthy industrialist. The game requires disk drive and takes up one full side.

>help
You find that the original C64 manual has been scanned and is available for your perusal. You also notice that the original covers have been added for completeness sake.

>contemplate
You ponder, consider and reflect upon all things. You decide that the next step is to download the game and heap kudos on the people responsible for it on our forums.
Read comments

Endings Triplets 17-23

Posted by Luca on 2012-12-14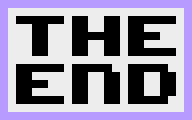 Again, 7 new triplets of game endings! Classic commercial games from the 80ies and homemade pseudo conversions from the golden era of the scene, all mixed together, in one big cauldron of finals you've never barely imagined to be.


Here we come with another seven-triplets bunch. Don't miss to see the endings of: Pipe Dream, Crater, Demonsdom, Halállabirinthus, Auf Wiedersehen Monty, Tomb Of Tarrabash, Auto Zone, Firm Base+, Storm, Berks 3, Dork's Dilemma, Out On A Limb, Rolling Stones, Rolling Stones 2, Pipe Mania, Commando (Plus4), Cross It 2, Storm +4 V1.2 (and derivates!), Boogie Ball, Explosive Net, Tetris 2.

Should I truly told you this? More to come, our game endings'folder is still full of magic!
Be the first to comment!

Club Info 128

Posted by Csabo on 2012-12-08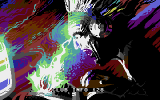 Erich/Unlimited from Germany is here with the last issue of Club Info of the year. Club Info 128 is the latest issue of the German disk-mag. Side A is full of articles covering a wide range of topics: scene news, tips and tricks, game information (including very detailed coverage of Rebel Planet), hardware and more. Side B has to recent and new releases. So start up those C16/Plus4s (or launch your emulator) and take a look. Enjoy!
Read comments

TAPs Recaps

Posted by Luca on 2012-11-27
In few days, from one to the other one, Fabrizio Gennari has updated our prefer tools to convert, manage and archive the Commodore tapes, in order to prevent all of them from the degradation by time: WAV-PRG and Audiotap.

WAV-PRG allows the user to extract T64, .PRG o .P00 files from Commodore tapes and creating Commodore tapes from T64, .PRG o .P00 files. The new version 4.0.1 has notable improvements, especially for 264 machines users, so let's read'em:
- the tape extraction part has been rewritten. Now, a single plug-in can support several loaders (a loader supports one tape format) and observers (an observer examines data that have just been read from tape, and guesses the format to be used for the following data). Because of this, one can choose the loader Default C64 as start-up loader, and in many cases (not all) WAV-PRG will automatically switch to a different loader to load the rest of the tape. This reduces the need of guessing the right plug-in for each tape;
- you can drag and drop files onto the main window to start the conversion of such files (multiple files are supported);
- WAV-PRG can now read TAP v2 files (those using half waves): this adds support for some Commodore 16 formats that use an inverted waveform with respect to the rest of the same tape. So far, only a C=16 variant of Freeload is supported: supporting others is a matter of adding the respective plug-ins;
- WAV-PRG can create clean TAP files (in a fashion similar to Tapclean) from TAP or WAV files;
- the Windows command-line version (wav2prg.exe and prg2wav.exe) is now downloadable from the site (in the past, you had to compile it yourself). Useful, for example, to batch many conversions with a single script or .BAT file.

Audiotap is THE tool for creating TAP files from tapes and record tapes from TAP files.
Its enhancing usually follows what the previous tool performs, but here we are the very special feature of version 2.0: once selected the type of file (TAP, WAV or DMP) and format (C64, Vic20, C16, tape Version 0/1/2), you only need to drag'n'drop on the tool's window a bunch of files, and...magic in the air: a single TAP pops out, with all the files merged in one!

Thanks Fabrizio, letting us to preserve tapes, you stopped the time for real!

Read comments

VICE 2.4

Posted by Luca on 2012-11-24
Being the most popular multiplatform Commodore 8-bit machines emulator available since several years, any new version's release of VICE is a most yearned, and the VICE 2.4 released just some days ago doesn't miss that fame too. Although the Plus/4 emulator included Xplus4 doesn't match yet the same degree in emulation of other competors, the whole project has big shoulders than anyone else, and a bright future can be easily expected for it in the near future.

Here is the full list of changes having an impact on the Plus/4:

** General
----------
- New SDL based MIPS Windows NT port.
- New SDL based native Dingoo port.
- New monitor commands: autostart and autoload.
- Rewrite of the sound system, output is now mono/stereo selectable.
- Split off the 5x0 model from the 6x0/7x0 models in xcbm2, new emulator is called xcbm5x0.
- Split off sid player from c64, new program is called vsid.
- New maintainer for the polish translations, they are now 100% up2date.
- New IEC FD2000/4000 drive support.
- New 1541 drive sounds emulation.
- 1541 drive emulation has been greatly improved.

** PLUS4 changes
----------------
- The TED border mode can be selected now (none, normal, full, debug).
- PLUS4 model can be selected.
Read comments

Founding Fathers

Posted by Luca on 2012-11-09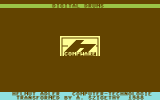 You are now watching the largest at-once software update ever done on Plus/4 World site, counting in something less than 150 entries of missing stuff, game cracks, translated ones and fixed releases.

All this material was just there, in the well known archives of Plus/4 stuff we've sieved for so much time, but it has never been included before due to its difficult cataloguing into a well organized archive. After all these years, we've learnt quite much of the history around the 264 series and the sceners'habits, and nowadays we feel to be ready to sink our teeth into the soft matter of what regards the very early days of the scene: badly performed digi attempts, type-in utilities from old mags, the widest spreaded frq and digi converters and tape turbos, the first letter writers, the founding fathers of game cracking and much much much more!
There's no room to describe all the single cases, you have to do no other than follow the list, click on it, read the data, download and try, all by yourself. We may chitchat taking certain genres as argument, anyway. Let's see some.

Cracks
The C16/Plus4 scene has never got a particular culture about cracks. We've just seen how cracked games were sold in Italy in the newsstands'collections format, but those were not properly "cracks", they rather were badly renamed hacks. And again, loading the original copy from tape with a selfsigning 5 lines long BASIC program...well, it's not properly a real crack. In this update, there are several ancient cracks, I mean: real cracks, some lame-ish, some with a professional cracktro, many of them made by mythological crews we've known only because somebody did greet'em in some obscure demos: The Trolls, D.I.S.C., Alvo (which will later become the author of Yttrium), DBC, ... And TTI, the most ancient real cracking group we've got infos about at this time: they come from 1986, sirs!
TTI was the group of the famous Floppy Robby, and now we know why this Dutch guy was so famous: he wrote three of the most widespreaded tape turbos (together with Nova Turbo), even used in commercial releases: all the different versions of Fast Save. Just look at the pictures gallery and jump off of your chair, due to your memories assaulting your brain!

Music converters
Pigmy did the first frq converter, Wit did the first wave (digi) converter. After them, almost every real coder did his own converter, someone from scratch, someone inspired by, someone just hacked and brutally copied. Some were fast and screentime saving, some others were closer to the original SID and raster-consumpting. Trying to reach completeness, here are most of them.

Digi demos
Everybody wanted to hear his own Plus/4 singing like Madonna at the time. Between 1987 and 1988, even type-in from magazines has begun to introduce the home computers into the world of sampled music, and releasing 56K of a digi demo has been affordable for anybody capable to write 10 SYS 4144 MADE BY YYYY. Moreover, it was quite simple to hack samples from C64, and much more simple to hack Plus/4 samples from other users. In the February of 1988, Crazy Music has come, and nothing would have been like before. Finally, we have an almost complete compendium from the best older digidemos to the very bad hacked ones.

Crillion
Its title screen has references to the original by Oliver Kirwa on C64'er, it contains a copyright sentence for Kingsoft, it's sane'n'safe, it looks like original, it smells like original. Could it be the original Crillion? Oh well, if not yet, the closest thing to the original copy we've seen ever!

Turbo tapes
This is not only the raise of Fast Save, many other turbo tape tools have seen the light again in this big release, like Turbo Tape (Systems) and Tronic Turbo-tape, and...

Fixes
Demo Designer (finally!), Logo-Maker the whole disk, a working Master Mind (ICE) with no fixing needed, a different Testdrive Demo, the real Time Packer (Tarzan you lamer! :) ).

Bits and bytes
- No, there was something unreleased yet signed by Pigmy: Digital Drums!
- With Plot Editor V1.7, Oscar Maestro from EVS allows you to easily run a plotter over your prefer hires bitmaps with no particular skills in ML
- if I would have been one of the fans from the compilers side, I would never miss Austrospeed Recompiler by Ceekay
- Horror Times 01 is the one and only issue one of the magazine project signed GOTU by the great duo Action and Harry
- Before programming games like Pilot-X, Jens Engel lets the magazine "RUN" publish his fantastic tool Data Analysis
- The Wizard And The Princess...speaking Polish?
- Apos got his nick with this Word-creator
- Csavargás A Gombák Birodalmában cracked by... oooh in the end! Mr. Gregory, the most hated user ever, badly touched in a lot of scrolltexts! Why all this rage, anyway? Who that knows, must speak!
- we didn't find Fantastic Screens 1, so look into your own archive and give us a bellring!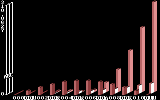 And now the time has come. Here's the GIGANTIC list:
Short Message, Alien Invasion (crack), Aliens (crack), Vecker Packer, Tarzan Converter, TSB-writer, TCFS Converter, Texed V1.1a, The Final Deleter V3.2+, Track 18, Tronic Turbo-tape, TS Converter, Turbo Tape (Systems), Sinus-editor, Turbo-tape C16 V2.0, Squash Packer V1.0, Synthevoice, Sztereo Vizio, Re-Ass +4 V3.0, Reddi Converter, Plot Editor V1.7, Power-writer, New Future Writer, Multi-digitizer V1.0, Demo Designer (fix), Music Synthesiser (disk), Multi-graphic, Logo-editor V1.0, Logo-Maker (disk), Hypra-disassembler (both versions), Single File Backup, Nova Copy System (english), Single Block Copy, Hypacopy 1551, Hyper Copy, Final Adress-print, Flash-copy V2.0 (The Associated Pirates), Freezecopy 1551, Fast Save, Funny Letter, Einstein Set, Digital Drums, Data Analysis, Char-Editor V1.1 (version), Coby Converter, Coby Digiconverter, CSM Converter, Basic Bővítő, Backup 1541/2, Horror Times 01, L'Uomo Delle Caverne (crack), Tube Runner (crack), The Wizard And The Princess (polish), Transector (crack), Spy Vs Spy (crack), Spore (crack), Scooby Doo (crack), Super Cobra German (crack), Space Duell, Ritter Kunibert, Pizza Pete, Master Mind (ICE) (working), Ikari Warriors (crack), Időlabirintus (german), Newstadt Demo 3 (version), Newstadt Demo 2, Insane Enterprise, Time Packer (version), Disk-info, Digitizer, Tape-listen, Screen-saver, Super-merge, Word-creator, Hustler (crack), Enigma (crack), European Soccer Finals (crack), Dingbat (crack), Crazy Golf (crack), Csavargás A Gombák Birodalmában (crack), Crillion (original), BMX Simulator (crack), Beach Head (crack), Airforce (Krussoft), Bolondos Golyo, You Make Me Feel, T R Presents (BCS), Terra Nova Music, The Sound Of Scot, Together Forever, Top Gun, Turrican Digi, Testdrive Demo (version), The Sweet: Ballroom Blitz, Top Gun Anthem, Tynesoft Demo, Sun Street Music, Sex-cartoons, Suzanne, Rede Des Jahres, Quadrate, Prove Your Love, Oh L'Amour, Oh Yeah! (The Byte), Outrun (EDS), Nieuws, Marrs, Moonlight Shadow, Music 2 (TBL), Manta I, Manta II, Manta III, Musik-16 116, Musik-demo, Musiker, Maria Magdalena, Master-picture-printer-demo, Lachsack, Lekker He, Leaper Music, Level 42, In The Summer Time, Interrupt-sound, Hae Hae Hae, Hi Hi Hi!, Holiday Rap (The Byte), Greetings To B, Gruen Sind Schon Die Waelder, Greased Lightning, Greased Lightning (NCS), Final Countdown, Flieger Gruess M, Fantastic Screens 2, Fantastic Screens 3, Ferrari Demo (TLC), Das Omen, Der Wahnsinn, Dmo-compo '93, Can't Stand Rain, Crazy Scroll 89, Chrome That Boring Steal, Back Again, Beth, Beat Dis, Banned In The USA, Benny's Slide-show, Anleitung Spy Vs Spy III, Axel, Axel F. Mix, Axel Remix, Airwolf Demo, Airwolf Demo 2, 1000 Gruende, 1954 Fussball Wm.
Read comments

SVS-Pong

Posted by Luca on 2012-11-02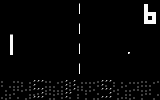 You all know how much we like big products which see the light after a long work phase. But several times we have complained about the lack of easy stuff, created for fun to enrich the scene.

In the very end, SVS married this latter philosophy too, and today he comes to us with a compiled Pong clone, an 'emugame' to play on an emulator running at the suggested rate of 300% speed, just to live 70's again on the beloved BASIC V3.5. Its name is, of course SVS-Pong. Give it a try, have fun and come back to do better if you can!
Read comments

3 New Hungarian Cover Scans

Posted by Csabo on 2012-10-29



We got mail from Brazil, writing that while cleaning out his stuff, he found a copy of Ürtojások. He scanned it and we've uploaded it, another "WANTED!" note can be removed.

We have two more covers added today, they are courtesy of Lacus. Not only the covers, but the programs themselves are new: two educational titles: J Vagy Ly and Kultúrtörténeti Kronológia (XVI. század). The former teaches grammar, the latter teaches history. Check them out (or at least the cover art).

Thanks to both guys for making our collection richer. Keep on looking for retro stuff!
Be the first to comment!

Endings Triplets 10-16

Posted by Luca on 2012-10-27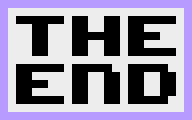 I told you we stored tons and tons of unreleased endings! We must spit'em out in a big hurry, or the folder that contains all of them will explode! And this time, we managed to show you some of the very longer bigger wanted ones!

Here we come with another seven-triplets bunch. Don't miss to see the endings of: 007, Dudaorru Patric, Rázós Út, Supremacy, Sun Street, Escape Pro, Escape 2 Tape, Kikstart (Messe-Soft), Citadel Of Chaos, Pokoli Torony, Bernát A Nyomozó, Oliver Otthona, Időlabirintus, Flash Gordon, Hexenkuche, Jet Set Willy, Jet Set Willy II, Saboteur C16, Goonies, Fortress Underground, Clone.

Do you thing it's finished? Hah! You're so way out my friend! Wait for more to come...again!
Read comments

The Italian Treasure

Posted by Luca on 2012-10-14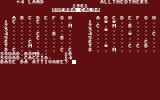 Do you remember the italian treasure, that mountain made of tapes tapes and tapes again we got in May? Well, dumping old files like'em hasn't been the easiest mission you can argue, but it worked most of the time, luckily. Some scans of cassette covers and manuals have been taken too, and it's now time to spread around some of those gems.

Of the whole cake, this part represents the slice of commercially re-released games. These cassettes were sold in computer stores just beside their original ones. Although few of the programs were games and tools made from scratch, for the largest percentage they're raw hacks unregarding the copyrights, often with no elements changed from the source. At that time, the italian law didn't consider the home computers software production in the same ways as other intellectual property assets, and somebody had thought to make money from this void of rights, either founding short living publishing houses just to copy and release, or releasing compilations of hacked games thru newsstands. Somebody was so much out of law and common sense, to hack'n'release previously hacked material, in order to release it under no publishing rights. Some others changed their view, and tried to pay copyrights to the original software house, purchasing the rights to do that.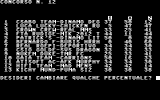 Acquiring this treasure of tapes has been a notable kick to the completeness of that side of our archive, with some unrelated bonus here and there. We've just added: Educational Line N1, 3D Crazy Tennis, 3D Car Race, C16 Super Games 1, C16 Super Games 2, Blackjack (Italian), 2Games: Super Poker Briscola, GTE, Interceptor, Invasori, Missione Spaziale, Diagram, War Games, Chess (Armati), Commando (Armati), La Torre Misteriosa / Conto Corrente, Crazy Clouds, Cuthbert Enters The Tombs Of Doom (Armati), Fruit Machine, Submarine / Dedalo, Froggy (Visiogame), Olimpics 2000, Olimpya, Olympiad (Armati), Paladine, Toto Pronostici, Tycoon Tex Armati, Wild Kong, World Soccer.

Some words about Super 16. Super 16 is a newsstand collection, containing Winter Sports, Yie Ar Kung-Fu (Foglia), Autosprint, Boat Race and Baseball. It has been published as a supplement of the long lasting periodic newsstand publication "C16/MSX" by Editoriale Foglia, with a little paper as software manual plus bonus articles as usual. This must be intended as a first attept for a forthcoming serious cataloging of all the newsstands'releases as "Byte Games", "C16/MSX", "Linguaggio Macchina C16/VIC20", "Computer Set", "Go Games" just to name the notables ones, with their papers and covers. And, yes: the treasure contains an igniting core of those cassettes :)
Read comments

TLT Digis

Posted by Csabo on 2012-10-11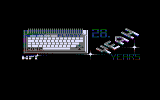 TLT is back with two digi demos: Essex-Rockon and BCK-Kedvence. It's the usual TLT style, give it a listen!

On another note, we didn't make a news item for a recently released picture. Room 309 was drawn by Leon (C64), but Murphy created a Plus/4 version of it as well. Rumor has it that Murphy is now the coder for the upcoming game "4 Floors" (read about it on Facebook), and he will make a Plus/4 version as well.
Read comments

SVS-Calc V2.0

Posted by Luca on 2012-10-05
The fantastic spreadsheet created by SVS of FIRE crew jumps to a higher level, and it goes overlays!
SVS-calc 2.0 makes deep use of the Austrospeed's overlaying technology. Now, a frequent disk access ensures perfect embedding of the single code's operations into the main compiled code, allowing even bigger operations to be performed and saving more memory for user's data.
This is the most notable one in a series of both evident and little improvements. The main new features have been listed by the author in a text which comes together with the new manual, colorful and clear to read. Let's see them:

a) PRINTING (to printer or to file -- CBM or ASCII)
b) SORT (horizontal or vertical -- ascending or descending)
c) CTRL-B for blanking managing
d) Blanking is animated by a raster color bar increasing of size. Every 5 completed frames, it becomes transparent to let user view process status.
e) RENAME and DELETE options. They are integrated with DIRECTORY.
f) GRAPHS can be embedded into current grid.
g) AREA SELECTION by cursor movements + SHIFT. Selected area is visualized reversed and can be freely resized. When an area exists it is prompted every time an input is requested (and inside INPUT box by [STOP]).
h) NAMES to refer a string with any value (cell coordinates, cells zone, text, formula, another NAME). They can be used inside formulas (ex.: name TOTAL="A1:C20"; formula can use it =sum(TOTAL) )
i) LOAD can be launched just viewing DIRECTORY.
j) Flexible CONFIGURATOR (instead of Standard or Reduced versions) on system boot. User can set how many rows and other dimensions in order to leave free RAM as he needs.
k) Automatic MEMORY WARNING window message, to warn user when free RAM becomes too little.
l) INFO window to show all parameters of current configuration and sheet.
m) SCREENSAVER 2 modes + test, with settable delay.
n) AUTOSIZING of column width on the basis of contents of all its cells (by Menu or by CTRL-L)
o) Separate disk units setting for 1) System; 2) User files; 3) Print outputs.
p) New funtions VAL(), DAYS(), WDAY(), LOOKUP(), SECONDS()
q) Option to view free memory as Kb or as bytes.
r) CLEAR can erase the whole sheet or only a zone.
s) SEARCH feature can optionally limit the searching inside the Selected Area if existing.
t) [F3] resets screen font after a crash and enables Basic editor :-?
u) FONTS selectable and switchable from a working spreasheet (4 different original new fonts)
v) Control codes (color, reverse, blinking) can be inserted inside the text of a cell.
z) Selectable world-area date format (DDMMYY / MMDDYY) - (Week' 1st day)

Absolutely complete and professional, SVS-calc 2.0 is a little jewel to show big code on slow machines. Just to cite the manual:"...this program needs 1/16000 the memory of Microsoft Excel, and runs on a system 1500 times slower, whereas an F16 fighter aircraft flies 'only' 800 times faster than a walking man". At the same time, SVS-calc_2_0 is not (only) that pretty cool example of fine code's optimization on an ancient computer: it's a tool which must seriously have to be used for actual job's purposes and day-by-day usages, thought to be comfortably used on emulators and set to their chance of speeding-up the whole system.

No words can be enough to deeply describe a so elaborate tool, you have to download it and try by yourself. And who knows, if you'll take advantage from it quite a long time, you'll end to discover the easter egg that lies somewhere into it ;)


Read comments

Endings Triplets 03-09

Posted by Luca on 2012-09-22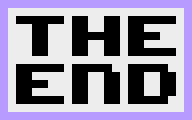 Nooo can't believe this! We missed to constantly add game ending! It's a real scandal, 'coz we even did add a link in the main panel of this site!
Sorry sorry and sorry again for this unforgivable sin. We must expiate the big fault. Hence, the christians'bible says: seven are the capital sins, so we entered seven new endings triplets, for an overall of 7*3=21 new endings!

Let's run to see the endings of: Labirinth!, Labirinth 2, Labirinth 3, Pegged, Way To Running, Hydroines, Beamphobia, Beamphobia II, Chtulu, Logictrainer, Acidball, Vegas Jackpot, The Champs, Cloud Kingdoms, The Power, Yie Ar Kung-Fu, Nautilus, Aliens, Ewox, Logomaze and Mission Mars.

Our endings'storage folder is still full and needs to be cleaned out, so stay within easy reach, 'coz another load will be taken in the near future.
Read comments

The Jacksons Two

Posted by Luca on 2012-09-19
In the end of this summer, here comes an unexpected Italian present from nowhere. Oh well, "nowhere" is not the right word: the present comes from a well known source of pretty juicy things!

Italy in the '80ies: so many Commodore users and a lacking law about those new media copyrights. In this environment, the newsstands became the real fulcrum of software distribution, both for big packs of hacked games and for legal original stuff.

The first title is Video Basic, awesome Italian BASIC course with great lessons, final tests, demos, original and legally rereleased games. It consists of 20 tapes full of stuff, especially the original games (part of them had just been published on listing magazines from the same publisher), which worth their proper single pages here at Plus/4 World. They are: Dama (Super Commodore), Sparacaratteri, Blackjack (Italian), Last Drow, Tacman, Killer, Yatzee, 3D Color Maze, U.F.O., Quindici, Pompieri, Dr. Chip, Backgammon (Super Commodore), Super-tris 3D, Bowling (Italian), Othello (Italian), Box, Torre Di Hanoi, Le Coppie, Intervallo, Tiro Alla Fune, Apple Hunt and Tank.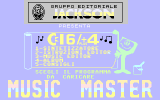 The other great retrieval has been Music Master (Jackson), a fantastic collection of music stuff on a single tape, including some demos and a little tool to play on the keyboard (Sintetizzatore). No doubt the best of the whole pack is Music Editor, that allows anyone to compose TED tunes and save'em with an ML player, in order to use them into anyone's own program. The three included demos are: Natale, The Beatles and Marcia Turca, the 2nd does not have to be confused with The Beatles (Hack).
Read comments

Club Info 127

Posted by Csabo on 2012-09-01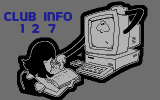 Erich/ULTD is here with the 3rd Club Info issue of this year. If you don't speak German and want to skip the articles, head straight to the B-side. It contains recent and new releases, including: Beast (a PETSCII movie), Florbingel (a strategy game) and Dr. Help (an Eliza-like conversational program).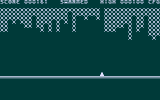 Gaia has also gotten into the spirit of converting games, and he converted a recent C64 game called Swarmed. It's a cute little shooter in 2K, check it out and enjoy :-)
Be the first to comment!

Rebel Planet

Posted by Csabo on 2012-08-31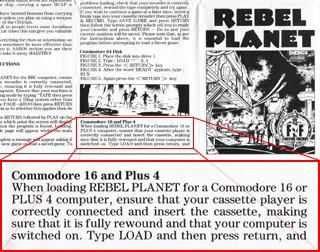 Let's imagine that one fine sunny day in 1986, a young Plus/4 fan visited his C64 and/or ZX Spectrum owner friend. At their place, he saw a new exciting game called Rebel Planet. While reading the cover, his eyes picked up on the following words: "When loading REBEL PLANET for a Commodore 16 or PLUS 4 computer, ..." He held the piece of paper high and after a triumphant exclamation, he rushed out the door and towards the nearest software shop, much to his friend's bewilderment. "I must have this game!" he murmured. However, store after store the answer was the same: we don't have this title for the C16/Plus4. Once reality started to sink in, our young Plus/4 fan started wailing...

Dry up your tears dear imaginary youngster, for the long awaited day is here! Rebel Planet is a GTW (Game That Wasn't) no more, it now exists on the Commodore Plus/4 (unfortunately it requires 64K RAM extension on the C16). So, after that lengthy intro, what are we really dealing with? It's a standard text adventure with hires graphics, and not an easy one. The story is based on the Fighting Fantasy book. The game also contains a built in manual (which in turn contains some info necessary to complete the game). Give it a try if you're so inclined. Enjoy!
Read comments

Kinder Koncepts: One Down, Four Still Around

Posted by Luca on 2012-08-28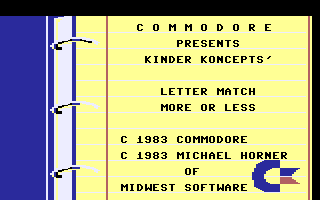 Letter Match/More Or Less is now the only completely covered title of the 5 releases series Kinder Koncepts here at Plus/4 World: manual, additional material, box covers, disk and tapes! They're all educational courses for kids released under the Commodore Business Machines, Inc. label created by Michael Horner of Midwest Software in the early period of the 264 series machines.

Of those 5 releases, we've collected in the past several slices of their existence, from box covers to some sparse programs. Having a complete one, let us know more about all the others: any title includes one diskette with the main programs, and two tapes with 8 lessons, 2 any tape side. The disk has a sort of copy protection, obtained placing an "error 22" into the empty and free track 18 sector 18. All the stuff included is strictly NTSC compatible only, although they're all written mainly in Basic.

Got one, the hunt for the others won't stop.
Read comments

Atari vs Plus/4

Posted by Csabo on 2012-08-23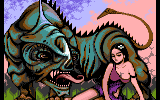 This month proves to be unusually abundant in new releases - not that we're complaining :-) Atari vs Plus/4 has just been released by carrion. It's a picture show containing 14 images. The originals were created by Atari graphicians Piesiu and Ooz. Download it, or read more on the author's blog.
Read comments

New Hires Picture by Kichy

Posted by Csabo on 2012-08-22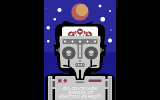 Kichy is back with the second Assassins release this year. He created a new image called Do Androids Dream of Electric Sheep. It's inspired by the Philip K. Dick science-fiction novel of the same name. Check it out!
Read comments

Lazur vs Boris - New Picture Show

Posted by Csabo on 2012-08-14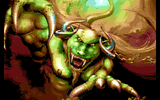 A new, 7 image picture show was released today by carrion called Lazus Vs Boris. As the name suggests, it features converted images from graphician Lazur and painter Boris Vallejo. Check it out!
Read comments

New Demo From Bauknecht & TEK

Posted by Csabo on 2012-08-12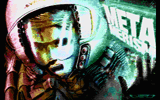 A new demo called Metamerism has been released by Bauknecht & TEK, taking 1st place at Evoke 2012 in the "alternative demo" category. It's astonishing, download it and enjoy!
Read comments

YAPE 1.0.3

Posted by Luca on 2012-07-23
A whole year passed, and Gaia relaunchs the YAPE, the widest used emulator for 264 series machines, in its V1.0.3 reincarnation.
This version is a sort of global bugfixing one, in order to have a clean start to a further rework of the older parts of his code (the interface first of all), to get a better way in reading which events are performed time by time, to improve the GUI.

But now, this one, showing the following retouches:
- properly implemented printer repeat bit image data (CHR$(26))
- SHA/SHY/SHX improvement on page boundary crossing (unseen in any programs out in the wild so far)
- memory dump into text files
- added 192000 Hz sound frequency
- carriage return in printer bitmap mode fixed
- folder drive setting no longer reset when printer emulation gets enabled
- awkward crash in the monitor fixed
- bug in the debugger when breakpoint got disabled on ignored CPU crash opcodes
- minor memory map issue in true 1541/1581 drive emulation
- memory dump command in external monitor
- video recording glitch

Run to the download page to get now your proper YAPE build (x32/x64).
Read comments

Sabrewulf Released!

Posted by Csabo on 2012-07-20
Today brings a very pleasant surprise: a new game, Sabrewulf is released. The game - which is a bit similar to Treasure Island - runs on a Plus/4 or a 64K-expanded Commodore 16. It's a faithful conversion of the ZX Spectrum game by gc841.

In the game, your task is to guide Sabreman through a 256-screen jungle. He must collect four pieces of the lost amulet and then exit the maze. Of course the jungle is filled with dangerous creatures, including the invincible Wulf itself. Sabreman can also collect valuable treasures, and find jungle orchids in various colors, each granting its own special effect with picked up.

Like many Spectrum games, the gameplay is hard, but one can get into it with a little practice. Big cheers to Gary for converting this game, now hurry up and download it!
Read comments

...And What's Left

Posted by Luca on 2012-07-13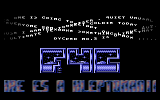 We used to catch the bigger fishes in the scene to serve'em in large dishes on your table, and satisfy your appetite for Plus/4 software. But time passes, and some little tiddlers have got caught in the nets, too little to be individually pointed out. This mass of seafood began to grow day by day, and now it's time to trash out this residue of heterogeneous stuff.

So let's see what's in the box! First of all, we missed all the gems usually released on C16 Plus4 Computing magazine, an ancient monthly appointment full of new games, interesting readings and useful tools. We're talking about several early versions of, say, Destructor and Jail Break, brand new games like Connector, tools that we've never seen before like Biorhythms. Higher quality gem between all the others is the early version of Leaper, released under Star Soft as Leaper (Star Soft).
Some new entries from the obscure side of the Plus/4 commercial games: Miner (Astralog) is another retrieved tile to complete the Astralog's history, and one of the featured games in Astralog Four Pack, how rare!.
Rainy Day II collection is one step far from being completed in his 25 games, missing one game only. Meanwhile, we added Spacemaze, Jackpot and others too, in the hope we'll find all of them once day.
Chronos did his springtime cleaning too, and what's jumped out is a bunch of rarites, especially the second side of Dark As U demo, which worked after a bit of fixing. Other programs followed too, game previews like Minesweeper V2.2, digi demos like No Sleep, tiny pretty converted games like Remember.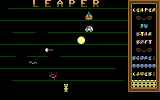 In the very end, there's the mare magnum from which weird releases and rarities have been catched. Elite Trained is a rare trainer for Elite (Csory) from the author itself, working on 1551 only; and, talking about 1551 stuff and Csory, a 1551 drive version of And Justice For All popped out from nowhere; after years with the 2nd part available only, 3M Demo 1 surfaced; 1551-demo, the official demo disk for the 1551 drive has been stored too 'coz missing it here is a nonsense.
And when we find software we claimed for in years, we celebrate with all of you: Sethack, the complete D-mon, the original Chipy by Kingsoft, the most wanted Huey C-16.

Here follows the complete list of what we've added in:
Bard's Tale I Copy, Bard's Tale II Copy, Character Generator, Dir Mover, Diskyhelp, Disc Copy 1551, D-mon, IFFL Squeezer (fix/version), The Scrollhunter, Sethack, Turbo Assembler Macro, Motor Entwicklung, 3D Maze, ACE +4 (trainer), Bockgammon, Bomber Blitz, Bongo (trainer), Billiards, Boxing, Brick-it, Chipy (original), Connector, Dooly (trainer), Driver, Destructor (version), Lo Sperduto, Miner (Astralog), 1551-demo, Extra Tutti Frutti 1 +1, Extra Tutti Frutti 2 +1, Elite Trained, Froggy (APS), Hotel (German), Huey C-16, Jackpot, Jail Break (version), Minesweeper V2.2, Leaper (Star Soft), Numbers, Oel Plus/4, Light Lines, Pénzért Élet, Pilot C16, Remember, Sixteen Terror, Spy Vs Spy (crack), Spacemaze, Super Ball, Super Frog, Survival, Scramble (APS), The Tower, Way Of The Exploding Fist (crack), Wordsworth, Yhatzi, 3M Demo 1, And Justice For All (version), Carry On!, Dark As U (side 2), No Sleep, Porno Show (TBS), Inspector Gadget V4.1, Ripped Demo, Macro Asssembler, Biorhythms, Archery-16.
Read comments

Árok 14 Wrap Up

Posted by Csabo on 2012-07-09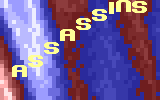 We've added the releases and results from this party at record speed! The new releases from the party were: 16 KBytes, Édesanyám, I Will Go My Way, Atilla, Welcome Stranger. Thanks to the organizers and the sceners for making the party happen, and congrats to all the compo winners!

For party reports, photos and videos, head to the Features section: Arok 14 Party Report, or check the forum thread (both continually updated).
Read comments

"The Witness" Extras

Posted by Csabo on 2012-06-25

The next Infocom game we're taking a closer look at is The Witness. The game is a murder mystery, and you play the role of a detective. C16 Chris sent us the scans for all the "feelies" inside the box: a matchbook, a telegram, newspapers, etc. We've also added all the scans for the 26-page manual. Check it out and enjoy!
Be the first to comment!

Suspect And Other News

Posted by Csabo on 2012-06-15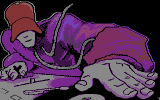 C16Chris sent us the next installment of the Infocom stuff: Suspect extras are here! In the game, you play the role of a reporter, and you're invited to a costume party, where the hostess gets killed. Inside the box comes with a 26 page manual (which is actually "A Practical Guide To Murder Manners" :-)) and a TON of extras, all containing clues. Should be a fun read, even if you're not going to actually play the game.

In other news, we have this year's Botticelli Bilderdisk, #37 released today by Erich of Unlimited. It's a picture show using the Magica driver.

Finally a curiosity sent in by Bear(tm): he found a board game, released by Novotrade featuring Walaki. Check it out!
Be the first to comment!

Cutthroat Extras and Adress C16

Posted by Csabo on 2012-06-07


C16 Chris sent us the 3rd installment of his Infocom archive, this time it's Cutthroats. It's an adventure game (or "Interactive Fiction", if you prefer the fancier title) where you play the role of a diver, looking for sunken treasure among shipwrecks. The box contains two booklets and a few additional game materials, all of which can be found on the game's page.

The second addition to the database today is from recently-registered and first-time-contributing member Hans. He noticed our call to action on the Adress C16 page (looking for the other version of the cover), and since he happened to have it, he fired up his scanner and got to work. This release (a German database program) is in sharp contrast with the above mentioned game: instead of booklets and extras, everything you need to know is shoehorned onto a single page.

Thanks guys for these covers, they found a good home in our ever-growing archive of everything Plus/4.
Read comments

TedPlay V1.0

Posted by Luca on 2012-06-04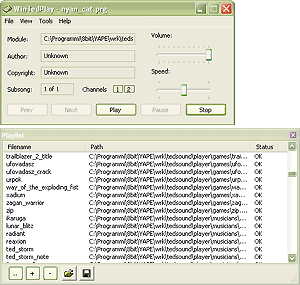 Here it comes, in the end! We were waiting for it! It's signed by Gaia, our prince in emulation, it also takes with it all the experience of TLC, and most of all it plays genuine TED based sound on your PC!

Let's turn seriously professional to announce this. Attila Grósz, in collaboration with Levente Hársfalvi, has finally released TedPlay V1.0, the first public version, stable and working. TedPlay emulates and reproduces the audio of a TED based machine. It can perform that by loading several types of files: the main format will be the brand new .C8M file format, but the player can also handle PSID/RSID format files with .TED extension, and .PRG files with executable inner player. TedPlay considers adjustable volume and playback speed, playlists managing, multiple tunes control, on/off turnable channels and player's reset. TedPlay requires SDL.dll in the .exe folder to run.

There's further work to spend on this first release, which aims to work with the new .C8M format but does not have a dedicated .C8M compiler/editor yet. At the moment, we suggest to download the current High Voltage TED Collection release, test the emulator with the .PRG files you will find in the /player folder, then report any bug to the authors: they're currently working on it to make it bigger and stronger! You will see, there's no change to play .PRG files with multiple tunes: don't care about that, when all those files will be converted in the new format this trouble will be gone forever.

Because of this, High Voltage TED Collection has just been updated to 263 single files, with some fixed and moved tunes, new hacks from games and several new entries in the /musicians folder (Koko, Alf, Tony Kelly, Shelmie, the one and only music on C16 signed by Martin Galway, finally a decisive blow on Csabo's releases and many many more!). The HVTC has been and will be paused for a little while, until the new format will take place as regular standard.

Say thanks to Gaia and TLC for their absolutely fantastic work, and please help'em to improve their marvellous creature named TedPlay!
Read comments

CBM PRG Studio For C16/Plus4

Posted by Luca on 2012-05-31
A powerful tool dedicated to all the coders out there now includes the 264 series Commodore machines, and that's great news!
Arthur Jordison, author of the all-embracing CBM Program Studio has released a new version the 25th of this month, and, beside all the fixes and addons he has wedged into it, he tuned it in order to work for C16 and Plus/4.

You can now enter both BASIC and machine language into this versatile package, and see how your code works directly compiling it as .prg file and sending it to run on your prefer emulator. No more desperately seeking the bugs all around, no more troubles with typing long BASIC stuff (hey, it's 2012, we're in the cut&paste era!), and several other extras, including sprites, characters and tilemap editors!

It's a first release, it smells like it would need debugging, so feel free to contact the author for any needing. But first, give it a try: it undoubtedly worths a run.
Be the first to comment!

Another Rare Hungarian Tape Surfaces

Posted by Csabo on 2012-05-30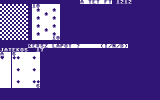 Lacus got his hands on another rare Hungarian tape: 21-es (Blackjack). It was released by Ápisz - some form of that company still exists, but they mostly sell paper, stationary and office supplies. This release (like all their releases we found so far) can only be described as a "budget" release, there's not much cover artwork to be seen. Nevertheless, it's good to have it in our archives! Be sure to be on the lookout for other oldies, you never know what you're going to find!
Be the first to comment!

Hitchhiker's Guide Extras!

Posted by Csabo on 2012-05-29


C16 Chris sent us the second installment in his quest to archive everything that is Infocom. (It's unfortunate that this news item missed Towel Day by a few days.) This time we present you with the box contents of Hitchhiker's Guide To The Galaxy. Inside are the 26-page booklet, the 16-page instruction manual (which was printed in a less-than-optimal color...), and the same Infocom Catalog that came with Planetfall. There's also Fluff!, Peril Sensitive Sunglasses, a Microscopic Space Fleet and more... Very funny stuff, if you know the books. (If you don't, read them!) Big thanks to C16 Chris for these, enjoy!
Be the first to comment!

Club Info 126

Posted by Csabo on 2012-05-26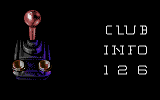 Erich/Unlimited released the 2nd Club Info issue of the year. (For those who are not familiar with it, Club Info is a long-running German language disk magazine, with a new issue every 3 months.) Side A is chocks full of articles covering a wide range of topic (the recent passing of Jack Tramiel, tips & tricks, software reviews, etc) with the occasional funny cartoon thrown in. Even if you don't speak the language, you might want to check out Side B, which has recent and new releases. Cheers to Erich for his continued hard work!
Be the first to comment!

Dino Shock!

Posted by Csabo on 2012-05-24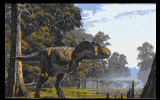 MMS is here for the second time this month with a new picture show release. He writes:

Beasts of tons run and kill around the forests; no man could stand against them! Once they tramped and ruled Earth, now they are just very peaceful bones... Fortunately they are just history... Dinosaurs.

Who likes to watch the arts about them? Everyone? Then it's your time! Check the marvelous arts set to the highest available Plus/4 resolution. I made this GFX slideshow with the great Istvan Varga converter. I hope you will like it, I did my best to finetune it as much as possible.
Check it out and enjoy!
Read comments

Planetfall Extras!

Posted by Csabo on 2012-05-23


C16 Chris returns with an old fashioned cover update: he's scanned just about everything that can be found inside the box of Planetfall. The package contains an information booklet, which is quite humorous and definitely worth a read (especially the questionnaire). Also included is a 16-page Infocom catalog, detailing all of their adventure games. There's also a lot of other additional game material, which can be found on the game's page: a "Stellar Patrol" card, postcards from various planets, reference cards and several personal letters. All of these add to the depth and help the players immerse in the game's universe. Check it out and enjoy!
Be the first to comment!

Legionnaire Finally Gets The Love It Deserves!

Posted by MIK on 2012-05-12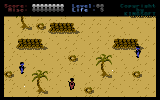 Today we step back in time taking a look at the classic Commando style clone Legionnaire that has kept us entertained for many years now. Tape images are one thing and as awesome as they are sometimes it's quicker to opt for the PRG versions when you want to get straight into the action. Well thanks to the coding skills of none other Csabo he has been busy working on a PRG version of Legionnaire that not only fixes the missing black boarder, but also adds the tape loading screen!! If that wasn't enough to get you excited... it runs on a stock Commodore C16 with 16K too all complete!!!!!

Many thanks Csabo once again for giving Legionnaire some beautiful restoration and allowing us to preserve this beyond it's normal means as it was meant to be seen! As always follow the link to grab your own update PRG file from HERE.
Read comments

Lord Of The Rings Picture Show

Posted by Luca on 2012-05-05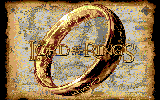 "...In the Land of Plussy where 8 Shadows lie!".
Straight coming from the holy Plussarillion book, here comes a brand new picture collection on one single disk's side. Our friend MMS selected for us a bunch of interlaced high resolution FLI pictures (IHRFLI) from a big choice of more than 200 of them, in the pure shiny splendor of IstvanV's great graphic format. Pictures come from scenes of the famous movie series, and from some illustrations by Alan Lee and John Howe. And the whole stuff loads in turbo mode both on 1541 and 1551 drive.
Beware watching for too long time, or you'll hanker to have more!
Read comments

New Rare Covers

Posted by Luca on 2012-05-02


Again, new rare covers found and archived! Our search for new, rare and obscure covers, doesn't loose its own boost, thanks to several faithful suppliers, and with our constant eyekeeping on the usual auctions'sites around. For any of them, we got full service, with front covers, inlays and cassette pictures.

It's Bear, the dude who has sent to us some very rare Hungarian covers, first of all the most wanted Karate's! In the hope we can put our hands on the tape's image too in the near future, let's get this first. Same words for Német Teszt too, which now shows the one and only cover that we have from International House Budapest, another developing division of the noted Novotrade. Last, but absolutely not least, a never seen Danish original software (now tagged as missing!) dated 1985, coming from a truly obscure software house called "LSA Software": Database (LSA) necessarily enters the holy field of the most wanted software from today.

The long long walk throught the road of Italian re-releases continues. Our friend Ricky74 has posted on some social networks so many pictures representing his own software collection for various systems, a collection which does not miss C16 cassettes. After our request, he quickly sent us scans of the Armati's Shoot It re-release, a never heard before Super Soccer from Playvision, and a rare Golden Software re-release for Wacky Painter. Thanks for all of them!

Rumors say there's more and more to come yet, stay tuned!
Read comments

Gun Law abducted by Aliens!!!

Posted by MIK on 2012-05-01
If your still suffering with post traumatic stress disorder after your short lived military service in the game Gun Law then your nightmares are now over! As a treat we have got to work and recorded for your viewing pleasure a complete end to end run playing Gun Law with no cheats being used at all on a real Commodore C16. Yes you can indeed reach the end with a little practice and patience straight out of the box as the game was intended to be played, but get this... As we complete the game once to the point of been taken away by E.T. your see the game restarts with your remaining lives. However, something tells me the bad guys are even quicker now and just like a noob Gun Law is rapped of his 5 remianing lives with-in minutes! We hope you enjoy!


Read comments

The Beaten Track

Posted by Csabo on 2012-04-28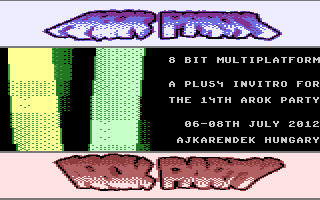 Csio/Monarchy coded and released a cool invitro (or Invitation Intro if you prefer) for the upcoming Arok Party, a yearly multi-platform retro-computing party held in Ajkarendek, Hungary. The release features some nice effects, music by Vincenzo, graphics by Poison, and of course all the necessary information about the party. There's still over two months left, which gives everyone interested plenty of time to make arrangements to get there. Enjoy!
Read comments

RIP Jack Tramiel

Posted by crock on 2012-04-09
Jack Tramiel, the founder of Commodore International, the man who had the original vision of the TED based machines died today at age 83.


Read comments

Ultimate Map V1.7

Posted by Luca on 2012-03-26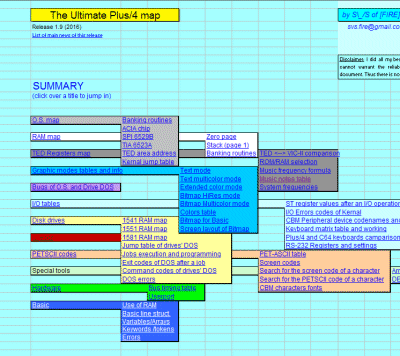 Where's the current BASIC line? How to RS-232? How to play high-pitched white noise? Where to find ALL the infos you need, even if you type BASIC lines or you manage to tame the TED by machine language? A new version of Ultimate Map is out right now!

SVS improved this very useful .XLS, in order to have the most complete memory mapping for the 264 machines. Both RAM and ROM chapters are now enriched by adding several new data (about RAM usage, IRQ specs, keyboard routines and other minor infos); keyboard matrix has been added too; TED's registers are now straight compared to the corresponding VIC-II ones; the PET-ASCII codes chapter has been fixed and new finds have been added too.

You no longer need to read all those .txt you collected in the past years because you would need to know how that certain register works: you exactly know where any info lies! Download the brand new Ultimate Map now!
Read comments

Optimal Reality

Posted by Csabo on 2012-03-04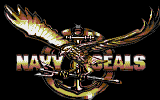 Yesterday I was going through issues of the Hungarian diskmag SCN News, and found something interesting. Number 24 mentions a certain "Optimal Real", a picture show by Chronos. Reddi (the then-editor of the magazine) isn't around nowadays, but Chronos is, so I asked him what this could have been (since there's no record of it anywhere in our database). To my surprise, he delivered it to me within a few hours. Thanks to this, we have a never-before-seen demo, using IFFL technology. (IFFL stands for something like Integrated File Flexible Loader, there are other variations but no clear definition.) Regardless, check the demo out!

Why should we read these old magazines? (I know, a lot of them require understanding Hungarian or German.) By using this little utility, it's possible to extract the magazine text into readable, searchable format. This in turn helps with the software archeology. Based on which games/demos are announced as news, we can figure out the release dates when none is provided. And, occasionally, we can find something rare and exciting, like in this case. But most importantly, to me, reading through the old mags is a nice trip down memory lane. I feel as if part of the scene, and it's a great feeling. Keep the Plus/4 alive!
Read comments

Club Info 125

Posted by Csabo on 2012-02-28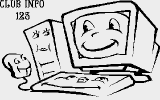 Erich/Unlimited is here with the latest issue of Club Info. The German disk mag is packed with articles, as usual. From the B side of the disk:
- Draw in polarkoordinaten, Achimedische Spirale, Ellipse/Parameter, Circle envelope, Spiraleffekt, Roehengraphik, Sechsecke, Club Info 125: files that accompany the "Tips & Tricks" chapter.
- Green Things From Outer Space: Erich touched up a C64 guy's game.
- Awari/Mancala, Zahlenraten: a game converted from the PET and a number guessing game.
- Worlds 2: a story with PETSCII graphics.
- Garfield Comic: a new demo from Erich.
Thanks for this stuff to Erich, download it and enjoy!
Read comments

Galli - New Game Released

Posted by Csabo on 2012-02-22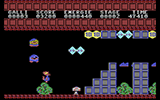 An unexpected treasure turned up on our forums from Nino: Galli. It's a side-scrolling platformer (this genre is somewhat of a rarity on our platform), and it runs ok a C16 to boot. It was developed from 1989-1995, and it now finally sees the day of light. Definitely worth checking out! Click the link below to read the original post and comments.
Read comments

Moldi's Treasure 5/10

Posted by Luca on 2012-02-14
Uuuuuh we missed for so much time, did you feel the absence? Well, let's end the silence, we're back to give you the 5th chapter of our saga. Here comes a new big bunch of lost and forgotten stuff rescued and reloaded from the personal archive of Moldi!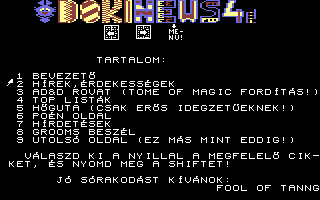 Leitmotif of this issue is: omg we've completely missed some magazines! There's a whole series of Doki News issues hidden out there we've never heard about! And now all the five in the row are stored here ready to be spread. And talking about mags, here come from the sands of time two missing issues, part of well known collections: No News! 4 as one of the last Delta System releases, the even more obscure Korak Times 9 and Lamer News #008, with the latter one being misteriously created by TGM of Scorpions.
Fresh stuff on the utilities side too! Char-editor 2.0 is the powerful tool coded and used by Attila Kardos to finish off his games, and looks like a Botticelli for chars. The original version of 64'er Masterbase Plus/4 (aka Masterbase) has found its way to the surface, and so have done a couple of disk tools coded by TFSS. I've seen several times some texts on screen displayed with big chars, and now we've found the editor which produced'em: Mega Writer I by Dr. Mad/EVS. At last, the most wanted F-C Trans Plus/4 has been saved from the dark, TLC was searching for this one since years!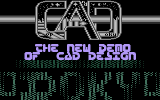 What about the demos? Well, first of all, a perfectly working version of CAD Box Demo has been found, and we're now able to enjoy the whole trip into the Doky and Cop's coding. The Moldi's archive preserved very rare demos, and some are beginning to come out of the hole: Metallica Demo created by TBC and Radio Speech by TYCB are from that side, and others will follow for sure. Do you know that W-Man coded a second adult oriented picture show? Well, the retrieval of Porno Show 2 has given us the chance to clean up some lost x-rated stuff (demos games and...educational too?) that were missing into our archive, and some of them are very old (e.g. Picture Show 1 by MAT!). Oh yes, this is that particular update ;)
Who said games? Légicsata (LEH)! This bomber-style game written in BASIC and dated 1988 has various interesting and original addons to the traditional bomber game, but it has difficultly spreaded because of the unlucky homonymy with the most famous Légicsata, but now justice at last, it's here! Moreover, a working version of Aranyalmák, cited in an old Hungarian magazine, has been found and stored, although we don't know yet who is SABE, claimed to be the coder.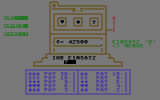 This is the complete list for the 5th batch, enjoy all of them and wait for the sixth session, we'll try to reach it in a decent time:
Doki News 1, Doki News 2, Doki News 3, Doki News 4, Doki News 5, TFSS-nibble V7.4, TFSS-packer V8.5, Prosort+ (hungarian), 2x2 Karakter Keszlet, A4 Printer, No News! 4, Mega-tool, BOB-packer 1.0, 64'er Masterbase Plus/4 (original), Char-editor 2.0, Mega Writer I, Skoro's Coder V1.2, Sector Editor, Korak Times 9, Lamer News #008, Aircraft, Kikstart Plus, Legicsata (LEH), Teke Jatek, Teke, Big Casino, Aranyalmák, Auto Zone (LEH), Super Boulder (hungarian), Cartoon 1, Cartoon 2, CAD Box Demo, F-C Trans Plus/4, Italo-mix, Radio Speech, Porno Show 2, The Camera, Picture Show 1, Metallica Demo, Sex Pause 48 Scenes, Demo Designer Info, Flipper (Basic), Flipper 2, Funny Girls (2 versions).
Read comments

First Beta Release of Diag264 (0.2B)

Posted by crock on 2012-01-22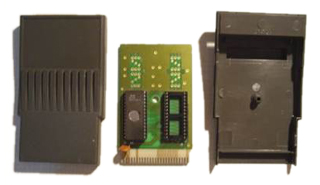 Finally, after what seems like a very long time I have the first beta release of Diag264, the diagnostic ROM and test harness for the Plus/4, Commodore 16, Commodore 116 and other 264 series machines.

You can find a complete description of how it works and how to build the harness here. Cartridge and kernal ROM images for both NTSC and PAL versions of Diag264 can be downloaded from here:

If you would like me to burn an EPROM for you, let me know which flavour you want and I will gladly do so for the cost of 5 CHF plus postage. At the time of writing this post, that's about 3 GBP, 4 EUR, 5 USD and 1250 HUF. If you would like me to modify an existing cartridge for you, you can mail it to me and I will do so for an additional 15 CHF, depending on the demand.

Please feed back comments, suggestions and questions you might have, either to this forum or to the email in the document.
Read comments

Hires Color 6

Posted by Csabo on 2012-01-15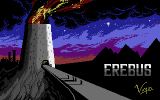 The 2012 edition of the Hires Color series is here, directly from Erich/Unlimited. In Hires Color 6, the usual pack of 32 images (hi-res ones) can be found for your viewing pleasure, made possible by the Magica driver. Cheers to Erich for this release!
Read comments

Hungary Vs. Italy: New TAPs And Covers

Posted by Luca on 2012-01-06



As a Christmas present, Lacus has got something special in reserve for us: a big bunch of covers and TAP files from some Hungarian cassettes.
Thank to him, now we can brag about having the original Digital Ball, Ürkaland, Invincible and Kitörés programs in TAP format, and all their missing cover scans too! Also included in the box, Magyarország's TAP file of the Keresd A Térképen educational series, and better working TAPs for Bip-bip and Bigyulabolt, all of them equipped with their respective cover scans. Complete service again for Turbó-15 in single release, a rare one. Covers'addon for Bombázó Visszavág and Csodálatos Simon too.
Hey, and what about the TAP file of Kémiai Kötések Azonos Atomok Között? It has come from the dark, we only saw it appeared!




Meantime, in a southwestern country, Luca has won an online bid regarding some Italian's tapes of resold hacked games, with lots of Visiogame cassettes! It has been a very bad surprise: many of those tapes seemed to be frayed out, and the only fully working tapes which still miss in our archives were Colors Guardians and Edy Ant, so now their TAPs are in. Every dirty trick has been exploited in order to recover some data from those tapes, with no result, bad luck!
Heh, next time we'll be better. Looking forward the time we get a good tape of any of them, we now have cover and tape scans of Colors Guardians, 2Games, Aeroblitz (cassette scans), Crazy Brush (cassette), Dedalus 3D (Visiogame), Edy Ant, Interceptor, Kargon Wars, Magic Golf (cassette), Olimpya, Small Jones (cassette), Space Fortress, Toto Pronostici.
Read comments

Planetfall Has Fallen In Our Lap

Posted by Csabo on 2012-01-05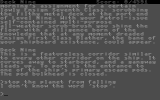 One down, countless to go: Planetfall has been found! Erich/Unlimited was the one who managed to create a working backup D64 for this game. Previously it was the only missing Infocom release. This should dispel any doubt regarding this elusive game: it was released and it's finally here.

If you don't mind the somewhat slow gameplay, definitely give this one a go. If the reviews (from other platforms) are to be believed, it promises to be a very good adventure. Big thanks to Erich for getting it into our archive!
Read comments

Endings Triplets 02

Posted by Luca on 2011-12-10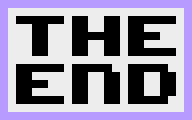 Let's start to do it seriously then!

Here comes the new Endings Triplet. Today we have endings for Puzzle and Labirinth 4 both from Skoro.

Plus, an extensive text with images about the final steps of a most wanted ending: RoboMutant by Lavina! It appears to be a very cute collect'n'use game, with an unexpected sweetie at the end: a picture drawn by Harry which no one have seen before...apart the steadfast ones who solved the game at that time, of course!
Read comments

Introducing Endings Triplets

Posted by Luca on 2011-12-08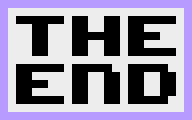 So, did you like our fresh new pages? We hope so.
You can't fully understand how many times we retouch, enrich, fix them. There's so much work around'em.

Game Endings page deserves a special care, because new endings are periodically added. Some are made of simple 1x1 ROM characters text composing a tiny "well done" notice, some others reveal pieces of code or graphics which have been kept quite for years till today.

Because of this, Plus/4 World will inform you about the addition of new game endings right here, in the News. Once we get at least three of them, we'll quickly announce an Endings Triplet, linking to the games'respective pages, where you will now find the link to the brand new ending!

Let's start with a big one: Blastones, a game with 100 levels! Beside of that, here comes two classics both made by Skoro: Ball, showing an unexpected 41st level, and Bars!
Read comments

Club Info 124

Posted by Csabo on 2011-12-02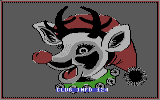 The 4th and final Club Info issue of the year is here! Erich/Unlimited packed two disk sides full of German language articles, plus recent and brand new stuff. Some examples are: maps for Island of Secrets (in Page Setter format), Ping Pong/C, Demo Pack 4. Download the mag, cheers to Erich for his continued work!
Be the first to comment!

Scene.hu Awards 2011

Posted by Csabo on 2011-12-01
Murphy sent us word that Scene.hu Awards 2011 is underway. Currently you can vote for 256 byte intros and 8-bit demos, only Hungarian productions from the last two years. This includes some Plus/4 productions as well. We're sure some people would be interested in this, so use the handy link below, go forth and vote!

Read comments

Main Menu Update

Posted by Csabo on 2011-11-25
Our main menu was updated with three additional items. You can now navigate to these pages from anywhere:

* Magazines: The listing of all the known diskmags. This page was recently revamped as it was in dire need of some polish.
* Effects: All demo effects. This is definitely a work in progress.
* Game Endings: This is the "official grand opening" of our game endings page. Similar pages exist for several other platforms, now the Plus/4 has a proper shrine as well. Have you ever wandered what's at the end of some game? Now you can find out! (Warning: spoilers ahead.)

If you have ideas or opinions about this change or the "new" pages, let us know on the forums.
Read comments

A (Mostly) German Intermission

Posted by Luca on 2011-10-09


You probably would expect a new bunch in the Moldi's series, because we still have way to go on that one.
Well no, we strongly need to pause that path and solve another battle side which was calling for a spill out.

Day by day, several stuff gathered in one big heap, mostly made by German stuff, some other by USA programs and so on. At a certain point, a little but significative slice of this cake has found its way once we started to import so many German magazines'covers (and all the relationships these entries take with'em!) from the fantastic site Kultboy, which definitely is the ultimate reference about German magazines. Then, publications and programs have begun to find so many links crossing each other, to ignite a process of infos cleanup, missing programs recover, users and groups' new entries, data acquiring, hidden hardware and so on.
It's TONS of addings and fixings and we're forced to let you discover'em by yourself, here we can only name the magazines'series we mostly improved: Aktueller Software Markt, C16-P4 Special, CBM Revue, Compute Mit, Computronic, Happy Computer, Run.

All these new entries about German mags have called into the whole bunch of (mostly) German stuff that was lying in the corner. And now we've filled up missings like Word Perfect, Zeichensprites or Fractal-landschaften. We also had the chance to tune up all the unnamed digi demos using Crazy Music, we rebuilt all the versions'story of Solder's Epromer Plus/4, we've finally find out the Samsound V1.0 which has been used in several pre-1990 digi stuffs, we discovered that the first cheap colour printer had considered the 264 series in the bundle disk (Okimate 10 Learn To Print), we...ok we let you explore by yourself!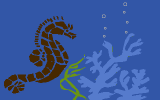 This list covers all the new prgs we included:
+4 Thunderbirds, Coffeine Magica, Das Omen 2, Easy (disk), Germans Only 1, Gerappt, Left To My Own, SEQ-reader 1.55, 1541 Floppy Speeder Generator 2.0, Mini Graffiti, Mix III, Mix IV, Mix V, Megamix Vol.3, Megamix Vol.4, Plus/4 Demo, Sex-show, Strip-show, Adventure 1 (alternative), New Stuff 1988, Winter-demo, Cohan's Land, Compute!'s Gazette Disk, Entenjagd, Europameisterschaft 96, Flower C16, Flens-kwitz, Hot Nights, Gangster, Beatles, Heimat, Monster Warning, Softy-demo, Postgebuehren Der Deutschen Bundespost, Softy 07, Fussball-manager, Fussball Bundesliga Pro, Gluecksrad (alternative), Monopoly (german), Monopoly Plus/4, Moon Fighter, Oscar (crack), Playboss, Sir Tommy, Software Manager, S-O-S Schiffbruch, S-skat, Sumeria, XY-Germany, Archiver, Unarchiv, Alarendelo Mondatok Elemzese, Banner Printer, C64 Basic Emulator, CAD 123 (version), Dual Data Copier (rom), Dbase Plus4 V3.5, Epromer Plus/4 (versions), F-copy 32K, Filmmaster, Fractal-landschaften, Frakint, Haushaltsbelege, Haushaltsbuch, Horace Autostart Copy V3.0, Hyload, Headliner (USA), James Hehl Utility Cart, Karteikasten, Kaufmann, Kuhplaner, Magic Paint (info), Megacopy 1551 (file), Okimate 10 Learn To Print, Proofreader, Samsound V1.0, Shakespeare Writer, Word Perfect, Xmoterm Plus4 V2.0, Zeichensprites.
Read comments

Arok 13 Wrap Up

Posted by Csabo on 2011-09-24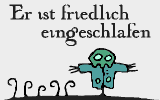 The wait is finally over: the winning demo from Arok 2011 has been just released! Don't delay, go and check out Er Ist Friedlich Eingeschlafen (translation: He fell asleep peacefully). In retrospect, this year's Arok was also a good year for our little platform (3 new releases!) and an awesome party overall. Everyone who got to attend can count themselves lucky (even if it was in cardboard form). Let's hope next year will be even better!

Be sure to read Csio's party report in the Features section!
Read comments

Moldi's Treasure 4/10

Posted by Luca on 2011-09-12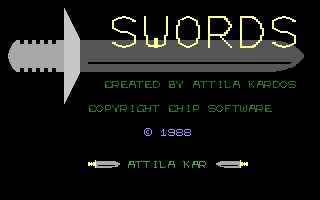 Summer is almost gone once again, so it's time to come back to work, and the Moldi Treasure's Big Bunches o'Software must reprise too.

Hence, here we are with the 4th chapter of this saga, which shows as major gem a rather unknown cool 16k game raising from the grave of unforgotten stuff to see the light again. Swords is nothing but a cool arcade adventure game which seems to be quite inspired from Robo Knight, with its proper tune and a big software sprite wandering into a manor in search of lost swords in order to seek out a secret chamber full of gold. The author is Attila Kardos, which did Break Dance under the same label Chip Software Ltd.. Freeware? Commercial? Who knows...any info will be welcome.
Ürkaland (Basic), the mystery continues because we've uncertain feelings about its original coder, but at least the original version popped out finally. And...oh jeez, there's a Tibob In Space 2 too, really?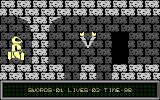 Plus, this is the session in which obscure demos run again. Queen Demo celebrates Mercury&Co. in the Hitman way (code by siz?) but it's broken and we're in search of the full working one, if it does exist. Bad Cat Demo is the oldest demo by CSM we've found ever, in which we know more about the mysterious SED (he got the idea for the famous game Crater too), and where CSM writes he "sold a game to Novotrade" (!). First steps for TCL too under the TBB moniker, in demos like The Cobra No1 Demo. See Ratt in graphician capacity offering a Logo To Titans, even though we've never heard of that C64 group! And look at Boomby and his early digitized moustaches in Wanted Demo. Early stuff by Kuni too, and the Shadow Gfx Box 1 comes too to complete the series.

Last but not least, the utilities: Botticelli original version, the famous TTL's pactator, a disk tools collection by Oscar/EVS and much much more!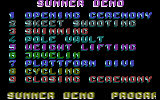 This is the complete list for the 4th batch, enjoy all of them and wait for the fifth session:
Swords, Logo To Titans, Mad Demo, Xenox Graphics Box, Summer Demo, Wanted Demo, Scanland 1, Shadow Gfx Box 1, Second Demo (Kuni), The Cobra No1 Demo, Queen Demo (broken), Music Demo 1, Music Demo 2, No More Heroes, Amiga Rap, Adventure Castle, Crater (trainer), Domino (Hungarian), Ugrasd A Nyulat, Tibob In Space 2, Bad Cat Demo, Donkey Kong, Ürkaland (Basic) (original), Remorszag, Tic-tac-toe (Mr. X), The Wall (Hungarian), DMC V1.2 (version), NF Technika, Kresz Lampak, Lebo-packer, Haromfasizu Valtakozoaram Valodi Vill Teljesitmenye Induktiv Terhelessel, Demomakers Disk Tool, Coma B Copy, Coby Compresser, Clues Of Coders (no pass), Assembler (prg), Botticelli (original), Bit-packer (version), Cimkatalogus, Duplicator V4.0, Duplicator, Turbo-block, 246 Pactator, Digiconverter Relocator (versions).
Be the first to comment!

Some Stuff

Posted by Luca on 2011-09-07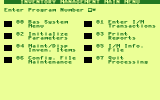 Plus/4 World is back from vacation, a vacation of hopeful waiting for a winner demo which will come in the near future and will delight our sceners'senses. In the meantime, let's reprise our massive storing of seekout material, since hundreds of hidden gems have to see the light again from their long timed buried status.

We've found the absolute first Mantra release in the classic take-two format, which was simply named Mantra 16 N. 1, containing two hacked games: Andromeda (Alternative) and Analisi Del Tempo. It's a weird thing to point out that this cassette can be defined as an early version of the second Mantra release (Andromeda / Meteo 16), which contains slightly modified versions of the same programs.

Found into some C64 ftp archives, here come some rare disks, part of the Productivity Software series released by Info Design, a look into the serious side of the Plus/4. Inventory Management is a self running tool, whereas Construction Industry and Professional Services are applications in the shape of General Ledger's data, and this last one is needed to let'em work. It's now clear that Productivity Software series includes both independently running tools and bound working data.
Be the first to comment!

Club Info 123 Is Released

Posted by Csabo on 2011-08-30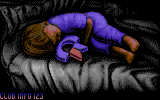 Erich/Ultd just sent us the latest issue of the longest running disk-magazine on Plus/4: Club Info 123 is here. Side A is full of German language articles about games (for example, there's a review of the recently released Clone game), programming and hardware. Side B has some recently release and new stuff: International Money (a game from Australia), Scheissen, Worlds 1 and Regula Falsi. It's worth checking out. Respects to Erich for his continued hard work. Download this issue now and enjoy!
Read comments

YAPE 1.0.2

Posted by Luca on 2011-08-23
A badly needed update: some nasty bugs have been patched as well as the in-memory bitmap of the printer emulation is made visible via a GUI window (only as #4).

Anyway, let's see what's new this time:

- Printer job window (for now #4 only)
- Turn off variable length buffering properly when recording media (fixes occasional clicks)
- Not scanning joysticks when unavailable (Message Queue driver slowdown)
- Column width and line feed bug for MPS803 emulation fixed
- Regression bug in the printer cycle counter ironed out
- Awkward TED drawing bug patched

You can grab the release at the usual place: Yape Homepage or check the Yape page.
Read comments

Exo 2.0.2 Released

Pos