Posted By
Csabo
on 2011-02-27
09:45:03


Busodore Invitro Arrives!
---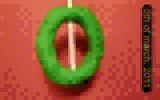 It wouldn't be a real party without an invitro, so better late than never, the busodore organizers are here to present you I'm Old As You Can See! Be amazed what a humble Plus/4 can do :-) Bumpmapping, animated torus, all top-notch effects and a high-quality SID tune. What's not to love?

The invitro is also available as a downloadable AVI file here.

Be sure to check out the list of attendees. If this invitro doesn't make you want to attend on March 5th, nothing will!